REVIEW: BATMAN (Vol. 3) #10 & #11
AUTHOR: John Bierly (Follow @JOHNBIERLY)
DATE: November 19, 2016

SYNOPSIS: "I am Suicide" part two! Batman now has his team, but are they ready for the most dangerous mission of their lives? As The Dark Knight prepares his squad to infiltrate Santa Prisca, he may find that it's up to him alone to face Bane.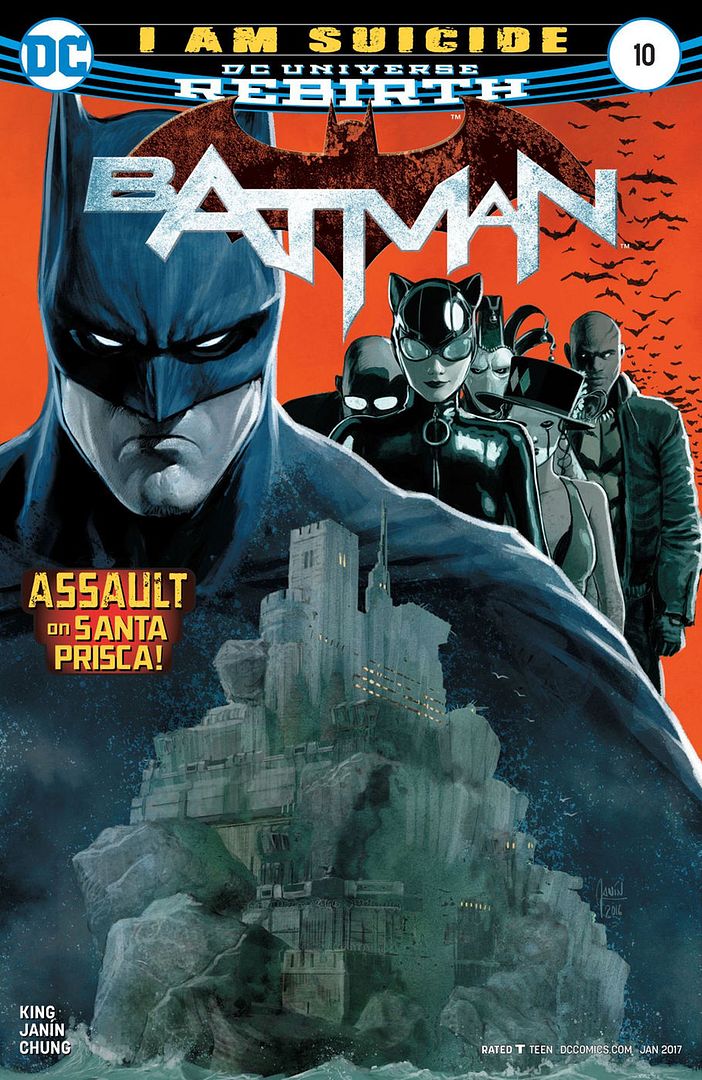 After the messiest dogfight in the history of messy dogfights between the Santa Prisca Air Force's F-15 Eagles and new Bat Plane looks like a cross between Nolan's Bat and something out of Star Wars, Batman goes full-on fisticuffs with Bane's heavily machine-gunned-up grunts before finding himself at the mercy of another big beating by a primal, naked Bane. (A Bane, who by the way, makes a case that Venom-free is the way to be.)
Narration comes courtesy of a Catwoman monologue that, at first, is a bittersweet, beautifully written ode to her time as a child in a Wayne orphanage, before taking a turn into sinister territory that sheds at least a little light on why we found her in Arkham last issue for 237 murders.
Lots of back-cracking later, Batman's incomprehensible plan of mid-air collisions, beach-side brawls, and dank-dungeon wall-punching still didn't make any sense to me, but the enigmatic (but still somewhat romantic) Catwoman musings keep the proceedings intriguing (if not confusing).
I've been a big proponent of Tom King's Batman stories since Scott Snyder bequeathed him the keys to Gotham City for this book's REBIRTH relaunch, and this is the first issue that's left me scratching my head. Mikel Janín's pencils and inks are robust and fresh, with June Chung's colors handsomely hitting the highs of dangerous skies and the lows of dirty brown dungeons, but certain sequences seems to experience a bit of disconnect between art and script that makes things a bit hard to follow.
On the other hand, I trust that Batman knows what he's doing... and I trust that Tom King knows what he's doing, too. Let's see what happens in the next issue. - John Bierly
GRADE: A
SYNOPSIS: "I am Suicide" part three! Plunging into the belly of the beast, Batman and his team of misfits infiltrate Santa Prisca. Betrayal and savagery unfold as Batman races to steal Bane's prized possession…and not everyone will make it out alive.
It took a while to get to the first page of BATMAN #11, because I couldn't stop staring at Tim Sale's incredible variant cover. Once inside, it's weird, wild ride.
After last issue's confusing first phase of Batman's plan to reclaim the Psycho-Pirate from Bane in a desperate bid to repair Gotham Girl's mind, the Caped Crusader's hand-picked Suicide Squad makes its various moves into Bane's intimidating inner sanctum: Catwoman (now a killer times 237), the Ventriloquist (sans Scarface), Punch & Jewelee (who never shut up), and Bronze Tiger (who just wishes they'd shut the hell up).
The artwork (pencils by Mikel Janín, inks by Janín and Hugo Petrus, colors by June Chung) and writer Tom King's script mesh much better than they did in issue 10, from the emotional and fast-moving rooftop chase between Batman and Catwoman that kicks off the story to its shockingly violent finale. The real showstopper here is a two-page spread of Catwoman and the Ventriloquist navigating a seemingly never-ending latticework of giant plumbing rendered by Chung in a woozy, industrial green; I love how the imagery mixes with the expert letters of Clayton Cowles to create some truly engaging visual storytelling.
But back to that shockingly violent finale for a minute. When issue 9's big reveal was that Batman's final recruit was Catwoman, we didn't know how or why she was rotting in Arkham. Issue 10 answered the question, but issue 11 makes it kind of murky again, and then things go so far over the top that there's got to be some kind of trick, right? At first I was excited that Batman chose some relatively obscure characters for his team rather than the same old heavy-hitters we see over and over again, but this issue seems to suggest they were picked for another reason entirely. If so, it's a bit disappointing.
As I said in my review of issue 10, I trust that Batman's got a plan, and I trust that the phenomenal Mr. King has a plan, too. I'm not as into this story as I'd like to be (after LOVING his run so far), but I'm still intrigued. Don't judge a book by its cover, and don't judge a story until it's over. - John Bierly
GRADE: A
John Bierly still can't believe he
gets to write for BOF.
Check out JOHNBIERLY.COM to read about the other things he writes about.

comments powered by