When I started putting together this list – a ranking of the best Batman graphic novels – I quickly found out that it's one F'n tough endeavor. Trying to compromise one's personal likes and loves with the historical significance of the MANY Batman GN's is, quite frankly, damn near impossible.
My list started out as a Top 10, then was lengthened to a Top 20, and then expanded yet again to a Top 25! At that point, I had to bring a bit of exclusivity into the equation and decided to cut it down to about half and make it a Top 12.
CLICK HERE FOR PART 1, and below you'll find my Top 5 which is based on my own aforementioned standards.
5. GOTHAM BY GASLIGHT (1989)
1989…one of my favorite years as a Batman fan!
Of course, this was the year of the first "dark and serious" Batman film, BATMAN, which starred Michael Keaton and Jack Nicholson as Batman and The Joker respectively. I don't know how many of you remember all the hoopla surrounding the film back in '89, but it was something else!
As a direct result, it reenergized me as a Batman fan and got me back into comics after a few years of not reading them. One of the first collections I bought was this comic book "book" – we now call them "graphic novels" – titled GOTHAM BY GASLIGHT. Written by Brian Augustyn (with art by Mike Mignola), GBG is a classic Batman detective story, only it's set in the late 1880s. The plot revolves around the early career of "The Batman" just as England's Jack the Ripper shows up in Gotham City. Thus, it's Batman vs. Jack the Ripper!
GBG is historically significant because it was the very first of DC's "Elseworlds" tales, though it originally wasn't labeled as such. As both a history buff and Batman fan, I absolutely love the story and find the concept quite cleaver. Elseworlds or not, this is one fantastic Batman tale start to finish and one that I believe deserves the the #5 spot on my list.
4. ARKHAM ASYLUM: A Serious House on a Serious Earth (1989)
"I'm afraid that when I walk through those asylum gates... When I walk into Arkham and the doors close behind me... It'll be just like coming home." - Batman (ARKAHM ASYLUM: A Serious House on a Serious Earth)
Look, Grant Morrison's ARKHAM ASYLUM: A Serious House on a Serious Earth isn't for everyone – including yours truly. However, there's no denying that it's a classic Batman graphic novel. Heck, it's a classic graphic novel of the genre period. What stands out in Morrison's depiction of The Joker – most prominently through dialogue – and Dave McKean's crazy and terrifying artwork.
I'm not one of those Batman fans who believes Batman's just as crazy as the villains he fights – namely The Joker. Is a valid interpretation of the character? Sure – it's simply not my cup of tea. Frankly, I strongly considered not putting this GN in my final Top 12 list. If I was basing my rankings 100% on my personal opinion I wouldn't have. However, the quality of the GN along with its historical significance forced me to include it in the Top 5.
While I wouldn't want to see a straight-up adaptation of AA as a live-action or animated film, the premise – Batman being locked up in Arkham with all of rogues gallery – would make for an interesting Batman film.
3. THE LONG HALLOWEEN (19996-1997)
THE LONG HALLOWEEN is – on some days – my favorite Batman story of all time. On the days it's not, it's still in the Top 3!
With TLH, Jeph Loeb (writer) and Tim Sale (artist) gave fans one of the best Batman sagas of all time, but arguably the definitive Two Face origin story. I'd argue that Chris Nolan's THE DARK KNIGHT live-action Batman film is right up there as far as Two Face origin stories, but there's A LOT of TLH in TDK!
In addition, TLH is an excellent murder mystery that takes place early in Batman's career. I don't know if the brotherhood and relationship between Batman, Harvey Dent, and Jim Gordon was ever portrayed as wonderfully as it was in this particular GN – well, maybe in THE DARK KNIGHT, but you know where that film got its inspiration!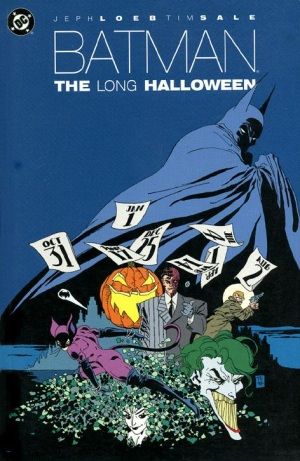 2. BATMAN: YEAR ONE (1987)
Written by Frank Miller (with fantastic art by David Mazzuccheli with Richmond Lewis), BATMAN: YEAR ONE is one of the grittiest Batman comic book stories to date that plays out like a urban crime drama. I consider it the definitive Batman origin story (well at least when it comes to the medium of comics books) and one that should never be retconned.
Like THE LONG HALLOWEEN, there's a lot of B:YO in a Chris Nolan Batman film -- BATMAN BEGINS in this case.
B:YO is probably Frank Miller's best Batman work ever...well...except for that one book he authored that's #1 on this list.
And it sure as hell ain't THE DARK KNIGHT STRIKES AGAIN!
1. THE DARK KNIGHT RETURNS (1986)
THE DARK KNIGHT RETURNS is Frank Miller's masterpiece and deserves the #1 spot on this list.
Why? Can you think of any other single Batman story that changed the way people viewed both the character of Batman and comic books in general?
I didn't think so.
THE DARK KNIGHT RETURNS transcends Batman comics and the comic book industry. Without that one graphic novel, there most likely would never have been the 1989 BATMAN movie, Chris Nolan's "Dark Knight Trilogy," and the comic book films of today as we know them.
So, hell yeah, it's a no-brainer to place THE DARK KNIGHT RETURNS at the top of the Batman graphic novel heap!
Here's What Didn't Make The Cut To 12!