Happy 75th Anniversary to Robin, The Boy Wonder! Below you'll find BOF's "review" of one of the most important Batman comic books of all time, DETECTIVE COMICS #38. With a street date of March 5, 1940, the Dick Grayson version of Robin – the very first of the comic book superhero "sidekicks" – debuted and the rest is history.
SYNOPSIS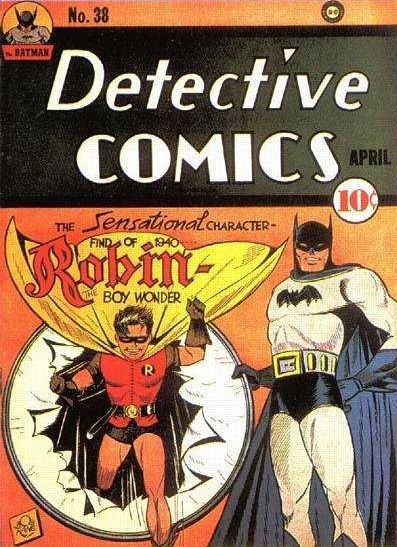 Mr. Haly, the owner of a traveling circus, experiences a shakedown where he is told to pay a "fine." Haly refuses. Afterwards, his #1 attraction, "The Flying Graysons," are killed during their performance later that night. The only member of the group that survives is the Grayson's young son, Richard, AKA "Dick."
In the audience that night was Gotham's millionaire playboy, Bruce Wayne. Bruce takes in the orphaned Dick Grayson and gives him the "Batman Treatment" by training him to become a crime-fighter like himself. Once DG's training is over, he is given his own suit (which sports the colors of red, yellow and green) and takes on the name of "Robin."
The new Dynamic Duo proceed to hunt down the gang responsible for the circus shakedown, as well as their leader, Boss Zucco. Zucco is now on to a new scheme in which he plans to destroy a construction site of one of Gotham's new skyscrapers. Batman and Robin show up at the site and, after a fight, take down Zucco and turn him over to the GCPD with incriminating evidence, eventually leading conviction and prison time.
The story ends with Dick Grayson swearing an oath of allegiance to Batman's cause and promises to fight crime alongside Batman, as his partner, forever.
HISTORICAL SIGNIFICANCE
DETECTIVE COMICS #38 featured the very first appearance of Dick Grayson and Batman's junior partner, Robin. Robin's classic origin story was also told in this issue.
INFO
"Batman and Robin, The Boy Wonder" from DETECTIVE COMICS #38 was written by Bill Finger, penciled by Bob Kane, inked and lettered by Jerry Robinson, and edited by Whitney Ellsworth. The cover was done by Bob Kane and Jerry Robinson. It went on sale for 10 cents on March 5, 1940 and has a cover date of April 1940.
RESOURCES
Bill "Jett" Ramey's personal Batman comic book collection.
Bill "Jett" Ramey's personal Batman discussions with Michael Uslan.
DCINDEXES.COM
DC.WIKIA.COM