BATMAN AND ROBIN NIGHTWING #23
Author: Bobby Barrett
August 22, 2013



SYNOPSIS: Could Batman have saved Damian's life after all? Guest starring Nightwing! - DCCOMICS.COM
BATMAN AND ROBIN NIGHTWING #23 brings us to the conclusion of the "Grief" arc that has been this book's reaction to the death of Robin/Damian Wayne. It's been a somber journey with readers following Bruce Wayne through the "Five Stages of Grief" over the course of as many issues. In some ways, this title has taken a bullet for the team--it's been "business as usual" in the other Batman monthlies, with the occasional mention of Damian just to know they haven't forgotten him – while the BATMAN AND ROBIN comic has been enveloped in this loss for half a year now. It hasn't been an easy thing to get through, but truthfully, it shouldn't be--the loss of an offspring is any parent's worst nightmare, something that would prove more devastating than one would dare to imagine.
This issue opens with Bruce in the Batcave, obsessing over how he could have possibly saved his son. Using WayneTech's Internet 3.0, he has created a virtual simulation of the events in BATMAN, INCORPORATED #8, reliving his tragedy over and over again in an attempt to rectify it. Nightwing drops by at Alfred's request, hoping to bring some light into the situation. In a true Dick Grayson fashion, he takes the unexpected road in getting through to his mentor, helping him confront his grief and look for some kind of acceptance.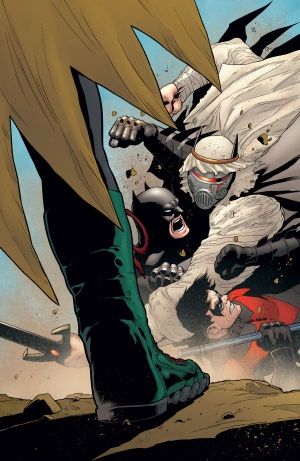 BATMAN AND ROBIN #23 Cover
The connection is genuine, but ultimately this issue's real true tear-jerking moment comes from a character who has not had his name in the title of this comic. Truly, the loss of a family member affects more than one person. Only if a family seeks comfort in one another can they hope to overcome this kind of pain, rather than be torn apart by it. Peter Tomasi has a clear grasp on this, and in a story arc with no main villain or ongoing threat, he's made it feel like we've made a journey and came out better for it.
I find it necessary to commend this book's creative team for their awareness of the comics they share a universe with. BATMAN AND ROBIN's rotating guest stars these last few issues have felt like they stepped right out of the pages of their own comics to join this title, from clever mentions of thing going on outside this book, to Pat Gleason's careful rendering of Brett Booth's Nightwing design. Because of their close cooperation with Grant Morrison (due to their handling of his character, Damian), Tomasi and Gleason's BATMAN AND ROBIN has felt to me like the bridge between BATMAN, INC. and the other Batman monthlies, taking full participation in events like Scott Snyder's "Night of the Owls" and "Death of the Family" as well. It's apparent that continuity is a priority for these guys, and I appreciate that effort.
It pleases me to say that Tomasi, Gleason and co. didn't drag their readers through emotional hell for nothing – the end of this story is satisfyingly human, with just enough resolve to feel like things are ready to move forward. As we take a break from the main story in September to observe "Villains Month," a new story is on the horizon, promising the return of an all-time favorite Bat-rogue Be here in October for BATMAN AND TWO-FACE #24! - Bobby Barrett
GRADE: A-
Bobby Barrett is a lifelong Batman enthusiast living in Fresno, California, with his wife and several cats.
He enjoys reading, writing, acting, and playing very loud rock music.



comments powered by