BATMAN ETERNAL #8
Author: Bobby Barrett (Follow @BATBOBBY)
May 31, 2014


SYNOPSIS: Is Stephanie Brown an assassination target?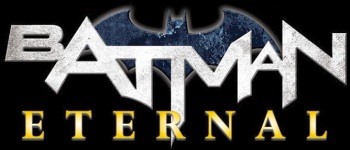 John Layman turns in a solid script for the eighth week of BATMAN ETERNAL. The Dark Knight is on the warpath, beating a message into any thug he can find: Carmine Falcone is not welcome in Gotham City. Falcone has a similar message, however, and is able to utilize the GCPD to deliver it in the form of a Bat-Signal ambush.
Meanwhile, Jason Bard and Vicki Vale cross paths at a crime scene. Bard is trying to look at the scene with fresh eyes, while Vale is looking for answers regarding the rumored gang war that the police have refused to comment on. The pair examine the scene: a bullet-riddled phone booth with multiple chalk outlines surrounding it. Bard's theory is that the victims in this shooting were not the intended targets (though it's never said how he came to that conclusion). He's right on the money, though, as we get a flashback scene revealing that those bullets were indeed intended for a very frightened Stephanie Brown, who knows too much about something terrible that involves her family.
Batman is aware of Bard and the fact that he was recruited personally by Jim Gordon, and from events in this issue, seems confident that he might be an ally. It won't amount to much, seeing how the new Police Commissioner answers directly to Falcone, but it looks like Bruce Wayne is going to need all the help he can get to face what's coming…
The review continues after the jump!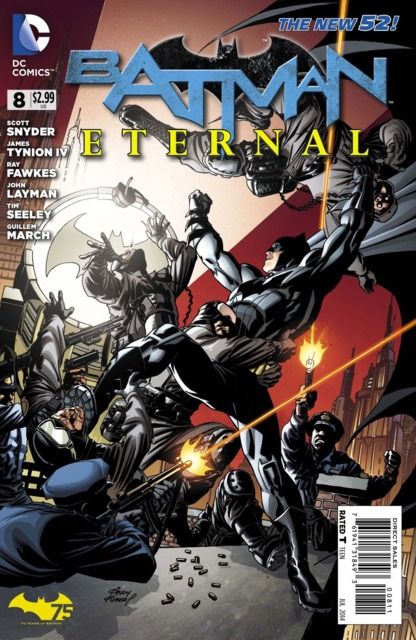 BATMAN ETERNAL #8 cover
This was an enjoyable issue, it looks like this series has finished its introductory phase and is ready to spend a little more time progressing specific aspects of the story. Guillem March (GOTHAM CITY SIRENS, TALON) makes his ETERNAL debut here and it goes smoothly for the most part. The artist definitely experiments with the use of different textures for different scenes, and knows how to make his characters look good. Things start to look a little weird once the action intensifies, as March likes to draw very dramatic action poses and the proportions on characters (especially Batman) can get a little skewed.
John Layman has really honed in his skills for writing Batman over the year+ that he worked on DETECTIVE COMICS. It's nice to see him flex his muscle on some bigger, universe-expanding stuff, even though the end of his time on this book is drawing near. For now, though, we still have the next couple weeks! - Bobby Barrett
GRADE: B
Bobby Barrett is a lifelong Batman enthusiast living in Fresno, California, with his wife and several cats.
He enjoys reading, writing, acting, and playing very loud rock music.



comments powered by