@BATBOBBY)
May 1, 2014



SYNOPSIS: Batman battles Batgirl as Jim Gordon's troubles take a turn for the worse!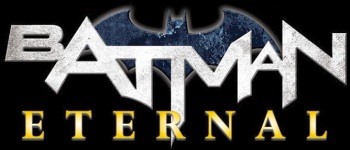 Right out the gate, the fourth installment of BATMAN ETERNAL gives fans something worth celebrating: Dustin Nguyen and Derek Fridolfs on pencils/inks!
This duo gained prominence in Gotham City over several years of working with superstar Bat-writer Paul Dini (on DETECTIVE COMICS, followed by STREETS OF GOTHAM); and most recently broke out on their own with BATMAN: LI'L GOTHAM – a unique, whimsically stylized depiction of Batman and his world that is a must-see for any Bat-fan (unless, of course, you hate joy). This art team's gracefully fluid style is always a delight for the eyes, and it appears they will be doing semi-regular work on ETERNAL.
This is a good thing, because with the way things are going in Gotham right now, readers need something to be happy about! Issue #4 gives us a nifty little back-and-forth between Jim Gordon's arraignment – with daughter Barbara looking on in horror – and Batgirl taking out her frustrations on Professor Pyg's men later that evening (speaking of which, it looks like The New 52 has resurrected Mr. Toad!). The judge declares that Gordon's negligence has cost the lives of 162 citizens and that his known association with vigilantes makes him a flight risk ineligible for bail.
Newly-appointed interim Commissioner Forbes – on Cloud Nine after escorting Gordon back into custody – returns to GCPD headquarters where Jason Bard expresses his concern about the city's escalating gang situation. Forbes declares in no uncertain terms that hunting down Gotham's vigilantes will be the department's priority #1 from this point forward.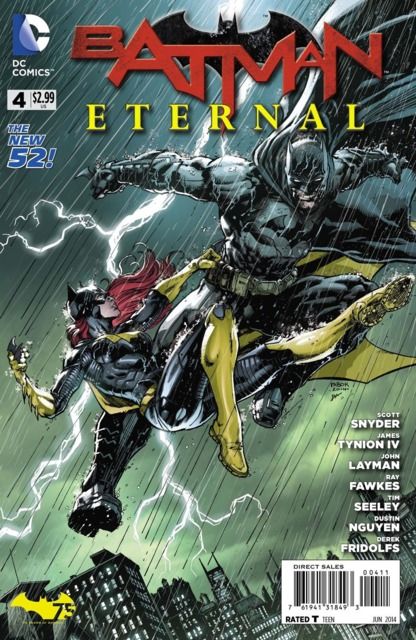 BATMAN ETERNAL #4 cover
Meanwhile, Stephanie Brown, having unwittingly become a witness to conspiracy, desperately seeks sanctuary. She successfully contacts her mother from a pay phone, who is eager to get her home. However, this is The New 52, and not every character has the same moral alignment you might expect.
It was nice to see Batgirl get the main focus this week. ETERNAL appears set to bring all of Batman's allies closer into his world than they've been since the relaunch, and you'll find no objection here. Although there's been some interaction, solo comics have mostly confined Bruce Wayne's proteges to their own stories, and that sense of community and a shared universe is a welcome addition. Having Batman and Batgirl at odds during the story did rub me the wrong way, however, seeing how they are both 100% convinced of Jim Gordon's innocence. It really seems like they should be working together eagerly rather than urging the other to back off. I get that Bruce feels like Barbara is reacting too emotionally, but I prefer it when Batman is a strong leader who knows how to get through to his "family" and set them on the right path.
This week's story credits go to Scott Snyder and James Tynion IV, while the script is from John Layman, and Tim Seeley and Ray Fawkes are listed as "Consulting Writers". I'm wondering if this format is how the series will progress – with the script credit rotating between the team, but the story and consulting credits remaining the same. Could explain why Layman made a hasty exit from the series – it's a solid script but doesn't read like one of the writer's recent issues of DETECTIVE. Maybe the degree of freedom wasn't what he was expecting. Nevertheless, I'm glad he got to participate on this book for a bit and I hope to see him return to the Batcave someday.
Until then, I'm eager to see what this team has in store for us in the coming weeks. - Bobby Barrett