BATMAN ETERNAL #14-17/July 2014
Author: Bobby Barrett (Follow @BATBOBBY)
August 1, 2014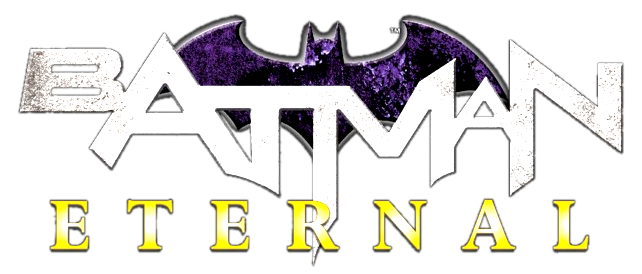 Summer is in full swing - and amidst vacations, Comic Cons, rising Robins, and the lure of swimming pools, it seem appropriate to take a break from BOF's weekly coverage of BATMAN ETERNAL. Now that life is getting back to something resembling "normal", we'll take a quick look at the last months' worth of stories.
Feel free to let BOF know – via email or by commenting below – if you prefer this style of reviewing BATMAN ETERNAL, or prefer the weekly reviews!
Issue #14: Remember how the good folks of the GCPD appeared to be getting one-up on the Gotham mob in the last couple issues? Well, it all worked out, thanks to some master planning by Jason Bard (with a little help from Batman and Vicki Vale)…only Bard might not be the saint we've been led to believe (any kind of resolution this early in the series is always going to be too good to be true). However, the big star of this week was The Penguin, who took a surprising MAJOR turn toward the sadistic. If you're a fan of BATMAN RETURNS, you're going to love the way they're handling Oswald (and if not…at least there's no black goo).
Jason Fabok returns as penciller, once again providing the "standard look" for this series. While I find myself drawn to the more stylistic/experimental artists this book has featured, Fabok does his job well as he provides the basis for the others to draw from.
Issues #15-17: Here we have a 3-issue run from Ray Fawkes. I'm really digging how each of this book's writers has their main focus of characters, but they still manage to throw in a scene with as many of the book's additional characters as space and pacing will allow. Obviously a hard thing to juggle from one writer to the next, but Team ETERNAL appears to be getting more and more comfortable with it. The two main focuses in Fawkes' chapters involve Red Robin and Harper Row's investigation of the nanobots infecting citizens of Gotham (including Harper's brother), and Jim Corrigan (aka The Spectre) and Batwing's venture into the bowels of a sickly Arkham Asylum.
This latter situation is the real show stealer, with some insight finally given to what exactly is happening to the Asylum and its inmates, and it all points to one Deacon Blackfire - a maniacally charismatic leader longtime Bat-fans will remember from 1988's BATMAN: THE CULT. It appears as if the events of that Jim Starlin/Bernie Wrightson story have happened (to some extent) in the New 52 universe, with some updated flashbacks given to familiarize readers on Blackfire's backstory and likely amend it to fit the New 52.
Oh yeah, Professor Milo works at Arkham! Remember him from the '70s comics and BATMAN: THE ANIMATED SERIES ("Moon of the Wolf", "Cat Scratch Fever")? Not a major part of the story (at least yet), but I got a kick out of seeing him.
Fan favorite art team Dustin Nguyen and Derek Fridolfs make their triumphant return on all three chapters, with the former's character designs maintaining their trademark "cartoonish" charm and the latter going to town with his focus on background and texture - particularly in the Arkham Asylum scenes! I honestly can't get enough of Nguyen and Fridolfs, and I will happily spend my money on any Bat-book they take part in.
Not going to bother with a letter grade this time around, but I will say that BATMAN ETERNAL has kept me consistently interested, and the writers are doing a terrific job maintaining the story flow from one to the next. It's definitely helping that each writer is now handling 2-4 consecutive issues, letting the narrative build as much consistency as possible. With the solid writing team and its rotating lineup of established and up-and-coming artists, this weekly is certainly doing its job of enriching Gotham City and its cast of characters.
One final note: I had been thinking recently about how much this book needs Nightwing, but after seeing so much of Red Robin in these last few issues, I'm getting more comfortable with Dick Grayson's "vacation" from the Bat-family. Grayson's masked alter-ego WILL return someday, but for now, it's nice to see Batman's other allies gaining prominence. - Bobby Barrett
Bobby Barrett is a lifelong Batman enthusiast living in Fresno, California, with his wife and several cats.
He enjoys reading, writing, acting, and playing very loud rock music.



comments powered by