BATMAN ETERNAL #13
Author: Bobby Barrett (Follow @BATBOBBY)
July 2, 2014

SYNOPSIS: A demon from Jim Gordon's past comes to haunt him in Blackgate while the Gang War threatens to rip Gotham City apart! Can Jason Bard keep the order without coming head to head with The Batman himself?
Thirteen issues in, we get our first big payoff in BATMAN ETERNAL!
Jason Bard's plan to take back the GCPD from Carmine Falcone takes shape, and it's a doozy! With help from Maggie Sawyer, Harvey Bullock, and Vicki Vale (to get everything on record) - and a tad bit of participation from our favorite Dark Knight - the good guys may be close to exposing the corrupt Interim Commissioner Jack Forbes…and Falcone is not happy.
Vale's eager participation in Bard's plan may come at a price, however, since she chooses to ignore some message board "spoilers" about the Cluemaster's plan posted by a desperate Stephanie Brown. This villain's daughter has had her world pulled out from beneath her, but the casualties of her endeavor have only just begun…
Meanwhile, Red Robin and Harper Row's game of cat-and-mouse takes a turn in favor of the latter, as Harper gets closer to Tim Drake's operation than he would ever suspect. Methinks Tim will end up playing a crucial role in Harper's upcoming transition into "Bluebird". Of course, that remains to be seen.
Finally, bookending this chapter is a chilling scene of a father and son reunited, as an imprisoned Commissioner Gordon comes face to face with his presumed-dead son, James. The young Gordon has arrived to represent temptation incarnate with his persuasions for his father to turn his back on the city that is eager to watch him fry - and join his son on the dark side. James, Jr. is convinced (or feigning belief) that the accident his father is standing trial for was no accident at all, rather a long-awaited lashing out of a man who has suppressed his violent urges for too long. As readers, we know better - but the more the walls close in on the former Commissioner, the more he will begin to doubt himself…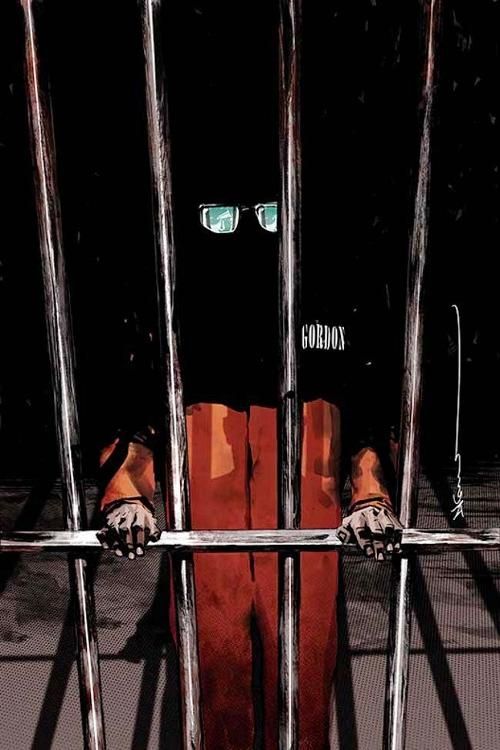 BATMAN ETERNAL #13 cover
James Tynion IV out-does himself here, particularly with the Gordon scenes. While not utilizing the stylized nature of THE BLACK MIRROR, he flawlessly recreates that sense of disturbing unease between father and son. The GCPD scenes were a delight to read, I found myself grinning ear to ear as Jason Bard's plan revealed itself, eager as ever to see what comes next. Stephanie Brown's story is definitely getting some depth as well. Loss and sacrifice are pillars of the epic superhero tale, and unfolding saga of Stephanie's transition into "The Spoiler" has utilized both to turn a recently unsuspecting teenager into a person of action.
Mikel Janin spends his second issue providing art for us, and most certainly plays to his strengths. Creating visually striking characters to are easily discernible from one another appears to be Janin's specialty. This chapter was lacking a typical "big action scene", but Janin makes the most of it, using panel-to-panel narrative to captivate the reader and keep those pages turning. This artist will be making himself at home in the Batman Family of comics on the upcoming GRAYSON series, definitely one to keep your eye on.
Honestly, there was really nothing not to like about this issue. It felt great to get some payoff from the storyline that's been building up for this many chapters. Obviously we still have a long way to go, but the importance of this issue is immediately evident. There are still some major plot shifts we know are coming, ones that haven't begun to take shape yet - and I'm firmly invested as ever in watching them unfold over the weeks to come - Bobby Barrett
GRADE: A
Bobby Barrett is a lifelong Batman enthusiast living in Fresno, California, with his wife and several cats.
He enjoys reading, writing, acting, and playing very loud rock music.



comments powered by