Review: DETECTIVE COMICS #949
Author: Peter Verra (Follow @PETER ILLUSTRATED)
Date: January 28, 2017

SYNOPSIS: "BATWOMAN BEGINS" parts one and two! This special two-part interlude spotlights team leader Batwoman! In the wake of the "Night of the Monster Men," A.R.G.U.S. has built a secret research city around the corpse of the megamonster that collapsed in Gotham Harbor…creating Gotham City's newest and most dangerous neighborhood, Monstertown!
In #949, the mission faces a deadly complication-the Colony wants Jacob Kane back, and they'll kill to set him free!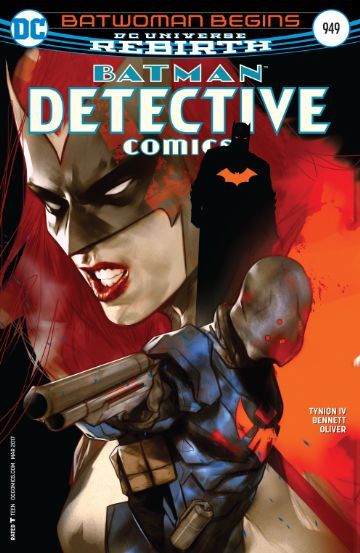 Before reviewing issue #949, here's a brief recap of #949: A quick flashback to Kate Kane and her father bonding over tailing Batman because "In Gotham City, the bats need to fly." We return to present day and learn from Dr. Victoria October (who is giving me serious Cruella de Vil vibes) that the monster carcass from the conclusion of "Batman: Night of the Monster Men" contains the "Monster Venom" that Hugo Strange used to create them.
Seagulls have been feasting on the monster and are now mutating. Batman and Batwoman are called on to the scene by Dr. October because of a breaking and entering and enough stolen monster remains to cause a threat. It turns out the Colony is back in Gotham and they sent in their top gun Colony Prime for the remains and to break out Colonel Kane.
Now on to the issue at hand…
I've always liked Batwoman. It's almost like she is a combination of Jason Todd and Tim Drake. She's got some issues: She lost her mother and sister in a traumatic accident and her father used her as bait to get info on Batman and start his Colony. She's smart too as she figured out on her own that Batman and Bruce Wayne are one in the same. This is the best incarnation of this character. Get me to February because I'm ready for her new solo series.
This issue shows that while she admires Batman, she is her father's daughter and a soldier. Some of the highlights of this issue were seeing Kate Kane analyze Batman, his fighting style and origins and an early encounter between the two. Colony Prime isn't much of a threat to Batman or Batwoman as they easily toy with him until he injects himself with Strange's "Monster Venom" and he still isn't much to care about. This is all about who Kate Kane is and why she wears the Bat on her chest.
The flash backs that start each issue really set up the final confrontation between Batwoman and Colonel Kane. Her and her father need each other, they use the other to get what they want. They spy on one and other and take knowledge from the other, either way it always seems to come back to the two of them and what they need from the other.
I really like Tynion and he seems to be having fun. It reminds me of Grant Morrison's BATMAN run in 2008 by pulling parts of Batman's past into the present. However, it doesn't confuse me like Morrison did at times. You can tell he really likes this ensemble team story that he is putting together.
While these two issues are really a jumping off point for the new BATWOMAN series, it was fun to dig deeper into Kate Kane's brain and see what makes her tick. - Peter Verra
GRADE: B

comments powered by