Review: DETECTIVE COMICS #937
Author: Bobby Barrett (Follow @BATBOBBY)
Date: July 29, 2016

SYNOPSIS: "RISE OF THE BATMEN" Chapter Four: In issue #937, Batman's found his way into the heart of the Colony, the mysterious new organization cutting its way through Gotham City! Unfortunately, now that he's in he may find there's no way out!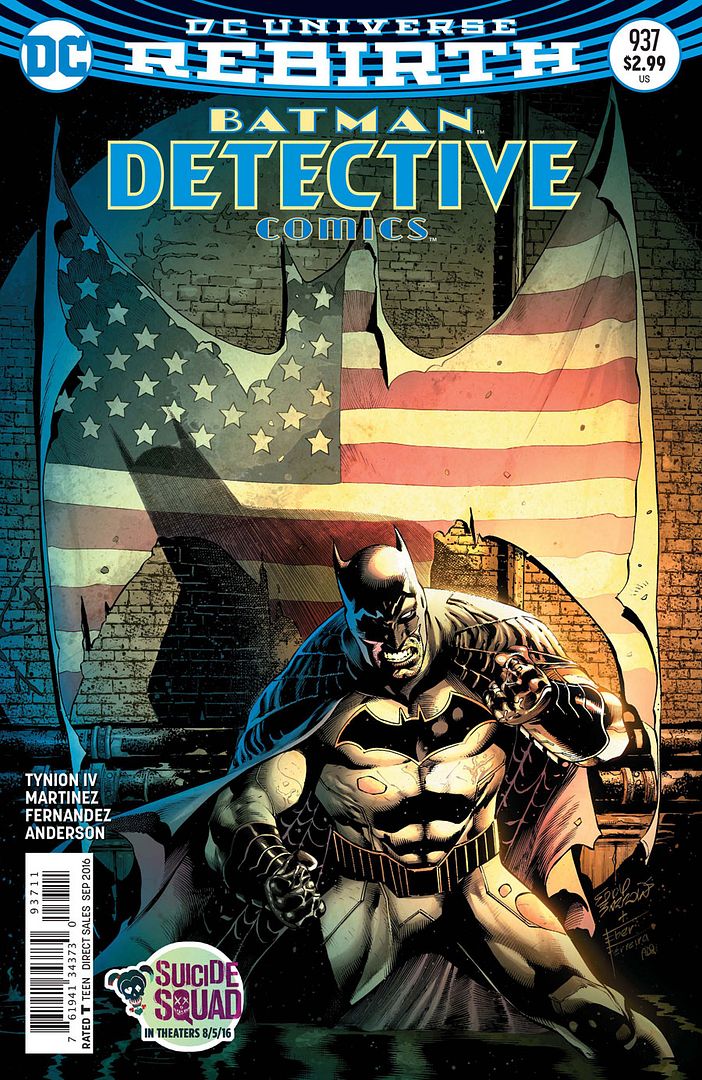 Just when I figure DETECTIVE COMICS is about to plateau, James Tynion IV and co. deliver the single best Batman comic to date of the "Rebirth" era! After sitting out most of the last issue, The Dark Knight takes center stage for this one, breaking out of captivity in The Colony's HQ and hunting down information on this new enemy.
One thing that never gets old reading Batman is watching him escape from inescapable situations and think, "Man, I should have thought of that!" It's easy to dismiss these things as being a given because he's Batman, but when dealt out with such forethought and confidence, it merely demonstrates why we love Batman to begin with.
Batwoman and her team regroup after their escape from The Colony's attack at The Belfry, revealing more to Red Robin's secret lair than anyone anticipated ("This is what happens when you give a 16-year-old genius who doesn't sleep an unlimited budget"). Not only are these surprises awesome additions to the Bat Family's operations, but it's a treat to see Tim Drake written in such a way that truly respects the character's value to the overall Batman mythos.
As The Dark Knight confronts the head of The Colony, a new enemy is declared the true danger…an enemy with a familiar name to fans of Batman on film, only here in a different context than seen previously. This serves to deepen "Rise of the Batmen"'s mystery even further, though that intrigue is somewhat deflated by the fact that Bruce refuses to believe they exist--a notion that might come across as wearisome to some Batman readers (you might have heard of this little storyline called "The Court of Owls").
Aside from that minor blemish, DETECTIVE #937 looks and reads perfectly with Tynion firing on all cylinders and Alvaro Martinez utterly owning his second issue penciling. Most "Rebirth" titles have yet to switch artists, but when you've got two that are this talented, bringing this much "A" game to the project, it doesn't hinder a thing. "Rise of the Batmen" is nearing its conclusion and the bar has been set for an explosive finale.
Side note: not my discovery, but apparently the kid in charge of The Colony's tech is a reinvention of a villain from the '90s called "The General," who later took on the role of Anarky during the FINAL CRISIS era. Not sure how relevant that is to what's happening right now, but interesting nonetheless. - Bobby Barrett

comments powered by