Review: DETECTIVE COMICS #935
Author: Bobby Barrett (Follow @BATBOBBY)
Date: June 23, 2016

SYNOPSIS: "RISE OF THE BATMEN" Chapter Two.
The Batman and team find themselves in the crosshairs as the villain they've begun hunting turns the tables on them. Batman and Batwoman have the skills to survive, but do their young teammates? Is this where hero training ends in tragedy?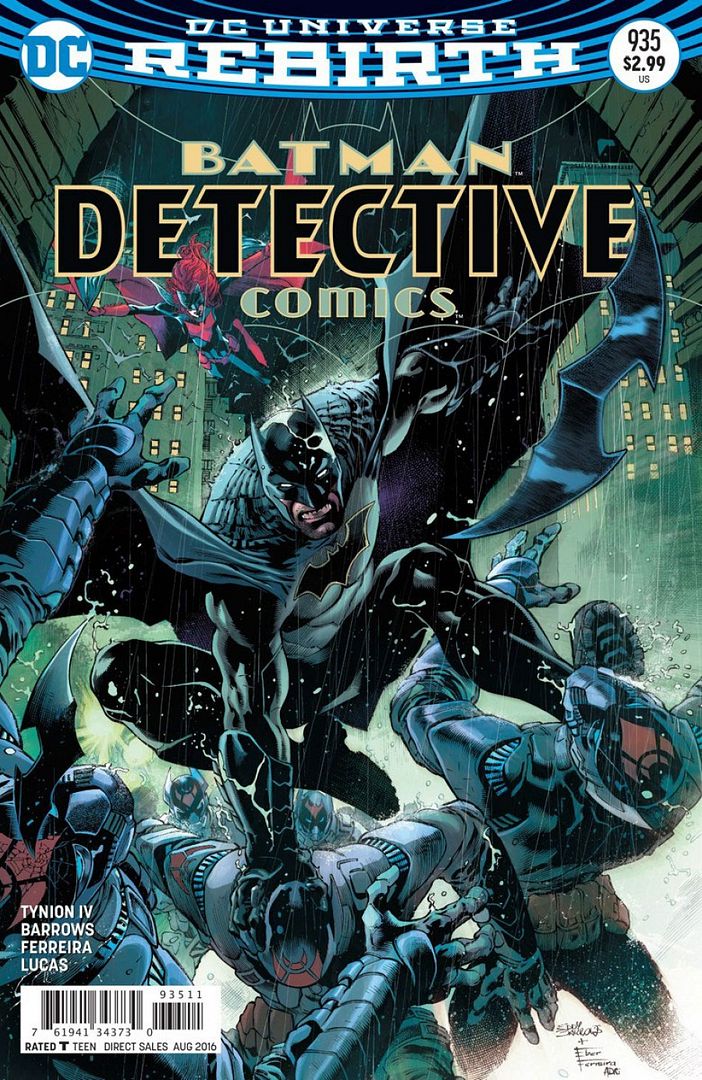 Gotham City's new status quo continues to establish itself in the second chapter of "Rise of the Batmen." Satellite Batcaves are no new concept for Batman fans, but writer James Tynion IV and co. just might have revealed the coolest one yet. Dubbed "The Belfry" by Red Robin, these new digs serve as a hub for The Dark Knight's allies at the center of Gotham: one where they can monitor emergency broadcasts, equip themselves with the latest Bat-approved weaponry, and partake in AR training in the "Mud Room" – a fight simulator that generates foes and scenarios utilizing Clayface's biology. ("Yeah, and who asked ME how that would feel?" Karlo remarks with sarcasm.)
The Bat's young allies are being put through the ringer by acting drill sergeant Batwoman, and are growing resentful. Rightfully so – these kids have all been in the field and held their own in battle time and again. Batman believes the threat that's coming necessitates this kind of doubling down in preparation, though his reasoning remains secret. In fact, secrets are starting to look like a theme for this storyline. A tried and true premise for any team-based narrative, multiple members of "Team Batman" appear to be withholding something from their associates.
What Tynion excels at in this chapter is balance. This iteration of DETECTIVE presents itself as a team book and handles that distinction well. We get some time with everyone who's been shown to matter to this story thus far, with Batman getting the majority of the focus by a slim margin. Once he gets it though, it's all eyes on The Bat: this issue climaxes with one of the most exciting Batmobile chase scenes in comics in some years. And the new Batmobile? A cross between the ANIMATED SERIES model and the classic "Bat Head" version from the comics – in a word, iconic.
And speaking of things that look iconic, Eddy Barrows is most assuredly sinking his teeth into this project. The artist draws influence from many of Gotham's greatest…most notably J.H. Williams III, the way he plays with panel format. I may have judged him harshly last issue, but he is quickly earning my appreciation as an artist who knows what a Bat-book should look like. As mentioned in that previous review, the use of finishes adds great flourish to these pages. A conversation between Tim Drake and Stephanie Brown maintains the hard-inked standard look until an intimate moment takes on a softer, painted essence. This technique is used throughout the issue, sometimes in something as simple as the background. The effect is felt though, creating an almost three-dimensional quality at key moments (one of the Batmobile panels near the end – trust me, you need to see it for yourself).
All in all, DETECTIVE's "Rebirth" continues to impress with its inaugural arc. The script and visuals both appear to be gaining confidence, and they've left plenty to be curious about in the coming weeks. Who are the mysterious Colony? Why do they all look like the Arkham Knight? Where the hell is Damian (seriously – almost a month into "Rebirth" and he hasn't been seen or mentioned in any of the Bat-books!)? Looking forward to finding some answers in just a couple weeks. - Bobby Barrett
GRADE: A

comments powered by