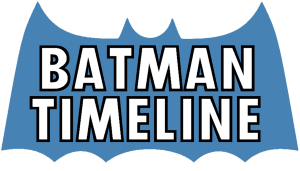 "Batman in 1953"
Author: Bill "Jett" Ramey (Follow @BATMANONFILM)
Originaly Posted on: May 26, 2015

PREVIOUS: "Batman in 1952"
1953: Batman succumbs to the 3-D rage of the 1950s as two previous stories – including 1947's "The Robot Raiders" (BATMAN #42) – were packaged in a special "Batman Adventures in Amazing 3-D Action" issue.
FEBRUARY/MARCH: Batman takes on "The Gorillas Boss of Gotham City" in BATMAN #75.
MAY: Hugo Marmon, a circus performer, shows up in a Batman costume and claims he was the first Batman, not Bruce Wayne in DETECTIVE COMICS #195.
NEXT: "Batman in 1954"

comments powered by