For Joker/Robin/Catwoman 75, My Favorite Stories
Author: Ricky Church (Follow @RICHARDCHURCH16)
Date: December 6, 2015

As 2015 is fast coming to an end, so will BOF's celebration of the 7th anniversary of Robin, Catwoman, and of course, The Joker.
I've asked some of my BOF contributors to reveal their personal favorite Robin, Catwoman, and Joker stories – from any medium – for BOF's readers.
Below you'll find those of BOF contributor Ricky Church.
ROBIN
One of the standout episodes of BATMAN: THE ANIMATED SERIES was the two-part "Robin's Reckoning." Before this, Robin's origin had never been told outside the comics. Halfway through the first season (Volume 2 of the DVD set) the series detailed his origin via flashback as he finally had the chance to catch gangster Tony Zucco, the man responsible for killing his parents.
It also showed the bond Batman and Robin cultivated and how that came to be. Even with the strain that would come between them at times, Bruce and Dick shared a very strong father/son or big/little brother relationship. "Robin's Reckoning" helped show why Robin was so essential to Batman, both personally and in his crusade against crime. It also showed, despite the popular conception of the 60s show or the Batman slap meme, Robin could be a bad ass.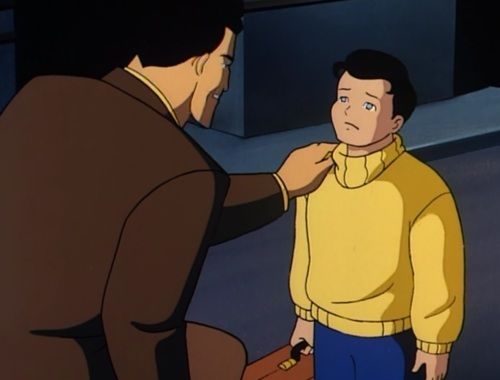 ROBIN RUNNER'S UP: DARK VICTORY, THE DARK KNIGHT RISES, and if you want to check out Dick Grayson's time as Batman, BATMAN: THE BLACK MIRROR.
CATWOMAN
Selina Kyle has become a character with her own mythology, enemies and allies, mostly protecting Gotham City's East End. She's a great anti-hero who enjoys the thrill of Batman's chase and stealing whatever she can. Though her relationship with Batman is very interesting, my favorite Catwoman story is "Selina's Big Score;" a story written and drawn by Darwyn Cooke that focuses solely on Selina Kyle. In the story she plots an Ocean's 11-like caper with allies old and new.
"Selina's Big Score" explores her character and some of her past, but it shines a light on her out-of-the-box way of planning her crimes. The story also has a very film-noir vibe as a private detective is hot on her trail, either to catch her or aid her. It's a tense cat and mouse adventure as Selina plans her biggest theft yet.
CATWOMAN RUNNER'S UP: THE DARK KNIGHT RISES, DC SHOWCASE–CATWOMAN, WHEN IN ROME, DATE KNIGHT.
THE JOKER
There is no shortage of Joker stories, but without a doubt my favorite Joker story is 2008's THE DARK KNIGHT, directed by Christopher Nolan with Heath Ledger as Batman's arch-nemesis. The Joker is presented as a threatening force of nature in this film, planning many of his moves steps ahead of Batman and Gordon, but with enough room for improvisation. The film emphasizes the unique relationship these two share as Joker simply has fun at Batman's expense.
Easily my favorite scene of the film, and of any comic book movie thus far, is the interrogation scene between Joker and Batman. The way he mixes lies with truth as he sees right through Batman is chilling and, despite being a clear villain, he almost makes you believe in his philosophy because he blurs the line between what you want to hear and what he wants you to think.
JOKER RUNNER'S UP: BATMAN-THE MAN WHO LAUGHS, DEATH OF THE FAMILY, ENDGAME, BATMAN BEYOND-RETURN OF THE JOKER, WORLD'S FINEST (animated film).
Richard Church is an aspiring writer for short stories, novels and screenplays.
He is also an avid fan of the superhero genre.
Follow him on Twitter @RICHARDCHURCH16.

comments powered by