Ben Affleck's BATMAN v SUPERMAN Souvenir &
He's Tired Of Being Asked About THE BATMAN (And I don't blame him!)
Posted by: Bill "Jett" Ramey (Follow @BATMANONFILM)
Date: January 19, 2017

OK, I'm officially jealous.
During an interview with BBC 1 RADIO, Ben Affleck revealed the one small keepsake he kept from BATMAN v SUPERMAN…
"I did ask to keep the suit, and they let me keep it, sort of. Not the one that I actually wore but a replica of it. I still have, but I still have it on a dummy at my house. I don't know why. Like, I just have the Batman suit there."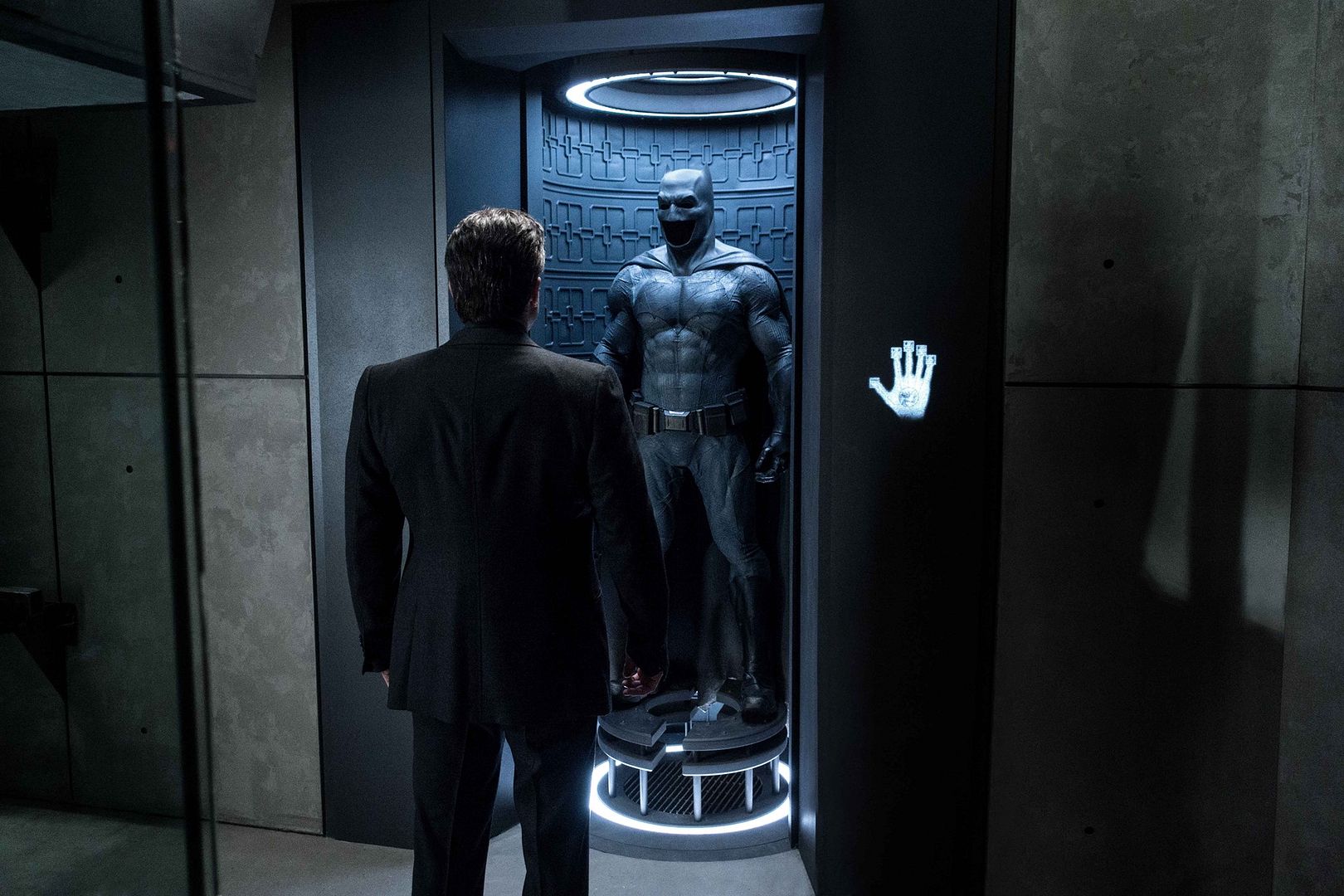 Ben Affleck at his house?
That's awesome. I wonder if he's ever tempted to put it on, stand in front of a mirror and say, "I'm Batman!" I believe Mr. Affleck has yet to say that iconic line on film. Maybe he's saving it for his solo Batman movie. Or perhaps he just stands there looking at it -- just like in the picture above. ANYWAY...
Also in the crazy world of the solo Batfleck Batflick, Ben Affleck says he's kinda tired of being asked about THE BATMAN.
Wow, I cannot believe that!
Per The Batfleck (via ET CANADA)…
"Oh my God, it's such a pain in the ass. It's like every time I mention Batman it gets this huge clickbait! When I was doing this movie it took me two years to get it together, but nobody ever asked me, 'LIVE BY NIGHT?' You know? They ask me 'Batman, Batman, Batman.' Batman's coming along; it's going to be great. We're going to make something really special. We're going to take the time to make it right. We're going to do it good."
Man, I don't blame him at all. The dude worked his ass off on a film (LIVE BY NIGHT) that was important to him. Then when it comes out, it gets ravaged by critics, does poorly at the box office, AND all anyone wants to talk about while doing press for said movie is the Batman movie!
On the other hand, the press is only asking about Batman because people are very much interested in and excited for it. I'm sure that editors directed their people to specifically ask Affleck about Batman when they interviewed him. So while it annoys the hell out of him, I'm sure there's a part of him that's happy so many folks are super excited for THE BATMAN.
Well, I hope he feels that way.
So, here's the deal going forward when it comes to Ben Affleck's Batman movie and BOF…
BOF will not post ANY "I'm working on the script and I'll make it when it's ready" stories.
Deal?
Deal!

comments powered by