Michael Uslan Writing Batman Again!
Posted by: Bill "Jett" Ramey (Follow @BATMANONFILM)
July 9, 2013

If you're a longtime reader of BOF, you should know that Michael Uslan – the "Godfather of the Modern Comic Book Film" – is one of my personal heroes.
And he's also a friend of mine...which is pretty cool to be able to say. Anyway...
Whenever I have a chance to pimp something cool that MU is doing, I'll pimp it -- especially if it involves the greatest fictional character of all time, The Batman! Check this out this press release from DC COMICS...
BATMAN: BLACK AND WHITE #2
Written by RAFAEL GRANPA, DAN DIDIO, RAFAEL ALBUQUERQUE, JEFF LEMIRE and MICHAEL USLAN
Art by RAFAEL GRAMPA, J.G. JONES, RAFAEL ALBUQUERQUE, ALEX NINO and DAVE BULLOCK Cover by JIM STERANKO
On sale OCTOBER 2, 2013
The Eisner Award-winning series continues with a second amazing issue! Don't miss new takes on The Dark Knight from legendary creators including Rafael Grampá, Dan DiDio and J.G. Jones, Rafael Albuquerque, Jeff Lemire and Alex Niño, and Michael Uslan and Dave Bullock! Plus, a cover by the amazing Jim Steranko!
Here's MU's description of what his story is about...
"Can you imagine what a Bat-Man, black and white, silent film directed by someone like Max Fleischer might have looked like?"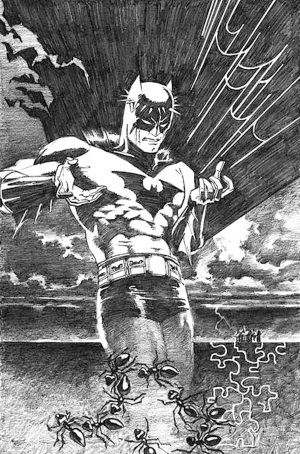 Sounds...interesting -- and I mean that in a good way. ANYWAY...
This looks to be a heck of a Batman in comics project, and I'm very excited to checking it out this Fall.
Stay tuned to BOF for more on this project as I'm quite sure I'll be speaking to my friend -- whom I call "Mr. U" -- about his project here shortly on BOF.
SOURCE: DCCOMICS.COM



comments powered by