San Fran to Become Gotham for Boy's Batman Make-a-Wish
Posted by: Bill "Jett" Ramey (@BATMANONFILM)
November 5, 2013

Check out this awesome story via SF.WISH.ORG...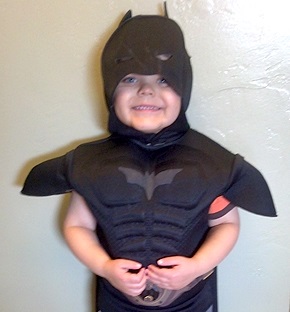 Miles may only be 5 years old but he is fighting a very adult battle, one that we hope he will win. Miles has leukemia. He is a bright, positive, little boy who finds inspiration in super-heroes. When we interviewed Miles for a wish, he surprised even his parents: Miles wants to be Batkid!
On November 15th, Miles will get his wish! The day will begin with a breaking news story. San Franciscoís Police Chief will ask if anyone knows the whereabouts of Batkid. The city needs his help to fight crime and capture villains! Our little Batkid, along with The Caped Crusader, will be ready to answer the call!
After rescuing a damsel-in-distress from the Hyde Street cable-car tracks in Nob Hill, then capturing the Puzzler in the act of robbing a downtown vault, Batkid will enjoy lunch at the Burger Bar, near Union Square. After lunch, he will get a special message from the Police Chief and go to the window where he will look down and see a huge crowd of volunteers jumping up and down pleading for Batkidís help. Why? The villainous Mr. P has just kidnapped a famous San Francisco mascot (Lou Seal)! The getaway car will be visible on Union Square, (a convertible offering a view of the crime in progress), and the chase will be on!
After apprehending Mr. P, Batkid will make a final stop at City Hall where the Mayor of San Francisco, Ed Lee, along with the Police Chief, will congratulate him on his daring feats of justice and present him with a key to the city. We hope to have a huge crowd of volunteers and donors there to cheer him on and thank our Batkid!
This is a great opportunity to witness the magic of a wish in action and a perfect outing for kids, families, and Bat-fans everywhere!
CLICK HERE for more information and
if you would like to participate or donate.



comments powered by