Books About Batman Every Fan Should Read (Selected by BOF'ers)
Author: Bill "Jett" Ramey (Follow @BATMANONFILM)

Today, the great character known as "The Batman" is found in all sorts of media. He's in movies, television, video games, and of course, in his place of origin, comic books.
But how many books about Batman and his various incarnations have you read? Below you'll find 5 Batman books – ranked in no particular order, by the way – most recommended by BOF'ers as Bat-Book must-reads that should be added to the list. Enjoy!
CLICK HERE FOR PART 1!
THE BATMAN FILES (2011)
by Mathew K. Manning
OFFICIAL SYNOPSIS: Unearthed from the depths of The Batcave by Mathew K. Manning, The Batman Files begins with Wayne's childhood drawings and continues along a time line of significant events in Batman's life. Complete and authentic in every way possible, all of Batman's friends and foes--from Poison Ivy, Catwoman, the Riddler, and Penguin, to the Joker, Batgirl, Mr. Freeze, and of course, Robin--appear throughout the dossier to provide a framework of the Caped Crusader's entire career.
Completely outlining Batman's war on crime, The Batman Files includes in-depth computer files, news articles, crime scene photos, blueprints, schematics, and actual maps of Gotham City that were collected, and in many cases even drawn, by The Caped Crusader himself.
High production values include black matte gilding, as well as a high-tech fabric cover--complete with a metallic Batman emblem to secure the secret contents within. Each detail of Batman's life is carefully and faithfully detailed with the involvement of DC Comics inside The Batman Files -- destined to be the must-have gift for every avid Batman fan and collector.
JETT'S TAKE: Definitely picking this one up and adding to the collection!
BATMAN: THE WORLD OF THE DARK KNIGHT (2012)
by Daniel Wallace
OFFICIAL SYNOPSIS: Who hides in the shadows, an often constant but unseen presence? Who strives to rid the city of the evil that lurks through the streets? Who is he? THE BATMAN.
First appearing in the pages of Detective Comics in 1939, Bruce Wayne vowed to avenge his parents' murder and rid the world of evil by becoming the fearless caped crusader known as Batman.
Follow every punch, kick, twist, and turn of the Dark Knight's story in Batman: The World of The Dark Knight. Tracing Batman's entire career, with full detail of his signifi cant adventures, battles, loves, allies, and enemies, this ultimate guide will leave nothing unexplored. DK's Batman: The World of the Dark Knight includes everything from how Batman came to be created and how the character was developed through the decades to key events in Batman's life that have continued to develop his story over the years. With a new, fresh look featuring intricate full-color comic book art, Batman: The World of The Dark Knight is a comic enthusiast's dream come true!
JETT'S TAKE: I had no idea this book existed. Thanks to BOF'ers, I do now. Ordered!
BATMAN: ANIMATED (1998)
by Paul Dini and Chip Kidd
OFFICIAL SYNOPSIS: From Emmy Award-winning-producer Paul Dini and acclaimed designer Chip Kidd comes Batman Animated, the behind-the-scenes story of the hit show that revolutionized television animation and brought a stunning new look to the legendary Caped Crusader. Since its premiere in September 1992, Batman: The Animated Series has been acclaimed by enthusiastic viewers and longtime fans of the Batman character as the defining image of the Dark Knight onscreen.
Now readers are offered an inside look into the creation of the series. Granted unprecedented access to the archives of the Warner Bros. Animation Studio, Chip Kidd has combined breathtaking photographs by Award-winning photographer Geoff Spear and fashioned an imaginative layout of never-before-published preproduction and finished artwork that echoes the boldness of producer-designer Bruce Timm's powerful TV show.
Paul Dini's text offers entertaining and informative commentary on the series history, development, and continuing production. It includes glimpses into the making of the Batman animated features Mask of the Phantasm and SubZero, and a sneak peek into the future projects.
Featuring a detailed episode guide, comments from the series creators and voice actors, and an introduction by Bruce Timm, Batman Animated is a must-have for Batman fans young and old.
JETT'S TAKE: I actually have this one...somewhere. I remember finding it at a mall bookstore years ago and buying there. It's not on my bookshelf for some reason...must be packed away with some old comics.
THE JOKER: A VISUAL HISTORY (2011)
by Daniel Wallace (Introduction by Mark Hamill)
OFFICIAL SYNOPSIS: A comprehensive look at the greatest comic book villain...ever.
Since his first appearance in 1940's Batman #1, the Joker stands alone as the most hated, feared, and loved villain in the DC Universe. Though his true origins may be unknown, the Clown Prince of Crime's psychotic appearances in hundreds of comic books has shaped the way we look at Batman, comic books, and ourselves. Indeed, a hero is only as good as his nemesis, so the Joker's heinous crimes, including murdering the second Robin and paralyzing Batgirl, have elevated Batman to the highest levels of crime-fighting, and we, the readers, to the finest levels of quality pop-culture entertainment.
The Joker is the first retrospective chronicling one of the most groundbreaking and game-changing villains of all time, and contains images from his more than seventy years in comics by comic book artists and writers such as Bob Kane, Bill Finger, Jerry Robinson, Dick Sprang, Grant Morrison, Dave McKean, Neil Gaiman, Geoff Johns, Alan Moore, Brian Bolland, Brian Azzarello, Bruce Timm, and Paul Dini. Also included are images from his various film, television, animated, and video game incarnations, such as the timeless interpretations by Cesar Romero, Jack Nicholson, and Heath Ledger, who won his posthumous Oscar for his portrayal of the Joker in 2008's The Dark Knight. This book is a must-have for fans and anyone who wants to die laughing.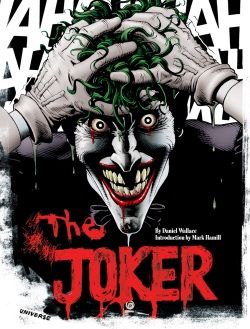 JETT'S TAKE: How in the hell did I miss this?! Buying as soon as this article is posted to BOF!
BATMAN COVER TO COVER (2005)
by Various Artists
OFFICIAL SYNOPSIS: Written by Neal Adams, Neil Gaiman, Geoff Johns, Chip Kidd, Jim Lee, Paul Levitz, Jeph Loeb, Brad Meltzer, Christopher Nolan, Alex Ross, Mark Waid, Adam West, Mark Hamill and others Art by Neal Adams, Brian Bolland, John Cassaday, Darwyn Cooke, Alan Davis, Dick Giordano, Michael Golden, Carmine Infantino, Dave Johnson, J.G. Jones, Michael Wm. Kaluta, Bob Kane, Gil Kane, Joe Kubert, Jim Lee, David Mazzucchelli, Scott McDaniel, Ed McGuinness, Mike Mignola, Frank Miller, Jerry Robinson, Alex Ross, Tim Sale, Walter Simonson and others Cover by various Get ready for BATMAN COVER TO COVER - a 240-page hardcover, oversized, coffee-table extravaganza spotlighting over 250 of the best BATMAN covers of all time! Organized by theme, readers can see the Batman Family, Fearsome Foes, Death Traps, Bizarre Settings and much, much more in this lavish collection culled from eight decades of The Dark Knight's exploits! Commentary on personal favorites is provided by Batman Begins director Christopher Nolan, TV's first Batman Adam West, the voice of the Joker Mark Hamill, as well as comic book creators Neil Gaiman, Alex Ross, Brad Meltzer, Mark Waid, Jeph Loeb, Brian Bolland, Paul Levitz, Sheldon Moldoff, Jim Lee, Jim Aparo, Neal Adams, Jerry Robinson and many more!
JETT'S TAKE: Two words: "coffee" and "table."
A life-long Batman fan, Bill "Jett" Ramey
is the founder of BATMAN-ON-FILM.COM.
He digs Elvis, The University of Texas,
Dallas Cowboys Football, and of course...
THE BATMAN!
He resides in the GREAT state of TEXAS with his hot wife, three kids, and two Boston Terriers.


comments powered by