Books About Batman Every Fan Should Read, Part 2
Author: Bill "Jett" Ramey (Follow @BATMANONFILM)
March 22, 2013

Today, the great character known as "The Batman" is found in all sorts of media. He's in movies, television, video games, and of course, in his place of origin, comic books.
But how many books about Batman and his various incarnations have you read? Below you'll find a list of Batman books – ranked in no particular order, by the way – I believe every fan of The Dark Knight should own and read. Enjoy!
CLICK HERE FOR PART 1!
WISDOM FROM THE BATCAVE (2006)
by Rabbi Cary A. Friedman
OFFICIAL SYNOPSIS: Wisdom from the Batcave analyzes the life philosophy that emerges from Batman comic books. In 18 entertaining chapters, the Batman's example is used to teach profound truths. Focusing on relationships with self, others, and the larger community, the comic panels and Batman-family characters are utilized to illustrate how to live a better life.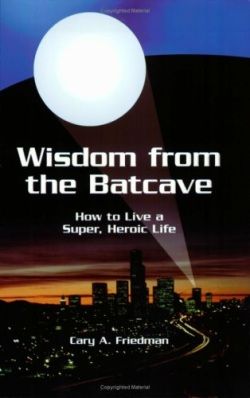 JETT'S TAKE: First, if you haven't read this book, DO SO NOW! Secondly, if you want to inspire someone ala Bruce Wayne in BATMAN BEGINS, give this book to a friend who needs, well, some inspiration. LOVE this book!
THE ESSENTIAL BATMAN ENCYCLOPEDIA (2008)
by Robert Greenberger
OFFICIAL SYNOPSIS: The ultimate guide to the man behind the mask...and the mythology behind the man.
"Criminals are a superstitious, cowardly lot. So my disguise must be able to strike terror into their hearts. I must be a creature of the night, black, terrible...I shall become a bat!"
So declared millionaire industrialist Bruce Wayne, orphaned as a boy by a murderous thug and driven as a man to battle the scourge of crime by becoming Batman. Batman swooped into popular culture in 1939–and for nearly seventy years has thrilled audiences in countless comics, live-action and animated television programs, and seven feature films. Prowling the darkened rooftops of Gotham City, roaring through the teeming streets in the sleek, high-powered Batmobile, and leaping into action when the iconic Bat-Signal pierces the night sky, the Caped Crusader is a larger-than-life legend. And now, for the first time in more than thirty years, everything there is to know about Batman–from the beginning to the present, and from A to Z–is collected in one comprehensive new sourcebook.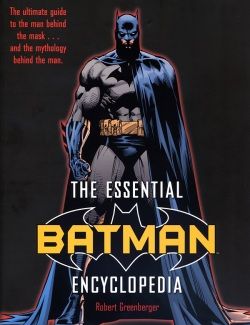 JETT'S TAKE: If I were teaching a class about Batman -- and you never know, I just might -- this would be my textbook. If you call yourself a Batman fan, this one MUST be on your bookshelf.
Read it. And yes, there WILL be a quiz afterwards.
HUNTING THE DARK KNIGHT (2012)
by Will Brooker
OFFICIAL SYNOPSIS: The author's in depth investigation into Batman Begins and The Dark Knight uncovers the complex relationship between popular films, audiences, and producers in our age of media convergence. He addresses a myriad of questions raised by these films: did Batman Begins end when The Dark Knight began? Does its story include Burger King's "Dark Whopper," the Gotham Knight DVD, or the "Why So Serious" viral marketing campaign? Is it separate from the parallel narratives of the Arkham Asylum videogames, the monthly comic books, the animated series, and the graphic novels? Can the brightly campy incarnations of The Batman ever be fully repressed by The Dark Knight, or are they an intrinsic part of the character? In other words, do all of these various manifestations feed into a single Batman metanarrative?
JETT'S TAKE: Deep stuff here. Like REALLY deep stuff. So deep, you'll probably need to take Bat-Sub to read it...but take that dive anyway.
THE BATMAN HANDBOOK (2005)
by Scott Beatty
OFFICIAL SYNOPSIS: The Essential Skills of The Dark Knight—Unmasked!
From how to throw a Batarang to how to make a Batsuit, from how to win a whip fight to how to drive the Batmobile on two wheels, The Batman Handbook is the ultimate real-world training manual for the aspiring super hero. Here are illustrated, step-by-step instructions on the vital information you'll need to emerge victorious against any criminal mastermind!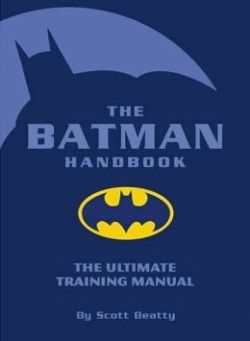 JETT'S TAKE: If you really, Really, REALLY want to be Batman, this is the book for you! All you need is this book, Ra's Al Ghul & The League of Shadows, AND about a billion dollars. Good luck!
HOLY FRANCHISE BATMAN! (2012)
by Gary Collinson
OFFICIAL SYNOPSIS: From the early movie serials of the 1940s through recent animated incarnations, the entire screen history of one of the most successful media franchises of all time,
Since The Caped Crusader first made the leap from comics to silver screen in the early 1940s, generations of audiences have been captivated by the screen adventures of Batman, establishing the celebrated comic book hero as a true icon of popular culture. Now, this book begins with the early movie serials of the 1940s and charts the development of Batman's many exploits across both live action and animation, presenting a comprehensive overview of his illustrious screen career. From the classic 1960s television series starring Adam West and Burt Ward to the hugely successful blockbuster feature films from directors Tim Burton, Joel Schumacher, and Christopher Nolan, as well as early Saturday morning cartoon outings and the acclaimed "DC Animated Universe," this book explores the evolution of Batman on a journey that has taken him from camp crime fighter to Dark Knight.
JETT'S TAKE: This is the definitive book on the TV and film incarnations of The Batman as it includes ALL animated versions of the character. If you dig Batman on film and in animation, this is the book for you. (Full disclosure! BOF was a source for some of the info in this book.)
GOTHAM CITY 14 MILES (2012)
OFFICIAL SYNOPSIS: From 1966 to 1968, both on ABC and in theaters, America embraced Batman as a campy cultural icon. But in the ensuing decades, many vilified the show as an embarrassment that needed to be swept under the rug if Batman -- and super-heroes -- were to be taken seriously. Now, we can return to Adam West's Gotham...to the unapologetic fun of colorful, cackling villains hatching bizarre schemes...to phrases like "Atomic batteries to power!" and "Same bat-time, same bat-channel!"...to deadpan heroes climbing walls and defying deathtrap cliffhangers...and find these aspects rich with cultural meanings we may have ignored. GOTHAM CITY 14 MILES offers the series the critical reevaluation it deserves. The book's diverse essays examine Batmania, camp, the role of women, the show and '60s counter-culture, the show's celebrated actors, its lasting cultural effects, and other subjects.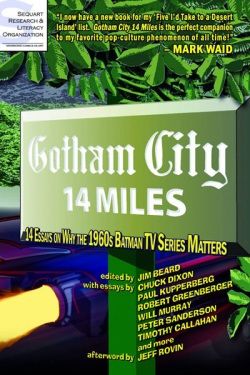 JETT'S TAKE: If there wasn't the 60's BATMAN TV series, there wouldn't have been a BOF.
I loved the "Adam West Batman Show!" When I was a kid of 4, 5, and 6 years of age, I took that show just as serious as "The Dark Knight Trilogy" in my 40s. One of my most fond memories as a child was my Mom bringing me to a Beaumont, Texas "Woolco" c.1969 to meet Burt Ward as Robin.
Even though it's not "My Batman," I will always have a special place in my heart for the 60's BATMAN series.
Well, what do you think?
Are these the best books about Batman?
HERE IS A LIST OF 5 ADDITIONAL BAT-BOOKS suggested by BOF'ers. - "Jett"
A life-long Batman fan, Bill "Jett" Ramey
is the founder of BATMAN-ON-FILM.COM.
He digs Elvis, The University of Texas,
Dallas Cowboys Football, and of course...
THE BATMAN!
He resides in the GREAT state of TEXAS with his hot wife, three kids, and two Boston Terriers.


comments powered by