Books About Batman Every Fan Should Read
Author: Bill "Jett" Ramey (Follow @BATMANONFILM)

Today, the great character known as "The Batman" is found in all sorts of media. He's in movies, television, video games, and of course, in his place of origin, comic books.
But how many books about Batman and his various incarnations have you read? Below you'll find a list of Batman books – ranked in no particular order, by the way – I believe every fan of The Dark Knight should own and read. Enjoy!
BATMAN AND PSYCHOLOGY (2012)
by Travis Langley
OFFICIAL SYNOPSIS: Batman is one of the most compelling and enduring characters to come from the Golden Age of Comics, and interest in his story has only increased through countless incarnations since his first appearance in Detective Comics #27 in 1939. Why does this superhero without superpowers fascinate us? What does that fascination say about us? Batman and Psychology explores these and other intriguing questions about the masked vigilante, including: Does Batman have PTSD? Why does he fight crime? Why as a vigilante? Why the mask, the bat, and the underage partner? Why are his most intimate relationships with "bad girls" he ought to lock up? And why won't he kill that homicidal, green-haired clown?
JETT'S TAKE: If you ever wanted to realy know if Bruce Wayne is nuts, then this is the book for you. Perhaps some incarnations of Batman are more crazy than others! Great read and tremendously insightful into the psyche of The Dark Knight. Also features a forward by Michael Uslan and an introduction by Denny O'Neil.
THE ART AND MAKING OF THE DARK KNIGHT TRILOGY (2012)
by Jody Duncan Jesser
OFFICIAL SYNOPSIS: In 2005, director Christopher Nolan redefined the Batman legend with Batman Begins, starring Christian Bale as the Caped Crusader. A fresh, dynamic reboot of the franchise, Batman Begins explored the comic book hero's origins and his evolution from billionaire Bruce Wayne to dark avenger who fights crime and corruption in Gotham City. A 2008 sequel, The Dark Knight, took those compelling, character-driven foundations and raised the stakes, pitting Batman against a deranged master criminal, The Joker, in an all-out war for Gotham's soul. The final film of Nolan's trilogy, The Dark Knight Rises, was 2012's most anticipated and successful film.
The Art and Making of The Dark Knight Trilogy tells the complete behind-the-scenes story of these three monumental films. Based on in-depth interviews with Nolan and all of the films' key cast and crew—including cowriters David S. Goyer and Jonathan Nolan, cinematographer Wally Pfister, and more—the book reveals the creative process behind the epic Dark Knight Trilogy, supported by lavish art and never-before-seen photography.
JETT'S TAKE: I love this book! If you are a fan of "The Dark Knight Trilogy," this book is an absolute MUST HAVE! Includes director Chris Nolan's "Goodbye to Batman."
THE BOY WHO LOVED BATMAN: A MEMOIR (2011)
by Michael Uslan
OFFICIAL SYNOPSIS: Is any superhero cooler than Batman? He's a crime-fighting vigilante with a tragic past, a lawless attitude, and a seemingly endless supply of high-tech gadgetry. In this fully illustrated memoir, author Michael Uslan recalls his journey from early childhood fandom through to the decades he spent on a caped crusade of his own: to bring Batman to the silver screen as the dark, serious character he was at heart. Uslan's story traces his path from the wilds of New Jersey to the limelight of Hollywood, following his work as Executive Producer on every Batman film from Tim Burton's 1989 re-envisioning to 2012's The Dark Knight Rises. Through it all, he helped to create one of the most successful pop culture franchises of all time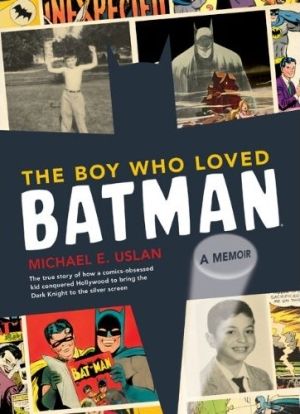 JETT'S TAKE: Michael Uslan is one of my personal heroes. His story will ring home with anyone who grew up loving Batman and Batman comics. I'm honored to be able to call him a friend, and honored that he calls me one as well.
BATMOBILE: THE COMPLETE HISTORY (2012)
by Mark Cotta Vaz
OFFICIAL SYNOPSIS: Here for the first time is the complete history of the sleek, sophisticated, incomparable Batmobile. From its humble beginnings in the pages of Detective Comics, to its reimaginings every decade in the pages of DC Comics, to its unforgettable appearances on the big screen, this book explores each incarnation of the Batmobile in incredible detail and scope.
In addition to comic books, the Batmobile has been immortalized in nearly every imaginable medium, including film, television, toys, and video games. Most recently, it was given breathtaking new life—and incredible capabilities—in Christopher Nolan's extraordinary film trilogy, which concludes with 2012's The Dark Knight Rises. While each of the Batmobile's incarnations will be explored, special attention will be paid to the "Tumbler" Batmobile from Batman Begins, The Dark Knight, and The Dark Knight Rises.
With stunning gatefolds and detailed specs, blueprints, and historical comparisons, BATMOBILE: The Complete History is an informational and visual delight for auto and Batman fans alike. It's an unparalleled and high-speed journey that will leave you breathless.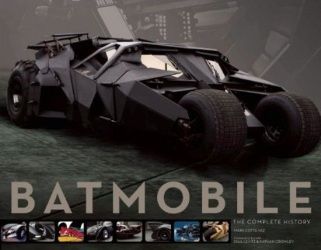 JETT'S TAKE: It's the car, right? Chicks dig the car." (You knew I couldn't pass that one up!) Great read and it looks wonderful on a coffee table!
BILLION DOLLAR BATMAN (2012)
by Bruce Scivally
OFFICIAL SYNOPSIS: Since his creation in 1939, Batman has become one of the most popular characters in fiction. From his humble roots in dime comic books, he grew to become a serial hero, a frequent guest star on the Superman radio show, and then the star of his own explosively successful TV series, spawning a nationwide epidemic of Batmania. After Batman became a movie star, his thrilling exploits were no longer kid stuff-he was now a multinational conglomerate's biggest corporate asset. Billion Dollar Batman reveals the stories behind the story of one of the most lucrative and profitable media creations in history. Includes profiles of the people who guided Batman from Bright Knight to Dark Knight and revealing behind-the-scenes information about Batman serials, TV shows and films. Illustrated with photos of the actors who have brought Batman to life for seven decades.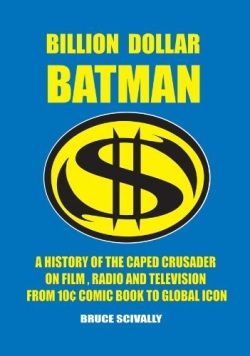 JETT'S TAKE: This might just be the definitive book on how the Batman film franchise -- hell, the character of Batman period -- became the billion dollar, steamrolling juggernaut it is today. Fantastic read, very detailed and thorough examination of Batman from Bob Kane to Chris Nolan. (Full disclosure! I was interviewed for this book and served as a fact-checker as well.)
WISDOM FROM THE BATCAVE (2006)
by Rabbi Cary A. Friedman
OFFICIAL SYNOPSIS: Wisdom from the Batcave analyzes the life philosophy that emerges from Batman comic books. In 18 entertaining chapters, the Batman's example is used to teach profound truths. Focusing on relationships with self, others, and the larger community, the comic panels and Batman-family characters are utilized to illustrate how to live a better life.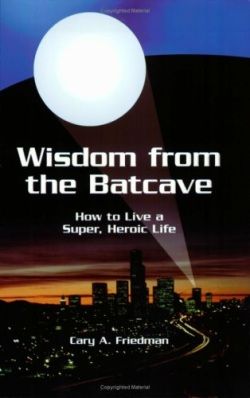 JETT'S TAKE: First, if you haven't read this book, DO SO NOW! Secondly, if you want to inspire someone ala Bruce Wayne in BATMAN BEGINS, give this book to a friend who needs, well, some inspiration. LOVE this book!
THE ESSENTIAL BATMAN ENCYCLOPEDIA (2008)
by Robert Greenberger
OFFICIAL SYNOPSIS: The ultimate guide to the man behind the mask...and the mythology behind the man.
"Criminals are a superstitious, cowardly lot. So my disguise must be able to strike terror into their hearts. I must be a creature of the night, black, terrible...I shall become a bat!"
So declared millionaire industrialist Bruce Wayne, orphaned as a boy by a murderous thug and driven as a man to battle the scourge of crime by becoming Batman. Batman swooped into popular culture in 1939–and for nearly seventy years has thrilled audiences in countless comics, live-action and animated television programs, and seven feature films. Prowling the darkened rooftops of Gotham City, roaring through the teeming streets in the sleek, high-powered Batmobile, and leaping into action when the iconic Bat-Signal pierces the night sky, the Caped Crusader is a larger-than-life legend. And now, for the first time in more than thirty years, everything there is to know about Batman–from the beginning to the present, and from A to Z–is collected in one comprehensive new sourcebook.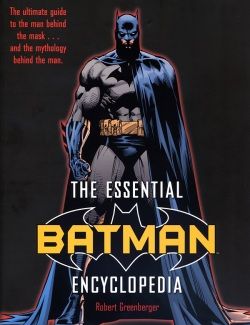 JETT'S TAKE: If I were teaching a class about Batman -- and you never know, I just might -- this would be my textbook. If you call yourself a Batman fan, this one MUST be on your bookshelf.
Read it. And yes, there WILL be a quiz afterwards.
HUNTING THE DARK KNIGHT (2012)
by Will Brooker
OFFICIAL SYNOPSIS: The author's in depth investigation into Batman Begins and The Dark Knight uncovers the complex relationship between popular films, audiences, and producers in our age of media convergence. He addresses a myriad of questions raised by these films: did Batman Begins end when The Dark Knight began? Does its story include Burger King's "Dark Whopper," the Gotham Knight DVD, or the "Why So Serious" viral marketing campaign? Is it separate from the parallel narratives of the Arkham Asylum videogames, the monthly comic books, the animated series, and the graphic novels? Can the brightly campy incarnations of The Batman ever be fully repressed by The Dark Knight, or are they an intrinsic part of the character? In other words, do all of these various manifestations feed into a single Batman metanarrative?
JETT'S TAKE: Deep stuff here. Like REALLY deep stuff. So deep, you'll probably need to take Bat-Sub to read it...but take that dive anyway.
THE BATMAN HANDBOOK (2005)
by Scott Beatty
OFFICIAL SYNOPSIS: The Essential Skills of The Dark Knight—Unmasked!
From how to throw a Batarang to how to make a Batsuit, from how to win a whip fight to how to drive the Batmobile on two wheels, The Batman Handbook is the ultimate real-world training manual for the aspiring super hero. Here are illustrated, step-by-step instructions on the vital information you'll need to emerge victorious against any criminal mastermind!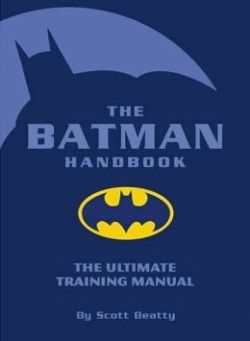 JETT'S TAKE: If you really, Really, REALLY want to be Batman, this is the book for you! All you need is this book, Ra's Al Ghul & The League of Shadows, AND about a billion dollars. Good luck!
HOLY FRANCHISE BATMAN! (2012)
by Gary Collinson
OFFICIAL SYNOPSIS: From the early movie serials of the 1940s through recent animated incarnations, the entire screen history of one of the most successful media franchises of all time,
Since The Caped Crusader first made the leap from comics to silver screen in the early 1940s, generations of audiences have been captivated by the screen adventures of Batman, establishing the celebrated comic book hero as a true icon of popular culture. Now, this book begins with the early movie serials of the 1940s and charts the development of Batman's many exploits across both live action and animation, presenting a comprehensive overview of his illustrious screen career. From the classic 1960s television series starring Adam West and Burt Ward to the hugely successful blockbuster feature films from directors Tim Burton, Joel Schumacher, and Christopher Nolan, as well as early Saturday morning cartoon outings and the acclaimed "DC Animated Universe," this book explores the evolution of Batman on a journey that has taken him from camp crime fighter to Dark Knight.
JETT'S TAKE: This is the definitive book on the TV and film incarnations of The Batman as it includes ALL animated versions of the character. If you dig Batman on film and in animation, this is the book for you. (Full disclosure! BOF was a source for some of the info in this book.)
GOTHAM CITY 14 MILES (2012)
OFFICIAL SYNOPSIS: From 1966 to 1968, both on ABC and in theaters, America embraced Batman as a campy cultural icon. But in the ensuing decades, many vilified the show as an embarrassment that needed to be swept under the rug if Batman -- and super-heroes -- were to be taken seriously. Now, we can return to Adam West's Gotham...to the unapologetic fun of colorful, cackling villains hatching bizarre schemes...to phrases like "Atomic batteries to power!" and "Same bat-time, same bat-channel!"...to deadpan heroes climbing walls and defying deathtrap cliffhangers...and find these aspects rich with cultural meanings we may have ignored. GOTHAM CITY 14 MILES offers the series the critical reevaluation it deserves. The book's diverse essays examine Batmania, camp, the role of women, the show and '60s counter-culture, the show's celebrated actors, its lasting cultural effects, and other subjects.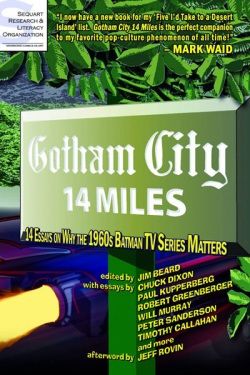 JETT'S TAKE: If there wasn't the 60's BATMAN TV series, there wouldn't have been a BOF.
I loved the "Adam West Batman Show!" When I was a kid of 4, 5, and 6 years of age, I took that show just as serious as "The Dark Knight Trilogy" in my 40s. One of my most fond memories as a child was my Mom bringing me to a Beaumont, Texas "Woolco" c.1969 to meet Burt Ward as Robin.
Even though it's not "My Batman," I will always have a special place in my heart for the 60's BATMAN series.
THE BATMAN FILMOGRAPHY (2012)
OFFICIAL SYNOPSIS: This is a complete reference work to the history of Batman big screen works, from the 1940s serials through the campy 1960s TV show and film, and up through the series of Warner Bros. summer blockbusters that climaxed with Christopher Nolan's 2012 film THE DARK KNIGHT RISES. Chapters on each Batman feature include extensive film and production credits, a production history, and a critical analysis of the movie relative to the storied history of the Batman character. The book also examines the Batman-related works and events that took place in the years between the character's film exploits
JETT'S TAKE: If you want a critical analysis of all the live-action Batman films, including the 1940s serials, this is the book for you. Keep in mind that THE BATMAN FILMOGRAPHY is not a historical recount of Batman on film, but a very opinionated essay of Batman's cinematic adventures; therefore, some of the author's takes on these films may not jibe with your personal Batman sensibilities -- mine included. Regardless, it's a great read that offers a different perspective on Batman on film.
Well, what do you think?
Are these the best books about Batman?
HERE IS A LIST OF 5 ADDITIONAL BAT-BOOKS suggested by BOF'ers. - "Jett"
A life-long Batman fan, Bill "Jett" Ramey
is the founder of BATMAN-ON-FILM.COM.
He digs Elvis, The University of Texas,
Dallas Cowboys Football, and of course...
THE BATMAN!
He resides in the GREAT state of TEXAS with his hot wife, three kids, and two Boston Terriers.


comments powered by