Bale Talks TDK
Author: Jett
Monday, April 30, 2007 - 5:18 AM CENTRAL TIME: TDK star Christian Bale spoke with IESB.NET and they were able to pry a few TDK-bit from him:

On working with Heath Ledger: "Absolutely, he is a great choice for it. I like it personally. Heath has a really crazy take for playing that role. He's going to do something really different with it."

Will we see more detective work from Batman?: (Bale picks up water bottle, starts drinking; laughter in room) "Is that clear enough?"

On playing The Batman again: "You know, I think that you got see with the other versions. You know it wasn't my cup of tea anyway, you know, it didn't really keep it going but I got Chris Nolan, whom I'm working with for the third time now. He ain't going to be making a movie if he's not going to do something very different with it, which he states. Actually, I'm very much liking the idea because I'm having the pros playing the role before. So I know it already and obviously there will be progress. We got a great cast, and Chris and I work very well together, so I know that we are going to find an awful lot to add to it. It's certainly not the last thing is treading water, but what we have now, we were confident before in what we wanted to do but other people didn't know, it was untested now other people support us too so we have all of that extra support behind us to sort of let rip and take it through."

Bale also confirms that he's heading to London in about 2 weeks to shoot THE DARK KNIGHT.

Bat-Transportation & Extras!
Author: Jett
Monday, April 30, 2007 - 5:54 AM, 9:01 AM, 7:00 PM CENTRAL TIME: My friends over at IGN MOVIES sent BOF word that they talked to Rutger Hauer and he said that as of yet, he's not in THE DARK KNIGHT...

Leo Quinones sent me word that he had the chance to interview David S. Goyer (who is promoting THE INVISIBLE) and forwarded links over to BOF. Click HERE and HERE to check it out. Leo said DG talked about "...writing with Nolan in his garage, fans stories at conventions, & his favorite scene in BATMAN BEGINS." No spoilers either...

IESB.NET has a video interview with Christian Bale forthcoming. They did mention that Bale stars work on TDK in the UK in two weeks. Thanks to "JK from Chicago" for the link...

According to BOF scooper "A.P.," the rumors about Batman tooling around through Gotham on a bike are true. I wonder if Gotham has mandatory helmet laws? Also, "A.P." says he's heard nothing about the rumor regarding The Tumbler that was reported here on Friday (4/27)...

HERE is a casting call for TDK's summer shoot in Chicago. Thanks to "Anjow, for the link...

It seems as if that Sarah Michelle Gellar in THE DARK KNIGHT rumor has reared its head again.

Tumbler Rumor
Author: Jett
Friday, April 27, 2007 - 3:54 PM, 6:30 PM CENTRAL TIME: FYI: I didn't consider the following enough of a "spoiler" to tag it as such. However, I had 2 complaints (seriously, 2 emails) upset that I didn't label it a SPOILER

. But I aim to please, so to anyone upset with me, MY APOLOGIES...

According to a report in FREEZE DRIED MOVIES, (mouse-over to read) The Tumber will get blown up next week during the TDK shoot in the UK. If you remember, The Batmobile was going to get destroyed in BATMAN BEGINS, but Chris Nolan couldn't bring himself to do it. Thanks to all the BOF'ers who sent in the lead...

Duly noted, there's talk of a "Bat-Cycle" and maybe even a different -- or new -- Batmobile in TDK. We'll see -- and we'll also see if this even plays out.

TDK Videos From Chi-Town (SPOILER)
Author: Jett
Wednesday, April 25, 2007 - 9:50 AM, 12:38 PM, 7:41 PM CENTRAL TIME: Looks like "Chicago I" filming has wrapped, and the gang is headed eastward to the UK. Man, this is good times right now I must say! Got today's stuff below and keep checking back 'cause you never know what's going to happen! And GO MAVS...

I'm sure that this is only the beginning of the TDK info I'll get today. Check out THIS VIDEO FROM CHICAGO of yesterday's shoot, as well as THIS ONE from a different angle. I'll tag 'em with a SPOILER label, but that's for those wanting to know nothing...

Seems that Heath Ledger fake "make-up test" has hit the mainstream press. My wife heard a local AM radio show here in Houston talking about it earlier today -- they even had it posted on their website! She shot over an email and set 'em straight.

Goyer Talks TDK -- A little, Another Chi-Town Report, & Eric Roberts joins the cast
Author: Jett
Tuesday, April 24, 2007 - 7:10 AM, 12:50 PM CENTRAL TIME: According to the LA DAILY NEWS, Eric Roberts has joined the cast as a "mafia kinpin" -- Sal Maroni?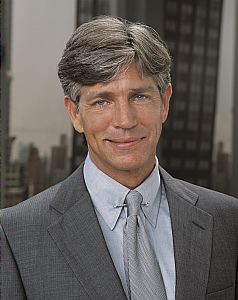 Eric Roberts -- Salvatore Maroni?
I'll try to get confirmation. Thanks to "Jestudious"...
"Syren Callista" is back with another -- and probably his last -- report from Chicago. SPOILERS may be found, so I'm labeling it as such. CLICK HERE to read...
Another report from "M" can be found HERE. I'll tag it with a SPOILER label as a heads up...
As "M" said in his report, seems that there was some sort of fire in the Old Post Office. CLICK HERE and HERE for more. Damn that Joker! Thanks to "Pilot Willie" and "Lane" for the leads...
More on the fire -- not related to or caused by the TDK filming. Source: CHICAGOTRIBUNE.COM...
David Goyer -- the dude who co-wrote the BATMAN BEGINS and the story for THE DARK KNIGHT -- recently talked to MTV.COM:
"The last scene of 'Batman Begins' tells you where things are going to go in the next movie. That was very intentional. We paved the way. For people interested in where the next movie is going to go, watch that scene again."
"Escalation [is the theme of TDK]. Escalation is certainly [the biggest theme]."
Mr. Goyer has been doing press of late for his upcoming film, THE INVISIBLE...
It seems that Michael Keaton is in Chicago right now. Someone put 2 and 2 together and got 5 as rumors of Keaton doing a cameo in TDK. Actually, MK is directing a film in Chi-Town titled THE MERRY GENTLEMEN. Could he have stopped by the TDK set? Sure. Is he going to do a cameo? VERY unlikely.
Latest From Chicago, Fake Ledger Pic -- Yes FAKE!
Author: Jett
Monday, April 23, 2007 - 8:46 AM, 10:17 AM, 3:40 PM, 7:18 PM CENTRAL TIME: CLICK HERE for a picture and report from today's Chicago shoot (FYI, possible SPOILERS)...
A new Chicago report from "M":
"I work in the 300 South Riverside building, across from the Old Post Office in Chicago. From our floor we have a great view of all the filming that is being done for Batman across the street (The facade for the 'Gotham National Bank' is directly across from us).
The first thing I wanted to let you know about is that it appears that they are filming the helicopter shots outside of the bank today. They have the street closed off with only extras and cars on it. There is also a cable strung between our building and the 'bank,' which were there for a day last week (maybe Wednesday) but haven't been up until today (though I wasn't here over the weekend).
Several times this morning, all the extras have gotten in place on the street. Then, they all start moving. Above, a bag and two men (all at the same time, one after another) repel from our building to the bank on the rope. The extras go on for a few more seconds, then they stop. It lasts about 15 or 20 seconds.
The men repelling are both dressed all in black and look like they have hats on. Their backs are to our building, so I wasn't able to catch their faces. My guess is they are some kind of henchmen trying to break into the bank.
Finally, I think the BOF site is great. I appreciate the fact that you aren't trying to spoil the movie with too much information on the plot/costume details."
Keep checking back in as I'm sure other reports will follow...
You can stop the emails, I've seen IT. You probably know what I'm talking about, if not you will soon. I think it's fake personally. I put in an inquiry with Warner Bros. this AM -- no response as of yet.
UPDATED: The pic in question that looks like a test shot of Heath Ledger as The Joker IS 100% FAKE -- no ifs, ands, or buts (per Warner Bros.).
Chi-Town shoot report from 4/21/07
Author: Jett
Sunday, April 22, 2007 - 8:30 AM CENTRAL TIME: "Syren Callista" is back and telling us what went down in Chicago yesterday (April 21st). I'm stamping this with a big SPOILER label this time around. If you are avoiding everything, pass on this one:
"Well, honestly there isn't a lot to tell about today. The helicopter was there doing endless test runs of what, you might ask? Well let me tell you! The zipline was up, and it goes from the building adjacent to the post office/bank to the roof of the post office/bank. The copter would swoop in and film two orange vests/harnesses/reference objects that traveled along the line to the roop of the 'bank.' Then they were brought back (I don't know how, maybe a motor?) and the process would repeat.
Which means that someone is making a grand entrance TO the bank. Could it be... our hero? No telling. Maybe on Monday?
Next up is a picture of the rear of the built bank wall. Notice the ramp that is going towards it?
Well that ramp, my friends, has tiles on it, tiles that are confirmed by several people to match the inside of the bank lobby.
After discussing this with several people, we have come to this conclusion: the school bus will be filmed (likely on Monday) going through the fake wall (likely to be filled with fake revolving doors?), making it look as if its going inside the bank. The bus that is inside likely looks as if it has come through those revolving doors already, so the scene to be shot will be cut with footage of the bus already inside, for a nice seemless destructive scene without damaging a historical building.
Also, I can tell you that I was told that there are several Gotham City Police Cars hidden away on location, and you can expect ot see them on Monday!
Thanks again to "Syren Callista" for another report...
Hell, if it was me, I wouldn't release of pic of Heath/Joker for as long as possible.
Suburban, Downtown Chicago and More!
Author: Jett
Saturday, April 21, 2007 - 10:38 AM, 1:39 PM, 7:24 PM CENTRAL TIME: Just a quick note to those who don't get it about BOF: We're NOT a "Scoop Site," nor or we a "Spoiler Site!" BOF is a damn "Bamtan kicks ass" site! For all y'all newcomers, read the BOF 101 and save yourself A LOT of trouble. With that said...
I told y'all that William Fichtner was in TDK as a "Bank Manager," right? Well, here's a bit from his NHL BLOG:
"I just got back from Chicago, because a director friend of mine asked a favor: to shoot the opening scene in his film, last minute. He called Saturday, and I told him, 'you're killing me,' but it's cool and I love working on cool things."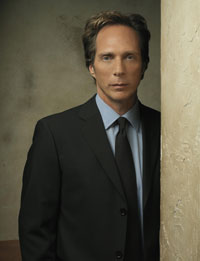 William Fichtner
I don't dig hockey (Hey, I'm a Texan, what do you expect?), but I do admire and relate to his passion for his team, no doubt. I only hope the day never comes that I have to choose between The Dark Knight and America's Team. Thanks to "Brian S." for the info...
"PCHI" has returned with a few more photos. CLICK HERE to check out some of the aerial photography taking place...
"JK" is back with another cool -- and blacked-out -- report from Chi-Town (scroll over to read):
"A trip to the post office set last night didn't yield much other than seeing that the bank set had already been struck and the lights were taken down. However, the school bus is still within and more work had been done to the fake wall.
I also work near a warehouse where it's reported to store the Batmobile and various trailers and such (not in downtown Chicago, but about a mile west of Wrigley Field). It's across the street from Lane Tech High School. This morning, there seemed to be much activity going on around the the LT football field -- including the presence of some pristine classic cars from the 50's. My co-workers told me there was some filming last night around 7 or 8 pm that took place in the stadium and included a football team? Now, maybe it's not TDK -- I understand there's another movie company in town, however, you never know.
Bill, if I ever had second thoughts about whether or not I'd read the script (IF it were ever to be made available), I don't have them any longer. It's kind of a kick trying to piece all of this together and makes the already heightened anticipation, that much more so. I'll wait until July '08 to test my theories."
I'm going to assume that the shoot with the football team is not TDK-related. Thanks again to "JK" for his reports...
Another shot from the TDK location shoot in Chicago thanks to "Bats9099." CLICK HERE to check it out.
You gussed it -- More from Chicago!
Author: Jett
Friday, April 20, 2007 - 8:54 PM CENTRAL TIME: From the BOF BOARDS via BOF'er "Syren Callista" (again, blacked out, FYI):
"[Just] got back from downtown, was there all afternoon! Things of interest:
* Interior filming done, stuff is being removed from inside.
* Work is continuing on the outside -- aging the facade, completing the fake wall (its' now painted gold on the underside).
Filming was taking place in a beaten-up looking suburban that was on a bed to be towed while filmed in.
Christopher Nolan was there supervising and looking through the camera. Three of The Joker's goons were inside (hiding their masks beneath their coats so we wouldn't see them). They broke for lunch, and when they returned they got into the car and put the masks on! Exactly as photographed and described, though I didn't notice blue mohawk hair.
AND, perhaps the best news: Heath Ledger was INDEED present in the car (they snuck him in). He had his mask off, and he did not have any face paint on whatsoever. I can't describe his suit, as he was in the car. He put his mask on -- which was very similar to the others -- then took it off again. I am guessing everything they are filming inside the suburban will be with him wearing the mask, so don't despair about the no-makeup.
Christopher Nolan got on the truck towing the suburban and everyone got set up and they began towing it away, turning off Van Buren, being followed by 'Gotham City taxis' and other vehicles. They did not return before I left (about 90 minutes later)."
Helicopter filming is taking place Saturday, Monday and Tuesday. Should be a great day!
Man, I can't wait to see this film...
Again, I know about the spy shots of Heath in Chicago (I did explain this yesterday, right?) and BOF is not running 'em.
Yet again, more from Chicago
Author: Jett
Thursday, April 19, 2007 - 6:00 AM, 11:00 AM, 1:16 PM, 9:01 PM CENTRAL TIME: Yes, I know, OK? There are pics out there of you-know-who on the Chicago set. FYI: posting them here violates BOF's hard stance against revealing items what would spoil it for you -- the Batman fan. BOF also respects the filmmakers, cast, crew, and all involved to expose something that they don't want you to see...yet. If BOF loses a few readers because of this policy so be it. But we do what we do because we think it's the right thing to do. With all that said, if you want to see what I'm talking about, it's quite easy -- and you've probably already done so. However, if you DON'T want to see it, then don't look for it ;) ...
Meanwhile, at Cardington, it seems that the Willie Wonka factory is in Gotham! CHECK THIS OUT...
Cast update. Michael Stoyanov, William Smiley, and Matthew O'Neil are playing members of The Joker's gang. William Fichtner is a cast member, just not sure what his role is yet. Thanks to "Chi-Town KatWoman" for the info...
UPDATED: William Fichtner is playing a "Bank Manager" I believe...
More "JK In Chicago" (which again is blacked out for the non-spoiler people):
"Ledger's clown mask looked -- at least from a distance -- more like a 'skull' than that of a clown. However, it did seem to have a tiny tuft of hair at the top and the mouth may have been a smile. Regardless, it didn't seem in any way to appear 'cartoony.'
As to his wardrobe, he appeared to be wearing what could be described as a dark workman's jacket and work pants. Nothing at all flashy.
By no means do I have any knowledge of the process of film making, but I just don't understand as to why Nolan would have Ledger do those scenes wearing the clown mask. I would guess that he'd have his stand-in do all that stuff I described earlier and then bring in Ledger for 'The Joker reveal.' But, what the hell do I know? I'm also surprised that Nolan does all the 2nd Unit stuff too."
I've got to admit that I can't wait to see what Heath's Joker will look like. BTW, I did suggest to my friends at Warner Bros. that it was a matter of time before someone snaps some crappy-looking pic of Ledger in costume and it gets loose online. If it were me, I'd release a controlled publicity shot and beat 'em to the punch.
More From Chicago and on The Joker's Look
Author: Jett
Wednesday, April 18, 2007 - 6:00 AM, 7:48 PM, 8:33 PM CENTRAL TIME: From my man "JK In Chicago" (which again is blacked out for y'all non-spoiler folks):
"My son and I just returned from our second visit to the post office set this week and were fortunate enough to see Chris Nolan and Heath Ledger.
We got there in time for - what appeared to be - a bank robbery scene. There were a few clown-masked goons with pistols and machine guns, some gunfire, and screaming from the bank 'staff' and 'customers.' The next scene was a clown-masked character holding a pistol on a group of people. After the scene - or maybe it's part of it(?) - he takes off his mask and I'm 99% sure it was Ledger and definitely WITHOUT Joker makeup. Nolan was visible through the window sporting a long black coat and appeared to be moving very quickly. Couldn't get off any pics as they had some pretty strong lights pointing in our direction, probably just for that reason.
Production wrapped at around 7:30 CT. That's all for now, I'll continue to keep you posted."
Again, don't read the above if you are avoiding ALL TDK info. Nothing BOF considers a spoiler, but I know many of you want to know nothing...
More on The Joker's (possible) look for TDK. A good friend -- who is also one of those "industry insiders" -- told BOF today that the earlier report on The Joker's look sounds "...about right. I know they want to do something different. I've also heard that The Joker from THE DARK KNIGHT RETURNS could have a big influence on how he [TDK's Joker] ends up looking."
A report on the TDK pre-production shoot in Chicago can be found in THE CHICAGO SUN-TIMES:
"'The Dark Knight,' the next installment of the Warner Bros. Pictures' Batman franchise, today will kick off six days of pre-production filming in Chicago before shifting to London for the main event. The Chicago schedule includes filming today through Friday and exteriors, including helicopter shots, Saturday through Tuesday.
After wrapping up principal photography in London, Warner Bros. is expected to return to Chicago in June and continue filming here through the summer.
'Their experience here went so well, they have not only returned to film "The Dark Night," but they have also increased the filming schedule," Rich Moskal, director of the Chicago Film Office, said in a press release."
A new BOF section will feature a running post of and links to TDK pictures and images. CLICK HERE to visit and visit often...
According to several Chicago BOF'ers, director Christopher Nolan is in Chicago for this shoot.
Windy City Update and More!
Author: Jett
Tuesday, April 17, 2007 - 6:24 AM, 11:18 AM, 3:54 PM, 7:05 PM CENTRAL TIME: A report on the TDK pre-production shoot in Chicago can be found in THE CHICAGO SUN-TIMES...
Here's some more images from Chicago from "TRUTH" y'all may want to check out...
A badass article by BOF fave, author Mark S. Reinhart, What ARE The 'Greatest Batman Stores Ever Told?', is worthy of your time...
"Paul" is back with another Chi-Town location pic, which you can see (if you want), as well as one from "PCHI," HERE. It's actually an update from an earlier post today, FYI...
"Chi-Town Napier" sent us a few pics that you can see HERE. Those avoiding any spoilers may want to pass -- although I don't think they are spoilers myself...
I also wanted to say that my thoughts and prayers are with all you guys at Virginia Tech. I've got lot's of email over the years from BOF'ers going to college there. Hang in there y'all...

From "Mr. J and Bozo The Clown." Again, I've blacked their report out, so you'll have to mouse over to view:
"I was on the set last night. It was cool. They have the Gotham Bank logo set up inside the Old Chicago Post Office. They have Gotham Bank teller desks. There was a zip line from a portion of one building to the post office, with a rigged window set to go out. There was a damn school bus IN the post office, and a wall that was built to blend in with the building where they will film the bus crashing into the post office. Filming was said to take place at 5 a.m. - 9 a.m. for today's shoot. Of course I couldn't make it because I have work and school, but there was quite a few people out there last night waiting. Me and few others almost broke onto the set with our video camera rolling, hoping to get a little 15 minutes of fame before a security guard stopped us right at the door.
Oh, btw ... no one else reported this. But after the we left the Chicago Post Office, me and my friend went to the location where they shot the rooftop GPD scenes. And what do you know, they have rebuilt some of the structure that was there last time. More specifically that air unit that Bruce jumpes off his 1st night out when Gordon is chasing him. Know what one I'm talking about? Yeah, that's not even a real ventilation duct, but it was set up in 2004 when they filmed, and was then taken down immediately after for the past 2 years. Magically it has returned, and so has some other set props as it looks like they're building the structures there back up. Just thought you guys would like to know. My pics will be uploaded later."
"JK from Chicago" sent BOF the following report. While it doesn't meet BOF's definition of a "Spoiler," I'll black it out anyway out of respect for those wanting to know nothing (mouse over to read):
"For now, I can report that in addition to seeing several cranes for lighting aimed at the building's interior, some power washing of the sidewalks, and the school-bus inside, there is also a complete set of a bank's interior with a GOTHAM NATIONAL BANK - GNB sign over the 'teller line'. Several other fans with cameras were on site and after I made the decision to cross the police barricades, they followed in suit and got off a few good shots...I imagine they'll be appearing online soon enough...hopefully on BOF. Next time, I'll remember my camera. The one odd thing to report was a police escort of an armored vehicle in the area -- not sure what that was about."
Exciting times for Bat-fans right now! Anyway...
What do I think about the possibility of a different sort of look for The Joker? CLICK HERE to find out.
The look of The Joker? TDK in Chi-Town
Author: Jett
Monday, April 16, 2007 - 6:42 AM, 1:16 PM, 7:22 PM CENTRAL TIME: This comes from our source "Slappy The White Clown Prince." It comes from him secondhand, so take with a grain of salt. I can't reveal how he acquired this info, but I will say he has provided BOF was solid news in the past. According to him:
* The Joker will have gray skin with scarring.
* The Joker's costume will be raggedy (This may confirm the info BOF got a long while ago saying that his costume will look as if it was something he put together one piece at a time).
* He's going to look damn scary, not clownish.
There is also some scuttlebutt that Warner Bros. will reveal The Joker soon -- like this summer -- to head off any bootleg pictures of Heath Ledger in costume that could pop up online -- which they should do, IMO.
UPDATE: "Slappy" tells BOF that us that the description above of TDK's Joker is not of the final design, but is indicative of where they're heading in regards to the final look...
For those of y'all avoiding spoilers, you may want to skip this -- a report from SUPERHEROHYPE.COM about filming in Chicago tonight.
Filming in Chi-Town? - YES!
Author: Jett
Friday, April 13, 2007 - 6:42 AM, 1:16 PM, 7:22 PM CENTRAL TIME: More from Chicago:
"Right now they're doing test shooting in Chicago, with second unit production to start next week. The film will then go to England in two weeks and return to Chicago from early June till September.
Today they're doing some stunt tests and supposedly there a school bus set up on track that's supposed to be run into wall, I don't know if they be doing this today or later.
Thanks to "Chi-Town Bat-Fan" for the info...
Via The Windy City from scooper "PDUMNOTW." And yes, I know that's a lot of consonants:
"I haven't seen it myself, but a co-worker just told me they are filming TDK right now...in the West Loop of Chicago. The set is labeled as 'RFK,' I'm assuming for 'Rory's First Kiss.' The filming is supposedly near the Union Station train station, near the Jackson street post office. I'm going to try to duck out and see it, if I do I will report back."
I'll buy a vowel now Pat...
According to JOBLO.COM sources, Sarah Michelle Gellar will not be part of the TDK cast.
Dent, but no Two-Face? Murphy remains coy about Scarecrow
Author: Jett
Monday, April 9, 2007 - 6:37 PM CENTRAL TIME: Here's a bit from David Goyer about TDK while promoting his film THE INVISIBLE:
"I think Harvey Dent has been mentioned, I don't know that Two-Face has been mentioned."
"[Chris Nolan and myself] spent a long time, a number of weeks, talking before we decided that we could come up with a story that was as exciting, if not more so, than the first one, because we really did not want to let down the fans. We had to figure out a way to top ourselves, and I think we have."
"I wrote what you'd call a 'scriptment' with Chris over an accelerated monthlong period, and then we handed it off to his brother, who did the first pass. Jonathan [Nolan] is a very gifted screenwriter in his own right."
It remains to be seen whether or not Harvey Dent and Two Face -- or simply D.A. Dent -- will show up in TDK. Source: SCIFI.COM...
There are rumors out there that Cillian Murphy will reprise his role as The Scarecrow in THE DARK KNIGHT. While he certainly isn't saying he's in, he's not saying he's out either:
As for his future movie projects, Murphy is remaining tight-lipped, but there is one that everyone keeps pestering him about: will he reprise his role as The Scarecrow in the next Batman?
He sighs and smiles. "I know nothing. As far as I know, there's a script. It's a film about Batman versus Joker and Two Face and we know Heath Ledger and Aaron Eckhart have been cast in those roles. But I'll just wait for the call."
"Batman Begins was a brilliant experience. It was my first time working on that scale of a project. It was overwhelming."
Source: UNISON.IE. Thanks to "J.T." for the link!
TDK Crew/Filming Updates
Author: Jett
Wednesday, April 4, 2007 - 10:31 AM CENTRAL TIME: Chris Corbould and Nick Davis will work as F/X Supervisor and Visual Effects Supervisor respectively. Source: CINEFEX.COM...
According to DCVIRTUAL.NET, production is underway at both Hertfordshire and Bedfordshire...
Framestore CFC is doing F/X for TDK. "We are delighted to be able to announce that we will be contributing a major slice of VFX goodness to Batman's next cinematic outing." Thanks to "L.B." for the link...
We've got several tributes to Marshall Rogers coming -- the guy really made an impression on many Bat-fans. First up, Mark S. Reinhart's latest "Hidden Bat-Treasures" article has been updated. CLICK HERE to read. Coming, tributes by BOF contributors Robert Reineke and Cary Ashby...
ABSOLUTE BATMAN: THE LONG HALLOWEEN is being released today which includes an introduction by Chris Nolan and David Goyer. It's rumored that there will be a lot of TLH in THE DARK KNIGHT. In honor of that great Bat-Book, check out BOF's interview with TLH artist TIM SALE...
Review: DETECTIVE #831...
Scattershots: YOU START 'EM OFF AT THE BEGINNING.
Chi-Town Shoot Update
Author: Jett
Tuesday, April 3, 2007 - 9:21 AM, 1:29 PM, 8:16 PM CENTRAL TIME: I've been informed that there will that TDK will shoot in Chicago next week for two weeks and then return in June. No word on whether any of the cast will be present. You Chi-Towners be on the lookout...
On a related note, a poster on the BOF FORUM says that it looks as if a film crew is constructing an outdoor set around a building know as "Old Post Office." Could it be for TDK? Thanks to "Bats9099." Meanwhile, across the Atlantic...
...it looks as if the hangar in Bedford -- "Shed Number Two" -- is being prepped for THE DARK KNIGHT. Source: BEDFORD TODAY.
Ledger Talks Joker
Author: Jett
Sunday, April 1, 2007 - 7:05 AM CENTRAL TIME: From MSNBC.COM:
As the Joker in the new "Batman" movie, have you tried on the mask yet?
"Metaphorically, yes. I've been bouncing around like a lunatic for four months. I definitely have a different take on him, but I've yet to do a proper makeup run. It's on the agenda."
Do you walk around the house all day practicing your laugh?
"I'd be lying if I said I haven't been."
I'll save you from writing an email right now: THE JOKER WILL NOT WEAR A "JOKER MASK." ;) Thanks to "James K." for the link...
Book Review: BATMAN: SNOW...
You readers do realize that today is April Fool's Day, right? Don't believe everything you read concerning TDK -- like about Harley Quinn, Jack Nicholson cameos, and release date changes.