BOF NEWS ARCHIVES 38

DISCLAIMER/NOTICE: Unless otherwise noted, all BATMAN movie news
should be viewed as rumor and treated as such.
Please include a link back to BATMAN ON FILM
when using news originating from this site.
The Batman in MAXIM!
Author: Jett
Sunday, May 22, 2005 - 8:53 AM: I just got my new edition of MAXIM in the mail yesterday, and it features quite a bit of our favorite hero! On page 74, there is a comparison of the actors who have played Batman on the big screen. The winner? Christian Bale....
MAXIM also reviews BATMAN BEGINS in their summer movie preview section. "He is vengence. He is the night. He is desperate to erase all memories of BATMAN AND ROBIN," so says the run-down of BATMAN BEGINS. It also features quotes by David Goyer. "This movie looks utterly realistic," says Goyer. "There are no crazy camera angles or garish colors. It doesn't take place in a comic book world - it takes place in the real world." Amen to that....
From SCIFI.COM--
Tune in to SCI FI Pictures' Darklight, Tuesday, June 14, at 9/8C, for SCI FI Inside: Batman Begins. We're bringing you exclusive footage from the movie before it hits theaters on Wednesday, June 15.
Hosted by stars Christian Bale, Michael Caine, Katie Holmes and Morgan Freeman, and director Christopher Nolan, this is your chance to go behind the scenes of Batman Begins and see if the stars answered your questions!
Make sure y'all check it out and send in those questions! Thanks to "The Dark Zip" for the lead....
Another report from the U.K. from our old friend "SpideyTracer"--
Had to drop you a line to tell you the reaction to the Bats trailer that was on with a midnight showing of STAR WARS here in the UK. Firstly, FANTASTIC FOUR came on, which garnered a lot of "oohs and Ahhs!" as well as laughter. Quite vocal for us stiff upper lip Brits. Then came BATMAN BEGINS. It was like sitting in church - you could have heard a pin drop. I don't think people were understanding what they were glimpsing at first. But by the time you hear Ducard say "...A legend Mr Wayne, a legend," the crowd erupted with applause!
Needless to say it brought a tear to my eye!!! Great site Jett, the best on the net!
These are the sort of emails I'm getting at about a 10:1 ratio - postive vs. negative/no response....
So I run down to make favorite sports bar yesterday to check out a bit of the Astros/Rangers game. I'm wearing my new BATMAN BEGINS logo T-Shirt
. Talk somehow turns to BATMAN BEGINS. And a little lightbulb went off in my head with me thinking "I may have a story here." So I started asking questions and I got some very interesting replies in return. It will make for a new op-ed piece that I'm now working on and hope to finish sometime this week. So stay tuned.
Tour the Batcave!
Author: Jett
Saturday, May 21, 2005 - 8:45 AM: IGN FILMFORCE has secured an exclusive "tour" of the Batcave! Click on the link and head on over there....

"Jamie The Fox" sent us a report on British audience reaction to the international trailer. While it was "reserved" in the British way, there was still a positive reaction. "When the trailer finished, there was a buzz around the auditorium - people do want to see this. The people I was with just turned to me in awe! I sat there sumg, pleased and uncontrollably excited." Good to hear....

"Leigh" writes in to tell BOF that TV spots are now airing in Australia....

"Leigh" and "Rory" both sent a link to THE 10 MINUTE SMALLVILLE PREVIEW of BATMAN BEGINS. If I haven't said it before - and I think I have - that thing was fantastic! Mr. Goyer and especially Mr. Nolan have just nailed Batman. I can't wait for this film....

TIME OUT CHICAGO has one hell of an inteview with BATMAN BEGINS star Christian Bale in their latest edition. Here's a bit--

Time Out Chicago: What made you decide to take on something like Batman? It seems like an odd choice for you.

"A friend of mine gave me some of the graphic novels to read some years back. I didn't really follow the comics when I was younger, and I read them kind of begrudgingly at first. But after I'd finished them I thought, 'Wow!' There is such incredible potential within this character. In the later books, he's a real badass; he's as threatening as any of the villains and that got me curious. I thought, 'Well, if there is going to be a movie made in this vein, then I want to have a shot at playing him.'"

Time Out Chicago: Do you think people who haven't read the graphic novels are ready for a malevolent version of the Caped Crusader?

"We'll see. I think there's room to push the character even further into being a schizophrenic freak. I mean, the fact that he hasn't embraced his violent side entirely is what makes him so interesting; there's a great sense of conflict between him doing it for justice and doing it for revenge. I'd really love to see us doing a Batman film in which there was a PG-rated cut and an R-rated cut. You know, do the same film, but have one version for everybody and one version in which you really push the envelope of what this guy does."

Click on the link provided for much more. Really good stuff from Bale. I'll say this, a R-rated BATMAN, it would be a hell of a good idea for a special edition DVD, or limited theater run. You'd have to keep the main release PG-13, but doing an additional cut with future sequels is something to think about. Anyway, in the same artilce, director Christopher Nolan talks about getting into Bruce Wayne's head--

"My basic pitch was simply to approach a superhero story from a realistic point of view," says the 34-year-old director, famous for his psychological time-bender Memento. "That is to say, to tell the story in a way that was as gritty and down-to-earth as possible."

Inspired by Frank Miller's Batman: Year One comics, Batman Begins follows the transformation of Bruce Wayne into the masked avenger after witnessing his parents' murder. Nolan says the film will burrow into the dark recesses of Wayne's mind instead of relying on explosions or Gothic exteriors. "We're treating this less as [a] fantasy film and more like a drama," he says. "We're trying to give the decisions these characters make a certain amount of weight and not reduce everything to the level of just being another comic-book film. The closest thing I've ever seen to that would be Dick Donner's Superman (1978)."

Citing Star Wars, along with other childhood favorites like Raiders of the Lost Ark and "the best James Bond films," Nolan believes "escapist entertainment" doesn't have to be driven by rubber suits and car chases. "They are epic films, but they have a much higher degree of concern with character and story," he says. "It's been a very long time since I've seen something done in a way that great blockbusters that I grew up with were done, and that was the type of film I was trying to make."

Again, check out TIME OUT CHICAGO for more....

"Desperately Random" sent us a link to an another inteview with Christian Bale from the upcoming USA WEEKEND....

FYI. I'm working a few things that if they pan out, will be really cool. I'm not going to say what they are because I don't want to jinx it. I've also did several interviews lately representing all of you - the Batman fans out there - and our role in getting BATMAN BEGINS to the big screen. I'll provide info on these when they are available, as most will coinside with BEGINS' release.

Update for 5/20/05
Author: Jett
Friday, May 20, 2005 - 6:38 AM: BILLBOARD has a story about composers James Newton Howard and Hans Zimmer. Thanks to "Jimmy G." for the lead....

"Josh" writes in to say that the subway station he uses to get to Manhattan from Queens was full of BATMAN BEGINS posters....

I'm still getting reports of audience shouts and applause when the BEGINS trailer was played prior to REVENGE OF THE SITH....

THE MOVIE BOX has added clips of the 6th TV spot, a couple of "film clips," and the SMALLVILLE promo. Click on the link provided to check them out.

Got Milk? Batman does!
Author: Jett
Thursday, May 19, 2005 - 5:15 PM: The pic below - a "Got Milk?" ad featuring Christian Bale's Batman - was sent to BOF by someone who asked to remain anonymous. BATMANYTB.COM also gave us the heads-up on it, as I believe they were the first to reveal it--

I know some people will bitch about "Batman" doing this ad, but hey, pretty good marketing in my opinion....
Got MANY reports - and thanks to all of you who sent them - about the BATMAN BEGINS trailer that was played with REVENGE OF THE SITH. Almost every one of them said the audience yelled and clapped when it was played....
And I got just as many reports about the preview of BATMAN BEGINS from last night. They were overwhelmingly positive.
Frank Gorshin - THANKS!
Author: Jett
Wednesday, May 18, 2005 - 10:25 PM: I'm a Batman fan because of the 60's TV show. As a very young child, that was my introduction to the world of Batman. Frank Gorshin was The Riddler. Hell, The Riddler from BATMAN FOREVER wasn't that much far off from Mr. Gorshin's performance. Anyway, BOF salutes Mr. Gorshin and his contribution to the Batman mythos....
I just watched the preview of BATMAN BEGINS that was on TV tonight. TIVO'ed it - I was out watching the Mavs/Suns. My take? THIS is what I've been lobbying for for all these years! THIS is what I've always wanted in a BATMAN film. There is no doubt that Mr. Goyer and the great Mr. Nolan have nailed it. This is - beyond a shadow of a doubt - the definitive BATMAN film. Period. Perhaps keeping this site up and running for all these years was worth it.
The Batmobile at E3 and another Joker candidate?
Author: Jett
Tuesday, May 17, 2005 - 6:39 AM, 9:45 PM: CANMAG.COM has several new stills from BATMAN BEGINS. Thanks to all of you who sent in the lead....
The OFFICIAL SITE has been updated to include a "sneek peak" of the sneak peak that will be shown following SMALLVILLE tomorrow night. Great stuff with Ducard (Liam Neeson) training Bruce Wayne (Christian Bale). Check it out....
"Rahul" sent us THIS LINK which I believe is the ET "exclusive footage" from last night. It features "Rachel Dawes'" first encounter with The Batman as described yesterday....
MSNBC's summer movie preview gives a damn positive rundown of BATMAN BEGINS--
It's hard not to get excited about this film. Innovative director Nolan ("Memento") promises to give a dark take on material that has been given short shrift in the past. Add a really great cast, which is classed up with the trio of Caine, Neeson and Freeman, and we could actually get a comic-book film that transcends the genre....Hopes are high for this one.
"Hopes are high?" Really? I haven't noticed....
Ask you shall recieve, right? I was just watching the Spurs/Sonics game on TNT and low and behold - a BATMAN BEGINS spot! First one I seen while watching the NBA playoffs....
Check out "SCATTERSHOOTING" if you get the chance....
Warner Bros. brought The Batmobile - AKA "The Tumbler" - to E3 to help promote BATMAN BEGINS. CLICK HERE to take a look. From IGN....
Here's a bit of news about another possible candidate for The Joker in the (hopefully) upcoming sequels--
Jett, I've got another name for you that may be in the mix for The Joker - Crispin Glover. Now here's the thing, I don't know where this is coming from. It could be coming from Glover's "people" to get his name out there, or it could be coming from Warners. I know that Glover is sort of a "fan-favorite," so maybe they [Warner Bros. - Jett] is taking that into account. Hell, they cast Christian Bale, didn't they? Thought you would want to know.
Hmmm, interesting. Let's throw Mr. Glover's name into the mix now as well. I know that "mock-ups" of Lachy Hulme as The Joker have already been done, I wonder if any were done on Glover as well? And I'm sure that they'll be plenty more names arise in due time.
New BEGINS TV spot and more!
Author: Jett
Monday, May 16, 2005 - 6:36 AM, 6:55 PM: "A Guy From Down Under" sent BOF the following report regarding "Aussie radio gossip." It's about Australian actor Lachy Hulme, who has been rumored to be in the mix for the part of The Joker (Hey, BEGINS is almost here! Time to starting kicking around all the sequel rumors!)--
"On Australian radio this week, they ran a big bit about the hot new project about to commence filiming in July -- an update of William Shaespeare's 'Macbeth.' The radio hosts were raving about it, since it's from the same people who made 'Romper Stomper,' and also since the filmmakers have lined up a huge Aussie cast, including Sam Wirthington, Victoria Hill, Mick Molloy, Steve Bastoni, Gary Sweet as 'Duncan,' and Lachy Hulme as the kick-ass 'Macduff.'
The radio hosts talked a lot about Lachy Hulme, and about how he's one of the coolest guys around who always makes time for people, and how he's also one of the nastiest actors to ever come down the pike. 'Nasty' in the snese that he's born to play a bad guy but everyone gives him 'nice guy' roles, or wimpy roles like in 'Matrix.' Then they talked about The Joker rumours, and how Hollywood 'just has to cast this guy as The Joker, because he is such a perfect match.' Then people called in, including hard-core Batman fans, who all agreed that he was born for therole.
Lots of people who called had seen Lachy Hulme on stage in thetare productions playing bad guy types, and most said he was a really scary bastard when he wanted to be.
Also, they talked about how much he looked like the Joker from the original comic books. Does anyone know >>whether or not Lachy Hulme is confirmed to play this part?"
Well, "AGFDU," Mr. Hulme has not been cast in the role. But from what I hear, he is certainly in the mix. Any of you Aussies who have had the chance to see Mr. Hulme on stage or in some of his other films, send BOF a report....
Let me warn you first, the following link includes SPOILERS - JOBLO.COM has a review of BATMAN BEGINS. The report - written by Mike Sampson - came via a reader of the site and was from a screening for some press and exhibitors in London. Click on the link provided if you want to read this very positive review. THE BOF REVIEW offered a little more insight IMO, but this one includes major spoilers. You've been warned. Thanks to WORLDOFKJ.COM for the lead....
I've gotten several reports of a new, 5th TV spot that has just started running. You can view it by CLICKING HERE. In fact, THE MOVIE BOX has all of them in all formats available....
Support The Dark Knight in all is incarnations! Catch THE BATMAN this Saturday on THE KIDS' WB. Another reminder, Vol. 3 of the great BATMAN - THE ANIMATED SERIES is coming May 24th! You can watch a preview by clicking HERE and HERE....
So my wife gets back from Wal-Mart tonight and tells me that there was "huge" BATMAN BEGINS display announcing an "in store BATMAN BEGINS event" on Saturday, June 18th. Hmmm, I wonder what the hell that could be? Anyone....
"Brandon M." sent in the following report. Seems that Katie Holmes was on ENTERTAINMENT TONIGHT, well, tonight--
"[They showed a sceen from BATMAN BEGINS] Katie Holmes is being harrassed by two men then being saved by Batman. She is shocked and tries electrocuting him [The Batman] with a taser. The taser has no effect and she asks, 'Who are you?'
The Batman (first time I've really heard his voice) says, 'Someone like you. Someone who likes to rattle cages.'" Thanks to "Brian U." as well....
One last thing tonight (I think), don't forget about the BATMAN BEGINS preview Wednesday night on SMALLVILLE. Late.
More on Liev Schreiber in sequel
Author: Jett
Sunday, May 15, 2005 - 7:36 AM, 1:29 PM, 3:17 PM: Katie Holmes ("Rachel Dawes") has talked a bit again about BATMAN BEGINS--
[Ms. Holmes] claims she had a great time filming with Bale and went weak at the knees when she got to ride in the famous Batmobile with him dressed as the superhero. She added: "I had the time of my life making it. You just kind of step into a comic book I got to ride in the Batmobile and that was one sexy machine".
Check out THIS NEW OP-ED PIECE by Kris Tapley of OSCARWATCH.COM....
I've had another longtime, spot-on source contact BOF and here is a bit of what they had to say--
"Liev Schreiber. I heard that a few weeks ago, too, but didn't pay it any attention (rumors, y'know?). But if you've got a source on that, I suspect that he or she is a very good source. Schreiber would be absolutely riveting as Harvey 'Apollo' Dent, if you ask me."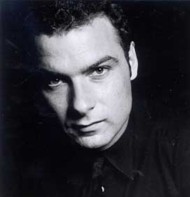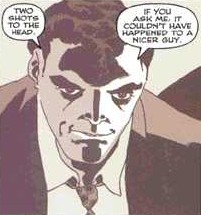 Harvey Dent?
Thanks to "BatmAngelus" and VACUUMBOY9.COM for the pic. That Tim Sale can draw....
I've had many BOF readers email me and point out that Mr. Schreiber looks very much like the Tim Sale version of Harvey Dent. I think they may be right! Speaking of Mr. Sale, he has agreed to an interview with BOF. Keep your eyes open for that coming soon....
If you are interested in a BATMAN BEGINS logo for your "wheels," FASTDECALS.COM has them. FYI - BOF has no affiliation with this website and does not profit from any sale. I'm just passing on the word to those who may be interested....
An early screening of BEGINS starting June 10th at the WEST END FESTIVAL in Glasgow....
I've watched a lot of NBA playoff basketball the last three weeks - GO MAVS! - and I've yet to see a BATMAN BEGINS spot. Good audience to advertise to I suspect. Come on now, get 'em out there....
HERE'S INFO on the June 6th U.S. premiere of BEGINS at Grauman's Chinese Theater....
HERE'S some info about a winning passes to a special June 5th screening of BEGINS in Australia.
BEGINS update for 5/14/05
Author: Jett
Saturday, May 14, 2005 - 9:26 AM, 4:24 PM: Got a name to throw out there for y'all regarding the possible sequel(s) to BATMAN BEGINS. This comes from a longtime source of ours who has been spot-on before--
"Jett, got a name for you that I've heard bandied about in conjunction to the BEGINS sequels: Liev Schreiber. Now I'm just assuming here, but he could be a potential Harvey Dent. I'll do a little digging and let you know more if I come up with anything. Just a FYI and keep up the great work!"
Liev Schreiber? Hmmm. I saw him recently in THE MANCHURIAN CANDIDATE. I could see him as Dent and he's not too much older than Christian Bale. Well, let the speculation, ahem, begin....
"Jimmy G." sent us a link to JAMES-NEWTON-HOWARD.COM that features some info regarding the theme scored for BATMAN BEGINS--
There are two themes primarily. One relates to his journey and the other relates to the action." The result, says Zimmer, should be unmistakably Batman. "There's a lot of percussion, a lot of electronics, but, this is 'Batman,' you're allowed to have the kitchen sink."
Click on the link to read more. The interview is from SFX 131....
HERE is a link to a very nice analysis of the BATMAN BEGINS trailers, teasers, and TV spots....
"Joe" sent us the picture from Toronto which you see below (click on the thumbnail to enlarge)--

And his report: "Here are some shots I took at the Eaton Centre here in Toronto Canada. These posters are massive with a nice matte finish. Good promotion finally from WB." Looks good....
TOON ZONE has a bit of information on the BATMAN BEGINS SOUNDTRACK--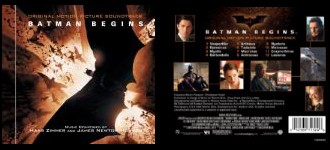 HERE is a review of the DVD BATMAN - RETURN TO THE BATCAVE
--
IGN has reviewed the new INTENATIONAL TRAILER....
SHH has a couple of pics of the big BATMAN BEGINS poster that is in Manhattan - the one that BOF FIRST SHOWED YOU going up back on May 9th....
I didn't like the second part of ELVIS nearly as much as I enjoyed part one. Not very good. If it was up to me - and obviously it wasn't - I would have expanded the story of Elvis' rise in the 1950's and ended the movie with him leaving for Germany soon after his mother's death in 1958. But I did love ELVIS BY THE PRESLEYS - excellent!
Katie Holmes talks BEGINS
Author: Jett
Friday, May 13, 2005 - 6:14 AM: Here's a bit from an interview with Katie Holmes ("Rachel Dawes") from GIANT MAGAZINE--
Batman is so important to so many people, especially guys. Were you wary about tackling something so sacred?
"No. I didn't feel like I had much responsibility, because I wasn't playing Batman–I played a character that's never been played before. Sure, I was nervous to be part of a cast that strong and to be pretty much the only woman in it, but I wasn't scared of the story. People are going to love it."
Katie says that she also has a "thing" for The Batmobile. I may have a "thing" for Katie after seeing THIS PICTURE....
You can find some more images from the BATMAN BEGINS GAME by clicking on THIS LINK....
A reader sent BOF word that the film will open in Japan at May 31st at Tokyo's fashionable Roppongi Hills....
Click on the link to view the VIDEO GAME TRAILER.
(Thanks to "Chaz," "Jaxon," and "Chris H.")
International BEGINS trailer released online!
Author: Jett
Thursday, May 12, 2005 - 6:14 PM: Saw this earlier today, but just now able to update. You can view the new international trailer by clicking on the links provided - QUICKTIME HI-RES, WINDOWS MP HI-RES, and REAL PLAYER HI-RES. Now this one I like better than the last full-length trailer! Shows a bit more, but gives nothing away. Thanks to all of you - I mean ALL of you - who sent in the info....
According to the BBFC--
Classified "12A." Contains strong fantasy horror and moderate violence. When submitted to the BBFC the work had a running time of 139m 55s.
So, it looks like BEGINS is going to run about 2 hours and 20 minutes.
BEGINS update for 5/11/05
Author: Jett
Wednesday, May 11, 2005 - 6:44 PM: Three more BEGINS promotional posters can be viewed at CANMAG.COM. Old news I believe....
You'll be able to get a look at a potential Joker soon on the big screen. Lachy Hulme as been cast as MacDuff in the big screen update of Shakespeare's MACBETH called M. The film is "a contemporary retelling of Shakespeare's "Macbeth" set in the ganglands of Melbourne," according to the IMDB. It has been adapted by Geoffrey Wright, who will also direct. Wright is best known for launching Russell Crowe with ROMPER STOMPER....
News on what EA has in store at E3 in LA in a few weeks can be found at THEMOVIEINSIDER.COM.
Goyer confirms The Joker, Two-Face in sequels!
Author: Jett
Tuesday, May 10, 2005 - 6:36 AM, 9:08 PM: Months ago, BOF was the first to tell you that The Joker was in the mix as the next Bat-villian and that D.A. Harvey Dent would aid The Batman in bringing him down (Check out news from 10/25/04 and 12/27/04). BOF also informed you with info from a very trusted insider that Dent would become Two-Face in the third film - and The Joker would have something to do with it. Now for the first time, a member of the new Bat-team seems to be confirming this plot line. Here's the latest from BATMAN BEGINS screenwriter David Goyer via EMPIRE
(CLICK HERE FOR THE STORY)--
"The next one would have Batman enlisting the aid of Gordon and Dent in bringing down The Joker...but not killing him, which is a mistake they made in the first one," Batwriter David Goyer tells the latest issue of U.S. movie magazine PREMIERE. "In the third, the Joker would go on trial, scarring Dent in the process."
Australian actor Lachy Hulme is rumored to be a strong candidate for The Joker, while rumors continue to swirl around Guy Pearce taking on the role of Harvey Dent.
(Thanks to "Bobby My Name" for the lead.)
HERE IS A COOL PIC of The Batman via TIME. Thanks to all of you who sent in the lead on this one....
Look, I dig THE BATMAN that is on KIDS' WB. BOF was directed to THIS EXCLUSIVE CLIP that you may be interested in viewing. Plus, CHECK THIS OUT - a website where you can explore the Batcave level by level! Now guys behind THE BATMAN, get Gordon and Dent on the show! And put some shoes on The Joker!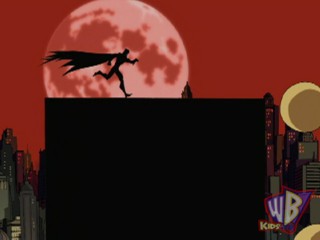 "Irish Marty" sent us THIS LINK that says the UK premiere of BATMAN BEGINS will be held at the the Odeon Leicester Square on June 12th....
I've been told that a listener of THE HOWARD STERN SHOW called in a very positive review of BATMAN BEGINS. Thanks to "Jeff O." Hell, Stern is a big Batman fan right? EMAIL HIM and tell him he needs to get BOF on his show to spread the word! BTW, I'm not a big fan of Howard's - although I'm far from being a hater. Late.
A few more pix from BEGINS can be found at DARK HORIZONS.
BATMAN in the Big Apple!
Author: Jett
Monday, May 9, 2005 - 7:49 PM: "Mel" says that a friend of his snapped the pic below (click on the thumbnail to enlarge) Chelsea, Manhattan. As you can see, it is not the finished product--

I have some interviews coming up, so keep checking for them. I think you just may dig 'em....
I've got to say, Jonathan Rhys-Myers was damn fantastic as the young Elvis Presley last night in CBS' ELVIS. He was simply uncanny - best portrayal of Elvis by an actor I've seen. Looking forward to part 2 on Wednesday.
BATMAN BEGINS update for 5/8/05
Author: Jett
Sunday, May 8, 2005 - 6:14 PM: Couple of articles that may be of interest to you all. This one - titled "Rescuing Batman" from THE LA TIMES, talks about what it took to get BATMAN BEGINS made - a tale that if very familiar to BOF'ers. The other is from THE NEW YORK TIMES and is about comic book based films and mentions BEGINS. Free subscriptions may be required....
Don't forget, check out ELVIS tonight on CBS at 8 PM CST....
I'm still looking for some more comic book professionals (with a tie to Batman) who would be interested in being interviewed regarding BATMAN BEGINS. LET ME KNOW....
Check out the BATMAN BEGINS 400 POSTER....
Director Chris Nolan talks about Liam Neeson's Ducard in the INDIANAPOLIS STAR--
"We were looking for someone to play a mentor that the audience would immediately warm to and see as trustworthy," says director Christopher Nolan ("Memento"). "The baggage Liam carries is very useful. He presents a seductive quality that is very important in bringing Bruce Wayne into his point of view."
Many of you emailed asking about BEGINS T-shirts with just the BATMAN BEGINS Bat-logo on the front. I found 'em--
BATMAN BEGINS - and ELVIS - update for 5/7/05
Author: Jett
Saturday, May 7, 2005 - 8:33 AM: The promo-poster for the BATMAN BEGINS preview on SMALLVILLE can be found HERE. Via KRYPTONSITE.COM....
IGN FILMFORCE has posted a POSITIVE REVIEW of ELVIS by "Stax."
BATMAN BEGINS update for 5/6/05
Author: Jett
Friday, May 6, 2005 - 8:44 PM: The guys at SFX MAGAZINE sent BOF THIS LINK about their upcoming issue that features our BATMAN BEGINS. Here's what they had to say, "Our writer was on-set, and we spoke to Chris Nolan, Emma Thomas, Cillian Murphy, Nathan Crowley and Andy Smith (about the Batmobile), and Day Murch (about the Bat-Suit). Plus, we also asked the likes of Denny O'Neill, Jeph Loeb and Neal Adams to explain what's so special about Batman." Oh, and the picture below--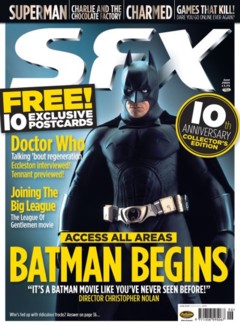 Pretty "tite" (did I spell that right?) pic of Bale as The Dark Knight. Oh, I recommend that y'all read - or re-read - Paul Wares' fantastic set visit reports he did for BOF....
A few more randon quotes from our source who has seen BATMAN BEGINS (*POSSIBLE SPOILERS*)--
"The fight between Ducard and Wayne on a frozen lake was really exciting. The camera moves as if it's slipping on the surface and you really feel like you're actually involved in the sword fight."
"One memorable scene where [Jett-edit] is being interrogated by Batman; Bale looks truly terrifying, almost as if he is out of control and is ready to do anything to him to get the information he requires."
"The most memorable piece of music being when Ducard and Wayne are fighting on the ice. We flash back and forth in time seeing Wayne's parents being shot and him being trained by the League of Shadows, whilst fighting Ducard. The music reminded me of the scene in THE THIN RED LINE when the American Soldiers attack the Japanese village towards the end of the film, it's very much in the foreground with the action and voice over almost flowing with the music as if we where watching an opera. As with all great scores, it tends to pull at your heart strings as it's full of emotion."
"You know the scene in FIGHT CLUB when Brad Pitt is talking to the camera and it all of a sudden goes all jittery as if the film is coming off the spools? Well, that's the same way you're going to see things when the scarecrow sprays his powder on you. Very freaky indeed. Nolan has been very clever throughout the film ensuring that the audience is very much involved in what is happening on screen, as if the audience is part of the film."
Alrighty then! I gotta say that I can't wait for this film. I'm hoping that the "official" BOF reviews - one by me and one by Paul Wares - will be up before the film hits the big screen. I also have a few " special guest" reviews coming as well. Plus, I will want to know what y'all think of BEGINS and will use reader comments as well....
Lot's of people have emailed me and asked what I think about SUPERMAN RETURNS. Well, I'm starting to dig it. I did like the new costume for what that's worth....
I'm heading up to Big D to watch game seven of the Mavs/Rockets series. Go MAVS! And Dirk, can you please go off this game?! Late.
First BEGINS review - sort of, Part 2
Author: Jett
Thursday, May 5, 2005 - 8:30 PM: OK, our dude got back to us with my questions and I'll give some of the answers now. I really had to edit these because I don't want to include any spoilers. But just in case...
*POSSIBLE SPOILER*
Regarding "The Look" of the film--
"The overall feel of the film is very moody and atmospheric. I seem to remember reading something where Christopher Nolan actually said he wanted the film to look like BLADE RUNNER. Well, he certainly achieved that....I was so impressed at the way they made everything look so grande, despite the fact that Gotham is now a run down city with little hope. Gotham could be any city in the world which is what makes it so realistic....Of course we also travel to China where we see Bruce join up with the League of Shadows. This again looks very realistic."
Regarding Christian Bale's Batman--
"Bale makes a fantastic Batman, the best yet!! He not only gets the characters of Batman and Wayne spot on but he also surprises you with both roles. As Wayne, he plays the cold hearted toy boy who only cares for his wealth and not much else. Of course this is just an act and we see the real Bruce Wayne immerge when he is talking to Rachel. Batman is the character we all know and love from the comic books. He plays him like Batman is some kind of animal."
Regarding Gary Oldman's Jim Gordon--
"...in my opinion Gary Oldman as Gordon steals the show from everyone else. You feel he is very much the 'human' in this story and because Batman trust's him implicitly, as the audience you feel the same way. I get the impression they won't need Robin if they go on to make any sequels as Gordon and Batman make a fantastic pairing!"
Regarding the score--
"I can confirm that the music in the new trailer is in fact the music used in the film. It is the main Batman theme and is played throughout the movie."
Regarding The Scarecrow--
"When I first heard they where using Scarecrow as the villain in the new film I was a little worried how he may look. I can tell you that I wasn't disappointed in anyway. THE SCARECROW is truly terrifying!! They use some very clever editing techniques to freak you out even more!"
How much of The Batman is in BEGINS?--
"The Batman first appears in the film about half way through. The first time you see him is very memorable. Again, I don't want to spoil anything for you so I won't describe in too much detail. There is a lot of fast editing involved when he's fighting the bad guys and whenever we see Batman just talking to either Rachel or Gordon he stands in the dark so you never really see him fully until...."
Length?--
"The cut I saw was [over 2 hours - Jett]. It may leave some people feeling a bit restless as there is a lot of back story but when the film really gets going the time goes by so quickly!! I have to say I enjoyed every minute of it, I really hope Nolan does the sequels as it would be nice to keep the same style as in this film."
Our source's grades--
Batman - 10/10
Bruce Wayne - 8/10
Rachel - 8/10
Gordon - 10/10
Alfred - 7/10
Ducard - 8/10
Falcone - 7/10
Scarecrow - 9/10
Ra's Al Ghul - 6/10
So there y'all go. And let me tell you all this: this dude is MORE than legit. Oh one more thing, it is the Bat-logo that bursts into a cloud of bats, not the Warner Bros. logo - my bad....
Now this I like (from NEWSWEEK)--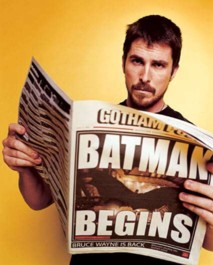 First BEGINS review - sort of
Author: Jett
Wednesday, May 4, 2005 - 7:40 PM: A BOF source has seen BATMAN BEGINS. Can't say how or when, but he saw it. Here's what he had to say--
*POSSIBLE SPOILER*
Hey Dude. Wow! That's all I can say! I have just been the most fortunate person in the world and have just watched Batman Begins!!! I can tell you that it is complete (soundtrack and all) and is everything I could have hoped for in a Batman film!!!
Our source also tells BOF that the film, ahem, begins without any opening credits - just the Warner Bros. logo bursting into a cloud of bats (just as in the new trailer). Also, the last shot in the film "...is the scene that is in the latest trailer where Batman is flying from the top of the building towards the camera." Our source has given BOF permission to send him a list of questions about the film and he'll respond. So stay tuned....
Remember, two weeks before the BEGINS preview on "SMALLVILLE" - May 18th. And it is 10 minutes according to the promo for it at the end of "SMALLVILLE" tonight....
The release date for the U.K. is now June 16th....
A NICE REVIEW of "ELVIS" which premieres this coming Sunday on CBS....
Due to email issues, please send email to Jett via BatmanOnFilm@msn.com.
Katie Holmes on ET for BEGINS
Author: Jett
Tuesday, May 3, 2005 - 6:07 AM, 7:58 PM: Saw the Holmes/BATMAN BEGINS bit on "ET" tonight - meh....
Two new op-ed pieces have been posted. Head over to the OP-ED MENU PAGE to check them out. And by the way, the BATMAN FOREVER re-edit piece will be up this weekend....
I also have a new interview posted with comic book writer James Peaty. CLICK HERE to check it and the others out as well. And I'm still looking to interview comic book professionals who have ties to Batman. Let me know if you are interested. And if you have ties to BATMAN BEGINS, I'd love to hear from you as well...
I'm still having a few email issues. If you emailed me recently, you may want to resend if it was important....
According to my wife, Katie Holmes - "Rachel Dawes" in BATMAN BEGINS - will be on ET this evening to promote BATMAN BEGINS. FYI. Thanks to "Chaz."
BATMAN BEGINS update for 5/1/05
Author: Jett
Sunday, May 1, 2005 - 8:07 AM: I just read the story on BATMAN BEGINS in ENTERTAINMENT WEEKLY - nice piece. Worth picking up and reading if you haven't already. Of course if you are a BOF'er, you already know the story behind BEGINS....
Click on THIS LINK TO EBAY
, and check out item 7511714671. I think you might like it. And by the way, I'm NOT the seller....
"Darkworld" says that he saw the new trailer on the big screen and it was awesome. If you saw it as well, I'd be interested in audience reaction....
If you sent BOF an email yesterday, please re-send. I had a mail issue and some were lost.
More BATMAN BEGINS trailer links and more
Author: Jett
Saturday, April 30, 2005 - 9:15 AM: Here are a couple of "downloadable" links (via APPLE) for the trailer: HIGH RESOLUTION and FULL SCREEN. Just do a "right-click" and save it to your PC....
The OFFICIAL SITE has been updated, according to many BOF'ers....
IGN FILMFORCE has posted a review of the new trailer....
If you are a comic book professional that has a connection to Batman and would like to be interviewed by BOF regarding BATMAN BEGINS, fire me an email....
I'm sure you've already seen the pic below, but if you haven't, here you go (click on the thumbnail to enlarge)--

Got to say that after all these years of campaigning for a new BATMAN film, the fact that it actually hits theaters in a little over a month seems sort of surreal. And there were times that I thought a new film would never happen. And now, it's here. Can't wait....
WIZARD #164 will be a BATMAN BEGINS edition--
You¹re not nearly ready for the June 17 release of "Batman Begins" until you read Wizard #164's "Batman Movie Issue," which hits comic stores April 27.
We pulled director Christopher Nolan away from his work to give us 16 reasons why this movie will blow fans away, Christian Bale's portrayal of Batman, to teasing some key plot points.
Also see the step-by-step revival of the Batman franchise, from scrapped scripts to another film by Joel Schumacher!
Wizard also gives fans a survival guide for any would-be Batmen out there, rates seven actors who breathed life into Gotham¹s protector and pits him against Jessica Simpson and the other big box-office competition this summer.
WIZARD can be purchased by clicking on the link provided....
You all may find THIS ammusing.
Full-length BATMAN BEGINS trailer now online!
Author: Jett
Wednesday, April 27, 2005 - 7:33 PM: CLICK HERE to view the full-length BATMAN BEGINS trailer! Man that thing is badass! I'm sure that you all are like me and can't wait for Wednesday, June 15th. You can see the "large" version by CLICKING HERE....
Check out what David Goyer had to say about BATMAN BEGINS from SCR(I)PT MAGAZINE
--
"Bruce's main conflict in the film is his struggle with his desire for revenge. He is torn between justice and revenge. This is a theme that is repeated throughout the movie - in scenes with Rachel (his childhood sweetheart), in scenes with Ducard (his mentor), and even in a scene with Falcone (mob boss of Gotham)."
"Batman Begins is definitely the darkest depiction of Bruce Wayne yet seen on film. It is also the most realistic depiction of Bruce. He contemplates first-degree murder."
Thanks to "Stax" and IGN FILMFORCE for the lead....
Check out the press release for the BATMAN BEGINS 400. And here is more on the June 19th race from NASCAR.COM....
Check out a BEGINS trailer review from CINEMATICAL.COM.....
Thanks to all of you who send info and news into BOF. I don't name every person who sends in info due to the fact that I get multiple reports on the same thing - and I don't want to slight anyone. So when I say "thanks to all of you who sent in the lead," I'm tipping my hat to all of you. And thanks for all the nice emails! I do read them and try to answer as many as possible. BOF wouldn't be what it is without you all. So thanks again! Late.
Misc. BEGINS news
Author: Jett
Thursday, April 21, 2005 - 7:33 PM: The French visual effects house BUF COMPAGNIE (Aeon Flux, Matrix 2/3, Van Helsing) have just signed up to put the finishing touches to BATMAN BEGINS' visual effects....
From DEXIGNER.COM, "We have recently completed our work as lead vendor on Christopher Nolan's 'Batman Begins,' due to be released this summer." Click the link for more....
DIGMI is creating infographics....
Hans Zimmer and James Newton-Howard are recording the BATMAN BEGINS score in Lyndhurst Hall at the prestigous AIR STUDIOS in London. LINK....
(Thanks again to "Ras2005" for the info!)
Check out a nice article about BEGINS from THE WEST GEORGIAN. Thanks to "Jack S." for the lead....
SYMANTEC has a contest in which you can win tickets to the U.S. premiere. Click on the link for more info....
I just did a new interview about BOF which was cool to do. I'll post a link when it is available to read....
FYI. I know it has been a while since a new op-ed piece was posted, but not for long. I've got one coming that I've been working on, and the BATMAN FOREVER piece by "Scissor Puppy" should be up the first week of May....
And one last thing, GO MAVS!
BATMAN on SMALLVILLE! BATMAN BEGINS trailer review
Author: Jett
Tuesday, April 19, 2005 - 6:12 AM, 7:47 PM: Found this official notice in my email this evening. I'll let the press release do the talking (Thanks to "Vin" and all of you who sent the news in as well!)--
A SPECIAL 90-MINUTE "SMALLVILLE" SEASON FINALE EVENT WILL FEATURE THE WORLD PREMIERE OF AN EXCLUSIVE EIGHT-MINUTE SPECIAL FOOTAGE PREVIEW OF THE HIGHLY ANTICIPATED SUMMER FILM "BATMAN BEGINS"
Two DC Comics legends, Clark Kent and Batman, will unite on Wednesday, May 18 (8:00 p.m. ET) as The WB presents the world premiere of an exclusive eight-minute special footage preview of the highly anticipated theatrical release BATMAN BEGINS, which will air within the 90-minute presentation of the season finale of the network's hit drama, SMALLVILLE.
"This is a great night for fans of the two most popular superheroes in the history of American Pop Culture," said David Janollari, President of Entertainment at The WB. "Fans of SMALLVILLE will not want to miss this special extended version of what will be the series' best-ever season finale. Broadcasting exclusive footage of the summer's most anticipated feature film, BATMAN BEGINS, makes this a very exciting night for us and a natural fit for the fans of SMALLVILLE."
"We are thrilled to share this exclusive preview of BATMAN BEGINS with fans of SMALLVILLE," said Dawn Taubin, President of Domestic Marketing, Warner Bros. Pictures. "Not only does this special event bring together two seminal American superheroes, but both SMALLVILLE and BATMAN BEGINS give fans the opportunity to delve deeper into the mythology behind their heroes. May 18 promises to reveal exciting new chapters in the history of these legends, and kick off a summer that fans will never forget."
SMALLVILLE'S 90-minute season finale is packed with murder, betrayal and an unforgettable graduation day for all.
"Superman and Batman have always been inextricably linked to each other, so it seems fitting that a show chronicling the Man of Steel's youth give you the first look at the birth of the Dark Knight," said Al Gough, executive producer, SMALLVILLE. "Christopher Nolan is an incredibly talented filmmaker and we couldn't be more excited and honored to have our season finale complimented with exclusive footage from Batman Begins."
Fantastic! Can't wait....
"The Don Vito" sent us the heads up regarding two new pics you will find over on BATMANS.DE....
Nikki Finke of LAWEEKLY.COM recently reviewed the trailers for the upcoming summer films. Could this be what the "Average Joe" movie goer - and women in particular - are thinking about BATMAN BEGINS? Here's an excerpt--
I had no wanna-see for this movie. Then I spied the trailer. God, Christian Bale is even more gorgeous here than he was in AMERICAN PSYCHO. Finally, post-Kilmer and Clooney, someone is playing Batman as a manly man, and not as a fop. There's one good shiver-down-the-spine moment, otherwise the trailer is fairly routine. But it also leaves some nagging questions. Why is Batman being taught by Jedi knight Liam Neeson? And why is Batman strolling through Superman's ice planet?
Well, Nikki, you'll find out soon enough. I'm glad you are interested enough to wonder. I have to think this - "I had no wanna-see for this movie. Then I spied the trailer" - is what many are thinking about this film. Promote away WB....
Got my framed BATMAN BEGINS one-sheet back - the one of him with cape scread and the bats all around - and it is proudly hanging in my office....
An omission from yesterday's report. Thanks to all of you who sent in the news of the BB Stunt Show. Too many people to credit individually, but thanks to all of you nonetheless.
(Thanks to "Salemdog" for part of this report.")
BATMAN BEGINS Stunt Show!
Author: Jett
Monday, April 18, 2005 - 7:41 PM: SHH reports that a BATMAN BEGINS Stunt Show will be featured at SIX FLAGS MAGIC MOUNTAIN. "Playing several times a day throughout the season in the Batman Action Theatre, the "Batman Begins Stunt Show" set features spectacular 45-foot-tall facades of Wayne Tower, Gotham National Bank and City Hall, plus exciting show elements including motorcycle chases, crashing helicopters, ninja stunts and a first ever look at the new Batmobile." That should be pretty cool. When one of y'all BOF readers see it, send a review....
IESB.NET points us to a Italian BATMAN BEGINS spot.
Summer flicks article
Author: Jett
Sunday, April 17, 2005 - 11:06 AM: "Shad" sent us a link to THIS ARTICLE about the hype beginning this spring for summer movies. Of course, it includes BATMAN BEGINS. Here's an excerpt--
Even with an iconic character such as Batman as its star, Warner Bros. isn't taking any chances. They want every man, woman and geek alive to know this isn't the campy BATMAN AND ROBIN that was so despised a few years back. It's dark and action-packed! Don't forget it!
The article also mentions some rumor that has it that BEGINS isn't as action-oriented as the studio wanted - what a load! I've yet to come across that rumor and if it is out there, it may have been started by the competition....
For all of you who have emailed me asking, - NO, the one-sheet that was premiered here on BOF a few days back is not a fan manip. YES, it is the real deal. What part of "Warner Bros. has provided BOF with an exclusive first look at the new BATMAN BEGINS one-sheet" was confusing? By the way, I recieved many emails from our female audience who all dug it! In fact, the response has been mostly positive - even from dudes.
New pics and more
Author: Jett
Saturday, April 16, 2005 - 7:00 AM: Click HERE and HERE to get a look at two pics that I've yet to see. They are from MOVIESPOILERS.NET. Now listen, this is a cool site, but look at the title - "MOVIE SPOILERS." Do not go to this site if you don't want to know the plot details of BATMAN BEGINS! The picutres can also be considered spoilerish! Just a FYI, the first picture is of Bruce in the Himalayas and the second is a pic of him and Liam Neeson's Ducard....
Yesterday (4/15/05), I had the honor of being a radio guest on the WILLIAMS AND WHISMAN SHOW. I was on to talk about - and promote - BATMAN BEGINS. I just wanted to say thanks to Jim and Beth for having me! And if any of y'all happened to hear me, let me know.
BOF EXCLUSIVE - THE NEW BEGINS ONE-SHEET!
Author: Jett
Thursday, April 14, 2005 - 5:00 AM: Warner Bros. has provided BOF with an exclusive first look at the new BATMAN BEGINS one-sheet. Check it out--
As you can see, it keeps the theme of the previous two posters - the gold/yellow background and the flying bats. This one looks like it might be aimed toward the female demographic, as it depicts a heroic Batman carrying the obviously incapacitated Rachel (Katie Holmes). Enjoy!
BEGINS first-look special info and another BEGINS image
Author: Jett
Tuesday, April 12, 2005 - 6:52 AM, 7:48 PM: HBO will air a first-look special on BATMAN BEGINS on Tuesday, June 7 at 8:15 PM. Additional air dates will follow. Thanks to the COMICS CONTINUUM for the heads up....
IESB.NET sent us word of another image of Christian Bale as The Batman. Looks like he's in the Batcave with the caped draped over him.
Bale vs. Routh in the future?
Author: Jett
Monday, April 11, 2005 - 7:05 PM: Even though this comes from the great DARK HORIZONS, I'd advise to take this with a grain of salt. While it is true that Christian Bale is contracted for two BEGINS sequels, I'm not sure if BATMAN VS. SUPERMAN is still in the mix - and I don't know if he'd announce it to a complete stranger in an airport. Anyway, here is a bit of Garth's scoop--
"He's [Christian Bale - Jett] still quite bulky from the Batman part! Anyway, I said Hi, got an autograph, wished him luck with Batman (asked me if I was going to see it - like, duh) and I said I hoped he's back for Batman again. 'Two more actually, and then Brandon Routh, the new Superman, and I, are doing Batman vs. Superman as a movie'".
While I was all about BATMAN VS. SUPERMAN when it looked like it was going to happen a few years ago, I just don't know if I would dig it now. And frankly - maybe I'm way off base - I can't see Mr. Bale being interested in doing it. Hey, you never know....
"V" sent us the following report and picture--
Hey Jett. Been a longtime reader, but this is my first bit of info I'm submitting. I was at dinner in Santa Monica on Friday evening, when low and behold I see the new bat symbol in green light on the side of a building. Turns out it is a high intensity green laser that is drawing the signal every few seconds on this building. I've lived in LA quite a while, but have never seen such a cool marketing idea! Peace!
Click on the thumbnail to see it larger.

My oldest son's birthday is this coming weekend, and guess what his Dad is getting him? Probably easy guess. Actually, I bought two posters and them framed - one for him and one for my office. I also got him a BATMAN BEGINS T-Shirt and a couple of BEGINS action figures. Aren't I a great Dad?
(Thanks to "Jason S.," "Darkworld," "CJD84," and "Espo.")
More BATMAN BEGINS music info
Author: Jett
Thursday, April 7, 2005 - 6:55 AM: A few quotes from James Newton Howard about the BEGINS score from SCOREREVIEWS.COM (Thanks to "Admiral Nelson")--
"...we're already doing sketches and sending things to [the] director...Chris [Nolan] is interested in an unconventional score...."
"...my idea (and what we've talked about the most) is the idea of co-devising certain building blocks of the score which we will then both be able to use independently...."
"...if I have a certain rhythmic or tonal bed I've written and we sort of exchange them then we're both working with the same elements, but perhaps embellishing them differently...."
Can't wait to hear what they come up with! BATMAN BEGINS opens in the U.S. on June 17th.
New BATMAN BEGINS poster!
Author: Jett
Wednesday, April 6, 2005 - 6:43 AM, 7:09 PM: "Jamieson" sent us a link to an interview with Darren Aronofsky - who was behind the YEAR ONE project with Frank Miller - at SUICIDEGIRLS.COM. Here's a bit regarding The Bat--
With BATMAN [YEAR ONE] I was like, "I'll only do it if you involve Frank Miller." They thought that was a radical idea. I was like, "The guy is responsible for your moves ultimately." He's responsible for making the whole title cool again.
I'm really excited to see BATMAN BEGINS. I think that it looks great. It's a hard thing to do because you have to make it for a real audience. Chris Nolan is a real filmmaker, there's no doubt.
According to HANS-ZIMMER.COM, Ramin Djawadi joined Hans Zimmer & James Newton Howard to score BATMAN BEGINS. They are currently in London, working on the music. Thanks to "Mdodang" for the lead....
Click on the thumbnail below to get a look at the new BEGINS poster - which I'm sure you all have already seen. I really like it, but I still dig that last one better (not that this isn't nice)--

JOBLO.COM has the new BATMAN BEGINS poster up on their site. Click on the link provided to check it out....
Regarding that "review" BOF wrote about yesterday. "George" sent us the following--
Having actually worked in the industry for a number of years, I've come to know quite a few people across the pond in the UK who are privy to this sort of info. The BBFC (British Board of Film Certification) is committee run with typically only one or two people screening a film in order to rate it. It's not an "open invite" type of screening as you'd see with press or test types. This person claims to have been invited. It simply does not work that way.
Based on this info, I'd take the "review" with a grain of salt. However, what makes it sound somewhat legit, is that the guy doesn't try to go overboard with "spoilers" and such to try to prove that he actually saw it - that's usually the big red flag for BS. We'll see for ourselves pretty soon anyway. Late.
First real review for BATMAN BEGINS?
Author: Jett
Tuesday, April 5, 2005 - 6:33 PM: BOF'er "Matches Malone 00" sent us a possible review of BATMAN BEGINS from IMDB.COM. Yeah, yeah, I know what y'all are thinking, but after doing this for almost seven years, I can usually weed out the stuff that is BS for sure. I think that this just might be legit.
The review was from someone who says that he was ..."invited to watch the BBFC (British Board of Film Certification), screening of BATMAN BEGINS to see what rating this movie will get." His report was VERY positive, giving the film a score of "9.5/10." He also says that The Batman is the foucus of the film - unlike the previous four films - and it has the look of both BLADE RUNNER and THE CROW. In fact, he calls it the "definitive BATMAN film." Click on the link provided to read his spoiler-free review....
I see - as I expected - a spot was run last night during the NCAA basketball championship game. And a segment was "sponsored by" BATMAN BEGINS as well. Y'all let me know what the reaction was like to the spots played over the weekend and Monday night - in particular those of you who watched the game at a sportsbar or with a group....
IESB.NET has an interview with the guys behind the BATMAN BEGINS VIDEO GAME. Check it out.
BEGINS update for 4/2/05
Author: Jett
Saturday, April 2, 2005 - 7:56 AM, 5:33 PM: So here I am watching Illinois vs. Louisville, and guess what I see - the "A guy that dresses up as a bat clearly has issues" spot! Our source was right it seems....
One of the 30 second spots that is presently airing can be viewed over at THE MOVIE BOX as well. This is the one that shows the red-eyed, fire-breathing horse....
If you haven't seen the two TV spots by now, you can find both at THE MOVIE BOX....
Several BOF readers have emailed to say that they have seen one of the full, 30 second spots air on ESPN 2 and FOX SPORTS NET. The two semi-final games of the NCAA Tourney are on later today. I wonder....
BEGINS update for 4/1/05
Author: Jett
Friday, April 1, 2005 - 6:25 PM: Got a few things for y'all today, so let's get at it....
One of the TV spots BOF reported on can be found at WORLD OF KJ. Damn badass....
Another spot can be view over at MOVIEWALLPAPERS.NET....
HERE is a link to a Brazilian BEGINS spot....
A great interview with Frank Miller - talking about BATMAN BEGINS and other stuff (mostly other stuff) - can be found on AMAZON.COM. Here is what he says about BEGINS--
"I've got a good feeling about it. What I've seen looks nifty and looks like they may be yanking him back on track." I've got a good feeling about this one too Frank....
"Jeff O." says that he saw one of the BATMAN BEGINS spots run during the NIT Championship Game. Gotta think my source was right when he said that they were going to air during the NCAA Tourney....
Everyone that has emailed me about the spots have said nothing but how great they are! Airing where they have so far, they've hit a great demographic IMO. Batfans - time to promote this thing like hell! Fans of The Dark Knight already know and are going to see this thing. So, spread the word to all non-Batman friends! Only about two months out now....
Billboards are showing up all over the place - more places now than I can report! Thanks to all of you who have sent news on them....
I gotta give some run for that ELVIS miniseries that is soon to air. CLICK HERE to check out the latest and get a look at Rose McGowan as Ann-Margret....
(Thanks to: Najeed, Johnny M., Bobby B., Brandon, Pepe, Candice, Henrique, Jeff O., "Big Mike," Jeff E., Pat K., Jonathan S., Joel B., Jeff O., Dylan, Arsalan and ALL of you who sent in emails!)
Want to read past BATMAN movie news? Click on the logo below!
N E W S A R C H I V E S