Misc. BEGINS news
Author: Jett
Thursday, April 21, 2005 - 7:33 PM: The French visual effects house BUF COMPAGNIE (Aeon Flux, Matrix 2/3, Van Helsing) have just signed up to put the finishing touches to BATMAN BEGINS' visual effects....

From DEXIGNER.COM, "We have recently completed our work as lead vendor on Christopher Nolan's 'Batman Begins,' due to be released this summer." Click the link for more....

DIGMI is creating infographics....

Hans Zimmer and James Newton-Howard are recording the BATMAN BEGINS score in Lyndhurst Hall at the prestigous AIR STUDIOS in London. LINK....

(Thanks again to "Ras2005" for the info!)

Check out a nice article about BEGINS from THE WEST GEORGIAN. Thanks to "Jack S." for the lead....

SYMANTEC has a contest in which you can win tickets to the U.S. premiere. Click on the link for more info....

I just did a new interview about BOF which was cool to do. I'll post a link when it is available to read....

FYI. I know it has been a while since a new op-ed piece was posted, but not for long. I've got one coming that I've been working on, and the BATMAN FOREVER piece by "Scissor Puppy" should be up the first week of May....

And one last thing, GO MAVS!

BATMAN on SMALLVILLE! BATMAN BEGINS trailer review
Author: Jett
Tuesday, April 19, 2005 - 6:12 AM, 7:47 PM: Found this official notice in my email this evening. I'll let the press release do the talking (Thanks to "Vin" and all of you who sent the news in as well!)--

A SPECIAL 90-MINUTE "SMALLVILLE" SEASON FINALE EVENT WILL FEATURE THE WORLD PREMIERE OF AN EXCLUSIVE EIGHT-MINUTE SPECIAL FOOTAGE PREVIEW OF THE HIGHLY ANTICIPATED SUMMER FILM "BATMAN BEGINS"

Two DC Comics legends, Clark Kent and Batman, will unite on Wednesday, May 18 (8:00 p.m. ET) as The WB presents the world premiere of an exclusive eight-minute special footage preview of the highly anticipated theatrical release BATMAN BEGINS, which will air within the 90-minute presentation of the season finale of the network's hit drama, SMALLVILLE.

"This is a great night for fans of the two most popular superheroes in the history of American Pop Culture," said David Janollari, President of Entertainment at The WB. "Fans of SMALLVILLE will not want to miss this special extended version of what will be the series' best-ever season finale. Broadcasting exclusive footage of the summer's most anticipated feature film, BATMAN BEGINS, makes this a very exciting night for us and a natural fit for the fans of SMALLVILLE."

"We are thrilled to share this exclusive preview of BATMAN BEGINS with fans of SMALLVILLE," said Dawn Taubin, President of Domestic Marketing, Warner Bros. Pictures. "Not only does this special event bring together two seminal American superheroes, but both SMALLVILLE and BATMAN BEGINS give fans the opportunity to delve deeper into the mythology behind their heroes. May 18 promises to reveal exciting new chapters in the history of these legends, and kick off a summer that fans will never forget."

SMALLVILLE'S 90-minute season finale is packed with murder, betrayal and an unforgettable graduation day for all.

"Superman and Batman have always been inextricably linked to each other, so it seems fitting that a show chronicling the Man of Steel's youth give you the first look at the birth of the Dark Knight," said Al Gough, executive producer, SMALLVILLE. "Christopher Nolan is an incredibly talented filmmaker and we couldn't be more excited and honored to have our season finale complimented with exclusive footage from Batman Begins."

Fantastic! Can't wait....

"The Don Vito" sent us the heads up regarding two new pics you will find over on BATMANS.DE....

Nikki Finke of LAWEEKLY.COM recently reviewed the trailers for the upcoming summer films. Could this be what the "Average Joe" movie goer - and women in particular - are thinking about BATMAN BEGINS? Here's an excerpt--

I had no wanna-see for this movie. Then I spied the trailer. God, Christian Bale is even more gorgeous here than he was in AMERICAN PSYCHO. Finally, post-Kilmer and Clooney, someone is playing Batman as a manly man, and not as a fop. There's one good shiver-down-the-spine moment, otherwise the trailer is fairly routine. But it also leaves some nagging questions. Why is Batman being taught by Jedi knight Liam Neeson? And why is Batman strolling through Superman's ice planet?

Well, Nikki, you'll find out soon enough. I'm glad you are interested enough to wonder. I have to think this - "I had no wanna-see for this movie. Then I spied the trailer" - is what many are thinking about this film. Promote away WB....

Got my framed BATMAN BEGINS one-sheet back - the one of him with cape scread and the bats all around - and it is proudly hanging in my office....

An omission from yesterday's report. Thanks to all of you who sent in the news of the BB Stunt Show. Too many people to credit individually, but thanks to all of you nonetheless.

(Thanks to "Salemdog" for part of this report.")

BATMAN BEGINS Stunt Show!
Author: Jett
Monday, April 18, 2005 - 7:41 PM: SHH reports that a BATMAN BEGINS Stunt Show will be featured at SIX FLAGS MAGIC MOUNTAIN. "Playing several times a day throughout the season in the Batman Action Theatre, the "Batman Begins Stunt Show" set features spectacular 45-foot-tall facades of Wayne Tower, Gotham National Bank and City Hall, plus exciting show elements including motorcycle chases, crashing helicopters, ninja stunts and a first ever look at the new Batmobile." That should be pretty cool. When one of y'all BOF readers see it, send a review....

IESB.NET points us to a Italian BATMAN BEGINS spot.

Summer flicks article
Author: Jett
Sunday, April 17, 2005 - 11:06 AM: "Shad" sent us a link to THIS ARTICLE about the hype beginning this spring for summer movies. Of course, it includes BATMAN BEGINS. Here's an excerpt--

Even with an iconic character such as Batman as its star, Warner Bros. isn't taking any chances. They want every man, woman and geek alive to know this isn't the campy BATMAN AND ROBIN that was so despised a few years back. It's dark and action-packed! Don't forget it!

The article also mentions some rumor that has it that BEGINS isn't as action-oriented as the studio wanted - what a load! I've yet to come across that rumor and if it is out there, it may have been started by the competition....

For all of you who have emailed me asking, - NO, the one-sheet that was premiered here on BOF a few days back is not a fan manip. YES, it is the real deal. What part of "Warner Bros. has provided BOF with an exclusive first look at the new BATMAN BEGINS one-sheet" was confusing? By the way, I recieved many emails from our female audience who all dug it! In fact, the response has been mostly positive - even from dudes.

New pics and more
Author: Jett
Saturday, April 16, 2005 - 7:00 AM: Click HERE and HERE to get a look at two pics that I've yet to see. They are from MOVIESPOILERS.NET. Now listen, this is a cool site, but look at the title - "MOVIE SPOILERS." Do not go to this site if you don't want to know the plot details of BATMAN BEGINS! The picutres can also be considered spoilerish! Just a FYI, the first picture is of Bruce in the Himalayas and the second is a pic of him and Liam Neeson's Ducard....

Yesterday (4/15/05), I had the honor of being a radio guest on the WILLIAMS AND WHISMAN SHOW. I was on to talk about - and promote - BATMAN BEGINS. I just wanted to say thanks to Jim and Beth for having me! And if any of y'all happened to hear me, let me know.

BOF EXCLUSIVE - THE NEW BEGINS ONE-SHEET!
Author: Jett
Thursday, April 14, 2005 - 5:00 AM: Warner Bros. has provided BOF with an exclusive first look at the new BATMAN BEGINS one-sheet. Check it out--
As you can see, it keeps the theme of the previous two posters - the gold/yellow background and the flying bats. This one looks like it might be aimed toward the female demographic, as it depicts a heroic Batman carrying the obviously incapacitated Rachel (Katie Holmes). Enjoy!
BEGINS first-look special info and another BEGINS image
Author: Jett
Tuesday, April 12, 2005 - 6:52 AM, 7:48 PM: HBO will air a first-look special on BATMAN BEGINS on Tuesday, June 7 at 8:15 PM. Additional air dates will follow. Thanks to the COMICS CONTINUUM for the heads up....
IESB.NET sent us word of another image of Christian Bale as The Batman. Looks like he's in the Batcave with the caped draped over him.
Bale vs. Routh in the future?
Author: Jett
Monday, April 11, 2005 - 7:05 PM: Even though this comes from the great DARK HORIZONS, I'd advise to take this with a grain of salt. While it is true that Christian Bale is contracted for two BEGINS sequels, I'm not sure if BATMAN VS. SUPERMAN is still in the mix - and I don't know if he'd announce it to a complete stranger in an airport. Anyway, here is a bit of Garth's scoop--
"He's [Christian Bale - Jett] still quite bulky from the Batman part! Anyway, I said Hi, got an autograph, wished him luck with Batman (asked me if I was going to see it - like, duh) and I said I hoped he's back for Batman again. 'Two more actually, and then Brandon Routh, the new Superman, and I, are doing Batman vs. Superman as a movie'".
While I was all about BATMAN VS. SUPERMAN when it looked like it was going to happen a few years ago, I just don't know if I would dig it now. And frankly - maybe I'm way off base - I can't see Mr. Bale being interested in doing it. Hey, you never know....
"V" sent us the following report and picture--
Hey Jett. Been a longtime reader, but this is my first bit of info I'm submitting. I was at dinner in Santa Monica on Friday evening, when low and behold I see the new bat symbol in green light on the side of a building. Turns out it is a high intensity green laser that is drawing the signal every few seconds on this building. I've lived in LA quite a while, but have never seen such a cool marketing idea! Peace!
Click on the thumbnail to see it larger.

My oldest son's birthday is this coming weekend, and guess what his Dad is getting him? Probably easy guess. Actually, I bought two posters and them framed - one for him and one for my office. I also got him a BATMAN BEGINS T-Shirt and a couple of BEGINS action figures. Aren't I a great Dad?
(Thanks to "Jason S.," "Darkworld," "CJD84," and "Espo.")
More BATMAN BEGINS music info
Author: Jett
Thursday, April 7, 2005 - 6:55 AM: A few quotes from James Newton Howard about the BEGINS score from SCOREREVIEWS.COM (Thanks to "Admiral Nelson")--
"...we're already doing sketches and sending things to [the] director...Chris [Nolan] is interested in an unconventional score...."
"...my idea (and what we've talked about the most) is the idea of co-devising certain building blocks of the score which we will then both be able to use independently...."
"...if I have a certain rhythmic or tonal bed I've written and we sort of exchange them then we're both working with the same elements, but perhaps embellishing them differently...."
Can't wait to hear what they come up with! BATMAN BEGINS opens in the U.S. on June 17th.
New BATMAN BEGINS poster!
Author: Jett
Wednesday, April 6, 2005 - 6:43 AM, 7:09 PM: "Jamieson" sent us a link to an interview with Darren Aronofsky - who was behind the YEAR ONE project with Frank Miller - at SUICIDEGIRLS.COM. Here's a bit regarding The Bat--
With BATMAN [YEAR ONE] I was like, "I'll only do it if you involve Frank Miller." They thought that was a radical idea. I was like, "The guy is responsible for your moves ultimately." He's responsible for making the whole title cool again.
I'm really excited to see BATMAN BEGINS. I think that it looks great. It's a hard thing to do because you have to make it for a real audience. Chris Nolan is a real filmmaker, there's no doubt.
According to HANS-ZIMMER.COM, Ramin Djawadi joined Hans Zimmer & James Newton Howard to score BATMAN BEGINS. They are currently in London, working on the music. Thanks to "Mdodang" for the lead....
Click on the thumbnail below to get a look at the new BEGINS poster - which I'm sure you all have already seen. I really like it, but I still dig that last one better (not that this isn't nice)--

JOBLO.COM has the new BATMAN BEGINS poster up on their site. Click on the link provided to check it out....
Regarding that "review" BOF wrote about yesterday. "George" sent us the following--
Having actually worked in the industry for a number of years, I've come to know quite a few people across the pond in the UK who are privy to this sort of info. The BBFC (British Board of Film Certification) is committee run with typically only one or two people screening a film in order to rate it. It's not an "open invite" type of screening as you'd see with press or test types. This person claims to have been invited. It simply does not work that way.
Based on this info, I'd take the "review" with a grain of salt. However, what makes it sound somewhat legit, is that the guy doesn't try to go overboard with "spoilers" and such to try to prove that he actually saw it - that's usually the big red flag for BS. We'll see for ourselves pretty soon anyway. Late.
First real review for BATMAN BEGINS?
Author: Jett
Tuesday, April 5, 2005 - 6:33 PM: BOF'er "Matches Malone 00" sent us a possible review of BATMAN BEGINS from IMDB.COM. Yeah, yeah, I know what y'all are thinking, but after doing this for almost seven years, I can usually weed out the stuff that is BS for sure. I think that this just might be legit.
The review was from someone who says that he was ..."invited to watch the BBFC (British Board of Film Certification), screening of BATMAN BEGINS to see what rating this movie will get." His report was VERY positive, giving the film a score of "9.5/10." He also says that The Batman is the foucus of the film - unlike the previous four films - and it has the look of both BLADE RUNNER and THE CROW. In fact, he calls it the "definitive BATMAN film." Click on the link provided to read his spoiler-free review....
I see - as I expected - a spot was run last night during the NCAA basketball championship game. And a segment was "sponsored by" BATMAN BEGINS as well. Y'all let me know what the reaction was like to the spots played over the weekend and Monday night - in particular those of you who watched the game at a sportsbar or with a group....
IESB.NET has an interview with the guys behind the BATMAN BEGINS VIDEO GAME. Check it out.
BEGINS update for 4/2/05
Author: Jett
Saturday, April 2, 2005 - 7:56 AM, 5:33 PM: So here I am watching Illinois vs. Louisville, and guess what I see - the "A guy that dresses up as a bat clearly has issues" spot! Our source was right it seems....
One of the 30 second spots that is presently airing can be viewed over at THE MOVIE BOX as well. This is the one that shows the red-eyed, fire-breathing horse....
If you haven't seen the two TV spots by now, you can find both at THE MOVIE BOX....
Several BOF readers have emailed to say that they have seen one of the full, 30 second spots air on ESPN 2 and FOX SPORTS NET. The two semi-final games of the NCAA Tourney are on later today. I wonder....
BEGINS update for 4/1/05
Author: Jett
Friday, April 1, 2005 - 6:25 PM: Got a few things for y'all today, so let's get at it....
One of the TV spots BOF reported on can be found at WORLD OF KJ. Damn badass....
Another spot can be view over at MOVIEWALLPAPERS.NET....
HERE is a link to a Brazilian BEGINS spot....
A great interview with Frank Miller - talking about BATMAN BEGINS and other stuff (mostly other stuff) - can be found on AMAZON.COM. Here is what he says about BEGINS--
"I've got a good feeling about it. What I've seen looks nifty and looks like they may be yanking him back on track." I've got a good feeling about this one too Frank....
"Jeff O." says that he saw one of the BATMAN BEGINS spots run during the NIT Championship Game. Gotta think my source was right when he said that they were going to air during the NCAA Tourney....
Everyone that has emailed me about the spots have said nothing but how great they are! Airing where they have so far, they've hit a great demographic IMO. Batfans - time to promote this thing like hell! Fans of The Dark Knight already know and are going to see this thing. So, spread the word to all non-Batman friends! Only about two months out now....
Billboards are showing up all over the place - more places now than I can report! Thanks to all of you who have sent news on them....
I gotta give some run for that ELVIS miniseries that is soon to air. CLICK HERE to check out the latest and get a look at Rose McGowan as Ann-Margret....
(Thanks to: Najeed, Johnny M., Bobby B., Brandon, Pepe, Candice, Henrique, Jeff O., "Big Mike," Jeff E., Pat K., Jonathan S., Joel B., Jeff O., Dylan, Arsalan and ALL of you who sent in emails!)
More BEGINS ad reports
Author: Jett
Thursday, March 31, 2005 6:25 AM: With BEGINS spots showing up on TV already (as reported yesterday), this seems to ensure that we'll see some promos at some point during the final college basketball games....
I want to say thanks to all of you who have emailed me recently with reports. I've been swamped with them so I might not be able to respond to everyone, but be rest assured I read them....
Recent reports include seeing billboards in the UK, Chicago, the Boston area, New York City, and Queens (NY) among other places. BOF has also recieved reports of them showing up at bus stops and on buses themselves. If one shows up in Times Square - which I'm sure will happen - one of you snap a pic of that and send on to BOF....
Here is a link to the OFFICIAL WEBSITE for the BATMAN BEGINS GAME.
BEGINS spots hit TV and a look at a BEGINS billboard!
Author: Jett
Wednesday, March 30, 6:31 AM, 7:14 PM: Well, at least it is still March. It looks like spots for BATMAN BEGINS have hit the airwaves. Here's a report from "Tony C."--
I wanted to let you know I saw a 10 second spot for BEGINS on ESPN today. Nothing that we haven't seen. It has Batman dropping down the staircase and then they flash the logo and the date the movie will be released (that was what I caught while on the treadmill).
Anyway thought I let ya know that the "mass" promotion has started just in time (and not so damn early as other movies tend to do). Keep up the good work!
Thanks, I will and I agree with Tony's assessment of the BEGINS promotion not going over the top. And here is another report from "JediSpock"--
Hi, I wasn't sure if you were aware of this, but Warner Bros. is already airing teaser-commercials for Batman Begins. I just saw the piece on SPIKE TV. The ad was very simple, but cool looking -- an endlessswarm of bats flying through a red-orange sky (left of frame to the right). This went on for about 5 whole seconds before the words "Batman Begins" faded up. It then gave the release date, then faded to black. A very cool teaser.
"Mike B." also sent BOF a description of the same spot. So thanks to him as well....
Also thanks to "Charles" who says that he saw a huge billboard in the Bronx. Man, these things must be popping up all over the place! Get one of these up here in Texas asap! Anyway....
"Rc2k" sent us the pic below (click to enlarge) taken by his brother "fceeviper" on Santa Monica Blvd. in California--

I haven't seen any yet here in Texas, but I'm sure they're coming. The promotion and hype should really start to gear up here over the next couple of months.
Hauer talks BEGINS and more
Author: Jett
Tuesday, March 29, 7:58 PM: You can check out Rutger Hauer - BEGINS' Richard Earle - talking a bit about about the film over at IESB.NET....
Several more BOF readers have emailed us about seeing BATMAN BEGINS billboards all over the place. If you get a pic of one, send it this way....
Watched a lot of basketball over the weekend and didn't see a BEGINS spot (Although I did see a lot of promos for ELVIS, which I really want to see). I've got to think that they'll pop up during the final four and championship game.
Billboards, toys, and Bale
Author: Jett
Saturday, March 26, 6:55 AM, 2:01 PM: "Crazy" writes in to tell BOF that he too saw a billboard ad - this one in the UK. He says that it featured The Scarecrow on horseback and was located at an "intersection near Winchester in Hampshire, near Fareham College campus." So billboards must be springing up all over the place....
"Chris C." says that he too saw a billboard, but in a very unlikely place - The Matrix. He says he was playing THE MATRIX ONLINE, and "they have tons of BEGINS, CONSTANTINE, and other WB movie billboards planted throughout the Megacity of the Matrix."
"Morgan" writes in to tell BOF that he saw a BATMAN BEGINS billboard on the New Jersey Turnpike based on the new one-sheet....
Several BOF'ers have emailed saying that they have seen - and bought - BATMAN BEGINS toys and action figures in various stores. So I guess they are out there to be purchased....
IESB.NET sent us word on a VIDEO INTERVIEW with Christian Bale that they have.
PG-13 for BEGINS and premiere info
Author: Jett
Friday, March 25, 10:58 AM: A couple of things this morning, both sent to BOF via "Chaz" from KATIE HOLMES PICTURES. First, as expected, BATMAN BEGINS has been tagged with a PG-13 rating for "...intense action violence, disturbing images and some thematic elements." Hopefully, "disturbing images" does not include black mucus oozing from a villain's mouth. CLICK HERE for info....
Secondly, it looks as if the Hollywood premiere is set for Monday, June 6th at Grauman's Chinese Theater. CLICK HERE for more info.
BEGINS game cover
Author: Jett
Thursday, March 24, 7:09 AM: The cover for the BEGINS game has emerged and you can see the GAMECUBE version by CLICKING HERE....
The OFFICIAL SITE has several new pictures available on the FLASH version.
(Thanks to all of you who sent in info!)
Official Site updated and BEGINS on mag cover!
Author: Jett
Wednesday, March 23, 7:47 AM, 3:45 PM: Check out the summer preview edition of EMPIRE MAGAZINE--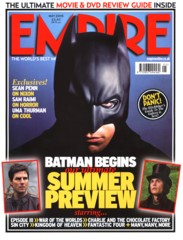 The OFFICIAL SITE has been updated to include a flash counterpart.
"March Madness" BEGINS?
Author: Jett
Tuesday, March 22, 7:59 AM, 3:38 PM: Quick update regarding the earlier report from today. Our source emailed me to remind y'all that the BEGINS spot(s) could be airing during the national championship game - not starting this weekend. They could, but he doesn't know for sure. Here is what he said--
Jett, what I've heard is that BATMAN BEGINS spots are going to run sometime during the NCAA BB tourney. When, I'm not sure. But you know how big the final game is, so I can't see them [Warner Bros. - Jett] missing that oppertunity. Hell, they could run during this weekend's games - WAR OF THE WORLDS is already been ran quite a bit. I agree, I can't see WB missing the oppertunity to hype the film to that particular audience - which is HUGE if you don't know already. I just wanted to make it clear that the "when" is not determined....
"Baltimore Bat" sent us THIS LINK and says that there is a new poll about most anticipated summer films - in case you want to vote for BEGINS....
I've been told that spots for BATMAN BEGINS will run on CBS TELEVISION during their coverage of the NCAA College Basketball Tournament. Games start again this Thursday. I hope this happens as this would be great exposure for BEGINS in my opinion.
BEGINS spots with sound!
Author: Jett
Monday, March 21, 7:07 AM: Thanks to "Barney," you can check out the three much talked-about BEGINS spots by CLICKING HERE. UPDATE: Seems the link to the site has met with bandwidth issues. A first come, first serve situation. Sorry, but keep giving it a go and see if it comes back online - Jett.
Reports from WWLA and more BEGINS commercial info
Author: Jett
Sunday, March 20, 7:25 AM, 1:21 PM, 3:27 PM: "le Joker" sent us a heads up that P-21T has some decent screencaps from the commercials....
"The Only Woj" sent us the pic below of The Scarecrow doing his thing from one of the new spots (click to enlarge)--

Reports from the WIZARD WORLD convention out in LA--
From "Brian N."--
I was at the convention today and I saw the ten minute clip that you said would be here. Anyway, today at 2:00pm they showed the clip, none of the cast or crew was there, but the clip was very cool and contained footage not shown on anything else so far. It started out with the clip of Bruce as a child falling down a shaft and showing the bats flying overhead and his father rescuing him. It showed them at the theater and Bruce begging to leave, then his parents were killed by the gunman in the ally. After this, they showed footage with Liam Neson that we have already seen, a little how he meets Ra's Al Ghul, some combat between Liam and Bale. They did show a lot more action segments with Bale in the costume - very cool - and some more of hi weaponry as well. We also got a peak at Scarecrow, very, very cool looking, he throws some nerve toxin at Batman and you see the Scarecrow change in his face, very scary, and very cool.
A very detailed description from "Animatorsone"--
New footage from "Batman Begins" was shown at the Warner Brothers panel today at Wizard World LA. The new footage was actually just a newer longer trailer.
The footage began with young Bruce chasing Young Rachel into a green house type of structure. Young Bruce snatches an item away from young Rachel and runs away, Rachel chases after him. Bruce falls through the hole that has been seen in the previous trailers, but this time bats appear and begin to fly all around Bruce, frightening him. Thomas Wayne repels down the hole on a harness and rescues young Bruce. Thomas Wayne tucks young Bruce into bed and explains that the bats were afraid of Bruce which is what caused them to attack him. Young Bruce says something along the lines of "so even scary things are afraid sometimes?"
Cut to Martha, Thomas, and young Bruce in the theatre. The performers are swinging on ropes and the tone of the play is dark, which scares young Bruce, who wants to leave. Upon exiting the theatre early, Bruce and his parents are confronted by Joe Chill, who waves a gun around. Thomas Wayne steps in between the gun and his wife and gets shot in the chest. Then Martha Wayne is shot, the pearls fall from her necklace.
The music playing during these scenes was the "Requiem for a Dream" theme song.
Next is the familiar Alfred and young Bruce standing outside at the funeral where people carrying black umbrellas walk by, only this time I believe Richard Earle talks to young Bruce. Carmine Falcone says something about watching over the Wayne empire until Bruce is old enough to take over.
Next a young adult Bruce Wayne is standing in front of Carmine Falcone in an office. Bruce looks angry as Falcone kind of chews him out. More or less, Falcone says that Bruce is just an inexperienced kid who isn't entitled to something just because his parents were killed in front of him. Falcone calls Bruce a nobody to anyone outside of Gotham.
Bruce is walking up to the shack in the ice covered mountain. The doors open and Ras al Ghul is sitting there atop his throne. Bruce inquires "Ra's al Ghul?" Ra's al Ghul says something in another language. Ducard and other henchmen emerge from the shadows. Either Ducard or Ra's says "what is it you seek? and Bruce says something like "the means to fight those who would strike fear in the innocent." Ducard says that Bruce needs to face his own fears first, and the men begin to beat Bruce.
Next Bruce and Ducard are sword fighting (I can't recall whether it was on the ice yet or not) Bruce is advancing and Ducard is calling out different names of animals as Bruce attacks. Ducard called out "Tiger!" and "Panther!" as Bruce lunged at him (I can only imagine what this means. I haven't read the script, all my info comes from your site and comics).
On the ice, Ducard says that Bruce's parents weren't killed because of Bruce, but rather because of Bruce's father. Bruce gets mad at this remark and lunges at Ducard yet again. Eventually Bruce gets the better of Ducard and holds the sword to Ducards throat. As Ducard is on the ground, Bruce in a low voice growls "Yield!"
At some point Ra's says that Gotham is destined to be destroyed. An aerial shot of Gotham is revealed. Bruce in a tuxedo says that "Gotham is still worth saving."
Wayne Manor is shown on fire.
Bruce is shown spraying the torso piece black and picking up his belt components, including the grappling gun.
The rest went by a bit faster, and I'll just describe the new elements which were intercut with previously seen footage.
-Batman running towards the camera (Batman moves fast and fluidly)...The Tumbler was shown soaring through a waterfall...The grappling hook firing from the gun and latching onto a ceiling beam (this was very fluid and realistic as well)...Jonathan Crane slowly turning around while looking at the ceiling curiously. Crane whispers "he's here.." someone else says "who?", Crane answers "the Batman!"...Batman is shown running and jumping out of a high building window as his cape seems to solidify and catch air, he glides down several stories...A flock of Bats merge into the new bat logo and the title "Batman Begins" appears.
The screen goes black and the audience erupts applauding and yelling.
Seconds later, The Scarecrow says "Batman" in a creepy voice, and throws liquid on Batman. The scarecrow blinks at Batman a few times and waves the lighter at him before setting Batman on fire. Batman is engulfed in flames and looks around not quite knowing what to do, so he runs and jumps out a window totally covered in flames!
That was it. It received a great reaction!
The following came from a good friend--
Dude ... it was simply freakin' glorious. It is THE Batman movie, no doubt.
The footage was edited together chronologically, essentially a five minute summary of the narrative. Opens with young Bruce and Rachel playing on the grounds of Wayne Manor. Bruce goes down the well and is scared by the bats. His dad rescues him and explains to him that even scary creatures can be afraid. Cut to the opera with Bruce spooked by the show and begging his parents to leave. The mugging/execution follows. The funeral: Rutger Hauer advises young B his "empire is in good hands" and will be waiting for him when he comes of age. Alfred comforts Bruce who says he misses his parents so much (and Alfred replies that he does, too). Then -- and here's where it gets even cooler -- we see Falcone (Tom Wilkinson with a very Sopranos-wannabe accent) dressing down an adult Bruce (who we don't see yet, I believe) for trying to confront his men. Basically, he tells B to grow up, that he's "the prince of Gotham" and is way out of his element. Falcone's advice, if you will, leads Bruce to the Himalayas where he meets Ra's Al Ghul, the League and Ducard (Neeson is VERY cool, even in this one scene -- I predict he'll steal the show). Ducard roughs up B. Cut to the training/swordfight on the ice scene between B and D. Ra's then announces that Gotham must pay (for its sins, or something along those lines) and we cut to Bruce declaring, "Gotham is worth saving." BOOM. The putting together the batsuit/utility belt montage, culminating with Batman on the ledge (in Chicago, a now familiar still photo). ACTION from here on out, with some scenes reminiscent from the trailer. The Batmobile in action, police swamped by bats inside Arkham (very Year One), Batman swinging on his cable through walls of flame and collapsing structures, a commuter train derailing, a glimpse of Gordon, and Crane being spooked as he and his henchmen look around the rafters of Arkham (I think it was Arkham). "What is it?" one of the goons asks. "It's The Bat-Man," replies Crane (in a very creepy hyphenated way, cool). The coda? Scarecrow (in the mask) blows dust/gas in Batman's face, disorienting him long enough to douse him was gasoline -- and then set him full Richard Pryor freebasing on fire! Scarecrow says something but I can't recall what. Batman runs and dives out the window, fully aflame.
Oh, man. It f-ing ROCKED! Audience dug it.
BOF has also recieved several reports confirming yesterday's story of new commericials being tested online....
I gotta say, I fired up beyond words for BATMAN BEGINS! I'll reserve final judegement in a few months when I finally see it, but I'm believing that this will be - finally - the definitive Batman film. Late.
Hi-def new BEGINS one-sheet and new commercial?
Author: Jett
Saturday, March 19, 8:28 AM, 12:00 PM, 5:42 PM: "Murcielago" sent BOF the following, which sounds like a potential TV spot. Take with a grain of salt, but sounds legit--
This morning, I took an online survey where I was asked to watch a short, yet-to-be-aired commercial for an upcoming movie, and rate it. Lo and behold, it was BATMAN BEGINS!
The commercial starts with the WB logo in silver, and cuts to Bruce Wayne pulling up to a valet in a fancy sports car. Valet says something like, "Wow, nice car," and Bruce responds, "You should see my other one." The rest of the commercial is very quick cuts, they show the Batmobile in action, and Bruce spray painting the suit, as well as talking to Lucius/Morgan Freeman, who says something along the lines of "the suit amplifies abilities and that it also has a magnetic grappling gun." Cut to Batman shooting said gun and jumping over some ninjas(?) Then, some more footage of Bats kicking butt and then him and Gordon. Gordon says, "What's that," as you hear the sound of bats flying in. Batman responds "Get down," and then the bats fly in. Also interesting was a super quick shot of the scarecrow's face - way gnarlier than anything we've seen before, as well as a shot of a horse breathing fire (Scarecrow induced vision, perhaps?) There's also a quick shot of Bruce and Katie Holmes (don't remember her charater's name) kissing, and a couple of training scenes. Commercial ends with a voice over by Bruce saying, "A man who dresses up as a bat? Clearly he's got issues," while on screen we quickly see Bruce at a restaurant, having this conversation, and then Batman jumping off a rooftop, and the cape becoming wings!! The last shot of the commercial is that - Batman flying!!
If you'd like to take a shot at seeing it, go to gozingsurveys.com and register, although it's kind of hit and miss which surveys they let you take. I guess I just lucked out.
"Riskdogg" of BATMANYTB.COM sent BOF word that two more teaser one-sheets are coming. CLICK HERE for proof. This of course, is to be expected as the promotion and hype starts gearing up....
The new BATMAN BEGINS one-sheet can be seen below. It was provided to COMIC BOOK RESOURCES late Thursday night. Click on the image for a bigger look--
BEGINS news for 3/17/05
Author: Jett
Thursday, March 17, 6:44 PM, 10:18 PM: Regarding that new BEGINS poster I reported on earlier, CLICK HERE to view what looks to be a screen capture of it. Thanks to IESB.NET....
Or you can check out the one sent to BOF by "Sir Walter Scott"--
Make sure you check out this BATMAN BEGINS PRIMER by "Stax" from IGN FILMFORCE....
| | |
| --- | --- |
| While prepping for this report, I heard my wife call to the TV where ENTERTAINMNET TONIGHT was displaying a new one-sheet for BEGINS. It is basically THIS PIC - at a different angle and with a different background. It also looked like it had the names of the actors listed on the lower portion of it. Bats flying all around The Batman. Best I've seen so far.... | Happy St. Pat's Day! |
BATMANYTB.COM sent word that they have a look at some BATMAN BEGINS trading cards. Click on the link provided to view....
BOF has added a NEW SECTION in which we will list links to various stories regarding DC-based movies. Like SUPERMAN RETURNS for instance. I won't be reporting on them, just providing links. I'm doing this because I think that DC has some great characters and I'd love to see them on film. Late.
Bat-update for 3/14/05!
Author: Jett
Monday, March 14, 6:16 PM: Seems that the chat with WB HOME VIDEO has been pused back. CLICK HERE for more info....
You'll dig THIS - especially you So-Cal Bat-fans--
Warner Brothers has just announced that they will unveil special footage from the sure-to-be summer blockbuster, BATMAN BEGINS on Saturday, March 19th at 2pm.
Seating is limited and Special Event tickets are required, so make sure you get there early. Special Event tickets for this event can be picked up at 10am on Saturday, March 19th at the Special Events Ticket booth – Limit 1 per person.
Those of you who get in, make sure you send a report to BOF....
James Newton Howard has began working on the score for BATMAN BEGINS....
EMPIRE MAGAZINE has a cool pic of Christian Bale as Batman on the summer preview edition. Click on the link and look to the upper right....
For all you fans of that Kansas-raised Kryptonian, I talked to Dan from SUPERMAN-V.COM, and it looks like that that site is going to become a "tribute site" of sorts to all the old oborted SUPERMAN projects, while BLUETIGHTS.NET will become a full-time SUPERMAN RETURNS site. Not sure about the future of Justin's DC-ON-FILM.COM. Late.
(Thanks again to "Ras2005.")
WB Video chat and more
Author: Jett
Sunday, March 13, 5:33 PM: SUPERMAN CINEMA is reporting that HOMETHEATER.COM is hosting a chat with WARNER BROS. HOME VIDEO. Among the things that will be discussed are all things Batman - including those SE versions of the previous four films we've been talking about....
Seems that some post-production work on BEGINS is taking place at LEAVESDEN STUDIOS....
Doesn't look like the old '60s TV show will make it to DVD anytime soon. CLICK HERE for more info....
CLICK HERE for a cool look at the filming of BATMAN BEGINS in Chicago last summer.
(Thanks to "Ras2005" and "Jeff.")
BATMAN BEGINS soon to be complete?
Author: Jett
Saturday, March 12, 7:25 AM: We were informed a more than one BOF source that the final cut of the final should be completed soon and that all post-production should be finished in late April or early May. At that time, prints for theaters will start being made....
We also recieved word on The Scarecrow of which we can't be too specific right now. But as BOF has told you for a while now, this "Stage One" Scarecrow that we've seen a lot of recently, is nothing. The F/X shots of the "Stage Two" Scarecrow - which will show how a gassed victim sees Crane - are going to be "creepy as hell" as our source tells us. It seems that the mask will look like it is "alive" via the POV of the victims....
The Scarecrow is not the only character in BATMAN BEGINS that will be seen through the eyes of a gassed individual - as BOF told you a good while ago. And that's going to be worth seeing as well - trust me....
The BOF BATMAN STORE has been revamped. It should be much easier to navigate and so forth. CLICK HERE to give it a look. Thanks and late.
Yet more Bat-Pics online! BATMAN BEGINS at ShoWest?
Author: Jett
Wednesday, March 9, 6:01 PM, 7:18 PM CST: IESB.NET emailed BOF to let us know that they have posted two more BEGINS images - one of a stored BATSUIT, and the other of a GPD squad car and THE BATMOBILE....
I've been told from a very good source that they may be able to preview/review BATMAN BEGINS for BOF early - like May-ish. Keep checking....
Speaking of checking, a longtime BOF source told us to "maybe" expect something "sort of big" regarding BEGINS next week at SHOWEST in Las Vegas. At minimum, Warner Bros. will have an exibit/promotion for the film. I'm making an educated guess and assume that the full trailer will be revealed.
More Bat-Pics online!
Author: Jett
Tuesday, March 8, 5:36 PM CST: IESB.NET has a couple of more pictures from BATMAN BEGINS - including one of The Batman and Gordon together next to the Batsignal. Click on the link provided to get a look....
The OPINION SECTION has been updated with more to come over the next couple of weeks. BOF also has several people lined up to do reviews of BEGINS when it hits theaters in June.
BEGINS update for 3/7/05
Author: Jett
Monday, March 7, 5:31 PM CST: I don't know why I go to Vegas - it always takes me a day or two to recover. I guess that's part of the fun of going (Hehehe). Anyway, on to the Bat-stuff....
A quote by Christian Bale from THE SCOTSMAN--
"I thought that it [BATMAN BEGINS - Jett] was a story I would really like to tell, that I believed could be told better than I'd seen it told before. I've never had a hit movie. Part of me goes: 'Why should it start now? Maybe I'll manage to jinx Batman'."
I don't think you have anything to worry about Christian....
More BEGINS galleries from ALLOCINE.FR and OUTNOW.CH....
Here's another gallery from IESB.NET which includes a couple of pictures of Bale as Batman that I've yet to see....
Garry Rizzo (THE INCREDIBLES) is MIXING BEGINS, according to THE DAILY RECORD....
OK, this is for you Texas Batman fans - particularly here in Houston. I'm working on a viewing party/group with a local, well-known comic book shop. Don't have much more info than that, but if you are here in H-Town, Texas - or anywhere else for that matter - and are interested in attending, keep checking BOF for more info as it becomes available. And if you are part of a theater, radio station, etc. and want to get involved, let BOF know as well.
(Thanks to "Ras2005" for part of this report.)
New BEGINS pics and more!
Author: Jett
Sunday, March 6, 1:55 PM CST: OK, no updates for the last few days because I headed out of town to Vegas early Friday morning. But I did buy a USA TODAY at the airport, and found that there was a short feature on BATMAN BEGINS. Here is a quote from Chris Nolan--
How does Nolan hope to compete with the state-of-the-art feats in the Spider-Man films? "The strength of Batman is his reality," he explains. "He's a guy without superpowers. Bruce Wayne uses detection, psychology and martial arts. Any one of us can be him."
The "Yum Factor" from the report says the film has "A dream cast led by the brooding Bale, a filmmaker who is a master of neo-noir and a script that sounds solidly entertaining." Nice postive blurb on the film....
DARK HORIZON has posted a couple of new pics of The Scarecrow - the "Stage One" version at least. If you don't want to see this pics, don't click on the link provided. If you do, then click and go....
"No Name" sent us THIS LINK to more picures....
Mike Sampson gave us word on his rundown of the new pics on JOBLO.COM....
Here are some of these pics (click on the thumbnail) mentioned here today--




"Monkey Chops" sent the following in as well this past Friday, regarding Liam Neeson on a UK TV program promoting KINSEY. A small blurb about BEGINS--
"It was a very powerful script...very dark and interesting. There are a few thrills and spills in there, too."
And finally, it seems that word is spreading about BEGINS. I was at a bar called "Rum Jungle" in Madalay Bay and just happed to ask a few people if they knew about the movie - and most did and said it looked "awesome." I had my Batman watch on - the one you see over there on the right - people commented on it, which led to the talk about BATMAN BEGINS Anyway....
That's it for now. Since I'm working on about two hours sleep, it is time for some down time. Late!
(Thanks to all of you who sent in info!)
BEGINS merchandise update
Author: Jett
Wednesday, March 2, 7:37 PM CST: PROMOMAGAZINE.COM has more info regarding BEGINS-inspired merchandise....
If you head down to Panama City Beach, Florida for spring break, you may be able to score a BATMAN BEGINS cell phone! CLICK HERE to read more....
The BOF BATMAN BEGINS STORE has more stuff listed. I'm sure that the merchandise will really start rolling in now as the movie is fast approaching!
(Thanks to "Ras2005.")
IMAX BATMAN? Yes!
Author: Jett
Tuesday, March 1, 6:22 PM CST: Last month (2/13/05 update), BOF was the first to report (Thanks to "Ras2005") that BATMAN BEGINS might be brought to you in all the glory that is IMAX. Well, we got the following press release today--
TORONTO (Dow Jones)--Batman's long-awaited return to the silver screen this summer is going to be bigger than most fans realize.
Imax Corp. and Warner Bros. Pictures, a unit of Time Warner Inc. are expected to announce Tuesday that "Batman Begins" will be released concurrently in conventional and giant-screen Imax theaters on June 17.
"Before we decide on a movie, we ask a lot of questions, and this movie has a very good buzz in Hollywood," Imax co-chief executive Richard Gelfond told Dow Jones. "We're really excited."
Well, that certainly kicks up the excitement meter for BEGINS a few notches....
Our friend "LSOK" sent BOF word of his interview with SUPERMAN RETURNS composer/editor John Ottman. Ottman had the following to say about BATMAN BEGINS--
S-V: What do you think of the movie involving DC's other flagship hero, BATMAN BEGINS, and what do you think about Hans Zimmer and James Newton Howard teaming up to do the score -- could you ever see yourself working with another high profile composer on a movie?
JO: I think the casting of Christian Bale as Batman is inspired. He looks the part and is a terrific actor with the perfect intensity and good looks. They've also got a very good director working on it. I was surprised to hear of two major composers teaming up to score the same film. It's a little weird, but I'm sure they'll do a great job. Can I see myself doing this? Well, I'll try anything, but, well, it still would be a little weird!
Congrats from BOF to BATMAN BEGINS' Morgan Freeman (Lucius Fox) for his Oscar win Sunday night....
BATMAN BEGINS is on the cover of the latest WIZARD! Here is a bit of the press release and picture sent to BOF--
It's the biggest event in Wizard Entertainment history!
With so much movie material—over 150 pages worth—Wizard: The Comics Magazine had to create an extra issue. For the first time ever, Wizard unveils a 13th issue, the Mega Movie Issue, on sale at your favorite comic store March 9 featuring an exclusive "Batman Begins" movie photo cover. Get ready for some of the biggest and best features you've ever seen in Wizard: The Comics Magazine. We take you behind the scenes of some of the biggest comic movies—"Batman Begins," "Spider-Man 3," "Fantastic Four," "Superman," "X-Men 3," "Iron Man," "Namor," "Ghost Rider," "Silver Surfer," "Deathlok," "Wonder Woman"—the list goes on and on.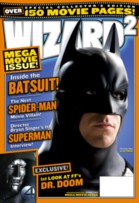 CLICK HERE to read the entire press release and details for the above (If you are interested in subscribing, click HERE).
BATMAN (1-4) SE DVD news?
Author: Jett
Monday, February 28, 7:00 PM CST: Rumor has it that both Tim Burton and Joel Schmacher recorded tracks for "Special Editions" of their Bat-films. Here is an update discounting those rumors sent to us by "Craig" and found in TOTAL FILM MAGAZINE--
Schumacher isn't answering his phone [regarding doing voice tracks, etc. - Jett], but given that FOREVER was actually his good one (well, compared to BATMAN AND ROBIN), we'll run nekkid in the street if this turns out to be true.
As for Burton's commentaries, we've been on the Bat-phone to his camp and there's nothing shaking, Burton hasn't recorded so much as a cough.
So will we see any supa-dupa Bat Editions any time soon? Warner Bros confirmed that we can see SE's in Nov/Dec, but extras are unconfirmed. Chances are, a five-film box set will emerge to tie-in with Chris Nolan's bound-to-be-ace BATMAN.
I'll say this, there is no way that they'll release BATMAN BEGINS with the other films - at least not anytime in the near future. Now, they may release 1 through 4 together, but BEGINS has no ties to those films and I'm sure that WB would like to distance the new film from the previous flicks.
Another Bale interview
Author: Jett
Friday, February 25, 8:29 PM CST: Several BOF readers sent us word of another interview with Christian Bale in THE INDEPENDENT. Click on the link provided to give it a look....
Christina Ricci as Catwoman? Meh. A Sean Young want to be, eh? Anyhoo....
We've got several new additions to our SUPER HERO MOVIES STORE. FYI. Late.
BEGINS-related stuff from DC COMICS
Author: Jett
Thursday, February 24, 6:29 PM CST: You know DC is gearing up for BATMAN BEGINS and you can check out what's in store by CLICKING HERE. BOF will be have various BEGINS merchandise as it comes available at our BEGINS STORE....
BOF will have a couple of new op-ed pieces posted this weekend - longtime BOF'er "Scissor Puppy" has provided us a rundown of what we might expect in a SE/Director's Cut of BATMAN FOREVER. And I've reviewed "The Batmen" - West, Keaton, Kilmer, Clooney, and Bale. You'll want to check them both out over the weekend....
OK, y'all know I'm on an Elvis kick with this new mini-seris coming in May. Anyway, click HERE and HERE to check out two great articles and pictures from "Stax" and IGN FILMFORCE.
More Bale-speak and "The Batmobile" on Letterman!
Author: Jett
Wednesday, February 23, 6:29 PM, 9:31 PM CST: I recently did an interview with UNITED ENVIRONMENT. Click on the link provided to check it out....
More Bale-speak from SCIFI.COM. Click on the link provided to read what he had to say. Here is a short blurb about how Bruce Wayne is conflicted--
"Because his heart is telling him, frankly, that he wants to kill. But he cannot do it. He's been taught differently from childhood, and he knows that it is wrong. But, still, it's an overwhelming urge that he's had to pull back, rein in, all the time."
Mr. Bale refers to The Dark Knight as "American mythology." Like I said, dude really gets it....
I've always been a "Letterman" guy. Well, not to be outdone by GMA, it seems that the "Batmobile" recently on his show. CLICK HERE to check it out (hehehe)....
I found THIS ammusing as I'm currently writing an op-ed piece on "The Batmen." Here is the part from the MTV article on films miscasting comic book characters--
Even back in the pre-Internet days of 1989, there was still enough fanboy uproar to create a media frenzy over the casting of Michael "Mr. Mom" Keaton as Batman. And while the film became a phenomenon, silencing many skeptics, in retrospect, those initial concerns weren't totally unwarranted. Director Tim Burton's rationalizations about a physically imposing Bruce Wayne not needing all the Bat-gadgets don't quite hold when viewing scenes in which it looks as if Keaton is swimming in a costume he's just not big enough to fill. His shoulders slump, the cowl sits askew on his very unsquare face. Certainly, Keaton's performance in the first two Bat-films is enjoyable, but Batman needs more than eyebrows and an attitude.
Not that Keaton's successors were any better. Val Kilmer was too much of a pretty boy to carry the dark mantle in "Batman Forever," and George Clooney was too coy in "Batman and Robin." We'll see how Christian Bale does in this summer's "Batman Begins."
Find out what I think about the Batmen this weekend....
HERE is another nice report from Bale's presentation at Wondercon (*POSSIBLE SPOILERS*).
(Thanks to "Chaz" and all of you who sent in info!)
BATMAN BEGINS update for 2/22/05
Author: Jett
Tuesday, February 22, 6:39 PM CST: First of all, thanks to all of you who sent info in today....
It seems that the Batmobile was on GOOD MORNING AMERICA today. That and some BEGINS merchandise. That reminds of about this time of the year back in '89 when I first saw the Batmobile for BATMAN on GMA when Keaton was on to promote THE DREAM TEAM....
SCIFI.COM has a short interview with Christian Bale and the Batmobile - which kicks ass by the way. Here's a funny blurb from Bale regarding him asking WB if he could keep one--
"They looked at me, and they went, 'Are you f--king kidding?' I didn't."
That is brilliant....
The premiere is getting closer. Make sure that if you have or are getting a group together to watch BATMAN BEGINS, let me know and I'll post your info here at BOF. I'm curious if anyone here in Texas is throwing a big Batman shindig - particularly in Houston, DALLAS, Austin, or San Antonio....
BOF has a few more very good op-ed pieces coming soon - and they aren't all by me. But keep checking the OPINION SECTION if you are interested....
BOF also has a few interviews in the works. I'm working on getting various Batman-related individuals to talks to us and offer their take on BEGINS and The Batman in general. Stay tuned for that as well. And do CHECK OUT the one we have already. Late.
Scoring news and Bale Speaks!
Author: Jett
Monday, February 21, 6:28 AM, 7:29 PM CST: This comes in this evening from "Admiral Nelson"--
FYI - I just heard from a very reliable source (trust me on this - he's well-connected with various film composers and the industry) that James Newton Howard and Hans Zimmer travel to London next month to begin writing the score for BATMAN BEGINS. In the past, Zimmer has recorded his London scores at Air Studios/Lyndhurst Hall, but it's unknown whether BEGINS will record there or in another venue. It's also unknown when they'll actually start recording the score, but April is likely. No word yet on the "direction" the score will take, but that info may come out as the sessions actually finish.
Also, James Newton Howard will be attending the Academy Awards this weekend, of course, since he's been nominated for his score to THE VILLAGE.
CLICK HERE for one of the best - if not THE best - interview with BATMAN BEGINS star Christian Bale. Man, dude gets it. He REALLY gets it.
(Thanks to "The Batgirl.")
New BEGINS footage in San Francisco, New trailer info, and more!
Author: Jett
Sunday, February 20, 6:37 AM, 5:24 PM, 8:38 PM CST: Got one more report on Christian Bale's appearance from yesterday's convention in SF. Some interesting stuff--
*POSSIBLE SPOILERS*
Jett, just wanted to say that I can verify what you had earlier is true because I was there. Christian Bale had some interesting things to say. It was obvious that both he and Chris[topher] Nolan really "gets" Batman. He confirmed what you have said before about Nolan - that he is not signed to do sequels, but the way he talked about it, it seems he thinks Nolan will be back. He also said something along the lines of playing Batman as Batman being the real person, while Bruce is a ruse and a facade for the public. In addition, he said that they (Nolan, Goyer, and Bale I'm assuming) understand the frustration that the fans have about the previous films. Fans will be happy and the general public will finally see what this character is all about. Also (and this should make you happy as I know you've criticized the Burton films), Bale said something like, "Batman has an urge to kill, but his wanting to do what is right prevents that. Batman does NOT kill."
I also think Bale provided a bit foreshadowing. He said that Nolan's take was that once Bruce saved Gotham, Batman would be no more. But saving Gotham brings about the rise of the "freak-criminals," and he must then save Gotham from them - starting a mission that will never end.
Bale was awesome and that new footage was tremendous! BOF has done a hell of a job! I hope you can use this.
The above source asked to remain anonymous, as he was there in professional capacity. But yes dude, I could certainly use your report. Thanks....
I got an an email in today from a solid source regarding when we might see the next BATMAN BEGINS trailer. He tells us that it could be coming in March to capitalize on the "Spring Break" crowd. Possible movies it may be attached to include HOUSE OF WAX, MISS CONGENIALITY 2, and A SOUND OF THUNDER. It is almost surely to be attached to various non-Warner Bros. movies as well. This same source says that the spot that aired during the Super Bowl, may get another run during the Oscars. "But I wouldn't hold my breath" our source says about an Oscar spot. A 30-second commercial during the show is going for $1.6 million....
Looks like our friend Scott Beatty is writing the BATMAN BEGINS COMIC BOOK ADAPTATION. Artwork is being done by Kilian Plunkett and Serge LaPointe. CLICK HERE for more info and if you haven't already, check out BOF's INTERVIEW WITH SCOTT BEATTY....
It seems that new footage was revealed during the SAN FRANCISCO WONDERCON this weekend. And - get this - Christian Bale himself made a surprise appearance! Here is a report from "SeekNDestroy" (POSSIBLE SPOILERS AHEAD!)--
Hello Jett, long time viewer of your site and just got back from Wonder-Con in San Francisco, where the Dark Knight himself - Christian Bale - made a surprise appearance. He answered some fan questions about BATMAN BEGINS and everything he said made the fans roar with excitement. Then finally, they showed us a 6 minute preview of never-before-seen footage. It started off slow with footage of young Bruce - him falling into the cave. Then the murder of the Wayne's. A conversation with Falcone. Bruce arriving at the dojo and training with Ducard. After showing a very impressive montage of Gotham as Ra's Al Ghul was doing a speech about Gotham being destroyed. Bruce then ended with "you underestimate Gotham." Then the last part was the pay off when we saw the glory that is The Batman. I don't remember a lot after that, but the last few seconds showed The Scarecrow - Stage 1 and Stage 2! It scared the crap out of me! The thing ended with a flaming Batman falling from a window, then fading to black with the logo.
This one is from "Jonny"--
I went to the WonderCon in SF today (Saturday Feb 19) and heard Christian Bale talk about the movie. He said he's signed for 3 movies, Chris Nolan isn't [as BOF has reported - but don't worry]. The Batmobile's like having Ozzy scream in your ear. He loves and hates the cowl at the same time and the suit helps him channel rage into playing the character. They've tried hard to make it like Jeph Loeb and Tim Sale "Batman." Just wanted to let you know though, there was a 6 minute never before seen clip from the movie. It was AMAZING. I've never seen Batman on screen like this before in my life. They've definitely got it down. The clip included flashback scenes with Bruce and Thomas Wayne talking about bats in the cave, Bruce talking with Falcone about Gotham's criminal element, Bruce seeking help from Ducard and training with Ducard and Ra's.
Sounds great! Can't wait for this thing to hit theaters!