Another Bale interview
Author: Jett
Friday, February 25, 8:29 PM CST: Several BOF readers sent us word of another interview with Christian Bale in THE INDEPENDENT. Click on the link provided to give it a look....

Christina Ricci as Catwoman? Meh. A Sean Young want to be, eh? Anyhoo....

We've got several new additions to our SUPER HERO MOVIES STORE. FYI. Late.
BEGINS-related stuff from DC COMICS
Author: Jett
Thursday, February 24, 6:29 PM CST: You know DC is gearing up for BATMAN BEGINS and you can check out what's in store by CLICKING HERE. BOF will be have various BEGINS merchandise as it comes available at our BEGINS STORE....
BOF will have a couple of new op-ed pieces posted this weekend - longtime BOF'er "Scissor Puppy" has provided us a rundown of what we might expect in a SE/Director's Cut of BATMAN FOREVER. And I've reviewed "The Batmen" - West, Keaton, Kilmer, Clooney, and Bale. You'll want to check them both out over the weekend....
OK, y'all know I'm on an Elvis kick with this new mini-seris coming in May. Anyway, click HERE and HERE to check out two great articles and pictures from "Stax" and IGN FILMFORCE.
More Bale-speak and "The Batmobile" on Letterman!
Author: Jett
Wednesday, February 23, 6:29 PM, 9:31 PM CST: I recently did an interview with UNITED ENVIRONMENT. Click on the link provided to check it out....
More Bale-speak from SCIFI.COM. Click on the link provided to read what he had to say. Here is a short blurb about how Bruce Wayne is conflicted--
"Because his heart is telling him, frankly, that he wants to kill. But he cannot do it. He's been taught differently from childhood, and he knows that it is wrong. But, still, it's an overwhelming urge that he's had to pull back, rein in, all the time."
Mr. Bale refers to The Dark Knight as "American mythology." Like I said, dude really gets it....
I've always been a "Letterman" guy. Well, not to be outdone by GMA, it seems that the "Batmobile" recently on his show. CLICK HERE to check it out (hehehe)....
I found THIS ammusing as I'm currently writing an op-ed piece on "The Batmen." Here is the part from the MTV article on films miscasting comic book characters--
Even back in the pre-Internet days of 1989, there was still enough fanboy uproar to create a media frenzy over the casting of Michael "Mr. Mom" Keaton as Batman. And while the film became a phenomenon, silencing many skeptics, in retrospect, those initial concerns weren't totally unwarranted. Director Tim Burton's rationalizations about a physically imposing Bruce Wayne not needing all the Bat-gadgets don't quite hold when viewing scenes in which it looks as if Keaton is swimming in a costume he's just not big enough to fill. His shoulders slump, the cowl sits askew on his very unsquare face. Certainly, Keaton's performance in the first two Bat-films is enjoyable, but Batman needs more than eyebrows and an attitude.
Not that Keaton's successors were any better. Val Kilmer was too much of a pretty boy to carry the dark mantle in "Batman Forever," and George Clooney was too coy in "Batman and Robin." We'll see how Christian Bale does in this summer's "Batman Begins."
Find out what I think about the Batmen this weekend....
HERE is another nice report from Bale's presentation at Wondercon (*POSSIBLE SPOILERS*).
(Thanks to "Chaz" and all of you who sent in info!)
BATMAN BEGINS update for 2/22/05
Author: Jett
Tuesday, February 22, 6:39 PM CST: First of all, thanks to all of you who sent info in today....
It seems that the Batmobile was on GOOD MORNING AMERICA today. That and some BEGINS merchandise. That reminds of about this time of the year back in '89 when I first saw the Batmobile for BATMAN on GMA when Keaton was on to promote THE DREAM TEAM....
SCIFI.COM has a short interview with Christian Bale and the Batmobile - which kicks ass by the way. Here's a funny blurb from Bale regarding him asking WB if he could keep one--
"They looked at me, and they went, 'Are you f--king kidding?' I didn't."
That is brilliant....
The premiere is getting closer. Make sure that if you have or are getting a group together to watch BATMAN BEGINS, let me know and I'll post your info here at BOF. I'm curious if anyone here in Texas is throwing a big Batman shindig - particularly in Houston, DALLAS, Austin, or San Antonio....
BOF has a few more very good op-ed pieces coming soon - and they aren't all by me. But keep checking the OPINION SECTION if you are interested....
BOF also has a few interviews in the works. I'm working on getting various Batman-related individuals to talks to us and offer their take on BEGINS and The Batman in general. Stay tuned for that as well. And do CHECK OUT the one we have already. Late.
Scoring news and Bale Speaks!
Author: Jett
Monday, February 21, 6:28 AM, 7:29 PM CST: This comes in this evening from "Admiral Nelson"--
FYI - I just heard from a very reliable source (trust me on this - he's well-connected with various film composers and the industry) that James Newton Howard and Hans Zimmer travel to London next month to begin writing the score for BATMAN BEGINS. In the past, Zimmer has recorded his London scores at Air Studios/Lyndhurst Hall, but it's unknown whether BEGINS will record there or in another venue. It's also unknown when they'll actually start recording the score, but April is likely. No word yet on the "direction" the score will take, but that info may come out as the sessions actually finish.
Also, James Newton Howard will be attending the Academy Awards this weekend, of course, since he's been nominated for his score to THE VILLAGE.
CLICK HERE for one of the best - if not THE best - interview with BATMAN BEGINS star Christian Bale. Man, dude gets it. He REALLY gets it.
(Thanks to "The Batgirl.")
New BEGINS footage in San Francisco, New trailer info, and more!
Author: Jett
Sunday, February 20, 6:37 AM, 5:24 PM, 8:38 PM CST: Got one more report on Christian Bale's appearance from yesterday's convention in SF. Some interesting stuff--
*POSSIBLE SPOILERS*
Jett, just wanted to say that I can verify what you had earlier is true because I was there. Christian Bale had some interesting things to say. It was obvious that both he and Chris[topher] Nolan really "gets" Batman. He confirmed what you have said before about Nolan - that he is not signed to do sequels, but the way he talked about it, it seems he thinks Nolan will be back. He also said something along the lines of playing Batman as Batman being the real person, while Bruce is a ruse and a facade for the public. In addition, he said that they (Nolan, Goyer, and Bale I'm assuming) understand the frustration that the fans have about the previous films. Fans will be happy and the general public will finally see what this character is all about. Also (and this should make you happy as I know you've criticized the Burton films), Bale said something like, "Batman has an urge to kill, but his wanting to do what is right prevents that. Batman does NOT kill."
I also think Bale provided a bit foreshadowing. He said that Nolan's take was that once Bruce saved Gotham, Batman would be no more. But saving Gotham brings about the rise of the "freak-criminals," and he must then save Gotham from them - starting a mission that will never end.
Bale was awesome and that new footage was tremendous! BOF has done a hell of a job! I hope you can use this.
The above source asked to remain anonymous, as he was there in professional capacity. But yes dude, I could certainly use your report. Thanks....
I got an an email in today from a solid source regarding when we might see the next BATMAN BEGINS trailer. He tells us that it could be coming in March to capitalize on the "Spring Break" crowd. Possible movies it may be attached to include HOUSE OF WAX, MISS CONGENIALITY 2, and A SOUND OF THUNDER. It is almost surely to be attached to various non-Warner Bros. movies as well. This same source says that the spot that aired during the Super Bowl, may get another run during the Oscars. "But I wouldn't hold my breath" our source says about an Oscar spot. A 30-second commercial during the show is going for $1.6 million....
Looks like our friend Scott Beatty is writing the BATMAN BEGINS COMIC BOOK ADAPTATION. Artwork is being done by Kilian Plunkett and Serge LaPointe. CLICK HERE for more info and if you haven't already, check out BOF's INTERVIEW WITH SCOTT BEATTY....
It seems that new footage was revealed during the SAN FRANCISCO WONDERCON this weekend. And - get this - Christian Bale himself made a surprise appearance! Here is a report from "SeekNDestroy" (POSSIBLE SPOILERS AHEAD!)--
Hello Jett, long time viewer of your site and just got back from Wonder-Con in San Francisco, where the Dark Knight himself - Christian Bale - made a surprise appearance. He answered some fan questions about BATMAN BEGINS and everything he said made the fans roar with excitement. Then finally, they showed us a 6 minute preview of never-before-seen footage. It started off slow with footage of young Bruce - him falling into the cave. Then the murder of the Wayne's. A conversation with Falcone. Bruce arriving at the dojo and training with Ducard. After showing a very impressive montage of Gotham as Ra's Al Ghul was doing a speech about Gotham being destroyed. Bruce then ended with "you underestimate Gotham." Then the last part was the pay off when we saw the glory that is The Batman. I don't remember a lot after that, but the last few seconds showed The Scarecrow - Stage 1 and Stage 2! It scared the crap out of me! The thing ended with a flaming Batman falling from a window, then fading to black with the logo.
This one is from "Jonny"--
I went to the WonderCon in SF today (Saturday Feb 19) and heard Christian Bale talk about the movie. He said he's signed for 3 movies, Chris Nolan isn't [as BOF has reported - but don't worry]. The Batmobile's like having Ozzy scream in your ear. He loves and hates the cowl at the same time and the suit helps him channel rage into playing the character. They've tried hard to make it like Jeph Loeb and Tim Sale "Batman." Just wanted to let you know though, there was a 6 minute never before seen clip from the movie. It was AMAZING. I've never seen Batman on screen like this before in my life. They've definitely got it down. The clip included flashback scenes with Bruce and Thomas Wayne talking about bats in the cave, Bruce talking with Falcone about Gotham's criminal element, Bruce seeking help from Ducard and training with Ducard and Ra's.
Sounds great! Can't wait for this thing to hit theaters!
Misc. BEGINS mentions
Author: Jett
Saturday, February 19, 7:49 AM, 2:59 CST: It is ON between BATMAN BEGINS and WAR OF THE WORLDS! Well, probably not, but I thought you all might get a chuckle out of THIS....
I found a couple mentions of BATMAN BEGINS in USA TODAY. THIS ONE is from a story about DC COMICS' "comeback" with films based on their comic books. And THIS MENTION comes from a pop culture blog ("HIP CLIPS") by Whitney Matheson on 2/15....
I've recieved several emails from readers saying that the BATMAN BEGINS trailer is still recieving positive reactions from movie-goers prior to CONSTANTINE.
BEGINS in Japan news and more
Author: Jett
Thursday, February 17, 5:30 PM CST: (Sources - US PAVILION and PRNEWSWIRE.COM) New regarding the BEGINS premiere in Japan--
The U.S. Pavilion and Warner Bros. Pictures Japan today announced that Warner Bros. Pictures' highly anticipated feature, "Batman Begins," will make its Japanese premiere at the World's Fair, Expo 2005 in Aichi, Japan. This screening is one of five pre-release screenings scheduled for Summer 2005 in Japan, and is part of a series of entertainment events that the U.S. Pavilion will offer throughout the Expo, which begins Mar. 25, 2005.
Check out some cool BATMAN BEGINS themed electronics from BLUE NOVA by CLICKING HERE....
I've been told by several readers that the BEGINS trailer in front of CONSTANTINE is not new.
New BEGINS trailer with CONSTANTINE?
Author: Jett
Wednesday, February 16, 8:05 PM CST: Got an email in today from "Brandon R." who says he attended a early screening of WARNER's CONTANTINE last night and that a trailer for BATMAN BEGINS was attached. He didn't say whether or not it was new - which I suspect was not. I've heard that the next trailer would premiere in the early spring. But he did report that "...when it ended, the entire theater erupted with cheers and applause." Good to hear. And by the way, he said that CONSTANTINE was pretty good as well.
BEGINS mini-statues
Author: Jett
Tuesday, February 15, 8:16 PM CST: CLICK HERE to have a look at these really nice BATMAN BEGINS collectables from DC DIRECT. These are really worth checking out....
Over the nearly seven years that I've been running BOF, I've been asked to review BATMAN AND ROBIN. I've put it off for years, mostly because I never watched from beginning to end until, well, last December. If you are interested, check out the OPINION SECTION and find the appropriate link. You'll find several op-ed pieces there that might interest you. Late.
New pics at official site
Author: Jett
Monday, February 14, 6:25 PM CST: There are new pictures up at the OFFICIAL BATMAN BEGINS SITE - FYI.
IMAX BATMAN and more!
Author: Jett
Sunday, February 13, 7:32 AM CST: Our friend "Ras2005" helped us out with the following bits....
If you check HERE, you'll see that the Cablecam technology was used on "The Intimidation Game." If you go to the official site and click on "In action" and then on "Pictures" and click through the pictures from their work on THE RING 2, THE LONGEST YARD, etc., you'll see "IMAX Batman." That would certainly be cool to see BATMAN BEGINS in that format....
Rutger Hauer - who plays "Mr. Earle" in BEGINS - has posted a better picture of himself from the set....
Mark Cotta Vaz SPOKE RECENTLY about his work on "THE ART OF BATMAN BEGINS." That should be a pretty good read....
CLICK HERE for some 2005 video release info pertaining to Batman via THE LA OFFICE....
The fourth actor to portray Batman on film - Michael Keaton - had some really nice things to say about Christian Bale and BATMAN BEGINS to the DALLAS MORNING NEWS, which is one of my favorite papers (free subscription may be required)--
Even with "Batman Begins" scheduled as a summer release, starring Christian Bale in the title role, [Keaton] says he never regrets surrendering the role.
"I saw the last two 'Batman' movies, and they were just what I thought they would be. Just a lot of special effects. I wanted them to do what they're doing now with 'Batman Begins.' I wanted them to go back and tell the origin of Batman.
"I'm looking forward to the new Batman," he says convincingly. "Christian Bale is such a good actor. He can brood and he can be droll, which is what you need for Batman."
And as with Batman's onscreen sex appeal, Mr. Bale should prepare himself for a wave of interest from women moviegoers. "I've got a strong female following due to Batman, and I'm sure Christian will, too," Mr. Keaton says. "I still get letters. Funny is attractive to women. That's something I learned early, and I tried to make Batman wry and droll."
This is the second time I've heard Keaton say that he wanted to do a Bat-prequel. Revisionist history? Perhaps, perhaps not. But Mr. Keaton's place in the Batman world is secure - he was the first great "serious" Batman....
Just wanted to say that I posted some angry remarks in the forum - which I've now removed. The thread turned into something that was unintended when I first posted it. Anyway, if I offended or disappointed anyone, I apologize. Late.
UK Test Screening info
Author: Jett
Saturday, February 12, 7:16 AM CST: I recieved the following from a good BOF source regarding a possible UK test screening held on 2/7--
Hi again, I have an update for your test screening news, not sure about USA, but in UK there was already a test screening in Essex, which was one of the filming locations for the movie (Shipping Docks/Gotham highway).
I believe it was only for crewmembers and "VIP Guests" of the production. No members of the public were present and there was security placed on all exits in the auditorium so not even staff could sneak in. My contact who worked on the movie got an online invite which had to be printed and taken to the cinema. For security it didnt have the name of the movie on it not even the "TIG" tagline. This is the ticket below [I saw it - Jett] - I've deleted the email address and the identifcation code that could reveal the source. My contact only told me that it was "positively awesome." Some sound/music and FX were missing and some English accents in there that will most likely be dubbed [with an American one]. Theres a couple of HUGE differences to the script - unlike the "review" on another site that just copied the leaked script - [much has been changed from] the script to the movie. Some batmobile stunts that aren't in the script and nor are certain sequences in Wayne Manor.
There is also going to be some pickup shooting in a couple of months time back at Shepperton Studios.
Our contact also mentioned that - has BOF was told nearly a year ago - that there may be a "twist to the twist," or that it may have been altered a bit. Of course as always, I'm keeping my mouth shut, but it looks as if BATMAN BEGINS has a lot of surprises in store - even for those of you who had no willpower and read the damn leaked script (*wink* Hell, I read it too - but I sort of had to). Late.
Regarding test screenings
Author: Jett
Friday, February 11, 6:16 AM, 7:06 PM CST: BOF told you all several months ago that Christian Bale would lend his voice talent to the BATMAN BEGINS game. Now, it has been announced that Michael Caine, Liam Neeson, Morgan Freeman, Katie Holmes, Cillian Murphy and Tom Wilkinson will reprise their roles - albeit with their voice talent and likenesses - in the BATMAN BEGINS game. The game will be released on June 17, 2005 along with the film. CLICK HERE for more info....
Overnight, I had more than one source - all that I trust and know - tell me that there have indeed been a couple of test screenings. They also indicated that at least one did not include anyone outside of WB execs, crew memebers, etc. - no one from the public invited. Neither source was sure about whether or not the other included any invited public, but it is possible. So this supports the BOF news of test screenings coming in early 2005. This is not meant to validate the "review" that has showed up online recently, but you never know....
Regarding test screenings - BOF will run SPOILER-FREE reviews of these things that are sure to occur over the next few months. So if you happen to attend one, send us your take on it. I must warn you all out there who do not want to see spoilers to be careful with what you read about BATMAN BEGINS online from now on up to the premiere as I expect the spoilers to really start flowing.
Powers That Be Pumped for BEGINS! And the first test screening?
Author: Jett
Thursday, February 10, 6:23 PM, 8:38 PM CST: First of all, let me say DO NOT look for this online if you don't want BATMAN BEGINS spoiled. The only reason I'm posting this is because I want to give those who don't a warning. But I did tell you all that I had heard several weeks ago that there could be some test screenings early in 2005. Now, according to a scooper for a very popular website (located in Austin, TX), they were part of a test screening consisting of 25 people for BATMAN BEGINS. And this dude says that it included Warner Brothers' execs and Chris Nolan himself. Now, everything he described could come from simply reading the script, so I'm VERY leary of this "review." It is VERY positive, that's why I'm mentioning it. But again, DO NOT READ IT as it is FULL of spoilers and you don't want to know....
Now this is completely unrelated to the story above - this has nothing to do with a "test screening." A very good "inside source" told us that the "Powers That Be" have LOVED what they have seen in early screenings of BATMAN BEGINS. "They are really flipped out about how good this movie is," says our insider. This is good to hear....
Misc. Bat-stuff and Elvis!
Author: Jett
Wednesday, February 9, 8:57 PM CST: "Pepe M." sent us THIS LINK from DC DIRECT depicting some pretty good - but pricey - BATMAN BEGINS merchandise. The stuff isn't available yet, but I just may have to indulge myself with a couple of those things....
BATMANS.DE let us know that the release date for BATMAN BEGINS in Germany is now June 16th....
BATMAN ON FILM is returning to being a little more about "Batman on film." Check out the BAT-MOVIES SECTION....
Yeah, yeah, yeah - I know this has nothing to do with The Dark Knight. But, you all know I dig Elvis. And I'm following this new TV biopic of The King that will be on CBS two nights this May. So if you want to get a look at Jonathan Rhys-Myers as the Hillbilly Cat, CLICK HERE! Late (Thanks to "Stax").
Super Bowl spot review!
Author: Jett
Monday, February 7, 6:35 PM CST: First of all, I want to say THANKS for all the emails! Even though I couldn't answer each and every one of them, I read 'em all! Anyway, CLICK HERE to read a short review of the Super Bowl spot. And you can WATCH THE SUPER BOWL SPOT by clicking on the link provided (Quicktime only)....
So we got a look at The Scarecrow eh? Check below. Paul's drawing was pretty spot on, huh?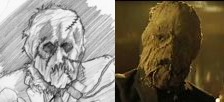 "John W." sent us THIS LINK where you can watch all the Super Bowl ads (including BATMAN BEGINS) and then vote for your favorite. You know what to do....
BATMANNEWS.DE sent us word that 3 new pictures of The Batman from BATMAN BEGINS are now online. Click on the link provided to check them out....
Check out some positive run for the BEGINS spot from YAHOO -
"Hollywood also spent millions to hype its summer slate. The clear victors in buzz were Batman Begins and War of the Worlds. The sneak peek at Christian Bale in his bat suit sent movie fans into a tizzy and queries on the new Bruce Wayne zoomed."
Let the Bat-buzz "begin!"
Reaction? Good!
Author: Jett
Sunday, February 6, 9:40 PM CST: Yes I saw it and I got all of yall's emails. And I interviewed several people at the bar. And ALL loved it! I can say this to WB: You got a HIT on your hands! Full report tomorrow!
SB ad website and more
Author: Jett
Sunday, February 6, 8:13 AM CST: "Joe Mama" - hehehe - sent BOF a link to IFILM.COM which will have all the spots that run during the "Big Game" just minutes after they air. I'm also fairly certain that it'll be up on the OFFICIAL SITE quickly after airing as well....
Remember, I want to know people's reactions to the Bat-spot today - especially from those of you at sports bars, parties, etc. Now, I'm off to relive the momments from my FIVE favorite SUPER BOWLS. Late.
Official Site updated!
Author: Jett
Saturday, February 5, 7:37 AM CST: Remember the days when BOF might go weeks without an update? Those days are long gone it seems, and that is a good thing! Anyway, check out the OFFICIAL SITE as it has been updated. The U.S. one-sheet is now the background of the site and there are several new options as well - wallpapers and buddy icons, interviews, and more to come....
Regarding that soundtrack rumor of last week. Remember I told you that a local mod-rock station here in Houston - 94.5 THE BUZZ - reported it on the air? Well I emailed them and "Theresa" from the show told me she got the news from "radio prep service." Now I don't work in radio, so I have no idea what that means. If you do, fill me in....
Click on the thumbnail below - this is from the official site and I believe it is a shot from the spot that will be premiere Sunday -

I may be wrong, but I think this is a screenshot. I'm fairly certain that the Super Bowl spot will be downloadable on the official site soon after it runs tomorrow. There's a space for it to the right of the screen on the VIDEO SECTION on the official site....
Remember - when that spot airs, tell the people around you that this is a RESTART! No SEQUEL, no PREQUEL! And if they need info on BEGINS, send 'em to BOF! And "Fly PATRIOTS FLY!" Hey, my team already has FIVE Lombardi Trophies - I just want to make sure that one of the game's participant's trophy closet stays bare.
"Special Footage" coming
Author: Jett
Friday, February 4, 6:22 AM, 9:05 PM CST: Got several emails in today from longtime sources who say again that one of the spots Warnr Brothers purchased for sunday's Super Bowl is for BEGINS - most are guaranteeing the Bat will fly sometime during the "Big Game." A couple say that new footage will be shown, while most tell us that it is a cut done especially for this spot. So, get those DVR's and VCR's (Does anyone still use those?) ready....
S P O I L E R!!
CLICK HERE for another look at that Scarecrow painting over at EBAY
. Of course, if you've been reading BOF for a while, you have already known what he looks like for a while now. But trust me, none of these drawings or paintins does it justice. Just wait until you see him on the big screen....
The OPINION SECTION has been updated with some new articles....
According to PRN NEWSWIRE, "Warner Bros. Pictures Presents Exciting New Footage from the Highly Anticipated...BATMAN BEGINS." It then lists "SATELLITE INFORMATION" for several locations throughout the world. The date is February 7th on all. Could this have something to do with the "Big Football Game" this sunday? But it is taking place February 6th between 5 and 9 PM (CST). Interesting.
(Thanks to "Jim" for the lead.)
Ducard speaks!
Author: Jett
Thursday, February 3, 7:02 PM CST: BBC - RADIO 1 NEWS ran a brief interview with Liam Neeson, who talked a bit about BATMAN BEGINS -
"I think the films going to be quite extraordinary. It's certainly the opposite of what Joel Schumacher did in the last two or three movies. It's taken it away from that fantastical, bizarre, unbelievable world and rooted it in reality."
"I think it will be very good, and Christopher Nolan who directed it, is very very special. But I'm really not at liberty to talk too much about it. It's strange."
No head-banging for The Bat
Author: Jett
Wednesday, February 2, 6:09 PM CST: As I said, that soundtrack rumor sounded sort of "too good to be true." I hope you all took it with that big grain of salt as I advised because as it turns out, the "news" was BS. SHH has called themselves out on their own rumor. Click on the link provided to check out what they had to say....
Speaking of that rumor, as I was driving to work this morning here in Houston, the local modern rock station - 94.5 THE BUZZ - reported the soundtrack "news" on their morning show. This was before I found out that it was BS. But I was just curious how it was picked up by the "mainstream" press. Anyway, I just thought it was interesting when I heard it on the radio this morning, as this was the first time I've heard one of these type shows mention BEGINS....
Here's an article on the BATMOBILE and the BAT-SUIT (Thanks to "Stax")....
S P O I L E R!!
Alright, don't go to EBAY
if you don't want to get a look at The Scarecrow - at least the "Stage 1" version. Just look for item number "6509495572" (Thanks to "Cinefex9" and "Phlibbit").
$180 million budget and BEGINS to be rocking hard?!
Author: Jett
Tuesday, February 1, 6:23 AM, 6:03 PM CST: According to a NY TIMES ARTICLE, BATMAN BEGINS had a budget of over $180 million, with a worldwide marketing budget of over $100 million! The reason, according to producer Chuck Roven, is that Warner Brothers is expecting a huge return with BEGINS home video sales (Thanks to "Stax")....
"Tom" sent BOF THIS LINK to, I believe, some Chicago Batmobile footage....
According to a SHH scooper, in addition to Green Day, The Cure, Foo Fighters, Velvet Revolver, Audioslave, Pearl Jam, Dave Navarro, Chevelle, and Metallica will be jamming on the sountrack. Now, I really dig these bands - Pearl Jam and Metallica are two of my all-time favorites. Audioslave and the Foo Fighters kick ass as well. But I'm a little leary of this - sort of a "too good to be true" type of thing. I mean, I would like to hear them on a soundtrack CD, but not blasted throughout the film. Anyway, I'd take this with a grain of salt - perhaps a big one - right. Now, if they could find a way to an Elvis track in there....
CLICK HERE to check out a pair of BATMAN BEGINS sunglasses that have already hit stores (via BATMANYTB.COM)....
IMDB.COM now lists BEGINS' runtime at 134 minutes.
"Big Game" spot info and more
Author: Jett
Monday, January 31, 7:02 PM CST: "Gregory" sent us a link to SUPERBOWL-ADS.COM" that says Warner Brothers has secured two 30 second spots - most likely for BATMAN BEGINS and the DUKES OF HAZZARD. This is yet more confirmation that our sources were correct regarding the spot. In related news, another BOF source emailed us today and said that the BEGINS ad was cut "especially for the Super Bowl" - but didn't say whether or not it is new or previously seen footage. My gut feeling is that is will be mostly material we've seen already with something new - but don't hold me to it....
Click on the link provided to see various images from BEGINS over at SUPERHEROTIMES.COM.
Regarding BEGINS and the "Big Game" next Sunday
Author: Jett
Sunday, January 30, 3:37 PM CST: BOF has been told by several sources that a commercial for BATMAN BEGINS will run next Sunday during the "Big Football Game." I've heard it is a thirty second spot which has been cut from footage already seen in the teaser and first trailer. Now, I have yet to see or get any official confirmation from Warner Brothers, but all of these sources of ours are unrelated and have been spot-on before. I guess we'll find out for sure in a week. And if you are watching the game, tell everyone that BATMAN BEGINS is a restart and NOT a sequel or prequel when that spot runs. And send me people's reactions as well.
Misc. BEGINS updates
Author: Jett
Friday, January 28, 9:24 PM CST: What's up y'all? Not too much today, but here goes....
MOVIEFONE contacted BOF and let us know about their BATMAN BEGINS layout. Click on the link provided and check it out. And since I'm sending them a lot of traffic, email them when you are there and tell them to link to your BOF....
AMAZON.COM has informed me that the BATMAN BEGINS is starting to pour in. And, I've been asked to write a BATMAN BEGINS essay for them! Pretty cool, huh?! Anyway...
If you know of any sites that are dedicated to the any of the first four BATMAN films (like a BATMAN '89 site), let me know please. Really good ones, ok.
BOF update and BEGINS Book cover
Author: Jett
Thursday, January 27, 8:02 PM CST: By popular request, I'm making BOF truly a little more Batman on film. Check out the menu to the left and you'll notice the new "BAT-FILMS" section. There you will find info, links, reviews, etc. for the "Burton/Schumacher" Batman films - sort of a return of something that used to be here at BOF. It is a work in progress, so hang with me on this....
The dudes over at BATMANYTB.COM sent us THIS LINK that displays a cover to the BATMAN BEGINS: Deluxe Sound Storybook. Check it out....
I found the following while surfing the Net this evening - A NEW PIC OF THE BATMAN - or at least one I haven't seen. Check out the second Bat-pic with the reddish background (From JOBLO.COM).
Orange Scarecrow? Nope. Bat-DVD covers - BS.
Author: Jett
Wednesday, January 26, 6:12 PM CST: I'm calling BS on...ME! Our source who sent the DVD images yesterday has admitted to us that they are fake - a fact that he didn't know when he sent them to us. So I removed those fake SOB's from BOF. Regarding the SE's of the previous Bat-films, I'd say refer to our January 16, 2005 report for the most accurate news on the situation, as that stuff was confirmed to me. The other, well, I'd take it with a HUGE grain of salt. Remember, I told you to consider it nothing but rumor. FYI guys....
If you want to know if the picture of the Scarecrow action figure is what he looks like, I'd take a look in the IMAGES SECTION. And he's NOT orange for pete's sake! Trust me....
"Luise" from BATMANS.DE sent us word of a better quality pic of Batman carrrying Rachel Dawes. Click on the link provided to check it out....
And one more time, Crane is NOT orange!
A BEGINS game Q&A and new animated Batman DVD set
Author: Jett
Tuesday, January 25, 6:39 AM, 6:49 PM CST: There are a few more op-ed articles posted. CLICK HERE to check them out....
Several BOF readers sent us THIS LINK to a new Q&A about the BATMAN BEGINS video game....
BATMAN THE ANIMATED SERIES, Vol. 2 is now available.
BEGINS halloween costumes
Author: Jett
Monday, January 24, 7:10 PM CST: Chris sent BOF THIS LINK to some BEGINS costumes....
I got several emails today about a rumor that got loose today that the band GREENDAY is doing a song for BEGINS. I dig the song - "Boulevard of Broken Dreams" - but I have no idea if this is true or BS. If anyone knows for sure, hit me with an email....
Just a reminder, BATMAN THE ANIMATED SERIES, Vol. 2 will be available tomorrow as well as "SUPERMAN" which you see over to the left.
BEGINS will suceed!
Author: Jett
Sunday, January 23, 7:57 PM CST: I asked for "Average Joe" to email me and let BOF know what they thought about BATMAN BEGINS. And they did - although I still recieved many emails from Batman fans. But they were letting me know what their friends who are not fans of The Dark Knight were thinking. Most of these relieved my worries about BEGINS - it seems that the word is getting out that this is a restart and something new. One person provided me with an insightful observation that high school and college kids will go, simply because they need something to do in the summer! But he pointed out that good word of mouth will get people out to watch it - probably more than once. The bottom line is that if this film is a good as I think it is (I'm of the belief that this could be the "definitive" Bat-film), people are going to show up. Plus, it's "Batman," you know. An icon. Thanks for sending me your takes - keep 'em coming....
And speaking of these people - as I call "Average Joe Movie Goer" - reporter Grant LaFleche offers a new op-ed piece about just that....
BOF has a few more op-ed pieces coming. BOF's Paul Wares - author of BOF's excellent SET REPORTS - has one in the works. I believe Paul is tackling a "call to arms" for Bat-fans regarding BEGINS. BOF forum member "Omega Aenima" has offered a retrospective on BATMAN FOREVER. Plus, I've asked Greg Bray - who recently graced BOF with his take on BATMAN RETURNS - to analyze BATMAN AND ROBIN. Oh, and I kinda gave my opinion recently on BATMAN RETURNS. CLICK HERE to check out all of BOF's op-ed pieces.
Box office analysis for BEGINS
Author: Jett
Friday, January 21, 10:00 PM CST: CLICK HERE for a very well thought out analysis of what BATMAN BEGINS will do at the box office this summer. While I don't agree with all of the takes presented here (BEGINS is no HULK), some very interesting points are made in this op-ed. I have to concur that I'm a bit concerned about just what the "Average Joe" thinks about BATMAN BEGINS - like, is he even aware of this film? If you are "Average Joe," EMAIL ME - I want to know what you think about BATMAN BEGINS.
Booth confirms "Zsasz" role? Misc. news for 1/20/05
Author: Jett
Thursday, January 20, 6:45 PM, 8:04 PM CST: Several weeks ago, BOF was the first to report that Tim Booth's role in BATMAN BEGINS is that of the serial killer "Mr. Zsasz" (November 12, 2005 update). The following sounds about as close to confirmation I've seen (via IGN.COM) -
IGN: Who is your favorite superhero?
"I should say Batman, because I just got my arse kicked in the new BATMAN movie, by the 'caped-crusader' [Editor's note: Tim plays the character Victor Zsasz]. I have a tiny part, as a serial killer, and while I was in make-up, Batman was undergoing his three hour costume transformation (How these Super-heroes ever get to a crime scene on time, is beyond me!). Anyway, Christian Bale (Batman) got out of his seat, shook my hand, and said 'Tim Booth? From James? LAID is one of my all time favorite albums. It saw me through a really difficult time.' So, in an act of mutual, back-slapping, respect, I'll say Batman."
Looks like our source back then was on the money - just as I thought....
HERE is an article on BATMAN BEGINS merchandise....
HERE are some dude's pictures from the Chicago shoot last summer (2004)....
Sounds like The Batman will be visiting the troops....
Check out the SPANISH BEGINS POSTER and the GERMAN BEGINS POSTER....
BATMAN BEGINS CONCEPT ART? Click on the link to check it out....
The SE's of BATMAN and RETURNS goes on sale in Germany June 24, 2005....
Thanks to "Steve" for the new BOF logo you will find on the INTRO PAGE.
(Thanks to "Ras2005," "Peter," and "BatmAngelus.")
The Scarecrow? Nope! More BATMAN 1-4 SE rumor!
Author: Jett
Tuesday, January 18, 6:25 AM, 8:45 PM CST: This comes from a trusted source which comes from their "trusted source" - sort of how it works sometime. Anyway, he provided me with a bit more info on the upcoming SE's of the first four WB BATMAN films (RUMOR!) -
•&nbspBATMAN and BATMAN RETURNS have been finished for a while now. Tim Burton re-recorded his commentary tracks with a "guest." Seems he thought his original commentary was too boring.
•&nbspRegarding those films, they'll look like this: Disc 1 - Remastered picture and sound with Commentary. Disc 2 - Trailers, TV Spots, Vintage footage and a new featurette on the film. BATMAN is expected to get the most treatment with a feature length documentary. BATMAN RETURNS will feature Jett from BATMAN ON FILM breaking down why it sucks as bad as BATMAN AND ROBIN [Sorry, couldn't resist - Jett].
•&nbspOur source regarding FOREVER -
"Joel recorded commentary tracks for the theatrical edition along with BATMAN AND ROBIN (Look for a 'special guest' on that track as well). Afterwards Joel decided to ask WB to recut the film back to something that resembles his original edit. WB agreed and gave him a budget to do so. Joel is currently in Burbank working on some alterations to the film.
WB wants to also include the original theater version of the film, Which kind of paints Joel into a corner. You see because they will have to use a process called 'seamless branching.' This works with films like T2 or ALIENS where chunks of the film were simply taken out. In the case of FOREVER entire parts of the film were re-edited. So Joel may be forced to alter the original cutting decisions to keep it possible to seamlessly branch with the theatrical version. But rest assured the extended cut will clock in somewhere around 2 hrs. 35 mins. It just might take place in the order of events the theatrical version presented rather than the shooting script or workprint edit. With the exception of the Two Face escaping scene, Which will come before the credits - meaning we might loose that nifty WB/Batlogo morph.
Joel knows he is considered the devil to some in the Bat-world and wants this to be his redemption. He's going to add as much footage as possible back in. Also some of the effects were not finished in the early workprint and they need to be finished. He has been given a small budget to work with for that. All new effects will be digital. Which with todays technology will look better than most of the CGI back in 1995.
Current title is going to be '10th Anniversary Extended Director's Cut.'"
Our source says that WB is looking into several marketing/release options -
•&nbspBATMAN Special Edition with free BATMAN BEGINS ticket in May, with a box set similar to that of the MATRIX Collection in Oct/Nov.
•&nbspAll four films out separately in May, or in a box set. This solely depends on whether Joel's new cut is finished or not.
•&nbspHolding off on all releases until Oct/Nov in a box set without single releases. This also holds hope for a bonus 9th disc.
Now, this ain't gospel here, so take it as nothing but rumor right now. But it sounds great! And I really want to see a new, extended cut of FOREVER.... Nothing is certain right now, Except the fact that these films will be in stores sometime in 2005....
Just an observation here Warner Brothers. I know that the marketing of BEGINS hasn't really geared up yet, and I'm sure it is all lined out. And y'all have done a hell of a job so far, really. But I'd certainly try to get it across to "Average Joe Movie Dude (and Dudette)" that this is not a prequel ala STAR WARS, and that it has nothing to do with the previous films. Just based on a recent observation around the teaser poster at my local theater. But hey, what do I know....
Seems that a picture of The Scarecrow showed up on a very popular website quite recently. Well, just to let you all know, that "ain't" him. Trust me. The BEGINS Scarecrow is going to be cool as hell! WB needs to let that baby ride until the movie hits the theater. Perhaps just a flashing glimpse of the "Stage 1" Scarecrow in the next trailer, but that's it. Anyway, back to that pic, I see that this website is now calling BS on the image as they should. Late.
BOF update
Author: Jett
Monday, January 17, 11:46 AM CST: The new pictures that popped up online yesterday can now be found in the IMAGES SECTION of BOF....
If you are linking to BOF and need a banner, you will find four to choose from in the LINKS SECTION. And let me know if you are linking so BOF can return the favor.
BATMAN films SE's coming and new Bat-pics!
Author: Jett
Sunday, January 16, 2005 7:00 AM, 2:06 PM, 4:06 PM, 4:52 PM CST: It got damn busy all of a sudden - and here I am trying to watch football! Anyway, it seems that some official new pics have been released over in Germany. I've got one below of The Batman at the controls of, I think, the Batmobile. And I'll provide two links: BATMANS.DE and BATMANNEWS.DE (both sent a heads-up to BOF) -

Some of the pictures have been seen before, but there's a few very cool new ones....
Click on the thumbnail below to look at the LA TIMES PIC (Thanks to all of you who sent it) -

Update on the earlier SE Bat-film news from earlier today. A source contacted me and said that Tim Burton recorded his commentary tracks for both his Bat-films while he was working on Wonka. No re-cut of the Burton films, but there will be some work on the soundtrack. However - and this is the part that I really dug - Schumacher is doing a re-cut of BATMAN FOREVER as it will be an extended special edition. Schumacher recorded his commentary tracks while working at Pinewood Studios (PHANTOM)....
As for BEGINS, our source tells us that post-production continues - digital shots, error corrections, FX, continuity, etc....
I've recieved SEVERAL emails (thanks to all for the text) saying that there is a new story about BATMAN BEGINS in THE LA TIMES (subscription required) that features a new picure of The Dark Knight. Here is a bit from the article -
When we last left the movie version of the Caped Crusader in 1997's widely panned "Batman & Robin," he was as glibly useless as the nipples on George Clooney's outrageous leather get-up. With "Batman Begins," the hoped-for reinvigoration of DC Comics' storied avenger, Warner Bros. and writer-director Christopher Nolan ("Memento") believe newfound cinematic legitimacy lies in the character's transformation from a boy whose parents are murdered to a costumed night crawler thirsty for justice.
If anyone gets a scan of the new pic, send it BOF's way....
I got a look at Warner's 2005 DVD release schedule - for Holland. But it seems to follow the U.S. release schedule that has been released. Anyway, look for "Special Editions" of all four of WB's previous BATMAN films. What's going to be included in these DVD's I'm clueless. Don't expect, however, any of these coming as "Director's Cuts." Also, the list has BATMAN BEGINS down for a November DVD release, as already reported here (11/22 I believe)....
RSP is doing "sequence work" on BATMAN BEGINS....
A light-up Batman lolipop? Man they dish out the merchandise....
A look at some BEGINS action figures can be found by clicking the previous link....
If I'm reading this right, BEGINS will be one of the first movies released on HD-DVD.
(Thanks again to "Ras2005.")
New pic of Rachel and The Batman!
Author: Jett
Friday, January 14, 2005 7:20 PM CST: I recieved THIS NEW PICTURE today that features Katie Holmes and Christian Bale in BATMAN BEGINS. I actually recieved many variations of this picture (more than I can count), which I believe originated in ENTERTAINMENT WEEKLY. Thanks to all of you who sent it - I'd name all of you, but I don't want to offend anyone by omitting them. Not a bad picture which doesn't really offer anything new. But it does add to the BEGINS-hype and that is a good thing!
Set Report #5
Author: Jett
Wednesday, January 12, 2005 8:54 AM CST: The fifth and final set report is now online....
If you haven't checked out the Lee Bermejo interview, do so when you have the chance. It has been updated to include Lee's take and thoughts on his drawings he did for the interview....
Hey, it's no secret that I don't like BATMAN RETURNS. Never have. BOF'er Greg Bray thinks I'm crazy! Find out why in the latest op-ed piece authored by Mr. Bray.
Lee Bermejo Interview!
Author: Jett
Tuesday, January 11, 2005 6:50 PM CST: I told you all that I had the great oppertunity to interview artist Lee Bermejo. Lee, thanks a million dude! CLICK HERE to check it out....
"Travis" emailed BOF and told us that he noticed the OFFICIAL SITE has been updated slightly. A synopsis and the international poster has been added.
Set Report #4
Author: Jett
Sunday, January 9, 2005 6:35 PM CST: SET REPORT #4 is now posted for your reading enjoyment....
"Spitfire" sent us the following pic on Friday, but I was unable to post it until tonight due to logistical reasons. Click on the thumbnail to see the entire picture (via PREMIERE MAGAZINE).

YEAR ONE script review and new head-shot of Bale as Batman
Author: Jett
Saturday, January 8, 2005 8:30 AM, 6:14 PM CST: I told you it something was coming regarding YEAR ONE this morning and I've been informed that it is ready. CLICK HERE to read LSOK's script review of the Aronofsky/Miller YEAR ONE (from DC-ON-FILM.COM). Here's a blurb -
If Schumacher's last effort was the final nail in the coffin then YEAR ONE would've been the crazy guy who stormed the graveyard, dug up the coffin and put a bullet through the franchise's corpse just to make sure.
That's pretty damn funny and I tend to concur. Click on the link provided to read the entire, well-done, review....
BATMANNEWS.DE sent us word of THIS NEW HEAD-SHOT of Christian Bale as The Batman....
Remember all of that talk a while back about the Darren Aronofsky/Frank Miller YEAR ONE project? Well it is all true (which I KNEW it was). While certainly unique and different, Warner Bros. made the right decision in not greenlighting this project. Anyway, expect something in regards to this shelved project to show up very soon online that you will want to check out [The book TALES FROM DEVELOPMENT HELL has an excellent run down on the ill-fated project - Jett]. I'll have a link to it when the time comes....
Happy 70th birthday to The King - Elvis Presley. Can't wait for that new bio mini-series.
New interview and Bat-pic!
Author: Jett
Thursday, January 6, 2005 6:55 PM CST: I recently had the chance to do a "Q&A" with the author of "THE BATMAN FILMOGRAPY," Mr. Mark S. Reinhart. I think it is a pretty good read--particularly if you are a fan of the "Burton/Schumacher" Bat-films. CLICK HERE to read it....
Below is that magazine shot from the French edition of PREMIERE MAGAZINE. Look under the second "E" and you can see a small shot of Christian Bale as The Batman.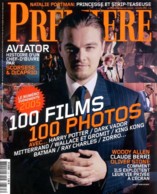 THE OFFICIAL SITE has a new, high-resolution trailer available. Click on the link provided to check it out.
Set Report #3 now available!
Author: Jett
Wednesday, January 5, 2005 7:22 PM CST: CLICK HERE to read it. It's pretty damn cool--an in-depth report on the Bat-suit!
Misc. BEGINS news for 1/4/05
Author: Jett
Tuesday, January 4, 2005 6:22 PM CST: If you CLICK HERE and look under the "E," you'll see a picture of Christian Bale as The Batman which I haven't seen--and I've seen damn near all of 'em....
BATMANS.DE has posted a set of new images from BATMAN BEGINS that have made their way to the Net....
HERE IS A LINK of a preview of the BATMAN BEGINS videogame for XBOX....
If you haven't found it yet, there is a new superhero movie website on the Net. This one, however, promotes the production of movies based on DC COMICS characters. The site is called DC-ON-FILM.COM (hmmm, sounds familiar). No, this is not my site--it is run by the guys from BLUETIGHTS.COM and SUPERMAN-V.COM. I am sort of a "contributor" of sorts, as I plan to pass on any news I hear about DC characters other than The Dark Knight--and I may get involved in the future in other ways as well. Nonetheless, I highly recommend you give it a look....
HERE IS A PICTURE of Christian Bale as The Batman from the Chicago shoot last summer. I think a bit of this was seen in the latest trailer. Pic via SCORE.FR....
Remember those sequel rumors I gave to you all last week (12/28/04)? Well, MOVIEHOLE.NET has run a blurb on BOF's story and says the following which seemingly backs up our story--
Without giving away too much, I'll say the following bit on Batman On Film, concerning the next two "Bat" pics, is pretty much on-the-money, based on what scribe David Goyer recently whispered to me. We're still a good couple of years away from a "Batman Begins" sequel, so anything could change, but there is a rough storyline down on paper for the proposed trilogy.
Clint's right, things could change, but I like what may be in store in the future.
(Thanks to "Ra's2005," "Kolbe S.," and "Jon K.")
Set report #2 and new picture of The Batman!
Author: Jett
Monday, January 3, 2005 5:32 PM CST: Paul J. Wares' second BOF set report is now available for your reading pleasure. And Paul also informed me that there is a new picture of Christian Bale as The Batman online. See the grappling gun? I wonder where I've seen it before?
The set reports "begin!"
Author: Jett
Saturday, January 1, 2005 3:25 PM CST: If you haven't already found it, the first of BOF's BATMAN BEGINS set reports is now online. You will find the menu above, but HERE IS A LINK to it nonetheless. Paul J. Wares did an tremendous job and I'm sure that you will enjoy reading them. In my opinion, they are the best of the lot anywhere--in magazines or on the Net--period....
(8:17 PM) I went and checked my mail this afternoon, and low and behold I found a copy of Mark S. Reinhart's THE BATMAN FILMOGRAPHY (www.mcfarlandpub.com/1-800-253-2187) for my review. The book is a detailed examination of live-action BATMAN films from his first appearances on the screen in 1940's film serials, through the campiness of the 1960's TV series, up to the Warner Brother's films from 1989-1997. BATMAN BEGINS is mentioned in the conclusion which summerizes the efforts to get BATMAN 5 to the big screen which ultimately led to the upcoming Chris Nolan-helmed film that the author hopes to be the "definitive BATMAN." While I have yet to read the entire book--hey, I just got it today--it looks to be a must-have for all Batman fans. Once I have given the entire book my complete attention, I'll run a more detailed review. Right now, I'm reading the chapters on the recent Warner Bros. films--which is very interesting to say the least. So stay tuned....
I must apologize to BATMAN AND ROBIN. While I have been on vacation, I had the chance to watch all four of the previous BATMAN films again. It has been a while since I have seen them--I haven't viewed B&R basically since '97--and I wanted to rewatch them with BEGINS fast approaching. Anyway, back to my apology--BATMAN AND ROBIN while I still loath you to this day just like when I walked out of the theater on you back in June of 1997. While I still abhor your campy-ass take on The Dark Knight. And while you are a flat-out, gosh-awful monstrosity of a film in general, you sort of get a raw deal. As a BATMAN film, BATMAN RETURNS is just as friggin' bad. This macabre, morose mess is a BATMAN film in name only. Clever "art film" perhaps, but "Batman," no. So don't fret B&R, you are not alone in your insulting-to-the-character "non-Batmanness." June 17th can't get here any quicker.
2005 is here!
Author: Jett
Saturday, January 1, 2005 7:20 AM CST: I began lobbying for a new--but good--BATMAN movie via BATMAN ON FILM way back in 1998. And now a year with a new Bat-film is actually here--2005. Only about five and a half months left as I write this. Anyway, Happy New Year and thanks again for reading and supporting BOF for all these years and in the future....
If the logistics and everthing works out, I'm planning on getting the first of Paul J. Ware's BOF set reports up today. Keep checking....
BOF has a new sponsor in BLOCKBUSTER ONLINE. If you are renting DVD's, check them out....
If you would like to donate to the Red Cross for South Asian tsunami relief, you can do so by CLICKING HERE. BOF supports this cause and gets nothing in return except knowing that we are helping....
Tom Wilkinson--who plays mob boss Carmine Falcone in BATMAN BEGINS--recently talked to the DAYTON DAILY NEWS about his Bat-gig--
"This is kind of a prequel, this BATMAN, so it's a young Batman Ń Batboy. And it's how he sort of first becomes Batman. I'm the first bad guy he hunts down and brings to justice. Mr. Falcone, he's called. It's good. I enjoyed doing it."
Do you ever need a vacation to recover from your vacation? Well that's me. Anyway, 2005 should be a big year for you Bat-fans and the biggest yet for BOF. We actually have a film in the theaters to report on this year! Coming up, we'll be featuring our set reports and I'm almost ready to post my interview with Lee Bermejo. Plus we've got some stuff in the works that is darn cool, so make sure you stick with BOF throughout 2005.