New pic of Rachel and The Batman!
Author: Jett
Friday, January 14, 2005 7:20 PM CST: I recieved THIS NEW PICTURE today that features Katie Holmes and Christian Bale in BATMAN BEGINS. I actually recieved many variations of this picture (more than I can count), which I believe originated in ENTERTAINMENT WEEKLY. Thanks to all of you who sent it - I'd name all of you, but I don't want to offend anyone by omitting them. Not a bad picture which doesn't really offer anything new. But it does add to the BEGINS-hype and that is a good thing!
Set Report #5
Author: Jett
Wednesday, January 12, 2005 8:54 AM CST: The fifth and final set report is now online....
If you haven't checked out the Lee Bermejo interview, do so when you have the chance. It has been updated to include Lee's take and thoughts on his drawings he did for the interview....
Hey, it's no secret that I don't like BATMAN RETURNS. Never have. BOF'er Greg Bray thinks I'm crazy! Find out why in the latest op-ed piece authored by Mr. Bray.
Lee Bermejo Interview!
Author: Jett
Tuesday, January 11, 2005 6:50 PM CST: I told you all that I had the great oppertunity to interview artist Lee Bermejo. Lee, thanks a million dude! CLICK HERE to check it out....
"Travis" emailed BOF and told us that he noticed the OFFICIAL SITE has been updated slightly. A synopsis and the international poster has been added.
Set Report #4
Author: Jett
Sunday, January 9, 2005 6:35 PM CST: SET REPORT #4 is now posted for your reading enjoyment....
"Spitfire" sent us the following pic on Friday, but I was unable to post it until tonight due to logistical reasons. Click on the thumbnail to see the entire picture (via PREMIERE MAGAZINE).

YEAR ONE script review and new head-shot of Bale as Batman
Author: Jett
Saturday, January 8, 2005 8:30 AM, 6:14 PM CST: I told you it something was coming regarding YEAR ONE this morning and I've been informed that it is ready. CLICK HERE to read LSOK's script review of the Aronofsky/Miller YEAR ONE (from DC-ON-FILM.COM). Here's a blurb -
If Schumacher's last effort was the final nail in the coffin then YEAR ONE would've been the crazy guy who stormed the graveyard, dug up the coffin and put a bullet through the franchise's corpse just to make sure.
That's pretty damn funny and I tend to concur. Click on the link provided to read the entire, well-done, review....
BATMANNEWS.DE sent us word of THIS NEW HEAD-SHOT of Christian Bale as The Batman....
Remember all of that talk a while back about the Darren Aronofsky/Frank Miller YEAR ONE project? Well it is all true (which I KNEW it was). While certainly unique and different, Warner Bros. made the right decision in not greenlighting this project. Anyway, expect something in regards to this shelved project to show up very soon online that you will want to check out [The book TALES FROM DEVELOPMENT HELL has an excellent run down on the ill-fated project - Jett]. I'll have a link to it when the time comes....
Happy 70th birthday to The King - Elvis Presley. Can't wait for that new bio mini-series.
New interview and Bat-pic!
Author: Jett
Thursday, January 6, 2005 6:55 PM CST: I recently had the chance to do a "Q&A" with the author of "THE BATMAN FILMOGRAPY," Mr. Mark S. Reinhart. I think it is a pretty good read--particularly if you are a fan of the "Burton/Schumacher" Bat-films. CLICK HERE to read it....
Below is that magazine shot from the French edition of PREMIERE MAGAZINE. Look under the second "E" and you can see a small shot of Christian Bale as The Batman.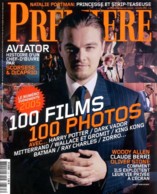 THE OFFICIAL SITE has a new, high-resolution trailer available. Click on the link provided to check it out.
Set Report #3 now available!
Author: Jett
Wednesday, January 5, 2005 7:22 PM CST: CLICK HERE to read it. It's pretty damn cool--an in-depth report on the Bat-suit!
Misc. BEGINS news for 1/4/05
Author: Jett
Tuesday, January 4, 2005 6:22 PM CST: If you CLICK HERE and look under the "E," you'll see a picture of Christian Bale as The Batman which I haven't seen--and I've seen damn near all of 'em....
BATMANS.DE has posted a set of new images from BATMAN BEGINS that have made their way to the Net....
HERE IS A LINK of a preview of the BATMAN BEGINS videogame for XBOX....
If you haven't found it yet, there is a new superhero movie website on the Net. This one, however, promotes the production of movies based on DC COMICS characters. The site is called DC-ON-FILM.COM (hmmm, sounds familiar). No, this is not my site--it is run by the guys from BLUETIGHTS.COM and SUPERMAN-V.COM. I am sort of a "contributor" of sorts, as I plan to pass on any news I hear about DC characters other than The Dark Knight--and I may get involved in the future in other ways as well. Nonetheless, I highly recommend you give it a look....
HERE IS A PICTURE of Christian Bale as The Batman from the Chicago shoot last summer. I think a bit of this was seen in the latest trailer. Pic via SCORE.FR....
Remember those sequel rumors I gave to you all last week (12/28/04)? Well, MOVIEHOLE.NET has run a blurb on BOF's story and says the following which seemingly backs up our story--
Without giving away too much, I'll say the following bit on Batman On Film, concerning the next two "Bat" pics, is pretty much on-the-money, based on what scribe David Goyer recently whispered to me. We're still a good couple of years away from a "Batman Begins" sequel, so anything could change, but there is a rough storyline down on paper for the proposed trilogy.
Clint's right, things could change, but I like what may be in store in the future.
(Thanks to "Ra's2005," "Kolbe S.," and "Jon K.")
Set report #2 and new picture of The Batman!
Author: Jett
Monday, January 3, 2005 5:32 PM CST: Paul J. Wares' second BOF set report is now available for your reading pleasure. And Paul also informed me that there is a new picture of Christian Bale as The Batman online. See the grappling gun? I wonder where I've seen it before?
The set reports "begin!"
Author: Jett
Saturday, January 1, 2005 3:25 PM CST: If you haven't already found it, the first of BOF's BATMAN BEGINS set reports is now online. You will find the menu above, but HERE IS A LINK to it nonetheless. Paul J. Wares did an tremendous job and I'm sure that you will enjoy reading them. In my opinion, they are the best of the lot anywhere--in magazines or on the Net--period....
(8:17 PM) I went and checked my mail this afternoon, and low and behold I found a copy of Mark S. Reinhart's THE BATMAN FILMOGRAPHY (www.mcfarlandpub.com/1-800-253-2187) for my review. The book is a detailed examination of live-action BATMAN films from his first appearances on the screen in 1940's film serials, through the campiness of the 1960's TV series, up to the Warner Brother's films from 1989-1997. BATMAN BEGINS is mentioned in the conclusion which summerizes the efforts to get BATMAN 5 to the big screen which ultimately led to the upcoming Chris Nolan-helmed film that the author hopes to be the "definitive BATMAN." While I have yet to read the entire book--hey, I just got it today--it looks to be a must-have for all Batman fans. Once I have given the entire book my complete attention, I'll run a more detailed review. Right now, I'm reading the chapters on the recent Warner Bros. films--which is very interesting to say the least. So stay tuned....
I must apologize to BATMAN AND ROBIN. While I have been on vacation, I had the chance to watch all four of the previous BATMAN films again. It has been a while since I have seen them--I haven't viewed B&R basically since '97--and I wanted to rewatch them with BEGINS fast approaching. Anyway, back to my apology--BATMAN AND ROBIN while I still loath you to this day just like when I walked out of the theater on you back in June of 1997. While I still abhor your campy-ass take on The Dark Knight. And while you are a flat-out, gosh-awful monstrosity of a film in general, you sort of get a raw deal. As a BATMAN film, BATMAN RETURNS is just as friggin' bad. This macabre, morose mess is a BATMAN film in name only. Clever "art film" perhaps, but "Batman," no. So don't fret B&R, you are not alone in your insulting-to-the-character "non-Batmanness." June 17th can't get here any quicker.
2005 is here!
Author: Jett
Saturday, January 1, 2005 7:20 AM CST: I began lobbying for a new--but good--BATMAN movie via BATMAN ON FILM way back in 1998. And now a year with a new Bat-film is actually here--2005. Only about five and a half months left as I write this. Anyway, Happy New Year and thanks again for reading and supporting BOF for all these years and in the future....
If the logistics and everthing works out, I'm planning on getting the first of Paul J. Ware's BOF set reports up today. Keep checking....
BOF has a new sponsor in BLOCKBUSTER ONLINE. If you are renting DVD's, check them out....
If you would like to donate to the Red Cross for South Asian tsunami relief, you can do so by CLICKING HERE. BOF supports this cause and gets nothing in return except knowing that we are helping....
Tom Wilkinson--who plays mob boss Carmine Falcone in BATMAN BEGINS--recently talked to the DAYTON DAILY NEWS about his Bat-gig--
"This is kind of a prequel, this BATMAN, so it's a young Batman Ñ Batboy. And it's how he sort of first becomes Batman. I'm the first bad guy he hunts down and brings to justice. Mr. Falcone, he's called. It's good. I enjoyed doing it."
Do you ever need a vacation to recover from your vacation? Well that's me. Anyway, 2005 should be a big year for you Bat-fans and the biggest yet for BOF. We actually have a film in the theaters to report on this year! Coming up, we'll be featuring our set reports and I'm almost ready to post my interview with Lee Bermejo. Plus we've got some stuff in the works that is darn cool, so make sure you stick with BOF throughout 2005.
BEGINS roundup for 12/28/04
Author: Jett
Tuesday, December 28, 2004 8:20 AM CST: HERE is a link to some pictures of BATMAN BEGINS merchandise....
UGO.COM has a couple of pages of BEGINS stills. Nothing that hasn't been here or online previously however....
Just wanted to say "Happy New Year" to all of you readers and thanks for the support you gave BATMAN ON FILM in 2004! This by far was our biggest year--go figure. 2005--the year of the BATMAN BEGINS premiere--is soon to be upon us. The hype should really get rolling soon and BOF will be there every step of the way. Speaking of that, our BATMAN BEGINS set reports will begin on January 1, 2005. I'm heading to Minneapolis for a few days, but look for Paul J. Wares' first installment on New Years Day.
Additional possible sequel info and more
Author: Jett
Monday, December 27, 2004 12:54 PM CST: "Source" sent in the following info about the BATMAN BEGINS sequels. While this jives with what I've heard, I must advise you to take it as nothing more than rumor right now. With that said, here's the breakdown--
•&nbspCrane will be directly responsible for setting off a "chain of events" that starts the rise of the "freak-criminals" in Gotham.
•&nbspA certain law enforcement person begins his war on the mob and corrupt officials in Gotham, while forming a relationship with Batman when their paths cross in their separate wars on crime.
•&nbspThe Freak-criminals and Mob Bosses/Corrupt officials start waging a war over finding and destroying the Bat and that certain law enforcement individual.
•&nbspThe "war" results in the downfall of that certain law enforcement official--and his rise as something else.
Again, please take this as nothing but rumor at this time, but it is similar to what BOF has previously heard as I already mentioned. It sounds very interesting for sure....
"DB" sent this our way. Michael Keaton has again talked about the upcoming BATMAN BEGINS. Here is a bit of what he had to say--
"My prediction, I don't know anything about it [BATMAN BEGINS], but I feel this way about it. It's gonna be good, because he's [Christian Bale] a really good actor, and that's [Chris Nolan] a really good director. And they've [Warner Brothers] had years and years and years, and hundreds of millions of dollars, or at least tens of millions of dollars to figure it out. I say it's gonna be good. I picture it's gonna be good."
Check out BIGFANBOY.COM for the entire interview....
Here's another Elvis-BOF-BATMAN connection. Jonathan Rhys Meyers--who has just been cast as Elvis Presley in a biopic--and Christian Bale were both in VELVET GOLDMINE. Spooky, huh? (Thanks to "Haaris.")
BEGINS one of the top scripts of '04
Author: Jett
Friday, December 24, 2004 5:37 PM CST: Updating on Christmans Eve. I must be the hardest-working man on the Net--or I'm pretty pathetic. Anyway, while the kids and I are waiting for Santa to stop by, I see that "Stax" over at IGN FILMFORCE rates the BATMAN BEGINS script one of the tops of 2004. Here is a bit of what he said about it--
"'Batman Begins' was a huge relief and a great fresh start for Warner Brothers' ill-treated franchise. Goyer and Nolan's story was exciting, smart, and faithful to its source material. It managed to be both emotionally intimate and epic in scale, entertaining as a popcorn flick yet thoughtful enough to be appreciated on a more adult level."
Couldn't agree more. Click on the previous link provided to read the entire article.
A Jett-Blog
Author: Jett
Thursday, December 23, 2004 8:30 PM CST: An interesting bit of news I got from "Barry" today regarding Mr. Jonathan Rhys Myers--
"Did you know that Jonathan Rhys Meyers and Cillian Murphy are both from Cork City - in fact they went to rival schools."
Let's see. I dig Elvis and The Batman. Murphy is playing a major villain in BATMAN BEGINS,while Myers is playing The Hillbilly Cat. Both are from Cork City. Coincidence? I think not....
See that Batman watch over to the right? The one with the 1940s BATMAN logo? My wife got it for me for Christmas. And it is niiiiiiice! Looks better in person than it does in that ad over there. Happy Holidays y'all!
BATMAN BEGINS action figures
Author: Jett
Thursday, December 23, 2004 7:30 AM CST: Matt from LEGIONS OF GOTHAM sent us word that the site has some nice pics of some BATMAN BEGINS action figures. CLICK HERE to take a look....
The King has entered the building! I got this from FILMFORCE and it has nothing to do with BATMAN, but I'm and Elvis fan and this is my site, so what the hell! Jonathan Rhys-Meyers has been cast as The King of Rock and Roll in the upcomng CBS minseries ELVIS....
And once again, have a great holiday and (in an Elvis voice) "thank you, thank you very much" for supporting BOF!
(Thanks to "Stax.")
More BATMAN BEGINS sequel news
Author: Jett
Wednesday, December 22, 2004 12:40 PM CST: Here's the deal with this info. It's my job to get this out there to y'all, BUT, I can't be very specific. You are going to have to read between the lines here OK? Look at some of the stuff I've written on this in the past. And I know I'll get hammered for not giving up all the goods, but just know I have the best interests of BATMAN BEGINS 2--or what ever it'll be called--in mind.
Anyway, here it is. I've recieved even further confirmation on just who is being looked at to be the main villains in the next two films--we're talking about two specific, classic BATMAN characters. Seems that there could be some overlapping with these characters in the two sequels, but each will be the main baddie of separate films. It also seems now that their appearence will occur in a different order than what I was led to believe previously. One of these characters relationship with Bruce Wayne will be developed in the next film--much like it is in the comic books. Both of these potential Bat-villains were in the previous Burton/Schumacher films. Revenge is a strong theme, or so I've been told, in the next two movies.
As far as Chris Nolan, he's not signed to return--yet. Word has it that he's apprehensive about doing a sequel or two. No doubt WB wants him to return, have asked him to return, and will throw huge coin at him to return, but nothing is for sure. In that regard, I've heard that WB may have a contingency plan in place for director. Good move if this is indeed the case--be prepared. As much as I've loved what Nolan has done with this film, let's hold off of anointing Mr. Nolan a Bat-god until after we've seen BATMAN BEGINS....
LATINO REVIEW is reporting that there will be a 30 second spot for BATMAN BEGINS during the Super Bowl. No other details or confirmation provided....
One last thing I've heard in regards to sequels--NO DAMN ROBIN. Not that I'm a Robin-hater or anything like that. Editorial: The Batman should fly solo. Late.
BOF's BATMAN BEGINS set reports are coming!
Author: Jett
Tuesday, December 21, 2004 11:17 PM CST: Last summer, BOF was invited by Warner Brothers to be part of a BATMAN BEGINS set visit for various members of the media. However, a prior commitment called my job kept me from heading over to the set outside of London. Although I couldn't make it, BOF did attend! Paul J. Wares got this ultra-cool gig and his reports will, ahem, begin here on BOF right after the New Year holiday weekend. Paul was able to visit "Gotham City" and talk to the likes of Chuck Roven, Emma Thomas, Gary Oldman, Christian Bale, and director Chris Nolan. While you will be able to read several set reports online and in magazines, I think you'll dig BOF's because it comes from the POV of a fan--a Batman fan just like you and me. So I think the slant on Paul's stories may be appealing to the readers of this site for that reason. Anyway, they're coming in less than two weeks so be looking for 'em right after January 1st.
"British BATMAN," Keaton talks BEGINS (sort of), and "BEGINS test screenings already?
Author: Jett
Monday, December 20, 2004 6:32 AM CST: I was going to update last night, but I had a hard time getting over that kick in the groin otherwise known as Eagles 12, Cowboys 7. But alas, I take solace in the fact that the Cowboys still have their five rings while the Eagles--as dominate as they have been over us lately--have zero. And come on Eagle fan, you KNOW you are starting to sweat it now, aren't you? Who is going to be your Carolina/Tampa Bay this year? And ask T.O. about karma. I wonder if all that star-dancing was worth being snatched down by Roy Williams....
THE NEW YORK TIMES has posted a story on BATMAN BEGINS that focuses on the fact that it is a mostly British production....
Here's a bit from a Micheal Keaton interview with the CHICAGO TRIBUNE--
If MICHAEL KEATON had his way, he'd still be churning out "Batman" movies. As it turned out, he only did the first two of the big-screen series -- 1989's "Batman" and 1992's "Batman Returns."
"The reason I didn't do the third one was it just wasn't very good," Keaton told Armour & Co. over cocktails at the Peninsula Hotel a few days ago. "I dug the idea of doing another one. But I read the script and said, `I'm not interested in that.'"
Keaton, who pulled off the role despite much hemming and hawing from critics when director TIM BURTON first picked him, lobbied for the third film to be a darker "prequel." Keaton wanted to focus on what led Bruce Wayne to want to fight crime, which is the premise of director CHRIS NOLAN's upcoming "Batman Begins," which stars CHRISTIAN BALE. But when director JOEL SCHUMACHER took the reins from Burton for 1995's "Batman Forever," with VAL KILMER, and 1997's "Batman & Robin," with GEORGE CLOONEY, he opted for a lighter tone, which didn't sit well with die-hard fans of the series.
Keaton never watched the Schumacher versions ("Not for any reason -- I just never got around to it"). But he's excited about "Batman Begins." "I always felt this was a complex, interesting character," said Keaton, who next month pops up in the horror thriller "White Noise."
Glad to read that Keaton is likes what he's seen with BATMAN BEGINS. Although I'm hip to the idea, I just don't know if a prequel was the way to go with a 40-something Keaton back in '94 however. While I can understand completely why MK didn't want to do FOREVER, I don't think most people wanted more of the macabre BATMAN RETURNS either (which is one of the major reasons for the lighter tone in the first place). You know it's kinda weird--RETURNS begat FOREVER which begat B&R which indirectly begat BEGINS. It has all sort of worked out in a crazy sort of way....
If you are interested in helping someone in the service get home, CHECK THIS SITE OUT. BTW, BOF doesn't get a dime from this--just thought it was worth mentioning....
While I don't think Mr. Freeze is going to make it in this new Bat-series, someone would like to play him. CLICK HERE to find out who it is....
You should take this as nothing but rumor, ok? Anyway, I've heard from more than one unrelated source that they may have already been some test screenings for BATMAN BEGINS. Chicago has been mentioned as well has Minneapolis. The one thing that makes me skeptical is that no reviews or reports of have been sent to BOF or have showed up on other websites. Frankly, I don't think it has happened yet. It's just too early....
BOF has recieved more confirming information about which villains are most likely to show up in the BEGINS sequels. Seems that previous BOF rumors about this are on the mark....
Check out DC COMIC's BEGINS-themed christmas card by CLICKING HERE. The Batman's got a new ride (thanks to the COMICSCONTINUUM.COM).
(Thanks to "Super85," USMC_BATMAN," Mr. Wilson224," "Chris Jigsaw," and "The Batgirl.")
Goyer speaks from down under!
Author: Jett
Saturday, December 18, 2004 6:27 AM CST: I guess you've all heard by now that David Goyer has been tapped to write and direct THE FLASH for Warner Brothers. He's also looking into doing THOR for MARVEL. And at some point, he's going to write the BATMAN BEGINS sequel, even though nothing has been announced yet (sometime in 2007 I'd assume). Anyway, Clint over at MOVIEHOLE sat down with Goyer and got him to talk about all these projects, including a bit on BATMAN BEGINS--
The second thing I need to thank you for is writing a great BATMAN movie. The script is great!
Thanks! Now that the teasers are coming out, people are start to realise this is different (from the previous BATMAN movies). Wait till the big proper trailer hits in three months or so, because we've just been teasing up till now. Before I even started writing, I sat down with Chris and we said how cool it would be to have the first couple of teasers fool audiences into not knowing they were watching a BATMAN teaser until later on – which is what Chris has ended up doing. I think that's so cool.
Batman doesn't actually appear in the movie until half way through, right?
In costume? Yeah. I don't think Superman appeared in costume until about forty five minutes into the first movie, same with Spider-Man. I loved the second SPIDER-MAN movie, more so than the first, but my favourite stuff in the first film is the first forty-five minutes, before he puts on the suit. Tobey Maguire is just so great. My argument with Warner Bros was that if we can have people invest in Bruce Wayne, as a character, they will care, but when he does put on the suit – they will care more. That's what our purpose was. We didn't want to just be marking time. Remember that photograph of JFK junior at the burial of JFK? Saluting? We were thinking of Bruce Wayne as a young kid. Bruce Wayne was the loneliest boy in the world because he lost both his parents and he's the heir of this multi-billion dollar fortune, and he's got all these people surrounding him, he's almost like a prisoner of Wayne Manor. His childhood was spent terribly, terribly lonely. So much of his life has been filled with fear too – fear of failure, ultimately fearing to live up to his father, because his father was sort of an impossible guy to live up to. He has all these fears about letting his father down in terms of Wayne Industries, and what we've tried to do in the new Batman movies is tie the Waynes into the history of Gotham, and his father tries to instil in him a sense of stewardship for Gotham, a sort of responsibility.
How long did it take you to write BATMAN BEGINS?
I had six or seven weeks. What happened was, Chris called me and I was already in pre-production on Blade, and he said 'Can you do this film'?, I had been waiting all my life for this call, but I said 'I can't, I don't have time'. So anyway I told him I have seven weeks until I have to be on the set of Blade, and that I had enough time to do like a draft and a half. 'After the seven weeks, I'll hand it over to you' I said to him.
Good stuff. Goyer also confirms what has been whispered--that the "big" BEGINS trailer will hit theaters in the spring of 2005. CLICK HERE to read the entire interview....
This is just me thinking outloud, but I'd really like to see Warner's get moving on a GREEN LANTERN film. And be serious with it guys--no Jack Black comedy stuff. Anytime you get ideas like that, go watch BATMAN AND ROBIN--that'll straighten you up for sure....
Here's a BEGINS story from MTV.COM.
Happy Holidays from BOF!
Author: Jett
Friday, December 17, 2004 9:40 PM CST: Happy Holidays! Thanks for all the support you have given BOF!
Misc. BEGINS bits
Author: Jett
Thursday, December 16, 2004 5:53 PM CST: Here's another David Goyer interview....
Christian Bale talked to NEW YORK METRO--mostly about THE MACHINIST--but he did talk a bit about BATMAN--
"I hope 'Batman Begins' will be successful, but a movie like 'The Machinist'—it's always going to be something that means more to me, the kind of movie that I want to be doing.
If you're able to land these leading-man roles," says Bale, "then you're also able to get these far more interesting lower-budget movies made. But for some reason, leading men don't do that."
HERE is yet more from Bale. Trust me Christian, they're going to ask you back again. (Read the article and you'll know what I'm talking about)....
BOF reader "Mr. Medical Mogal" says that if you are located near Palm Beach County (Florida) and are interested in a BEGINS viewing party, EMAIL HIM....
Speaking of just that, BOF will have a new page up in a couple of days that will list the various watch parties/groups with location and contact info. Keep sending that info....
Joel Schumacher. The sound of his name ignites rage in even the most mild-mannered of Batman fans. "IDigBatman" says that Mr. Schumacher spoke to TOTAL FILM magazine recently and mentioned BATMAN BEGINS. Joel says that it seems that director Christopher Nolan is doing the "Dark Knight stuff" with the blessing of Warner Brothers. Schumacher also says that he regrets that he didn't get the chance to do YEAR ONE (which he actually pitched to WB). He says he wanted to do a serious, small-scale BATMAN, but wasn't allowed to do it. Interesting, and believe it or not Bat-fans, there is a lot of truth in what he says....
I was informed by a BOF reader (who didn't want any credit, but thanks anyway) that the IMDB WEBSITE now lists Tim Booth's role in BEGINS as "Victor Zsazz." BOF was the first to report this rumor about Booth several weeks ago. This listing should not be considered as absolute confirmation however.
(Thanks to "Ras2005" and "I Dig Batman.")
Goyer on BEGINS and more
Author: Jett
Wednesday, December 15, 2004 7:30 PM CST: "MadSci2" posted THIS RECAP in the BOF FORUM of a new audio interview with David Goyer. Click HERE to listen and the previous link to read the recap (from KCRW.COM)....
I've gotten A LOT of audience reaction reports since last weekend. Most indicate a very positive response, which is good news. And I've gotten several reports from people describing their friends thinking "Ugh! Another friggin' BATMAN?" Then they see the trailer and their opinion changes quite a bit. While I think the ghost of BATMAN & ROBIN is still present, it is quickly being exorcised as word of the "new" BATMAN gets around.
Trailer today--officially, Clooney talks BEGINS, and more
Author: Jett
Monday, December 13, 2004 6:14 AM, 6:15 PM, 8:49 PM CST: CLICK HERE to download and view the official release of the new BATMAN BEGINS trailer. You can also head over to THEMOVIEBOX.NET for several trailer viewing options....
George Clooney, The Batman of that piece-o-crap known as BATMAN AND ROBIN, recently talked a bit about BEGINS--
"I'm quite sure it will be a heck of a different movie from mine and fun to watch. I'm happy they're focusing on the Dark Knight. They're doing it the way it should be done."
You are correct George. Actually, as much as I hated B&R, I've always liked Clooney and thought he could have been a hell of a Batman. I think he got screwed with a terrible script and poor direction....
I recieved all of the trailer audience reaction emails--thanks for sending them. Basically, they all said about the same thing: the crowd sort of watched with quiet interest and didn't really know it was a Batman film until the cowl was revealed. Most indicated a positive buzz, so I guess that is good news for WB....
"MMM" emailed BOF to tell us that the new trailer appeared on EXTRA and he was able to view some people's reactions to it in a place you wouldn't expect--
"Quick mention that the magazine show 'EXTRA' just showed the trailer! I'm in a sports bar and am e-mailing you this via my PDA. EVERYONE at the bar saw it and were 'ooing' in awe! And dude, you were right man..............it's AWESOME!!!!!!!!!!!!!!!
Thanks for that sports bar observation. I'm sure that BATMAN BEGINS is a hot topic in all the sports bars throughout the U.S. If not, maybe it will be....
Speaking of opinions of the trailer and of BATMAN BEGINS in general, it seems that the "cool" take on this film at the momment may be to say "I don't know about this BATMAN BEGINS." Or something like "I don't like what I've seen." And I'm not talking about the fans, I referring to guys who write for websites. Well, screw that take. There has been nothing so far that would cause a red flag to be raised about this production. I know some fans bitched about the suit and/or the Batmobile, but some petty fanboy complaining was expected (no offense to any of you fanboys who were bitching--you know what I'm talking about anyway). I just think that there has been so much positive buzz about BATMAN BEGINS, that some may just say "screw it, I'm bucking the norm." If I thought for one minute that this film was going to suck, I'd be the first to tell you....
If you are interested in watching BATMAN BEGINS with a group--or you are putting together a BEGINS watch group--let BOF know. We'll spread the word and even post contact information. For example, if you live in the DC/METRO area, "MatchesMalone00" is planning something already. You can contact him by CLICKING HERE. I'll try to get a section up here on BOF with information regarding BEGINS watching groups, locations, contact info, etc.....
Just a reminder that the new BATMAN BEGINS trailer will be up today over at the OFFICIAL SITE. Make sure to check it out....
Trailer reactions, Part 1
Author: Jett
Saturday, December 11, 2004 8:27 AM CST: Here are some audience reactions to the new trailer, via some BOF readers....
From "JVD"--
"Well, I couldn't wait for the trailer to show up on the official site, so I bought a ticket to Ocean's Twelve and went to a packed 12:10 AM showing here in New York City.
I knew the trailer was coming, and my friends laughed at me as I waited in angst through commercial after commercial.
When the trailer came on, the audience was hushed in curiosity. I could tell that no one knew this was a Batman film. Finally, when a vault is opened and the Batman cowl is revealed in the trailer, an awed hush went through the crowd.
'Oh, my gosh,' I heard someone mutter. 'No way,' someone else said. The entire theater filled with whispers. But only for an instant. Once the maddening rush of clips started going by, the audience fell into a silent awe. When it ended, with that amazing clip of The Batman upside down, there was a moment of silence, then hundreds of whispering voices. My friend, who had been mocking me, leaned over and said, 'I can feel my heart beating faster.'
It was pretty cool. Thought you might like to know the reaction of the lower east side of Manhattan."
From "Admiral Nelson"--
"It was a pretty packed house, and there a fair number of teenagers (girls with their boyfriends; the former probably to see Brad Pitt/George Clooney), and when the teaser came on, things were pretty quiet until the cabinet doors open to reveal the cowl. Then there was an excited, 'Whoa -- it's Batman!' voiced from the teens, and people seemed to really sit up and take notice in the second half of the teaser. Afterwards, there was a bit of a buzz (which continued through the surreal Willie Wonka trailer.)
Also, there's something that needs to be emphasized here about the way Warners is promoting the film: they have to sort of 'ease' people into the notion that there's going to be a new, dark, realistic Batman movie coming out next summer, and that it's definitely not going to be like (shudder) the last one that disgraced movie screens back in 1997. So, the first teaser looks like a dark, scary thriller film...until the very end, when you realize, 'Hey -- it's a new Batman film!' The second teaser makes you think, 'hey, it's a dark ninja/action film' -- until halfway through, when you realize, 'Hey -- it's Batman!" (Again.)
I suspect this is going to be the mode for a while, with the next full-blown trailer -- you suck people into what looks like a dark, compelling mystery film, then you pop up Batman. A month or two before it opens, they'll probably be completely up-front about it, and you'll see shots of Batman, the Batmobile, and scary villains right at the beginning of the trailers.
Let me say this: if I was WB, I wouldn't reveal anymore than they already have. For damn sure don't show The Scarecrow--wait until the movie hits the theaters. Just promote the hell out of the fact that this is a reboot and will be nothing like the previous films--particularly that one from 1997. Anyway, keep those reports coming....
I'm planning a story on the pre-release buzz for BATMAN BEGINS. If you run a comic book store, I want to hear from you. I'm interested in what the comic book fans are saying about this film. And if your store is in the Houston, Texas area, tell me where your shop is located and I may stop by for a visit. And if you have just stumbled upon this site and don't really consider yourself a "Batman" fan per se, email me--I want to know what the "Average Joe" movie-goer thinks about BATMAN BEGINS.
Wow....
Author: Jett
Friday, December 10, 2004 7:18 PM CST: Seems that our trailer scoopers were DAMN on the money, weren't they? You darn right....
The OFFICIAL SITE has announced that the new trailer will be up there come this Monday (12/13). However, I've seen it--as I suspect many of you have as well. All I can say is...
...Wow.
If any of you naysayers are still not convinced that this will be the ultimate BATMAN movie, then I don't know what will sway you. This trailer was damn excellent. In fact, if I was Warner Brothers, I'd leave it at that. There is no need to even do another trailer--just focus on promoting this movie from here on out. I mean really--what else do you want to reveal? It is clear that this new film is NOTHING like any of the previous four films. It is something different and new, and screams "THIS IS COOL!"
BATMAN BEGINS will kick ass at the box office, no doubt. Batman fans will love it, as well as the average movie-goer. Can June get here quick enough? It is on....
BOF should have our interview with Lee Bermejo up soon. It'll be something you HAVE to check out, trust me....
HERE is a link to a hell of an interview with David Goyer from IGN FILMFORCE. Thanks to all of you who sent it to me. I really liked this--
"I will say this, I really do believe of all the versions of Batman that have ever existed – movie, TV, animated – I think that our film is the closest to the comic book depiction of Batman."
I agree totally....
One last thing about the new trailer. I've watched it a "few" times here tonight, OK? And one part of it reminded me of the first time I saw the "I'm Batman" clip from BATMAN (1989). I have not been this fired-up about a BATMAN film since then. And the look of the film is awesome. Our scooper was MORE than correct the other day when he said that it does it justice. And like last summer, I want to know what the audience's reaction was like. Email me your observations.
BEGINS trailer press release
Author: Jett
Friday, December 10, 2004 6:08 AM CST: Here's the OFFICIAL PRESS RELEASE for the new trailer. I'm just assuming here, but I'd expect it online sometime between today and early next week (I'm really narrowing it down, I know). I'm just thinking outloud here, but I wonder if WB maybe wants to get a bump in business for OCEAN'S 12 with people coming to see the BEGINS trailer? Nonetheless, I expect it online very soon....
HERE is another interview with Christian Bale from SOUTHFLORIDA.COM....
The following are some links regarding BATMAN BEGINS merchandise: 1, 2, 3. Man, there is a lot of gear and stuff associated with this film.
(Thanks to "Ras2005," "David S., and "ArmsHeldOut.")
BEGINS international poster revealed!
Author: Jett
Thursday, December 9, 2004 6:30 PM CST: I saw THIS this morning online and I'm sure all of you have too by now. EMPIRE ONLINE was the first to premiere it on the Net. Looks damn good! Check it out--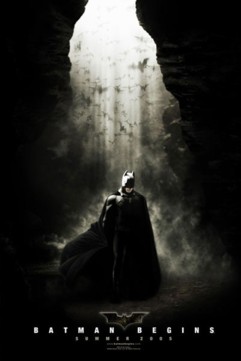 I actually like this one a little better--not that I didn't really dig the other one-sheet. I wasn't too hip on that red font, but anyway, this international poster is VERY nice!
BEGINS trailer description
Author: Jett
Wednesday, December 8, 2004 6:39 AM, 6:30 PM CST: OK, I know it is not long and detailed, but at least it gives you a bit of what you will see in the new trailer. And speaking of that, why the hell did so many of you think it was going to appear online yesterday? BOF never told y'all that. Scroll down and read what I said--which was to keep your eye on the OFFICIAL SITE. Here is a description of the trailer I got today from "M.D."--
"I work in a cinema in England and today I saw the new Batman Begins trailer 3 times it was attached to Blade: Trinity.
It starts off with Bruce in the Iceland and then you hear Ducard say 'The death of your parents is not your fault!' Then we see Bruce in some serious training. Then we hear Ducard say 'With training you can become something...different.' At this time we see Bruce opening two doors to reveal the cowl! Then it gets really good....
We see Bruce making what looks like a batarang in the shape of the new logo. Then we see Bruce spraying the bat-suit black. Then there a lot of new, fast footage of Batman in action including the scene with the wings spread. The final scene is the scene we've heard of before with a criminal screaming 'Where are you?!" As the criminal steps back we see Batman upside down and whispers 'Here!'
Let me just tell you it's awesome! Don't worry guys, these scenes do it justice BIG TIME!!
Sounds great! Can't wait to see it myself....
HERE is another newspaper interview with David Goyer....
HERE is a video interview with David Goyer from IESB.NET....
A scooper who goes by "Curse of Capistrano," says that the trailer was attached with OCEANS'S 12, and not BLADE TRINITY (not to say it isn't going to be paired with that film). Here's his description--
"It is new footage. You see Bale and Neeson upon the ice first of all. You see Bale donned in ninja garb. You also see the Bat-suit being created. But finally, you do see The Batman in action--dropping down from the heights (you know the picture, from 'Newsweek' a long time ago). Just awesome. I loved it!
'Are you ready to begin?" says Liam Neeson."
This seems to confirm what BOF was told last week--that it is indeed new footage. Our scooper also sent us photographic proof that he saw the trailer, so you can chalk up his description as being legit.
Goyer on BEGINS again and the internet too!
Author: Jett
Monday, December 6, 2004 6:39 PM CST: BATMAN BEGINS screenwriter David Goyer recently talked to CHUD and of course, taked turned to BATMAN BEGINS. Mr. Goyer says that he got the BATMAN gig easy, "Nolan just called and said, 'I want you to do it.'" He also says that "75%" of his script made the final cut of the film. Regarding sequels--which BOF has been following closely, Goyer says--
"I laid out a loose road map. Chris and I certainly talked about various things, there are pieces in place for them to do things for the next two or three films. And Warner Bros said they're probably going to be calling to do another one. Right now everyone wants Chris to do another one and he's not saying boo. He's waiting until he finishes his cut – in a way he doesn't need to do another one. I wouldn't do another one if Chris doesn't do it."
Now here's the point I found interesting because it deals directly with sites such as BOF. Here's Goyer's take on the internet and movies--
Q: The internet plays a big role in the marketing of films like Blade and Batman, but how does it affect you when something happens like the Batman script leak? How does it affect how you work?
Goyer: In the case of that leak, and again it was an early draft and I had done a draft after that, generally the response was so good it didn't matter. Warner Bros was happy – they weren't happy it leaked, but they were happy the response was good. It was sort of the polar opposite of what happened when the Superman script leaked. If it leaks and people generally say it's great, then fine.
But you just have to – there are pros and cons to what's happening with the internet. The fan response on the internet definitely pushed Warner Bros to make decisions about Batman and Superman because there was so much outrage about where things were being developed that they felt they needed to go with more credible directors. And a more fan-credible writer. The general response on Batman was so good that that emboldened Warner Bros to go for Bryan Singer, even though it was a very painful decision for them because they were very far down the line with McG. It does have an effect.
But it can also be detrimental, because there's no accountability on the internet and sometimes people lie. There are positive plants from people who review scripts and films but there are negative plants, too, where people are just trying to bash you because they're competitors.
Q: Does it effect you as a filmmaker when there's that immediate internet feedback, when you're filming and shots from the set show up online and elicit a response?
Goyer: It can't when you're doing it because you'll just go insane. Also the problem with the internet is that the people who are posting when they're rabid, even though a lot of them are smart, are a very small portion of the audience. I mean, incrementally small. They're a very vocal but very small group, and not necessarily representative of the broader audience. I think any time you try to specifically cater to any audience – at the end of the day you make the best film you can and see if it hits with an audience or not.
Good stuff. Very good stuff and I happen to agree with Goyer. As a result, I've tried to make BATMAN ON FILM as accountable and credible as possible. Make sure you had over to CHUD and check out the entire interview--there's a whole lot more cool stuff to read from Goyer....
I said I have a new interview coming up and I can now reveal just who it is with. BOF had the oppertunity to talk to BATMAN artist--and fan--Lee Bermejo! Now the really cool part is that Lee has completed a special piece of artwork just for BOF readers--and it is BATMAN BEGINS related. I should have the interview up in the next day or two, so be sure to check it out.
Freeman talks BEGINS
Author: Jett
Sunday, December 5, 2004 10:54 AM, 4:36 PM CST: According to the BRITISH BOARD OF FILM CLASSIFICATION, the new BATMAN BEGINS trailer--which hits theaters next weekend (but keep looking at the OFFICIAL SITE)--has a running time of 1 minute and 15 seconds. While this is only 1 second longer than last summer's teaser, I've been told that this is indeed a new trailer with new footage. I guess we'll see soon enough....
(Thanks to "Nick" for the lead on that one.)
Mr. Morgan Freeman, who plays Lucius Fox in BATMAN BEGINS, recently talked to LATINO REVIEW about his role in the film. Freeman says the only spent five days on the set, but he did get to ride in the Batmobile. In the film, Fox helps Bruce Wayne obtain his high-tech gadgets. About his character, Mr. Freeman says "he's part of the design team for Wayne industries" says Freeman. "All those great combat toys he [Batman] has, that's who he is." Regarding a sequel--and appearing in it--Freeman doesn't have much to say. "I haven't signed anything, no. If it survives, big question, and they decide to do BATMAN CONINUES ON, [I will]." Click HERE to read the entire article....
A BOF reader (Dude, I deleted your message. Hit me with an email and I'll give you credit) sent us word of the following from SOUNDTRACK.NET--
[The new] trailer will feature original music by James [Newton Howard], written specifically for the spot. We imagine this will give fans a glimpse of what the score might be like - check it out next week!
New op-ed article and more Joker rumor
Author: Jett
Saturday, December 4, 2004 10:10 AM, 3:41 PM CST: The new op-ed piece has now been posted. Check it out....
BOF was the first to bring you the rumor about Aussie actor Lachy Hulme being a potential Joker in a future BEGINS sequel. I found this this morning over at AICN, from their "Man Downunder"--
I know it's most likely rumour and conjecture and won't pan out, but I haven't seen it printed anywhere else and I'm desperate for the attention. Two actors are up for the role of The Joker in BATMAN BEGINS AGAIN. Australians Lachy Hulme (LET'S GET SKASE) and Bruce Spence (ROTK:EE) are rumoured to be stepping into Jack's boots. It's clear that they're going for thin, lanky and spooky, and will probably save on makeup and special effects if The Spence is cast.
By saying that he hasn't seen the rumors anywhere else (I guess this poor soul doesn't read BOF), tells me that he isn't just reporting previous rumors and makes the rumors that much more legit. I happen to know from an industry insider that there is more to the Hulme rumor than just conjecture. Late.
Official BATMAN BEGINS movie poster now online!
Author: Jett
Friday, December 3, 2004 7:12 PM CST: Yesterday, I told y'all to keep an eye out on the official site. Check THIS out--
Pretty cool, huh? And make sure you keep keeping you your eye on the official site....
I got a description of some possible BEGINS merchandise today. Here is what our source described--
1. A "Youth" sized shirt that has "Batman" written in poor looking Gothic font and the new BEGINS symbol. The logo is put at an angle over "Spray painted" yellow lines forming a rough oval. The title is "Goth Bat".
2. A blue "ringer" shirt titled "Release the Bats'" that has art on the front VERY similar to what we've seen from the leaked press/merchandise catalog a few months back. On the front is shows Batman crouching with one hand down on stone, another holding up his cape so it flares, and bats flying overhead. On the back it has the Gotham skyline and below that is "Batman" in what looks like the 80s title font. Overall, not a bad looking shirt.
3. A black shirt with the text "Does it come in black?" written across the front with a cheap looking bat on the back of the shirt. The only way I can describe this is as a poorly drawn pic of an actual bat. Not a silouhette as on the other shirt. Unless a person reads every bit of info about this movie, no one is going to have a clue what this shirt is about unless that part makes it into the trailer. A cool idea but poorly executed.
I'm sure that this is going to be just a few of MANY BEGINS items that will soon be available. Batmania is coming I suspect.
Various BEGINS news and more
Author: Jett
Thursday, December 2, 2004 7:10 PM CST: And the hype BEGINS....
WIZARD #160 will have a big feature on BATMAN BEGINS that will have The Batman on the cover....
TOTAL FILM-UK has a BEGINS feature as well. Here's a bit from Christian Bale--
"I was speaking to Chis whilst making THE MACHINIST and he was asking me, 'What do you look like?' and I said, 'Like @#%$.' And he said, 'We've got to do a screen test; are you you going to be ready for it?' Which i wasn't. Nobody was going to cast me as Batman looking like Trevor. I ended up putting on 100lbs, because it was about a week before I did the screen tests and I couldn't even do one push-up--the muscle was gone, I'd just destroyed it. I was feeble beyond belief and I knew there was going to be a great deal of action involved and I would like to be able to do as much as I can myself. I got up to about 220, but I was a bit Fatman at the time. I had to end up losing a lot of weight before we started filming."
"He [Bruce Wayne] creates this other persona where he channels his rage. That's the real him; that the interesting thing. Batman's the real him--Bruce Wayne's the fake."
Here's a pretty cool magazine cover in which you'll find this article--

Here are a few more links: 1 2 3....
I'd keep my eye on the OFFCIAL SITE if I were you. I am....
I'm hearing that BATMAN BEGINS will have a tie-in with McDONALD'S. Hey, you knew it was going to happen....
I've got a new op-ed piece that I'm going to try to have up sometime this weekend. Can BATMAN be like Bond? I think so and you'll see what I mean this weekend.
(Thanks to "Ras2005," Kamino927," and "D.")
Bleaching BEGINS and more
Author: Jett
Wednesday, December 1, 2004 6:50 PM CST: According to BOF's Paul J. Wares, BEGINS will use an effect known as "bleach bypass." Here is what he had to say about it--
Although bleach bypass is now a popular look among certain films (SEVEN, THE CROW), the original technique is a chemical process that takes place in the lab. Most films now, even if they are striving for that look may shoot "normal" and then affect the footage digitally for their desired look. This gives the director absolute control over how the entire film, frame by frame will look. So, is BEGINS going for the bleach bypass look? Yes, certainly for some scenes. Is the chemical process of bleach bypass being employed? Not necessarily.
An explanation of the process--
Bleach Bypass is a film laboratory technique where, by skipping the bleach stage in the color processing sequence, silver is retained in the image along with the color dyes. The result is effectively a black and white image superimposed on a color image. Bleach Bypass images have increased contrast, reduced saturation, often giving a pastel effect.
Click HERE to get an example of what it looks like....
If you liked BOF's interview with Scott Beatty, I've got another coming soon. This too is with someone from the comic book industry that has some ties to--and LOVES--The BATMAN. And he has something special for the BOF audience. Stay tuned....
2005 should be a big year here at BOF. We'll have our set visit reports by Paul J. Wares sometime in early 2005. I've talked to Paul about them and they should be excellent. While Paul is a filmmaker himself, his reports will come from someone who is a huge fan of The Batman. I think you all will dig his angle. Also, I've got some guest articles lined up that will focus on a variety of topics--including a look back at the previous BATMAN films. We'll also continue covering the hell out of BEGINS, leading up to it hitting theaters next June. I'm hoping to have something really cool for BOF around premiere time. And finally, once BEGINS premieres, BOF will turn our focus towards the sequel. Late.
BOF INTERVIEW: Scott Beatty!
Author: Jett
Sunday, November 28, 2004 8:00 PM CST: Hey, this you have to read! I had the honor of interviewing Bat-writer Scott Beatty! Click HERE TO READ THE INTERVIEW. Mr. Beatty is authoring the upcoming BATMAN BEGINS VISUAL GUIDE. And make sure to visit Scott's official site at SCOTTBEATTY.COM.
Christian Bale talks BATMAN BEGINS
Author: Jett
Sunday, November 28, 2004 3:09 PM CST: "ILikeBOF," (Well thank you!) sent us the following link to a Christian Bale interview. Click HERE to check it out....
Oh, here's a pretty cool interview with David Goyer that you might want to look at. Adios.
Misc. BEGINS and Batman news
Author: Jett
Saturday, November 27, 2004, 7:29 AM, 4:13 PM CST: So, you don't like the BEGINS Bat-suit? Or, you do dig it. After hearing what this VERY LEGIT source had to say, I think A) If you believe it sucks, you may have second thoughts, or B) If you already dig it, you are going to really be happy--
"The photos [that we've already seen] of the Batsuit so far do not do it justice after you see the thing lit properly and more importantly, in the environments of the movie."
Yes, we know what it looks like--which has sparked a lot of debate. But this guy knows and makes an excellent point: just wait to you see it onscreen....
I've did a bit of checking [Thanks to "Greg B." from the BOF FORUMS], and I believe that the BATMAN RETURNS DVD that I mentioned earlier today is not the rumored SE version....
I've got a few Bat-related interviews set up that I think y'all will find cool. Stay tuned....
Could THIS be a link to the Special Edition of BATMAN RETURNS? It is a new listing on AMAZON.COM with a release date of January 18, 2005 and a price of $32.38....
Could a box set of the 60s TV series be in the works for 2005? Click HERE for more....
Looks as if the new trailer for BATMAN BEGINS was dislayed a few days ago at The Village Roadshow, LTD. Click HERE for more....
As requested by many BOF readers, I'm planning on including a "blog" to go along with my review of BATMAN BEGINS this coming summer. With that said, I'm working on securing something pretty cool in regards to the film hitting the big screen. Stay tuned.
(Thanks to "Ras2005" for helping with the info on this report.)
BEGINS game pics!
Author: Jett
Friday, November 26, 2004, 9:29 AM CST: What's up y'all. Jett here. Hope all of you who celebrated had a good Thanksgiving. I was up in Dallas for the Cowboys game against the Bears--and we actually won a game! Been a rough year for us Cowboys fans. I don't guess any of you all saw me on TV yesterday if you watched the game? I was holding one of the red and blue signs at halftime during the Destiny's Child gig. I had a #31 Roy Williams jersey on; does that help? Just kidding. Anyway, IESB sent BOF a link to several images from the BEGINS game. Click on the link provided to check them out.
BOF's BEGINS game preview review
Author: Jett
Tuesday, November 23, 2004, 7:10 PM CST: OK, I got that GAME INFORMER MAGAZINE issue in the mail today, and I've got to say, it was a hell of a layout. If the film looks anything like the game pics that were shown in the magazine, then there is NOTHING to worry about with BATMAN BEGINS. And it seems that this is going to be one hell of a kick-ass game as well. Here is a pretty good description of it from the article--
When starting up the game, the first levels are played as Batman. After a few rounds...the story will swing backwards, to the time when Bruce Wayne was traveling the world, training to become the superhero icon he is destined to be. From this point, the story will progress through training and the introduction of this hero to the city unitl it reaches the present day and continuing on to the game (and the movie's) climactic final battles.

One very cool aspect of the game is that The Batman is most effective when he is using his detective skills and scaring the hell out of people. One of the objects of the game is to surprise and scare the badguys which builds up The Batman's "reputation meter." And you'll get to see the look on the criminal's faces via a picture-in-picture window when The Dark Knight surprises them and they are particularly frightened.
Alfred is present and will offer droll, sarcastic comments throughout the game. But he is also The Batman's partner, helping him on his missions. The article speculates that other major characters from the film will appear in the game, although nothing has been confirmed.
This thing looks like it will certainly be worth buying--which you will able to do right here as soon as it is available.
Another Bale interview and BATMAN BEGINS toy preview
Author: Jett
Monday, November 22, 2004, 7:10 AM, 5:39 PM CST: Here's another link to an interview with Christian Bale. Can't these friggin' interviewers think of something else to ask him instead of these "Any nipples on the suit" questions? Geez, give it a break....
IESP let BOF know that they had a preview of some of the BEGINS toys that will be available soon. Click on the link provided to check it out. And don't forget, BOF will have BEGINS merchandise to purchase as it becomes available. Keep checking at our BATMAN BEGINS STORE....
You know, I'm really starting to dig the idea of Lachy Hulme as The Joker. And I'm even more sold on the idea after seeing a really cool piece of fan concept art (by "Rick") of the Aussie thesp as the Bat-villain. Click HERE to check it out....
Various BATMAN BEGINS bits for 11/19/04
Author: Jett
Tuesday, November 16, 2004, 6:10 PM CST: Got some various bits of BEGINS news for you all, so let's get at it....
Cindy Pearlman of THE CHICAGO SUN TIMES interview Christian Bale (promoting THE MACHINIST I suspect), and Mr. Bale had a few things to say about BATMAN BEGINS. The film--as we all know--shot on location in The Windy City this past summer. Here are a few highlights--
•&nbsp"I contacted them [about the role of Batman]. I heard they were doing some low-budget BATMAN not aimed at kids and I was tantalized. I had appreciated the BATMAN movies, but I wasn't really a fan and I didn't know the TV series. But I read some of the graphic novels and they were very dark and very interesting. I said, 'It's big-budget, OK, then it won't happen the way I want it to happen. Forget it.'" He changed his mind when he found out that Christopher Nolan was directing. "We clicked and hopefully we've made something very different."
•&nbsp"I've never felt like the Batman character in the films was given as much time as any of the villains. The villains were always the most interesting characters, too. Batman has always been this very bizarre, almost blind character running through the middle of the story. Our film is different."
•&nbsp"Talk about an American psycho. The guy is running around in a cape!"
•&nbsp"Our Batman is centered on the early days. It's an explanation. It's certainly not Batman No. 5. It's a reinvention. We want you to forget there has ever been a BATMAN before this one."
Have I told you all before that I can't wait for this film? Anyway, I can't wait for this film....
Tim Booth has talked BEGINS again, but says nothing, actually. He's a villain and he can't talk about it. Here are some links: 1 2 3 4....
Click HERE and check out an interview with stuntman Adam Kirley who worked on BEGINS.
(Thanks to "Ras2005," "Jim," "Brian," "Foxtown," and "Mike A.")