Misc. BEGINS stuff for 9/11
Saturday, September 11, 2004, 8:06 AM CST: What's up? Jett here with a bit of BEGINS stuff for you all. I know things have been slow and y'all have been chomping at the bit for some news, so let's get at it....

Our super-slueth of BEGINS news, "Ras2005," sent BOF word on the following--

CINEFILMS has an Alex Ross-style Batman on the cover with Batman Begins on the logo. They have pictures inside, but I'm not sure if they are new. HERE is the mag cover and HERE is a link to ordering details....

MAD MOVIES, a Frech magazine, has a cover with a shot of Christian Bale as Batman. HERE is the cover, and HERE is ordering info....

HERE is a link where you can purchase a copy of SCORE MAGAZINE that we wrote about a few days ago....

AMAZING STORIES #603 has an interview with David Goyer....

STAR BURST #315 also has an interview with David Goyer....

"Ras2205" questions, "Is this the Bat-dagger?" Click HERE to see what he is refering to....

Another good source is back--his name and nickname held by request--with a nice description of the Batmobile. Of which, he has seen in action up close--

The Tumbler, or rather [the] Batmobile is an awesome piece of machinery. It was the one thing I wasn't really impressed with when the first pictures of it came out. But I take it all back. The car looks like it's alive, that's the only way I can express my opinion of it. Unlike the previous Batman cars, this one looks like it could exist in out world, which is what this new Batman movie is all about. Oh, and when they gunned the engine....well, hearing is believing. The car sounds like some creature from hell!

Hope that helps some of you all that are still having problems with Batman's new ride. Later, guys.

Misc. BEGINS stuff for 9/10
Friday, September 10, 2004, 6:30 AM CST: Yes, I know BEGINS news is slow, and I have read all of your emails saying just that. But hey, there is nothing I can do about it. Filming is winding down, and I expect things to be a bit quiet until the first of 2005. But here are a few things to keep you going....

Here are some more links to the SCORE magazine story BOF wrote about a few days ago--1 2 3 4 5 6 7....

If you care to know what I think about the BEGINS production so far, click HERE to read BOF's latest op-ed piece....

"Ras2005" found the following from ACTION FIGURE TIMES regarding BEGINS, "News from the underground tells me that Mattel is already working on figures for the ďBatman BeginsĒ film and that they will be roughly the same scale as 'The Batman' figures." You just know there are going to be plenty of BEGINS-related toys and merchandise released next year.

BOF update--FYI
Thursday, September 9, 2004, 8:54 PM CST: Just wanted to tell all of you BOF readers--and I'm VERY thankful for all the support--that that "something" we got cooking is still happening. But I can't be specific about a date at this time for certain reasons. BOF is aware of all the speculation, but as we have warned--don't ASSUME what it is. Yes it is something BOF is very proud of and we think is cool as hell. When we reveal it, you'll know what I've been talking about, trust me. I didn't want to leave all of you hanging. Late.

BEGINS mag cover from France!
Wednesday, September 8, 2004, 8:39 PM CST: "Joel B."--who resides in France--sent us the following cover from the French magazine SCORE that features BATMAN BEGINS--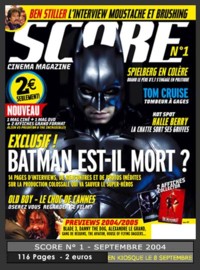 There's more BEGINS stuff in the mag. Just click on the link provided and go to the official site.
Bedford BEGINS shooting update
Saturday, September 4, 2004, 11:37 AM CST: Hey y'all, Jett here. I'm not at the homebase, I'm actually out of town attending my, uh, 20th year high school reunion. But I did get this in overnight from "Spidertracer." Seems that the crew is back at Bedford and could be shooting into October--
I've just had the nod today that I'm needed for filming as an extra at Bedford for the new Batman movie Monday 6th Sept, and the 10th Sept as well. The scene they will be shooting is a winter one, and I've been told to arrive with heavy coat, boots, hat, gloves and scarf. The casting agency also said that filming continues there for another six weeks, and I may be called back for more scenes. It's not blockbuster news, but it keeps you guys in the picture. I'll let you know more once I've done my bit. Can't wait! Great site guys, keep up the good work.
WB, Goyer strike deal
Tuesday, August 31, 2004, 6:32 AM CST: Seems that WB is really high on BEGINS scribe David Goyer. VARIETY is reporting that the studio has signed Goyer to a one-year first-look writing, producing and directing deal. In addition, it is strongly rumored that Goyer will pen the BEGINS sequel which will most likely be released in 2008. Click HERE for more details on the Goyer/WB deal....
Don't forget, look for something special from BOF later this fall. More details as I can reveal them. Late.
Levitz talks BEGINS
Monday, August 30, 2004, 8:10 PM CST: Hey ya'll, Jett here. BOF has something special in store around mid-September. Something I'm pretty proud about actually. Keep checking and you'll know what I'm talking about when it goes down....
BATMAN BEGINS producer Paul Levitz talked recently about the production. Here's a bit of what he had to say--
"I have never had an experience remotely like what I've seen on Batman Begins," Levitz said during Wizard World Chicago. "The entire team, from top to bottom, cares about the characters, is interested in the mythology and has reached deep into it to find the best way to do it."
Click HERE to read the entire article from THE COMICS CONTINUUM.
Click HERE for a hi-res view of the BEGINS trailer.
(Thanks to "A" and BATMANS.DE.)
Reason for the Vegas Bat-billboards, More Bat-shooting in Chi-Town
Sunday, August 29, 2004, 8:20 AM, 12:24 PM CST: Seems that BEGINS shooting is still taking place in Chicago, probably some second unit stuff. "Jim C." sent us this report--
Apparently they are still shooting scenes for Batman Begins in Chicago, although they were supposed to finish last Sunday, August 22. This morning the local CBS TV Channel 2 10:00 AM news program showed a brief story about a cameraman falling during a shoot at the Hilton Towers on South Michigan Avenue last night. The cameraman was not seriously injured, they said. A quick shot in the story showed a man in the Batman suit, without the mask/cowl, talking with the film crew. Although the man had black hair, he did not look like Christian Bale. Probably a stuntman/double. ....
Hey if you are going to "google" something, then we'd like to invite you to do it here on BOF. Check out the search box above and on the menu page....
BOF had many people email in with explanations for why Bat-billboards are popping up in Vegas. The most plausible reason is MAGIC--the industry show for licensed clothing for the up coming year. Here is an official description of the event--
From Aug. 30 to Sep. 2, the fashion industry will converge on Las Vegas for one of the biggest events of its kind, the MAGIC Marketplace. Considered one of the most influential fashion markets in the world, the MAGIC Marketplace offers up a whopping 700,000 square feet of apparel, footwear, and accessories.
So there you have it. And thanks to ALL of you who sent the emails regarding this story....
You wouldn't have to be Sherlock Holmes--or even the, er, Darknight Detective--to figure this one out. But it comes from one of BOF's best sources, so it is about as close to being confirmed as you can get--
Hey man. Just wanted to let you know that the word is is that the next "Batman Begins" trailer will debut during the holiday movie season. I have no idea with which films it will be attatched, so one can only guess. I'd first look at what Warner Brothers is releasing in November and December. But it could be with just about any film. Also, I've heard that WB has (or will soon) purchase advertising during the Super Bowl. So, figure that one out Eienstein. Keep up the great work!
The Super Bowl, eh? I figured as much. And since my Dallas Cowboys will be representing the NFC this year, a BEGINS spot during the game would be icing on the cake (~wink~). Late.
BEGINS news for 8/28
Saturday, August 28, 2004, 8:00 AM CST: "Tim C." is back with a pic of one of the Vegas Batman billboards. His report and picture is below--
Today I decided to do a little creative investigating regarding our enigmatic billboards. I called a couple of local comic book shops to see if they knew what was going on. They didn't. They hadn't even seen them.
Also, they seem to be proliferating. There's one a mile north of where I live, and another one a mile south. In any case, they're very much a mystery. They can't be related to 'Begins' because then Vegas surely wouldn't be the only city with the boards (and your readers would have informed you if they had them in their towns). So, my best guess is that there is some Vegas show of some kind with Batman. Wasn't there a rumor that Tim Burton was doing something like this? This is just pure speculation on my part.
Clearly, these billboards aren't related to BEGINS. If you know what they are all about, let BOF know.
BEGINS news for 8/27
Friday, August 27, 2004, 9:54 PM CST: My friends from BATMANS.DE sent BOF THIS ARTICLE, a HELL of an article frankly, about BEGINS. Jett's suggestion is to read it. I loved this quote from Bale, who is signed up for two sequels--
"I wanted to make Batman more like a creature, more like a beast, than a human being. I didn't want him to be just a funny bloke in a fancy-dress costume. You're either going to look like a complete fool or you're going to look like a bad-ass. So you have to look like a bad-ass."
Thank you Mr. Bale, THANK YOU. Here is a bit of what Chris Nolan had to say--
"This Batman is grounded in reality," he explains, leaning against the bar of a nearby restaurant during a break in filming. "He has no super-powers; all he has is his wealth, which he uses to obtain the technology he needs to do what he has to do." I wanted to make sure that the Batmobile, like everything else in the film, is possible and believable," says Nolan.
"Dave" sent us this report from Chicago--
Filming on exterior scenes shot here in Illinois wrapped about ten days ago. Lower Wacker Drive in downtown Chicago was used for more than two weeks followed by filming on a short, four-mile-long, uncompleted lakefront highway in Waukegan, Illinois. This same highway has been used for several movies, commercials and TV shows like the Blues Brothers and the short-lived remake of the Fugitive TV series a few years back.
Producers were so impressed with the Lower Wacker Drive scenery, that scenes were re-written to capitalize on what that area had to offer. Just as a sidenote, in the original Blues Brothers movie, you may recall scenes where Jake/Elwood speed along under an elevated street chased by dozens of police cars -- that's Lower Wacker. From there they drive up to a shopping mall and crash inside. A police car overturns and slides along on the roof of the vehicle. That was filmed in an abandoned shopping mall in the south Chicago suburbs that was filled with merchandise and shoppers to look like an active shopping center.
All scenes were filmed at night. Security was very tight. On-lookers were prevented access to the site, local news reporters included. My house is like a mile away from the lakefront highway, formally called the Amstutz. The highway runs near Lake Michigan, but the lake is obscured from most of the highway. Two helicopters kept swooping over the area while they were filming here in Waukegan. The local paper ran an article on the tight security, but was unable to report on anything more.
BEGINS news for 8/26
Thursday, August 26, 2004, 6:13 AM, 9:48 MM, 10:49 PM CST: Our Vegas dude "Tim C." dug up a bit of Vegas-Bat info. Does it have anything to do with the billboards? Don't know--
I don't know for certain if this is what's behind the Vegas Batman Billboards, but it's the only Batman-related event I've been able to uncover. Apparently, there's some sort of Batman get together taking place here. Vegas Batman fans are gathering on Sept. 9, as are fans around the world meeting in their own cities. Now, there's only 80 people signed up for Vegas, so I can't imagine how such a relavtively small gathering warrants billboard advertising. I dunno; like I said, its the only Bat-event I've uncovered. According to the site, this is a monthly event. CHECK IT OUT.
By the way, I saw another Bat-billboard tonight that did not have the Clear Channel logo; it said something else. I believe these are the companies that own the billboard space and are not directly affiliated with whatever is being advertised.
"InTheKnow?" chimed in with this take today--
The rumors are consistant with what you have been posting on your site as far as I know. Id imagine they're talking about having Dent as a cameo...but Guy Pearce? I dont know to be honest, he seems like a big name to do a cameo, and unless he'll follow it up in the second one, which again I dont know, I'm not so sure. I'm not denying it, I'm just saying im skeptical.
Tom Welling, eh? If he's putting on the blue tights then I wouldnt be surprised.
"Rick" wrote in saying that he noticed ENCORE was running promos advertising that they'll be showing BATMAN movies in September. Perhaps this is related to the Bat-billboards that have been seen in Las Vegas. Could be, methinks. Man, I love that town....
"The Rocket" claims that he/she was an extra in during the Chicago filming of BEGINS and has this to offer--
I was an extra on the Chicago shoot of "Batman Begins," and I can say it's [Welling's rumored cameo--Jett] just the smallest of cameos. I think he and Bruce bump shoulders on a crowded Chicago street and just exchange a couple of words. That's it...it will probably last all of five seconds on the screen. You'll notice on the call sheet that was posted it notes that "T.Welling" was not present at the Waukegan shoot....he was in Chicago.
But why would Clark Kent just be walking down a street in Gotham? If this is true--which I still doubt--then Welling will be Superman in the upcoming film. Or he could simply be doing a cameo period--as no particular character. BTW, I've been told that this Welling rumor began on SUPERHERO HYPE....
"Chaz" from KATIE HOLMES PICTURES has informed us that Katie will be on "The Graham Norton Effect" this evening. Click on the link to find out more. Late.
"Tim C." sent this news in overnight about "Batman" billboards in Las Vegas--
You may remember that I live in Las Vegas. Well, I have noticed a couple "Batman" billboards around town. All they are is the logo on black, no text whatsoever, except for the Clear Channel logo in "fine print" at the very bottom of the board. The logo is Burton/Schumacher-style, as opposed to Nolan.
I would think it is too early to be putting up billboards for BEGINS, so perhaps this is something else. Maybe something Bat-related in Las Vegas. If you know--or can get a pic--send it BOF's way....
"InTheKnow?" contacted BOF to say that he believes that "surprises may be in store as far as cameos go in BEGINS." However he doubts that Guy Pearce showing up as Harvey Dent is one of them....
"The Only WOj" sent us a photshopped callsheet from BEGINS to show how easy it is to be altered. Click on the previous link to check it out.
BEGINS teams with Rocawear
Wednesday, August 25, 2004, 7:45 PM CST: TOYMANIA.COM recieved a press release announcing that ROCAWEAR and WARNER BROS. are teaming up to producing clothing inspired by BATMAN BEGINS--
Rocawear Clothing and Warner Bros. Consumer Products (WBCP), on behalf of DC Comics, have partnered to create a signature apparel collection that brings together the design perspective of Rocawear with the imagery and myth of Batman(TM), the iconic Caped Crusader from Gotham City. The line, which will hit stores in conjunction with Warner Bros. Pictures' highly-anticipated, Summer 2005 theatrical release of Batman Begins, incorporates modern street-wear design with logos and graphics inspired by the upcoming film. This type of collaboration is a first for the influential clothing brand.
Click HERE to check out the entire press release and read about designs called "Urban Legends," "I Am," and "Gotham City." I am sure that this is only the beginning....
I checked with one of BOF's oldest sources about this Tom Welling cameo rumor. And here is what he had to say--
It wouldn't surprise me at all if there are a few cameos in BATMAN BEGINS. And I'm sure that if there are, the studio will keep the lid on them as tight as they can. But there is no way in hell Tom Welling is doing a cameo in this film. Chris Nolan would not stoop to such stunt casting, and this is all that this would be. Warners has let Nolan do what the hell he wants with BATMAN, so why would they force this kind of shit on him? Plus, Welling is no lock at all to get the SUPERMAN gig, so why the hell would Warners have him show up in this film--a film that they want to get them back in the "superhero movie game." It doesn't make sense. I could see something like Pearce showing up briefly as Harvey Dent [As has been rumored--Jett], but not this. I could be wrong, but I doubt it. You wanted my opinion, so there it is.
Yep. There it is. FYI, this is only the opinion of our source. BOF did contact WB regarding this rumor, and so far, they have not commented.
BEGINS roundup for 8/24
Tuesday, August 24, 2004, 7:27 PM CST: "Chaz" from KATIE HOLMES PICTURES reminded us that Holmes' film FIRST DAUGHTER will be released September 24th, and she is sure to be making the rounds on the talkshows promoting the flick. With that said, she may talk about a bit about BATMAN BEGINS. So if you see her scheduled on Letterman or whatever, you may want to check it out. Oh yeah, as I'm sure you all know, Katie's dad in FIRST DAUGHTER is played by former Batman Michael Keaton....
There is a rumor making the rounds that a particular actor on a DC-based superhero show on THE WB may be making a cameo in BATMAN BEGINS. BOF is looking into it--I've even emailed WARNER BROS.--and will comment once we get more info. But if you want my opinion, I don't buy it....
Below are a couple of pics courtesy Phil at WHITEOGRAPHY.COM from the BATMAN BEGINS shoot in Chicago--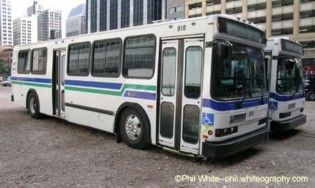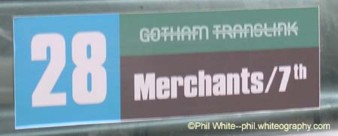 The Jettman on the radio! BEGINS roundup for 8/23
Monday, August 23, 2004, 7:51 PM CST: I did my radio stint today on Bloomington, Illinois station WJBC's WILLIAMS and WHISMAN SHOW. Did about 15 to 20 minutes talking about BATMAN BEGINS and a bit about how BATMAN ON FILM came about. I really enjoyed it and I want to thank host Jim Williams for inviting me. If you happened to hear me on the show today, send me an email and let me know....
"Ras2005" sent us the lead to THIS STORY regarding Nolan and crew will head off to Hatfield House for more shooting....
"Derek" sent us THIS LINK from the REPLICA PROP FORUM which features a copy of the ninja suits that will seen in BEGINS....
"Gotham Insider," gave us the following info--
Now that filing is starting to wind down, expect news to be rather slow through the fall until the beginning of the year. I'd look for the studio [Warner Bros.--Jett] to start promoting the hell out of the film in early 2005 (I heard rumors of a spot during the Super Bowl), slowly building towards the June release. 2005 should be the year of the Bat!
BEGINS roundup for 8/21
Saturday, August 21, 2004, 3:55 PM CST: You can view some pics of Gotham busses and GPD cars HERE....
ARCHITECTURAL ARTIFACTS furnished some of the BEGINS sets used in Chicago. Click HERE for more details....
According to this story, security is tight as hell around the BEGINS shoot in Chi-Town....
More info regarding who might be involved with the BEGINS game can be found HERE....
I may be making my debut as a radio show guest soon! If it goes down, it is on a station in the Midwest. I'll give out the specifics once it is a done deal. And of course I'll be on to talk about BATMAN BEGINS....
A VERY cool oppertunity may pan out for BOF in the next few weeks. Can't mention what it is specifically, but when--and IF--it happens you'll know what I was talking about. Late.
(Thanks again to "Ras2005" for the info!)
The buildings of BEGINS
Friday, August 20, 2004, 9:16 PM CST: "Editor" sent us THIS LINK to GLASS, STEEL, and STONE to a great story about the buildings involved with turning Chi-Town into Gotham....
IGN FILMFORCE has a nice set of pics and video from Chicago.
Update on Batman video, news roundup for 8/19
Thursday, August 19, 2004, 6:01 AM, 8:44 PM CST: LATINO REVIEW has a report regarding the BEGINS sequel--that is going to happen. Perhaps it is even in the works as we speak--
BATMAN BEGINS hasn't even finished filming yet and already there's talk of a sequel. 'MR STUCK-IN-ADMIN' gotta a little something to tell us: Warner is apparently "very" happy with the job Chris Nolan is doing on "Begins" and is trying to coax him into doing the sequel as soon as possible. Try two years apart. It's definite that the next sequel will concentrate on The Joker and they're already throwing names around:
Steve Buscemi - no explanation needed. Currently doing a Zwigoff film.
Robin Williams - been slumming it in dark stuff lately.
Lachy Hulme - played Sparks in The Matrix movies.
Alexis Denisof - played Wesley, the watcher, on Buffy and Angel.
Mark Hammil - played the role on the cartoons. a fan fave.

Sounds a bit like what BOF heard several weeks ago--in particular the Lachy Hulme rumor that we broke a while back. But we've yet to hear anything about Denisof or Hammil being linked to the role. But the others, well, there may be some substance to that stuff....
As BOF was told a few weeks ago by a very good source, Nolan isn't signed to a sequel. But--as our source said--the worst kept secret in Hollywood is that Nolan is doing the follow-up to BEGINS. But BOF has heard that the time between films will be three years, not two. I can't see Nolan going right to work on the next Bat-film after this exhausting shoot. That would put them shooting again in about a year and a half to have it ready for 2007. 2008--as BOF sources say--is more likely. But hey, Raimi did it with SPIDER-MAN 2, so you never know....
This Lachy Hulme as The Joker is starting to grow on me....
AICN has another link to the Batman video that BOF reported yesterday....
Quick update on the link of the video of Batman provided last night. Check THIS LINK or the one from yesterday--they should be working now. Also, I was informed by several readers that the video was created by "Lectoid." FYI.
Video of The Dark Knight online!
Wednesday, August 18, 2004, 7:25 PM CST: Strangely enough, a guy known as "KMP 77," who frequents a Dallas Cowboys message forum I frequent, PM'd me (***POSSIBLE SPOILER***) THIS LINK to some video from the Chicago shoot. It features The Dark Knight himself on a rooftop, cape billowing behind him. There are a few "F-bombs" thrown out during the video, so keep that in mind if that kind of stuff offends you. But worth a look for sure. It was kind of funny, actually. I keep a BEGINS promo in my signature on that forum, but a link to BOF is hidden. So when the guy hit me with the PM, I responded by telling him "thanks, I'll use it on my website, BATMAN ON FILM." And I guess he must have visited the site because he wrote back "YOU'RE the guy that runs BOF?!?!" Anyway, I thought it was a bit amusing. And, if you are reading this and this is your video, send BOF an email so I can give you credit. Late.
(Thanks to "The Only Woj" for also providing the link.)
BEGINS roundup for 8/17
Tuesday, August 17, 2004, 7:59 PM CST: A few bits of BEGINS news in today....
THE DAILY HERALD has a nice report on BEGINS filming in and around Chicago and the recent sneak preview in Chicago this past weekend....
DARK HORIZONS (***POSSBIBLE SPOILERS***) has a recent BEGINS scoop that includes info on what the Scarcrow may look like. It also seems to confirm what BOF scooper "MB" said about the look of the character several months ago....
FINELY MADE FILMS sent BOF word that they have posted a second clip of the BEGINS set in Waukegan. "This may be the best set footage on the web right now! 2.5 minutes of the Batmobile and Gotham's finest speeding down the Amstutz in all of their glory," says the website....
(Thanks to "Ras2005," "Chaz," and "James.")
BEGINS roundup for 8/16
Monday, August 16, 2004, 7:36 PM CST: Shooting in Chicago is coming to an end. All of the major members of the cast have already skipped town, and there is only a bit of shooting to complete. But, BOF readers have sent in a few more reports. First up, "mfdme2"--
Attached are pictures from the shoot on the roof top of the parking garage at Wells & Randolph with the Batmobile, GPD cars and helicopters on Friday, August 13th. Unfortunately, I was not able to get a good shot of the explosions from the set (pyrotechnics) involved in the shoot, but let me tell you, it was the most exciting night of filming!
Sad to say, that the cast has left town and the crew will wrap up final shots in Chicago next weekend. I am heartbroken that I did not have a chance to meet Mr. Bale (sniffle, sniffle) although I did get to see him on the set, but don't feel sorry for me since I did get to see several scenes being filmed and meet Mr. Oldman which I am very thankful! Although, I hope the rumors are true that the cast may return to reshoot a scene or two...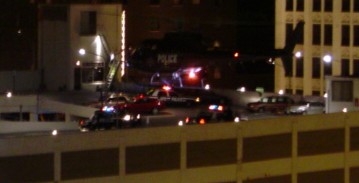 "Max" sent the following--
Last night on the expressway in Chicago around Highland Park Area, I saw two Police cars being trailed. To my suprise they were Gotham Police Department Cars. I attached a pic... Plus earlier last week a friend of mine saw 2 helicoptors circling the Sears Tower for 3 hours only to find the Bat symbol glowing on the building a little later on...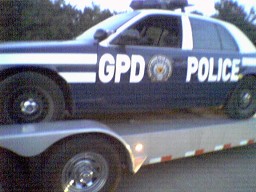 From "BatUncle"--
Chicago's Mancow radio show announced that they have shot some footage of Batman Begins (Click HERE). It is the first unlabeled WMV. It is pretty lame but what the hell. Also, I think that the Civic Opera House is doubling as the Wayne Enterprise building. [It is] located on Randolph and Franklin. It's an awesome looking building. Thats all I have--thanks for awesome Batman movie website.
And finally from "James F."--
FMFE has just posted a Quicktime video along with photos of the August 15th filming of "Batman Begins" in Waukegan, IL. The new video features clips of the overall filming, along with new looks at the Gotham City Police squad cars and helicopter, and of course, The Batmobile, all in action.
Check it out: here.
BEGINS footage premieres in Chicago!
Sunday, August 15, 2004, 7:31 AM CST: WIZARDWORLD CHICAGO presented BEGINS screenwriter David Goyer and director Chris Nolan on a panel yesterday in the Windy City. Unlike San Diego, the goods were given up this time as about a four minute montage of the film was revealed--
Screenwriter David Goyer was joined by director Chris Nolan (Memento) as DC's publisher Paul Levitz revealed the exclusive, never before seen footage (which by the way will not be seen again for a few months at least) of the new upcoming Bat-flick. For the few hundred folks who managed to attend this once in a lifetime panel, they were treated to not only breathtaking glimpses of Batman training in the Himalayan mountains, but a rare look at one of the villains of the movie, the Scarecrow!
Also seen was the Batmobile, in action for the first time, as Christian Bale told Morgan Freeman (after trying out a different colored version of the automobile) "Does it come in black?" The scene following had the ultra-sleak Batmobile lumbering through a dark alleyway on its way to a crime scene presumably. Goyer and Nolan added the design for the Batmobile was chosen not because of what it looked like, but for what it could do. Nolan was always amazed that Batman had this vehicle but never really utilized it in any film, so a thrilling car chase scene is something fans can look forward to.
The montage included a seen of him suiting up in gear and terrorizing thugs on a heist. Lights exploded throughout the warehouse and the climax of the piece was when one of the crooks screamed, "Where are you??." Batman appeared behind him, upside down and with a chilling voice, "Right here!" before lifting him off the ground and into the ceiling.
Fans let out a joyous applause for the footage (and believe me when i say it's the coolest and most realistic looking Batman I've ever seen!) putting to rest any doubts the audience may have had. Goyer also made a promise to the crowd: "No Bat-nipples."
Recaps of the Goyer/Nolan panel can also be found here and here.
(Thanks to "NiteOwl," "Blind_Llama," and "Chaz.")
"Jim K." attended the convention and sat in on David Goyer's panel--
The only 'new' information was that [BATMAN] II and III are pretty much a "go." I later spoke to Paul Levitz and Bob Wayne of DC who said that they were sorry I couldn't get in, but that whatever was planned, would quickly make its way to the Internet. When I asked if it was a short preview of the film, they responded that it may be something fun like that.
"B" sent in the following report--
From the looks of it [the footage from BEGINS, they've gotten it right. The footage was fast cut and in no specific chronological order, as Nolan said during the panel he 'doesn't work like most directors, (i) shoot everything first & then edit' but still, it was amazing to see a Batman movie that actually looks, breathes and acts like the character we've come to love over the years.
A couple of bits that pop into mind are: "Does it come in black?" after test driving what will become the Batmobile // lights being knocked out in succession in a warehouse or dock and the klang of metal as the camera pans down to show a Batarang // the look of realization (Yeah, that will work) crossing Bruce Waynes face as he views a grappling gun, utility belt, etc... in a drawer at (presumably) Wayne Techs Military division // and Bruce Wayne painting a suit, presumably flat black, on a mannequin in what appears to be a cave of some sort.
The story seems to be focusing on what went into the creation of Bruce Waynes' Batman persona, with a basis in the real world. i know these are all things that have been talked about, rumored about, and bandied about all over the web, but it was nice to see actual footage to back up the 'we're being true to the character' statement from WB.
To put it bluntly, me likey likey!!! & i think you will, too!!!
BOF mentioned yesterday that Catherine Porter had a role as an assasin in BEGINS. If you want to see what she looks like, click on the previous link to visit her official website.
(Thanks to "Drahc.")
BEGINS roundup for 8/14
Saturday, August 14, 2004, 7:45 AM, 10:38, 11:17 AM CST: "8Chris" sent BOF the following report and picture--
The picture is from Friday night filming on the roof of the parking garage at Wells and Randolph; they were also shooting this scene Tuesday night. It seems that this is the escape route after being cornered by the police...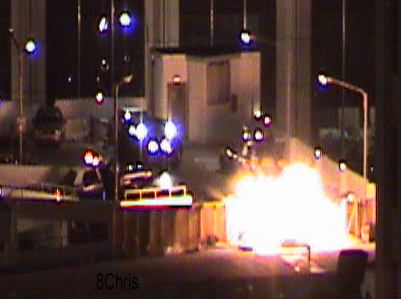 "Ras2005" sent BOF the following links to some new video clips (via ABC 7 CHICAGO) from Chicago filming: 1 2 3....
The site Chicago Architecture reports that the Skyline Century of Progress formerly known as the Lake and Wells Building is been used for the Begins Chi-shoot....
Catherine Porter is playing an assassin in BEGINS. Porter is a former backup singer for Brian May (QUEEN)....
"MWR416" sent BOF the following scan (from US WEEKLY) of Bale and Oldman on the BEGINS set on location in Chicago--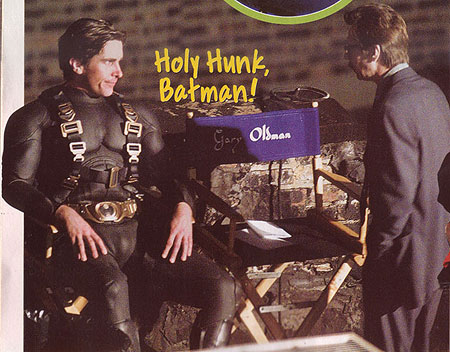 (Thanks to news-slueth "Ras2005" for the leads and to "MWR416" for the pic.)
BEGINS roundup for 8/13
Friday, August 13, 2004, 8:54 PM CST: According to the CHICAGO SUN-TIMES, all the major stars of BATMAN BEGINS have left Chicago to finish filming in London....
Here are several links from Chi-Towners that have captured the filming of BATMAN BEGINS in their hometown: 1 2 3 4 5....
AUTOEXPRESS.CO.UK has a blurb about one of Bruce Wayne's cool rides--
We've also learned the Murciťlago Roadster will star in the next Batman movie. But it's a closely guarded secret whether the Italian supercar will be in Bruce Wayne's extensive garage, or be the wheels of choice for Gotham City's latest arch-criminal.
MAXIM ONLINE has an interview with BEGINS screenwriter David Goyer that may be of interest to you all. Here's a bit of it--
You wrote the new Batman, got any new secrets you can leak?
I'm sorry, there's such a heinous nondisclosure agreement for that. I can basically comment on stuff that's been released. What do you want to hear?
Give us a progress report that won't get either of us sued.
I'm approaching the movie from a professional standpoint, but also as a fan. And I can honestly say that as a kid who grew up in the '70s reading "Batman" comics, there were many times that I was working on the movie and I would say to Chris [Nolan, the director], "Holy shit, I can't believe they're letting us do this." It is so different from the other installments.
Does it resemble the style of any of the previous Batman flicks?
No. I think the first one is the best of the ones that came before. But this movie is so different from all of them that it's like comparing the cartoons to it. The other movies had points of reference, like the metropolis, but our points of reference are "The Man Who Would Be King," "Lawrence of Arabia," "On Her Majesty's Secret Service"ówe are pulling from things that inspired us.
Does this mean no Alicia Silverstone?
No. And no bat nipples, no inline skatingÖOf all the movies, it's definitely the one in spirit that's closest to the comics. We didn't arbitrarily change any names, even minor characters. Having said that, there are parts that have never been told in the comics, and DC was not only cool with us coming up with some new back story, but Warner Bros. let us do certain things that will totally shock people. I'm really happy with it.

(Thanks to "Ras2005," "Chaz," and "Richardson" for the leads. I appreciate it!)
BEGINS game info and more
Thursday, August 12, 2004, 8:21 PM, 10:33 PM CST: "CWFBB" sent BOF this link of a picture online that features a shot of "The Gotham Post." Click on the previous link to check it out....
"Mfdme2" is back with a few more pictures from Chicago. Below is a snapshot of a scene involving GPD squadcars and the Batmobile--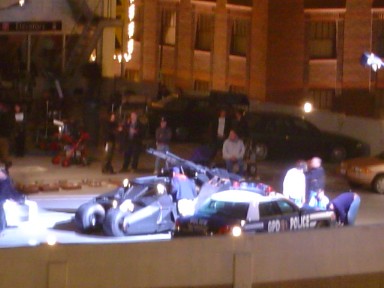 And below is a wide view of the rooftop set--

Contrary to previous reports, it is being reported that EA GAMES is behind the BEGINS videogame. Actually this would make sense, as EA GAMES recently produced game adaptations of CATWOMAN and HARRY POTTER AND THE PRISONER OF AZKABAN--both WARNER BROS. films. BOF contacted our source who had told us that UBI SOFT was developing the game, and he stood by this information. However, in light of this recent news, BOF believes that EA GAMES is indeed the one producing. FYI.
(Thanks to "AJ" and "Nick.")
More Chicago shoot info!
Wednesday, August 11 2004, 9:19 PM CST: First of all, let me say that BOF will probably be down sometime tonight until, like Friday. Or Saturday. Why? I've changed hosts, so there is a little lag in the transfer. So don't trip! BOF is still here to bring you the best BATMAN BEGINS news on the net....
"Chaz" from KATIE HOLMES PICTURES sent us the following link to another nice article on filming in and around Chi-Town. Here's a bit from SUBURBAN CHICAGO NEWS--
According to a schedule released by the city Tuesday, Warner Bros. film crews will begin preparation work on the Amstutz at 7 a.m. Saturday, requiring closure of the roadway from Grand Avenue to Greenwood Avenue until approximately 9 p.m.
The Amstutz will then be closed at the following times to allow shooting of chase scenes along that 1.5-mile stretch of the roadway: Sunday from 8 a.m. until Monday at approximately 7 a.m.; Monday from 6 p.m. until Tuesday at approximately 7 a.m.; and Tuesday from 6 p.m. until Wednesday at approximately 7 a.m.
This again confirms what BOF scooper "Jacks" told us long ago.
8/10 rundown and BEGINS character name changes?
Tuesday, August 10, 2004, 5:58 AM, 7:17 PM CST: More reports in from Chicago. First up, "Jim C."--
I went to downtown Chicago this afternoon (Tuesday) to see if the Batman production company was still there. In the Northwest corner of the "Loop" there are large trailers and vans parked along Lake St., between LaSalle and Wacker, a two block stretch, as well as a street going off of Lake St. down to lower Wacker Drive, where the Batmobile chase scenes were shot last weekend. I asked a police officer on Lake St, "Are they shooting here tonight," and she said, "Yes sir." I asked if she saw the Batmobile and she said, "No sir," and laughed. I took a few pictures of the trailers and vans on the streets, noting that a sign on one van door read, "Director", and two other signs on other doors said, "Producer, E.T." (Emma Thomas?), and, "Producer, L.F."(Larry Franco?). I went north a few blocks to the Peninsula Hotel, recently named the finest hotel in America, to see if Bale or any of the other cast members were awake and up, (if that was were they were staying) but no luck. Next week will supposedly be the final week of shooting here, and I and a couple of friends and relatives are signed up as extras.
Next up, "Z"--
They started filming well before sunset Tuesday night. My balcony overlooks Wacker from the north and I can pretty much see the entire set. They had upper and lower Wacker blocked off with Chicago police cars and barricades, and a uniformed cop and assorted PA's at the corners. They were allowing people to get pretty close, at least as far as La Salle and Wacker on the east side.
The helicopter was hovering over the river right behind the Merchandise Mart shooting onto Wacker so I can only assume that somewhere around the river bend is where the Batcave is. They shot for maybe 30-45 minutes and then the helicopter pulled up and started doing orbits around the set. The wind had picked up and it was a little to gusty for the pilot is my guess. The Chicago PD also had several police boats blocking the river. They did not permit sea traffic to pass during the entire pre-sunset shoot. They did let boats go soon after dark.
After they were set up again and the wind died down (maybe 15 minutes?), the helo dropped down and started working again. They lifted the bridges at La Salle and Franklin, and the helo made passes up and down over the river shooting action on Wacker. After that scene the helo took off to the north probably to refuel. It returned to just fly over the set about 30 minutes later headed southwest.
The next scene they shot was after dark with a couple cops pulling a car up to the corner of Franklin and Wacker. The passenger got out and along with a couple uniforms walked up to the the edge looking over the river and looked up to the sky. There were a bunch of SWAT and GPD cars scattered along Wacker with their lights on. It was a brief shot, maybe 15-20 seconds that took about 90 minutes to set-up, rehearse and shoot. I took off after that shot.
I also heard they were taking a group of people down to Lower Wacker for a souvenir picture with the Batmobile. It would be available for the people in it, but was not going to be released as part of the movie material.
Thanks for those reports guys!
If you've looked at the CAST & CREW page lately, you may have noticed BOF listed a "this or that" in regards to the last names of two characters. One of our recent Chicago scoopers (who will go unnamed) was able to confirm that Katie Holmes' character is "mcgdog Dawes," not Dobson. Based on this new information, it can be assumed that Gerard Murphy's character is "Judge Faden," not Phelan as originally written. FYI.
More Chicago reports, 8/9 BEGINS roundup
Monday, August 9, 2004, 6:41 PM, 8:36 PM CST: Doing a bit of websurfing this PM while watching the first Monday Night Football of the season, and I came across a new interview with BATMAN BEGINS screenwriter David Goyer. Goyer talks about the mishandling of the trailer release, the script leak, the power of the internet, and more. Click HERE to read the interview over at AICN. Here's a excerpt--
How do you deal with that [The script leak--Jett]? Does it annoy you.
Yeah. (Long pause.) I think that the internet has helped some movies, but I also think itís obviously hurt some movies. I remember when I was reading comic books as a kid, when you got to the cliffhanger you had to wait a month, and you wouldnít know what happened until the next month when you went to the comic book store and opened it up. That was really cool, and thatís blown. Every comic book, every movieÖ itís impossible to keep things out. Thatís kind of sad because I just think, and it has nothing to do with a defensive posture when youíre trying to market your movie or something like that. But the experience of watching a movie is somewhat truncated by having all of this spoiler stuff out there. And even if you try not to read all of the spoiler stuff, stuff still leaks out or people talk about it.
Because, after a while, people assume everybody knows.
I also think (the internet) can be dangerous because I think you can have a very small group of people affecting the outcome of a movie, and that group of people might not be representative of the greater public. And Iím sorry, but the talk back group, and some of them are cool, but the good thing and the bad thing about the internet is that it sort of flattens everything out. Everybodyís on the same playing field. You can have some guy in Topeka getting as much play online as the director of the movie, or vice versa. Thatís good and bad. But Iíve learned that the talk backs are much more negative than the general public.
NBC 5 has 20 seconds of new Batmobile footage. The report starts out with news on the security alert and then the Batmobile chase is shown in between....
"Squeaks2828" sent in the following report--
I went to downtown Chicago last night to check out the Batman filming. My dad works a couple of blocks away and saw all the trailers during the week. I heard they were filming, so I decided to check it out. They filmed on the corner of Wacker and Franklin. It looked like an action sequence because there were a lot of GPD and SWAT cars and people. It looked as though they were protecting a girl. I am assuming it was Katie Holmes and confirmed it later when I saw her walking down the street. The production assistants don't let you get that close (we started a block away), but you can still see a lot. We took a turn down a nearby street and saw some cars that were covered in a tarp. We got closer and peeked under before a PA could yell at us. It was the Batmobile. Pretty small if you ask me, but very cool. We decide we wanted a close look at the action so we cut through a building to the other side and somehow nobody noticed (they have tons of cops and PA's guarding the area). We got nearer and we saw Katie Holmes in long trenchcoat. The SWAT guys seemed to be guarding her as she ran over a bridge. They did the scene over and over and over again for 3hrs. Chris Klein was also there watching. It was a pretty cool experience. I would encourage anyone else to go. I think they are filming tonite also. I heard a helicopter was supposed to be in the scene.
"CD" sent us the following which might shed some light on the "Bale tripped-out" reports that surfaced recently--
Hi, I have contributed to your website a while back when "Batman Begins" had barely entered production at Shepperton. This is just to address certain things that have been reported on a few of the websites about Christian Bale's unhappiness with the USA shoot.
I chatted to a crew member on the phone today who is with the crew in Chigaco and he said the biggest problem is that the American crew hired for the shoot seem to have little disregard for confidentiality. In [the] UK, a shoot's security is usually watertight and it is evidence of this that there were no pictures of Batman or the cast released that Warner didn't want released. This however seems to be different in USA and to look at it from Bale's point of view--you're working 14 hour days (or nights in this case) and suddenly during a break a crowd [is] allowed to form to chat and take pictures when you are sweaty and not looking your best nor mentally ready.
Word around the camp is that Bale, another cast member, and about 5 principle crew appear to have mild food poisoning. Bale is carrying on for the benefit of the shoot to finish asap and is being aided by his stand-in who is playing Batman for many shots where Bale himself isn't needed. Those photos on SHH are likely to be the stand-in.
My contact is also surprised that the security firm they hired are made up of old guys or don't understand English. It is a terribly difficult time they are having at the moment, things have been stolen from the location like chairs (the ones with the names on them) and food. Lets hope the thieves get food poisoning too.
The main cast like Bale and Oldman are trying to do their best to keep everyone happy but because of the big rehearsal times and script readings eating into the day, the little breaks they have during the night usually consists of a short nap. They are not getting that at the moment thanks to most of the crew and security staff not following instruction.
Maybe you could advise on your site that anyone making regular visits to the set to be a little more considerate and maybe to advise others around them.
Consider it done. So if you are going down to watch filming, keep in mind what the the above scooper said. Adios for now.
The Batsignal!
Sunday, August 8, 2004, 8:41 AM, 1:15 PM, 2:31 PM CST: Yesterday, BOF recieved several reports that Christian Bale was not in a very good mood early Saturday morning. Like 4 or 5 AM early. After filming all night. Hey, I can sort of understand. But I've recieved several reports today that say just the opposite--that he was really cool and nice as hell following filming Saturday night. BOF was told by several witnesses up in Chicago that Bale signed autographs, talked with the fans, and was an all-around cool dude. Just had to get that out there.
(Thanks to "Dave R.," "Troy R.," "Lauri," and ALL of you who sent in those reports!)
The picture below of BEGINS filming last night actually orginated from SHH scooper "typeorocks." BOF was unaware of the origin [BOF believed the sender was the photographer] of the pictures that were sent early this morning, and want to give proper credit where it is due. Anyway, check out the picture below and click HERE to check out his report and other cool pics--



-SHH/"typeorocks"

I believe the picture above shows Gordon (Oldman) in front of the Batsignal, while The Batman (Bale) is off a bit to the right. Keep those Chi-Town reports comming!

Pics of Bale on the set in Chicago, and more!
Saturday, August 7, 2004, 8:36 AM, 1:12 PM, 1:41 PM, 6:07 PM, 8:11 PM, 9:31 PM CST: On August 2nd, BOF confirmed that The Batman would use a grapling gun in BEGINS, and I even described it to you. Well, if you look on the pic below (thanks to scooper "Animatorsone"), you can see it hooked to his untility belt--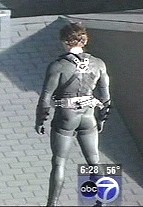 Another set report from Chicago thanks to scooper "Mfdme2"--
I saw all the production crews at Franklin and Lake around 8pm and decided to park and walk over to see if anything was going on. As I walked over, I met a couple of xxxxx employees who said hello (sometimes it's nice to be a woman) and I started talking with them. They were very nice to me and offered me coffee and donuts that were set up for the crew. They offered me a seat as well so I could stay to watch the shoot on the roof top. From the street you couldn't see much, but I thought I would hang around with xxxx employees and see if anyone was going to emerge from the trailers on Lake Street. A few of the trailers were marked. One was clearly marked "Jim Gordon" which I knew was Gary Oldman's trailer. I was not able to figure out which one was Christian Bale's (darn)!
As I sipped on my Diet Pepsi, I saw a man walking toward me. It was GARY OLDMAN!!!! I freaked out! I had enough courage to go up to him while he was getting food from the catering table and say " Mr. Oldman, can I take a picture of you?" He turned and said "Sure!" He was totally in character and very nice!!!!! As I fumbled with my camera out of nervousness, I managed to take a bad picture in the wrong mode without a flash!!! Thank goodness for digital, I was able to salvage some of the picture! After that, I said to Mr. Oldman, "thank you" and then a security guy came over and told me to put my camera away. I had to hide it the rest of the night.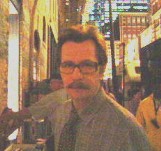 I did not see Christian go into the building, but I was able to get a good view of the production on the roof top from across the street on the tenth floor of the parking garage [see below--Jett]. There they were!!!! Christopher Nolan, Christian Bale and Gary Oldman!!! They were shooting a scene where Christian (who looks very good in the bat suit) climbs down the ladder of the building and then runs across the roof. Then, Christian's stunt double cuts in and jumps up on the air ducts on top of the building. Cool! The only disappointing thing, other than the take after take of the same thing, was that Batman was in a proto-type suit without the bat mask, instead, using a ski mask. Anyway, I had a great time! Hopefully I will have more scoop for you soon!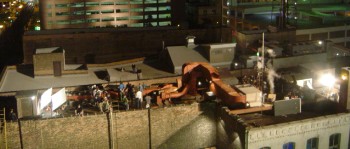 "Chaz," "Ras2005," and "Luise" sent us several links to Chicago's ABC 7 that has some video of Bale--or a stuntman--filming scenes for BEGINS in Chicago. Click HERE to view a slideshow of stills from the video, and HERE for the actual video....
"Jim K." sent in the following set report from Chicago--along with a couple of pics--
I had a chance to get down to tonight's shoot and I have to say, I am - once again - really impressed with the way things are shaping up with BEGINS.
Many of the buildings were lit from the ground up (presumably for the helicopter shots later tonight) and most impressive was the rooftop shoot taking place on Franklin Street. As I made my way across the street to gain the best vantage point, I ran into a few extras in GCPD uniforms. Shortly thereafter, Chris Nolan and Christian Bale showed up on the rooftop (See Bale Pic). I know what scene they were filming but don't want to spoil it for [those who don't want to know].
Bale was wearing a partial version of the bat-suit and a ninja-mask [see pic below--Jett]. They filmed him climbing up a ladder to the rooftop and then set up the next shot, with what looked to be a member of the GCPD.
What really impressed me was the fact that these scenes could very easily have been filmed on a soundstage. The fact that Nolan is going to such lengths to incorporate realism into the film is very promising.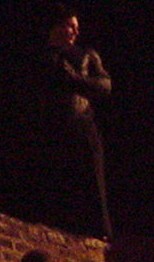 BOF scooper "Simon" sent us the pics below. One is of Gary Oldman (Sgt. Jim Gordon) signing autographs for fans, and the other is of The Batman himself, Christian Bale, climbing a ladder, I believe. Simon also described an incident that took place with an obviously in-a-bad-mood Bale--
| | |
| --- | --- |
| Bale on set in Chicago (click to enlarge) | Gary Oldman in Chi-Town |
BOF recieved some info from two separate sources saying that the Batsignal has been used or will be used during the Chicago shoot. If anyone has more info on this--or has by chance saw the thing--send BOF a report....
"CubsSuck" sent the following report--
Bale was filming in costume, but not the complete Batman uniform. It was a black suit of some sort--no cape or Bat-cowl. He did wear a something that looked like a skimask at times. And I think he was wearing the utility belt. Couldn't get too close as security was tight as hell. I talked to some others who had come downtown to watch filming, and several people said that they have seen Gary Olman.
THE CHICAGO TRIBUNE (free registration) has an article on the BEGINS filming taking place in Chicago. The story also includes a picutre of crew members on a Chicago location set....
SPUDART.ORG has a description and a couple of pics of the Chicago shoot....
A story in the CHICAGO SUN-TIMES says actor Michael Caine (Alfred) was in Chi-Town very briefly to film his scenes--
Actor Michael Caine was in town this weekend shooting scenes in the new Batman movie, where he plays Batman's butler, Alfred. Apparently the butler doesn't have a lot to do. Caine shot his scenes in two days and left town. (Watch for actors Christian Bale and Katie Holmes, who also star in the film, to hit town this week.)
The same newspaper also reports that BEGINS producer Chuck Rovan has been spotted in the Windy City....
"Windy City Gal" sent us the following, which she recieved at her Chicago office--
On the nights of Sunday, August 8th & Monday, August 9th they will be filming in the vicinity with the use of a helicopter. These scenes will be filmed intermittently over the Chicago River between the hours of 7:00pm and 11:00pm.
The following streets will be closed on each of these nights from 7:00pm to 5:00am:
Franklin Street from Randolph to Hubbard.
Wacker Drive from LaSalle to Lake
Warner Bros. is working closely with the Chicago Police Department, the FAA and our office on all aspects of this activity. And while these flights will be kept to a minimum, we do apologize for the inconvenience.
"Brad L." points out that Ken Watanabe's "Ra's Al Ghul" (as shown in the recently released pictures) sports the same forearm guards/gauntlets as The Batman....
"Batcomputer" pointed BOF towards another link to the BEGINS trailer that is of better quality.
(Thanks to Ras2005.")
8/5 BEGINS roundup
Thursday, August 5, 2004, 8:50 PM CST: "Chaz" sent BOF the heads up that David Goyer--screenwriter of BATMAN BEGINS--will be appearing at Wizard World Chicago! And he's there to talk about a little movie he wrote that we're so fired up about....
"Jason H." led us to JAPAN TODAY and another pic of Ken Watanabe as Ra's--that also features Chris Nolan and Christian Bale....
BOF is looking into some news regarding the BEGINS video game and these "cameo" rumors that we've been hearing. Stay tuned....
This has nothig to do with BEGINS, but rather with the new SUPERMAN project in the works. It seems that the fantastic SUPERMAN-V.COM is reporting a rumor that even I've heard whispered--that SMALLVILLE's Tom Welling has been offered the role of Superman. BOF has always taken this news with a grain of salt, but now that S-V.com is reporting it, there must be something to it. It is my opinion (this is Jett writing this), that WARNER BROS. would be making a smart move by offering Welling the job--if true. I'd love to see him get it, and I think that many fans of the S-Man would like to see it as well. A very reliable source told BOF that Welling is apprehensive about taking the gig, as it comes with a lot of baggage. This source also told us that recent drawings of Welling as Superman--by a well known artist--were not just for "fun." There might have been an ulterior motive to their commision. Frankly, I can see why Welling may be apprehensive. It is not as easy of a role as, say, Batman--it must be the mask. Nevertheless, I hope the this rumor is true, and that Welling does accept the job.
8/4 BEGINS roundup
Wednesday, August 4, 2004, 10:03 PM CST: Here is a link to the international trailer for BATMAN BEGINS....
According to SOUNDTRACK.NET, the music in the BEGINS teaser is taken from the soundtrack of Baraka. "Monk with Bell" is music composed by Michael Stearns....
Here is a video clip from Chicago's ABC 7 of the Batmobile in action....
"Simon" sent us several pics of the Batmobile--including the one below of it being either loaded on or off a trailer--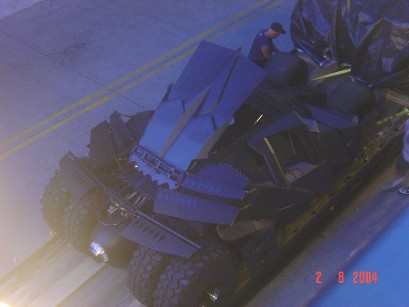 And finally, here is a look at Ken Watanabe as "Ra's Al Ghul" in BATMAN BEGINS.
(Thanks to "Ras2005," Kris, and Gabe for contributing to today's report.)

8/3 BEGINS roundup
Tuesday, August 3, 2004, 9:06 PM CST: The other day, I got an offer to buy a clip of the Batmobile in action in Chi-Town. BOF declined the offer, but the dude did end up sending me a link to the video--but it didn't work. But I believe that this clip is now all over the 'net, and has shown up on AICN (among other places). If you are interested, click on the previous link, or click here...

My man "Jacks" sent in the following report--

I got dowtown around 8pm last night. Lower Wacker is totally blocked, but I managed to get past the squad blocking the exit. At this point I saw nothing but kept walking. After walking about a half mile on Lower Wacker, sure enough I hit it! There was 5 GPD squad cars with the gumballs flashing. All crew members were constructing the set with a dummy stop light at the bottom of the Monroe Entrance to Lower Wacker. I did see Chris Nolan down there but no acotrs. I heard a rumor that Bale was shooting a scene in a black suit with a Rolls Royce on the street earlier that day. I got a tip from a guy on the crew that Monday was going to be the "biggest night" the were crashing squad cars through an iron fence, it is apparentley doubling for the entrance to the Batcave.

After hanging out down on Lower Wacker for about an hour 2 Batmobiles came out, let me be the 9,000th person by saying yes, it is small and it looks and sounds BAD AS HELL!!!!!!!

After that I [went] with everyone else to watch from up above. This was where they were actually ruuning the Batmobile down the ramp followed by two GPD squad cars.

I think perhaps, that "Jacks" may be back with more cool info....

Another Chicago report from "Part Time Hero"--

Just got back from the shoot downtown at 2:00am, which is still going as I write. Tonights shoot was THE BATMOBILE whipping through traffic and more GPD cars chasing. The chase started where on Clark & Jackson. It was great because we go to stand only a few feet from the Batmobile. It started out with a few slow run fews through the traffic and then the crew gathered in the middle of the intersection for 10 minutes before breaking for lunch.

During this time we got brave to walk around the 4 block set, and found ourselves right in the lunching area in the Back of America lobby! Looking down the alleyway they had two Batmobiles parking during the break. After that we went back to our area next to the Federal Building to watch more. When things started to get back together we saw none other than Christoper Nolan (whom my girlfriend said looked particularly GQ in his suit jacket and open white shirt) walking down the street to check on the Batmobile's starting point. Now when they did the next few takes it was fast, the Batmoblie just ripping down Jackson St towards the Chicago Board of Trade, weaving in and out of cars! During these takes Nolan came back down and did a ride along in a SUV that followed the SUV that was filming behind the Batmobile. It was a great time, and ANYONE who had doubts about the tumbler Batmobile, put them to rest. It is great.

"Part Time Hero" also sent some pics that we'll try to get up overnight....

The first Pics of Ra's!! Scooper "NicKSanAndres" sent BOF the following links that you might dig--here, and here. One pic is of Ken Watanabe alone, and the other shows Ken with Chris Nolan and Christian Bale. They were part of a story featured on SANSPO.COMM....

BOF has long heard that there may be some cameos in BEGINS, the biggest rumor having Guy Pearce appearing briefly as Harvey Dent. There are currently MANY rumors saying that there are some big-time cameos in BEGINS. Nothing specific, but legit enough to make you wonder. In addition, there could be something to the 'ol "twist to the twist" rumors. I guess we'll all find out for sure June 17, 2005. Late.

BOF is changing ISP's this coming weekend. There shouldn't be any affect to BOF. And a change in host is coming soon, which will affect us for a few hours. You'll get the heads up when it happens. FYI.
(Thanks to "The Only Woj," "Nick," "Fred," Rob," "Vince," and "Shaun.")

Chicago filming reports, BEGINS video game news, and more!
Monday, August 2, 2004, 9:06 PM CST: Got a few things for you all tonight, so let's get at it....

"K" sends the following report--

Sunday I was just south of the loop on my way home and I decided to take Dearborn north when I noticed they had blocked off a lot of streets that cross Dearborn. I drove around and ended up seeing the Batmobile parked on Jackson Ave and Dearborn. They were filming what appeared to be a chase scene that started at Dearborn and Jackson and ended around Franklin and Jackson. After the filming the Batmobile would then drive up Monroe Street to Clark and then return to the starting point. The cars drove at about 30 mph and there were at least 2-3 GPD cars involved. I could not see where they entered the chase but their flashing lights became evident as the shooting continued down the street.

"Mfdme2" was nice enough to send the following to BOF--

Security is tight! The only thing one can see from the street are the production equipment, trailers of the cast including Christian Bale's, and the location signing for the cast and crew. I approached a few crew members yesterday afternoon. They were wearing production T-shirts from the Nicolas Cage movie which just wrapped up filming in Chicago, "The Weather Man". I asked them if they were getting ready to start shooting Batman. They told be they were sworn to secrecy. I was only able to get one answer out of them and it was that they would be filming into the night and this was going to be a cool shoot!

At 4pm, a white van pulled up to the line of trailers on Franklin Street where a man jumped out to retrieve what looked to be a cast member to bring him to the filming location between Van Buren and Adams street. Unfortunately, I was not able to get a good look at who they were whisking away! I think they are going to do their best to keep this movie under wraps, but I am going to try and get some good shots!

Our scooper did send pics and BOF hopes to have a few up by tomorrow....

"Alex" sent the next one in, that I thought was sort of funny--

I'm from Chicago, and Sat night around 2am, after many drinks, me and my friends wandered to Lower Wacker Drive to see the filming of a scene from "Batman Begins." Of course the people around there referred to it by the working title, "Intimidation Game," but I later got the truth from a lacky working around there.

The scene was of some bombed out corner of Gotham city that featured drunks, hobos and low-lifes wandering the streets and fighting over booze. So, while we didn't get to see any cool action scenes or anything, my drunk friend did manage to vomit on the set of "Batman Begins." And in that, we can all rejoice.

A VERY good source sent BOF more news about the upcoming BATMAN BEGINS video game. It is being developed by UBI SOFT. As reported by BOF previously, Christian Bale is doing voice work for the game, as well as other actors from the film. I haven't got confirmation on the others yet. More about the game as it comes in....

I have had it confirmed to me that The Batman will use a grappling gun/grapnel in the film. And I know what it looks like. It is held like a handgun, and has a thick, but short double barrell that is flat at the end....

"JimCGN" and Chris from BATMAN: YTB has pointed us towards an article about the Batmobile in the NY TIMES....

Here's a pic of a GPD squad car from scooper "Mfdme2"--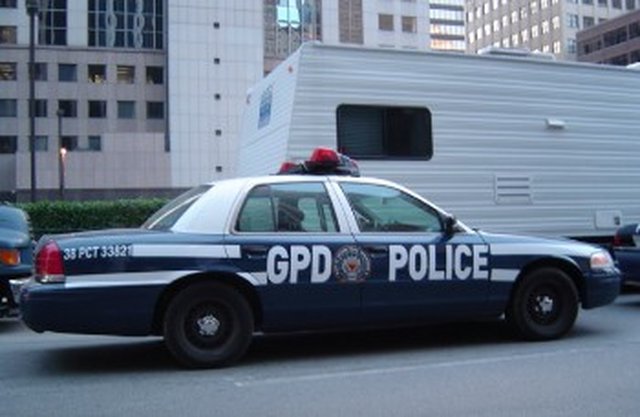 Chicago filming reports and more
Sunday, August 1, 2004, 9:40 AM, 3:03PM, 6:55, & 8:53PM CST: "Justin R." sent the following report about BEGINS filming in Chicago--
Last night a few of my friends and I drove into the city to see if we could catch a glimpse of Batman. While we didn't get to see Batman, we did see some stuff that was pretty amazing.
I got to Lower Wacker Drive between 1:30am-2am. They were letting a few people stand on the sidelines just east of Clark street. I don't know if it was officially sanctioned that we could stand there or not but the P.A. was really cool about it. Around 3, they did some quick filming of a car flipping over (we didn't actually see the car flipping, but the P.A. did say that was what they were doing) and some other quick shots of cops going really fast. The cop cars were the same kind of car most places use now-a-days, I think a Chevy Caprice, except they had "GPD" painted on the side. The middle third of the car was painted green with "GPD" in white.
After that it wasn't until about 4:30 when we saw what we came for--The Batmobile. I have to admit that when I first saw the pictures of it, I was not impressed at all. But, after seeing that beast in action...it really kicks ass.
For about 10 minutes the Batmobile just drove up and down Lower Wacker. After the Batmobile revved its engines a bit, we got to see the highlight of the night--The Batmobile getting chased by Gotham's Finest. They were going at least 40 mph with the camera truck in front of them. Once the shot was done they came back around and drove RIGHT IN FRONT OF US. When I first saw it, it was about 10 or 15 yards away, but when it came back around to set up the shot again, it was no more than 3 feet from me.
It was great. Needless to say I had a pretty exciting night last night and i didn't get home until 6:30.
"Marcel" of DARK FOCUS gave us the heads up regarding an update to Ruger Hauer's official site. The site now has a BATMAN BEGINS section and shows a picture of Hauer as Richard Earl, and another of Hauer with Linus Roache (Thomas Wayne)....
"Ras2005" gave us a heads up to the following link from Chicago's CBS 2. It is a video clip that includes an interview with the head of Illinois Film Department, footage of the locations, footage of crews setting up equipment, and also reveals some new bits of shooting info....
"J" sent BOF the following Chicago report--
Just wanted to give you an update on what's going on here in Chicago....
Checked out Lower Wacker Drive today to find a clean-up crew clearing away what appeared to be lots of garbage and charred wreckage. There was miscellaneous furniture, a bike, car parts, a gas pump, and tons and tons of shredded newspaper--which, from a distance, looked like ash. The on-site security guard confirmed that it was all used in last night's filming.
Unfortunately, I didn't have the camera, but I won't make that same mistake when I check out Tuesday night's shoot. I'll continue to keep you posted.
"Nameheldbyrequest" sent us the following report from Chi-Town--
-Filming took place between Franklin and Wells on Wacker Dr.
-There were 4 batmobiles on set, but there are 5 total.
-We actually saw filming of scenes where the batmobile weaves in and out of traffic on lower Wacker. From watching the filming, it doesn't look like Lower Wacker will be used as the entrance to the Batcave as implied by the Sun Times. It was AWESOME! It looked like it was going about 35-40, and I'm sure they shot it at half speed.
-Filming was being done by a separate crew, but Christopher Nolan showed up later in the night. Unfortunately, I didn't get a shot of him since I ran out of film.
-Also, NBC5 in Chicago actually had a video of the filming this morning. I wasn't fast enough to start recording it, but they only showed close-ups of the Batmobile moving...more like publicity shots.
Our scooper included some pics that BOF will post later today.
BEGINS 7/30 roundup
Saturday, July 31, 2004, 1:54 PM CST: "Chaz" from KATIE HOLMES PICTURES sent BOF the following links regarding the showing of the BEGINS trailer on: EXTRA and ACCESS HOLLYWOOD....
BOF contributor Paul J. Wares sent in the following report:
Jett, here's an excerpt from the new Empire Movie Magazine--
Christian Bale talks the Batsuit; "This one is much more flexible than the others. When you wear this suit, you have to give all or nothing. You're not human anymore. That's the way I think of it when I play Batman. He's more like a creature."
The article includes the same photos that have been previously released and the same spiel from Charles Roven. One interesting addition though, Empire states (re: the cape) "....has a surprising vulnerability in falling out of the sky." An indication of script rewrites perhaps?
Or, it could be more validation of something already in the script....
THE Z REVIEW has a list of BEGINS trailer in various and hi-res formats.
(Thanks to Paul J. Wares, "Nick," and "Chaz.")
BEGINS trailer audience reaction and more
Saturday, July 31, 2004, 6:53 AM CST: BOF asked that you all send in reports of audience reaction, and y'all did--
"I was impressed that every jackball that was fiddling with candy bags, answering cell phones and opening smuggled pop cans shut up. It was complete silence in the theatre. I was towards the back, and the volume was not as high as I would have liked but everyone in that theatre was dead silent. The crowd was old folks and teeny boppers but they all went completely silent and were hanging on Bale's hushed tones. As far as I am concerned that is no small feat."--Joe from Cleveland
"The audience's reaction to the trailer was neither positive nor negative it was just quiet, except for me of course. My sister who lives in a different state saw it as well, and she had the same experience."--Lance
"During the trailer no one really had an idea it was a Bat flick, but at the very end where it shows Bales face in the mask and the Bat logo fade in, I heard some people behind "ahhhh not again" and some in the back [said] "Yeah!!" and clapped. I think just most people didnt understand the full concept that the movie is a re-make sorta. But for the most part, it was a positive response."--Jared
"The reaction of the audience to the teaser recieved an applause and many gasps for over 30 seconds. The whole audience started clapping as soon as the logo appeared at the end of the teaser, it was amazing."--'Animatorsone,' Miami
"The reaction overall was positive. There was some laughing, but most of the audience seemed impressed with it. And yes, it does kick much more ass on the big screen."--'Rafterbat'
"I watched the trailer--and yes it is better on the big screen--the thing I noticed most was the constant chatter and gasps at the end of the trailer once it had finally registered in thier minds."--Anthony, SF Bay Area
"I had heard rumblings of [the trailer] being with The Village, so when that silverly logo flash [on screen], I was excited. Most people didn't know what to make of the whole Michael Caine/kid scene, but when Batman flashed on the screen, about 15-20 people applauded and a good number cheered loudly."--Tommy, Kansas
"The Crowd Reaction though was very minimal. I think it caught a lot of people off guard. There was a little reaction, but nothing too special or exciting. I think once more footage and stuff gets out, and once the teaser hits TV, there will definatly be a big buzz for the movie."--Brian
"When the lights dimmed everyone kept rustling and talking. But then, at the Warner Bros. logo, everyone got quiet. At the end when Batman is revealed, a girl in front of me, about seventeen, whispered, 'Whoa, it's Batman.' No one else said anything, but in this crowd's silence said everything."--Buddy
It seems that the overall reaction was positive. I figured that most people wouldn't know what the hell the movie was until the very end of the teaser. I'm going to see THE VILLAGE tonight, so hopefully it is attatched and I'll get to see some reaction myself. But keep those reports coming in....
Here is another link to the BEGINS trailer....
According to MOVIES.COM's BUZZBIN, BATMAN BEGINS ranks as the #2 most anticipated upcoming movie....
BATMANS.DE gave BOF informed us that they have pulled and posted several pics from the BEGINS trailer.
BEGINS roundup for 7/30/04
Friday, July 30, 2004, 8:31 PM CST: BOF has been getting many reports of the BEGINS teaser that is playing in front of THE VILLAGE. Everyone has been saying the same thing: it kicks ass even more on the big screen. But what I am interested in is what was the audience's reaction to the thing. Any of you BOF'ers who have witnessed this, send us a report....
The CHICAGO SUN TIMES has an article on the BEGINS filming that is taking place in Chi-Town....
Check out this Windy City report--
I work at a XXXX in the loop, a block from tonight's Lower Wacker bat cave shoot, and thought you guys may appreciate a small update on filming this Sunday (most likely the "el" sequences). Sunday August 1 - the filming will take place on Clark Street, Van Buren Street, Wells Street and Adams Street from 1:00 to 4:00 p.m. I'll definitely be ready, camera in hand.
"BMD" sent us the following review of a BEGINS teaser report that took place today on SKY NEWS--
I thought the conversation was ill informed, but it was interesting to see them show the trailer and/or clips from it several times an hour, once every 15 mins...or so for a couple hours...also the 'footer-banners' were kinda interesting...and the fact that this was making a National UK News channel....I mean lots of films open and don't make the news...but this story was newsworthy, yet it was only the release of a trailer for a film not due till next year! July 2005 for UK.
Other official sites--
France
Germany
Spain
Thailand
Remember, send BOF those reports from Chicago--if you see any filming, of course. And any takes on audience response to the BEGINS trailer.
(Thanks to "Ras2005," "Nick," "BMD," "Todd," and "Mary.")
BEGINS trailer is online!
Wednesday, July 28, 2004, 7:12 PM CST: YES!!!! I got all the emails! Thanks by the way. I took a quick break to, ahem, drink a beer, and I came back to about--and I'm not messing with you--five hundred plus emails telling BOF that the BEGINS trailer is now online!! I'll make it easy for now. Just go HERE to the official site and download it. Or go HERE. It is really nice and is exactly like the description that we heard last week. But you HAVE to see it for yourself. Late.
(Thanks to ALL you BOF'ers, "Nabby81," and "EFA" all who sent BOF the news!!)
BEGINS roundup for 7/28
Wednesday, July 28, 2004, 2:34 PM CST: I have recieved several emails from individuals who work at theaters in across the U.S. that the BEGINS trailer is attatched to select prints of THE VILLAGE. One source informed us that it was sent only to the even-numbered theaters in a particular chain. So it seems that if you go and see this film, you've got a 50/50 chance of seeing the Bat-trailer....
Regarding Chicago filming, BOF recieved the following today. This was a memo our source (whose office in downtown Chi-Town) recently recieved--
Warner Bros. Productions wil be filming several scenes fo the upcoming feature film, "The Intimidation Game," on Lower Wacker Drive on the following dates:
*Friday, July 30th -- 7pm-5am *No Thru Traffic
*Saturday, July 31st -- 7pm-5am *No Thru Traffic
PLEASE NOTE: Lower Wacker Drive will be completely CLOSED DOWN between 6pm-5am on the evening of Monday, August 2nd. Parkers WILL NOT be able to EXIT or ENTER the parking garage during these hours.
Remember you Chicago BOF'ers, send us those filming reports....
Here is a casting story that may be of interest.
(Thanks to "Brandon," "Kevin," and "Chris.")
BEGINS round up for 7/27
Tuesday, July 27, 2004, 6:04 PM CST: You can get another nice look at Bale as Batman by clicking here....
BEGINS screenwriter David Goyer talks about BEGINS being grounded in reality more than the previous Bat-films....
Here is a pic of the ET telecast that BOF reported previously....
The rumor out today is that the BATMAN BEGINS trailer will be shown with select prints of THE VILLAGE, which opens this weekend. This news first appeared over at LATINO REVIEW, and is also being reported by CINESCAPE. The latter report also mentions the fact that just like BOF, the website also recieved info from theater managers saying that the BEGINS trailer was going to run with I, ROBOT, until it was pulled at the last minute.
(Thanks to "Chaz," "Jeff," "Scarecrow," "Adam H.," "Nick," and "Jeff."
The Batman
Tuesday, July 27, 2004, 12:50 PM CST: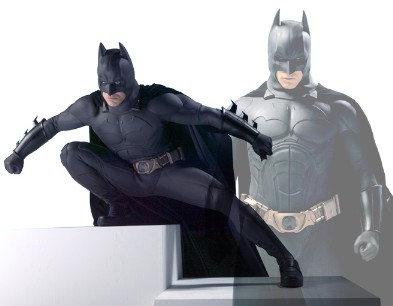 Awesome! (Really "puffy" isn't it?)
(Thanks to "The Scottish Batman.")