8/3 BEGINS roundup
Tuesday, August 3, 2004, 9:06 PM CST: If you are wondering why BOF updates are like, really early in the morning, or later on in the evening, well, there is a reason: I have a job. Not one that I just got mind you, but one I've had for years. So don't worry, the best BATMAN movie news is still found here at BOF. And I'm sure you know this because you are here reading this....

The other day, I got an offer to buy a clip of the Batmobile in action in Chi-Town. BOF declined the offer, but the dude did end up sending me a link to the video--but it didn't work. But I believe that this clip is now all over the 'net, and has shown up on AICN (among other places). If you are interested, click on the previous link, or click here...

My man "Jacks" sent in the following report--

I got dowtown around 8pm last night. Lower Wacker is totally blocked, but I managed to get past the squad blocking the exit. At this point I saw nothing but kept walking. After walking about a half mile on Lower Wacker, sure enough I hit it! There was 5 GPD squad cars with the gumballs flashing. All crew members were constructing the set with a dummy stop light at the bottom of the Monroe Entrance to Lower Wacker. I did see Chris Nolan down there but no acotrs. I heard a rumor that Bale was shooting a scene in a black suit with a Rolls Royce on the street earlier that day. I got a tip from a guy on the crew that Monday was going to be the "biggest night" the were crashing squad cars through an iron fence, it is apparentley doubling for the entrance to the Batcave.

After hanging out down on Lower Wacker for about an hour 2 Batmobiles came out, let me be the 9,000th person by saying yes, it is small and it looks and sounds BAD AS HELL!!!!!!!

After that I [went] with everyone else to watch from up above. This was where they were actually ruuning the Batmobile down the ramp followed by two GPD squad cars.

I think perhaps, that "Jacks" may be back with more cool info....

Another Chicago report from "Part Time Hero"--

Just got back from the shoot downtown at 2:00am, which is still going as I write. Tonights shoot was THE BATMOBILE whipping through traffic and more GPD cars chasing. The chase started where on Clark & Jackson. It was great because we go to stand only a few feet from the Batmobile. It started out with a few slow run fews through the traffic and then the crew gathered in the middle of the intersection for 10 minutes before breaking for lunch.

During this time we got brave to walk around the 4 block set, and found ourselves right in the lunching area in the Back of America lobby! Looking down the alleyway they had two Batmobiles parking during the break. After that we went back to our area next to the Federal Building to watch more. When things started to get back together we saw none other than Christoper Nolan (whom my girlfriend said looked particularly GQ in his suit jacket and open white shirt) walking down the street to check on the Batmobile's starting point. Now when they did the next few takes it was fast, the Batmoblie just ripping down Jackson St towards the Chicago Board of Trade, weaving in and out of cars! During these takes Nolan came back down and did a ride along in a SUV that followed the SUV that was filming behind the Batmobile. It was a great time, and ANYONE who had doubts about the tumbler Batmobile, put them to rest. It is great.

"Part Time Hero" also sent some pics that we'll try to get up overnight....

Scooper "NicKSanAndres" sent BOF the following links that you might dig--here, and here....

BOF has long heard that there may be some cameos in BEGINS, the biggest rumor having Guy Pearce appearing briefly as Harvey Dent. There are currently MANY rumors saying that there are some big-time cameos in BEGINS. Nothing specific, but legit enough to make you wonder. In addition, there could be something to the 'ol "twist to the twist" rumors. I guess we'll all find out for sure June 17, 2005. Late.

BOF is changing ISP's this coming weekend. There shouldn't be any affect to BOF. And a change in host is coming soon, which will affect us for a few hours. You'll get the heads up when it happens. FYI.
(Thanks to "The Only Woj," "Nick," "Fred," Rob," "Vince," and "Shaun.")

Chicago filming reports, BEGINS video game news, and more!
Momday, August 2, 2004, 9:06 PM CST: Got a few things for you all tonight, so let's get at it....

"K" sends the following report--

Sunday I was just south of the loop on my way home and I decided to take Dearborn north when I noticed they had blocked off a lot of streets that cross Dearborn. I drove around and ended up seeing the Batmobile parked on Jackson Ave and Dearborn. They were filming what appeared to be a chase scene that started at Dearborn and Jackson and ended around Franklin and Jackson. After the filming the Batmobile would then drive up Monroe Street to Clark and then return to the starting point. The cars drove at about 30 mph and there were at least 2-3 GPD cars involved. I could not see where they entered the chase but their flashing lights became evident as the shooting continued down the street.

"Mfdme2" was nice enough to send the following to BOF--

Security is tight! The only thing one can see from the street are the production equipment, trailers of the cast including Christian Bale's, and the location signing for the cast and crew. I approached a few crew members yesterday afternoon. They were wearing production T-shirts from the Nicolas Cage movie which just wrapped up filming in Chicago, "The Weather Man". I asked them if they were getting ready to start shooting Batman. They told be they were sworn to secrecy. I was only able to get one answer out of them and it was that they would be filming into the night and this was going to be a cool shoot!

At 4pm, a white van pulled up to the line of trailers on Franklin Street where a man jumped out to retrieve what looked to be a cast member to bring him to the filming location between Van Buren and Adams street. Unfortunately, I was not able to get a good look at who they were whisking away! I think they are going to do their best to keep this movie under wraps, but I am going to try and get some good shots!

Our scooper did send pics and BOF hopes to have a few up by tomorrow....

"Alex" sent the next one in, that I thought was sort of funny--

I'm from Chicago, and Sat night around 2am, after many drinks, me and my friends wandered to Lower Wacker Drive to see the filming of a scene from "Batman Begins." Of course the people around there referred to it by the working title, "Intimidation Game," but I later got the truth from a lacky working around there.

The scene was of some bombed out corner of Gotham city that featured drunks, hobos and low-lifes wandering the streets and fighting over booze. So, while we didn't get to see any cool action scenes or anything, my drunk friend did manage to vomit on the set of "Batman Begins." And in that, we can all rejoice.

A VERY good source sent BOF more news about the upcoming BATMAN BEGINS video game. It is being developed by UBI SOFT. As reported by BOF previously, Christian Bale is doing voice work for the game, as well as other actors from the film. I haven't got confirmation on the others yet. More about the game as it comes in....

I have had it confirmed to me that The Batman will use a grappling gun/grapnel in the film. And I know what it looks like. It is held like a handgun, and has a thick, but short double barrell that is flat at the end....

"JimCGN" and Chris from BATMAN: YTB has pointed us towards an article about the Batmobile in the NY TIMES....

Here's a pic of a GPD squad car from scooper "Mfdme2"--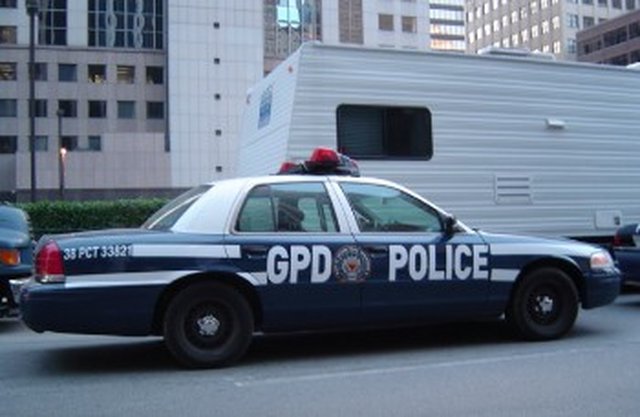 Chicago filming reports and more
Sunday, August 1, 2004, 9:40 AM, 3:03PM, 6:55, & 8:53PM CST: "Justin R." sent the following report about BEGINS filming in Chicago--
Last night a few of my friends and I drove into the city to see if we could catch a glimpse of Batman. While we didn't get to see Batman, we did see some stuff that was pretty amazing.
I got to Lower Wacker Drive between 1:30am-2am. They were letting a few people stand on the sidelines just east of Clark street. I don't know if it was officially sanctioned that we could stand there or not but the P.A. was really cool about it. Around 3, they did some quick filming of a car flipping over (we didn't actually see the car flipping, but the P.A. did say that was what they were doing) and some other quick shots of cops going really fast. The cop cars were the same kind of car most places use now-a-days, I think a Chevy Caprice, except they had "GPD" painted on the side. The middle third of the car was painted green with "GPD" in white.
After that it wasn't until about 4:30 when we saw what we came for--The Batmobile. I have to admit that when I first saw the pictures of it, I was not impressed at all. But, after seeing that beast in action...it really kicks ass.
For about 10 minutes the Batmobile just drove up and down Lower Wacker. After the Batmobile revved its engines a bit, we got to see the highlight of the night--The Batmobile getting chased by Gotham's Finest. They were going at least 40 mph with the camera truck in front of them. Once the shot was done they came back around and drove RIGHT IN FRONT OF US. When I first saw it, it was about 10 or 15 yards away, but when it came back around to set up the shot again, it was no more than 3 feet from me.
It was great. Needless to say I had a pretty exciting night last night and i didn't get home until 6:30.
"Marcel" of DARK FOCUS gave us the heads up regarding an update to Ruger Hauer's official site. The site now has a BATMAN BEGINS section and shows a picture of Hauer as Richard Earl, and another of Hauer with Linus Roache (Thomas Wayne)....
"Ras2005" gave us a heads up to the following link from Chicago's CBS 2. It is a video clip that includes an interview with the head of Illinois Film Department, footage of the locations, footage of crews setting up equipment, and also reveals some new bits of shooting info....
"J" sent BOF the following Chicago report--
Just wanted to give you an update on what's going on here in Chicago....
Checked out Lower Wacker Drive today to find a clean-up crew clearing away what appeared to be lots of garbage and charred wreckage. There was miscellaneous furniture, a bike, car parts, a gas pump, and tons and tons of shredded newspaper--which, from a distance, looked like ash. The on-site security guard confirmed that it was all used in last night's filming.
Unfortunately, I didn't have the camera, but I won't make that same mistake when I check out Tuesday night's shoot. I'll continue to keep you posted.
"Nameheldbyrequest" sent us the following report from Chi-Town--
-Filming took place between Franklin and Wells on Wacker Dr.
-There were 4 batmobiles on set, but there are 5 total.
-We actually saw filming of scenes where the batmobile weaves in and out of traffic on lower Wacker. From watching the filming, it doesn't look like Lower Wacker will be used as the entrance to the Batcave as implied by the Sun Times. It was AWESOME! It looked like it was going about 35-40, and I'm sure they shot it at half speed.
-Filming was being done by a separate crew, but Christopher Nolan showed up later in the night. Unfortunately, I didn't get a shot of him since I ran out of film.
-Also, NBC5 in Chicago actually had a video of the filming this morning. I wasn't fast enough to start recording it, but they only showed close-ups of the Batmobile moving...more like publicity shots.
Our scooper included some pics that BOF will post later today.
BEGINS 7/30 roundup
Saturday, July 31, 2004, 1:54 PM CST: "Chaz" from KATIE HOLMES PICTURES sent BOF the following links regarding the showing of the BEGINS trailer on: EXTRA and ACCESS HOLLYWOOD....
BOF contributor Paul J. Wares sent in the following report:
Jett, here's an excerpt from the new Empire Movie Magazine--
Christian Bale talks the Batsuit; "This one is much more flexible than the others. When you wear this suit, you have to give all or nothing. You're not human anymore. That's the way I think of it when I play Batman. He's more like a creature."
The article includes the same photos that have been previously released and the same spiel from Charles Roven. One interesting addition though, Empire states (re: the cape) "....has a surprising vulnerability in falling out of the sky." An indication of script rewrites perhaps?
Or, it could be more validation of something already in the script....
THE Z REVIEW has a list of BEGINS trailer in various and hi-res formats.
(Thanks to Paul J. Wares, "Nick," and "Chaz.")
BEGINS trailer audience reaction and more
Saturday, July 31, 2004, 6:53 AM CST: BOF asked that you all send in reports of audience reaction, and y'all did--
"I was impressed that every jackball that was fiddling with candy bags, answering cell phones and opening smuggled pop cans shut up. It was complete silence in the theatre. I was towards the back, and the volume was not as high as I would have liked but everyone in that theatre was dead silent. The crowd was old folks and teeny boppers but they all went completely silent and were hanging on Bale's hushed tones. As far as I am concerned that is no small feat."--Joe from Cleveland
"The audience's reaction to the trailer was neither positive nor negative it was just quiet, except for me of course. My sister who lives in a different state saw it as well, and she had the same experience."--Lance
"During the trailer no one really had an idea it was a Bat flick, but at the very end where it shows Bales face in the mask and the Bat logo fade in, I heard some people behind "ahhhh not again" and some in the back [said] "Yeah!!" and clapped. I think just most people didnt understand the full concept that the movie is a re-make sorta. But for the most part, it was a positive response."--Jared
"The reaction of the audience to the teaser recieved an applause and many gasps for over 30 seconds. The whole audience started clapping as soon as the logo appeared at the end of the teaser, it was amazing."--'Animatorsone,' Miami
"The reaction overall was positive. There was some laughing, but most of the audience seemed impressed with it. And yes, it does kick much more ass on the big screen."--'Rafterbat'
"I watched the trailer--and yes it is better on the big screen--the thing I noticed most was the constant chatter and gasps at the end of the trailer once it had finally registered in thier minds."--Anthony, SF Bay Area
"I had heard rumblings of [the trailer] being with The Village, so when that silverly logo flash [on screen], I was excited. Most people didn't know what to make of the whole Michael Caine/kid scene, but when Batman flashed on the screen, about 15-20 people applauded and a good number cheered loudly."--Tommy, Kansas
"The Crowd Reaction though was very minimal. I think it caught a lot of people off guard. There was a little reaction, but nothing too special or exciting. I think once more footage and stuff gets out, and once the teaser hits TV, there will definatly be a big buzz for the movie."--Brian
"When the lights dimmed everyone kept rustling and talking. But then, at the Warner Bros. logo, everyone got quiet. At the end when Batman is revealed, a girl in front of me, about seventeen, whispered, 'Whoa, it's Batman.' No one else said anything, but in this crowd's silence said everything."--Buddy
It seems that the overall reaction was positive. I figured that most people wouldn't know what the hell the movie was until the very end of the teaser. I'm going to see THE VILLAGE tonight, so hopefully it is attatched and I'll get to see some reaction myself. But keep those reports coming in....
Here is another link to the BEGINS trailer....
According to MOVIES.COM's BUZZBIN, BATMAN BEGINS ranks as the #2 most anticipated upcoming movie....
BATMANS.DE gave BOF informed us that they have pulled and posted several pics from the BEGINS trailer.
BEGINS roundup for 7/30/04
Friday, July 30, 2004, 8:31 PM CST: BOF has been getting many reports of the BEGINS teaser that is playing in front of THE VILLAGE. Everyone has been saying the same thing: it kicks ass even more on the big screen. But what I am interested in is what was the audience's reaction to the thing. Any of you BOF'ers who have witnessed this, send us a report....
The CHICAGO SUN TIMES has an article on the BEGINS filming that is taking place in Chi-Town....
Check out this Windy City report--
I work at a XXXX in the loop, a block from tonight's Lower Wacker bat cave shoot, and thought you guys may appreciate a small update on filming this Sunday (most likely the "el" sequences). Sunday August 1 - the filming will take place on Clark Street, Van Buren Street, Wells Street and Adams Street from 1:00 to 4:00 p.m. I'll definitely be ready, camera in hand.
"BMD" sent us the following review of a BEGINS teaser report that took place today on SKY NEWS--
I thought the conversation was ill informed, but it was interesting to see them show the trailer and/or clips from it several times an hour, once every 15 mins...or so for a couple hours...also the 'footer-banners' were kinda interesting...and the fact that this was making a National UK News channel....I mean lots of films open and don't make the news...but this story was newsworthy, yet it was only the release of a trailer for a film not due till next year! July 2005 for UK.
Other official sites--
France
Germany
Spain
Thailand
Remember, send BOF those reports from Chicago--if you see any filming, of course. And any takes on audience response to the BEGINS trailer.
(Thanks to "Ras2005," "Nick," "BMD," "Todd," and "Mary.")
BEGINS trailer is online!
Wednesday, July 28, 2004, 7:12 PM CST: YES!!!! I got all the emails! Thanks by the way. I took a quick break to, ahem, drink a beer, and I came back to about--and I'm not messing with you--five hundred plus emails telling BOF that the BEGINS trailer is now online!! I'll make it easy for now. Just go HERE to the official site and download it. Or go HERE. It is really nice and is exactly like the description that we heard last week. But you HAVE to see it for yourself. Late.
(Thanks to ALL you BOF'ers, "Nabby81," and "EFA" all who sent BOF the news!!)
BEGINS roundup for 7/28
Wednesday, July 28, 2004, 2:34 PM CST: I have recieved several emails from individuals who work at theaters in across the U.S. that the BEGINS trailer is attatched to select prints of THE VILLAGE. One source informed us that it was sent only to the even-numbered theaters in a particular chain. So it seems that if you go and see this film, you've got a 50/50 chance of seeing the Bat-trailer....
Regarding Chicago filming, BOF recieved the following today. This was a memo our source (whose office in downtown Chi-Town) recently recieved--
Warner Bros. Productions wil be filming several scenes fo the upcoming feature film, "The Intimidation Game," on Lower Wacker Drive on the following dates:
*Friday, July 30th -- 7pm-5am *No Thru Traffic
*Saturday, July 31st -- 7pm-5am *No Thru Traffic
PLEASE NOTE: Lower Wacker Drive will be completely CLOSED DOWN between 6pm-5am on the evening of Monday, August 2nd. Parkers WILL NOT be able to EXIT or ENTER the parking garage during these hours.
Remember you Chicago BOF'ers, send us those filming reports....
Here is a casting story that may be of interest.
(Thanks to "Brandon," "Kevin," and "Chris.")
BEGINS round up for 7/27
Tuesday, July 27, 2004, 6:04 PM CST: You can get another nice look at Bale as Batman by clicking here....
BEGINS screenwriter David Goyer talks about BEGINS being grounded in reality more than the previous Bat-films....
Here is a pic of the ET telecast that BOF reported previously....
The rumor out today is that the BATMAN BEGINS trailer will be shown with select prints of THE VILLAGE, which opens this weekend. This news first appeared over at LATINO REVIEW, and is also being reported by CINESCAPE. The latter report also mentions the fact that just like BOF, the website also recieved info from theater managers saying that the BEGINS trailer was going to run with I, ROBOT, until it was pulled at the last minute.
(Thanks to "Chaz," "Jeff," "Scarecrow," "Adam H.," "Nick," and "Jeff."
The Batman
Tuesday, July 27, 2004, 12:50 PM CST: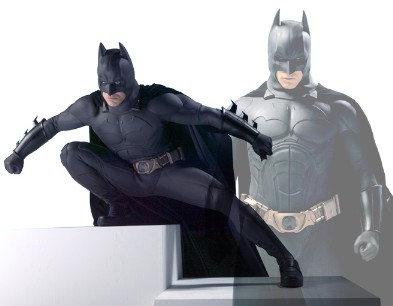 Awesome! (Really "puffy" isn't it?)
(Thanks to "The Scottish Batman.")
BATMAN BEGINS hits Chi-Town!
Tuesday, July 27, 2004, 8:30 AM CST: BOF has been informed that BATMAN BEGINS will be filming in Chicago over the next three weeks. The Chi-Town shoot will consist mostly of exteriors. Take a look at past BOF news, where you can read about the various locations filming will take place in Chicago. In particular, the Helene Curtis plant and Lower Wacker Drive has been mentioned. If you are in Chicago and happen to come across any Bat-filming, or if you were chosen to be an extra, BOF wants to hear about it! So make sure to send us those Windy City BEGINS reports....
ENTERTAINMENT TONIGHT briefly mentioned BATMAN BEGINS during their July 26th edition. They interviewed Katie Holmes on the set of her new film FIRST DAUGHTER, and mentioned that one time Batman Micheal Keaton is playing her father in the film. The report then said that Katie is now filming BATMAN BEGINS with new Batman Christian Bale. ET also showed a picture of Bale as Bruce Wayne and the BEGINS logo....
AICN ran a short report regarding Chicago filming in their 7/27/04 update.
Misc. BEGINS news for 7/26/04
Monday, July 26, 2004, 7:17 AM & 4:31 PM CST: Yet another rundown of the BEGINS presentation from this past weekend from THE COMICS CONTINUUM. Here are a few blurbs--
Nolan: "We're just having a great time telling the story of Bruce Wayne's journey to becoming Batman. It's something that hasn't been seen before, and we're very excited about addressing an aspect of this great character that hasn't been done on film before."
Bale:: "It is a great character, and Chris and David have done a fantstic job of transferring from comic book to screen and giving the character the complexity it deserves."
Goyer: "We turned in the script, and they green lit. We turned in the designs for the Batmobile, they green lit it. They back Chris on every single casting decision, I mean every single decision. They told Chris early on, cast whoever you think is best for the movie, the movie is bigger than any star. They never said, here's our list of approved people."
Regarding continuity: "In a sense, it's a prequel. It takes place 10 years or so before the other films started. I guess it's the cinematic equivalent of a reboot, in comic-book terminology. The intent is that when this film finishes, you could revisit that sort of rogue's gallery of villains. The previous four films are kind of like their own take. And this is a different one."
Regarding a sequel: "In terms of there being a second Batman film for this iteration, it ends in such a way that the next movie you might see where it's going. That's all I can say. It has a completely satisfying conclusion, but we were aware ... we just wanted to make sure we didn't step on any toes for any future characters. The pieces are in place if Chris or Warner Bros. or anybody else wants to run with it. It's definitely there. But, no, I'm not working on a sequel right now...."
DARK HORIZONS has a great BEGINS at CCI recap. Click here to check it out....
I do agree with DH in that WB missed an oppertunity with BEGINS this past weekend in San Diego. People are chomping at the bit to see the trailer. If it is indeed attatched to AvP as strongly rumored, I'd release it online a few days prior if it was up to me....
BOF has been told that post production on BEGINS will start sometime in September in London. More than one company is involved....
BEGINS theater sound info can be found here.
("Ras2005" and "Nick" contributed to this report.)
Goyer, Murphy speak BEGINS, part 2. Nolan, Bale video from Gotham!
Sunday, July 25, 2004, 6:26 PM CST: A trusted BOF scooper informed us that the setting of the Chris Nolan/Christian Bale video shown at CCI was actually Gotham City. "[The background of the video] is obviously the Cardington Airship Hanger set of Gotham City" says our source. "Bleak, dark atmosphere--enough Gotham City for ya?" He even told us where Gotham the video was filmed. "What your seeing is the neighborhood called 'The Narrows," [which is] the area that Arkham Asylum is located." Just something to give you an idea of what Gotham will look like....
Here is a link to a CBR rundown of the BEGINS presentation from this past Friday that took place at CCI. Nothing new really, but it is a good recap of the presentation.
BEGINS changes?
Saturday, July 24, 2004, 9:22 PM CST: So, who is Faden? Dawes? A few possible changes perhaps?
BATMAN Comic-Con reports
Saturday, July 24, 2004, 7:22 AM CST: I have a couple of reports from BOF readers who were at the convention yesterday. But first, I'll summerize what most have told me. Seems that not much went down. You had David Goyer (screenwriter) and Cillian Murphy (Dr. Jonathan Crane/The Scarecrow) attending and taking questions. A video featuring BEGINS Christian Bale and director Chris Nolan was shown in which they said they were sorry for not being able to attend. The trailer was not show, which seems to be what disappointed everyone the most. Murphy and Goyer were available for autographs and pictures after the Q&A. Here are a few blurbs from BOF readers who attended--
"There was NO TEASER TRAILER that everyone thought would be finally revealed at the Con, but no, didn't happen! The announcer said right away that they don't have any film footage to show us, but instead they showed us a video from Bale and Nolan apologizing for not being here....but it would be pointless [to decribe it to you] because this presentation was pointless. The people asked stupid questions and Goyer looked irritated and Murphy was bored--he barely said anything. The whole thing was over in 15 or 20 minutes...."
Here's another one--
"First, they played a video welcome from Chris Nolan and Christian Bale from what appeared to be the set of Batman Begins. Bale, for some reason, seemed completely out of it during his video comments. Both apologized for not being there.
Then they introduced Goyer and Murphy. Goyer got almost all of the questions and Bat-fans in general prefaced every question with their displeasure over the first four movies. Goyer addressed that issue by saying the following: 'Chris (Nolan) and I were very surprised by how WB let us do whatever we wanted. As for casting, they told us to get whoever we wanted; the Batmobile was whatever we wanted it to be. They didn't interfere at all; we got whatever we wanted.' Goyer went on to say that, 'the movie is influenced by "Batman: Year One" and "Dark Victory," but is much broader in scope.'
As to the question of what The Scarecrow looked like (the question asked by the kid), Murphy was quick to say that he was very limited to what he could talk about and Goyer then jumped in to say that he was monitoring what Murphy had to say. I'm not sure how the others who wrote in saw it, but my impression was that they were trying to hold back on what they both felt was the best BATMAN production ever. Goyer went on to say, 'When I first saw The Scarecrow costume I was with someone else and that person said, "Whoa, that's f_cked up."'
As for The Batmobile, Goyer said, 'it was not a cool design model that was just plugged into the film - the nature of the Batmobile is based the story, and what the Batmobile needs to be in the story. Don't worry."'
As to what this means in terms of a BATMAN series continuation, Goyer made it clear that all of the 'rogues gallery' was available to be used in a sequel and that the previous BATMAN movies were just one take on the story.
For the most part, Goyer dispelled all our fears by saying that he knew how [all the fans] felt about other BATMAN films and that this was the one.
This second reports seems to confirm what our scooper "Mysterious Bat" told us a few months ago--that the Scarecrow mask/costume was pretty damn disturbing. Oh, speaking of The Scarecrow, click here to check out the first publicity still of Cillian Murphy as Dr. Jonathan Crane....

Cillian Murphy as Dr. Jonathan Crane
(via LATINO REVIEW)
Since BOF serves as a voice for the Batman fans out there, they have requested (via numerous emails) we get a message to Warner Brothers: "WE WANT TO SEE THE TRAILER!" With that said, BOF is pretty sure that it will made available this summer--perhaps with AvP in a few weeks.
(Thanks to "Kris," "Miguel," Sirmcdisnutz," Nick," "Myles 'O Boogie," and "Adam.")
And here's the first "stay tuned"
Friday, July 23, 2004, 10:09 PM CST: Check it out (from "A.H.")--
I was at the panel today and read the article you posted about Cillian's question. It was actually quite funny. The kid that asked [that question] was probably like 12 or something, and he said. "So what does the Scarecrow costume look like? Is it like the old cartoon with the big retarded hat and red sweater, or like the new one with the retarted skull face being hung by the rope?" Cillian was like... uhhh... Well, I can't really say but...." And David was like, "I'm his sensor. All we can say is that you really see why he's called SCAREcrow." Later on when they were signing autographs, I asked David Goyer when we would see the 1st teaser, and he said most likely next month. So, those 'Alien vs. Predator' rumors may be true. And Cillian finished filming on Monday.
A bit 'O BEGINS news
Friday, July 23, 2004, 9:17 PM CST: It has been unexpectantly quiet today regarding BEGINS news from out west in San Diego. Perhaps just a bone or two from WB about our beloved upcoming Bat-film. But I did stumble upon this article, thanks to "Joe Mamma." Here's a bit of it--
"Comic Con has become THE place to initially mount a campaign, whether it's a comic book announcement, a video game or a genre film," said David Goyer, the screenwriter of the upcoming "Batman Begins," and writer-director of "Blade: Trinity," the third in the vampire-hunter saga.
Goyer said it was especially important to tout "Batman Begins" which he did, along with actor Cillian Murphy, who plays the villain Scarecrow, at a panel discussion attended by more than 6,000 people Friday afternoon. "I think had we not had a presence here it would have been a glaring omission," Goyer told a reporter. "First and foremost, everyone would have said, 'Are they trying to hide something?'"
As it turns out, they did - one of the first questions fans asked Murphy was, what does Scarecrow look like? The filmmakers had banned him from answering that one.
As I used to say, stay tuned....
More BEGINS merchandise news
Friday, July 23, 2004, 5:57 AM CST: Matt from LEGIONS OF GOTHAM was nice enough to contact BOF and gives us the heads up on the following. MONOGRAM INTERNATIONAL will be producing products for BATMAN BEGINS along with the others previously mentioned here on BOF. He says he knows specifically of a "Tumbler Batmobile Bank" that is cool as hell. More info on this line of products as it is recieved....
Stay tuned to BOF for news about the Warner Brothers presentation at the SAN DIEGO COMIC-CON today. BOF has a few "reporters" there ready to give us all the lowdown about what goes down with BEGINS there this afternoon....
Is is REALLY this bad?
Misc. BEGINS news for July 22nd
Thursday, July 22, 2004, 7:44 AM CST: Various BEGINS odds and ends this morning, so let's get cracking....
The release date in France is July 6, 2005. The release date in Brazil has been changed to June 17, 2005....
Cast updates: Morne Botes is a "Clubber," Charlie Kranz in an unspecified role, and Andrew Houghton is a "waiter." And is Larry Holden in this film after all? This article mentions that he is in....
THE EVENING TIMES has a great article on the boom of the superhero film. Of course, BATMAN BEGINS is mentioned--
Gary Oldman...is currently filming 'Batman Begins.' The film covers the first year of Batman's life as a superhero with Christian Bale as Batman and Oldman as Lieutenant James Gordon, who becomes his friend and trusted ally.
The cast of "Batman Begins" also includes Liam Neeson, Michael Caine and Morgan Freeman and is directed by Christopher Nolan, who made "Memento" and "Insomnia."
"He [Nolan] really wanted to make this film," says Oldman. "In fact he wanted it so badly he was prepared to cut his salary."
Avi Arad [MARVEL FILMS head honcho] is not surprised that Nolan was so keen, and he can understand why.?
Here's a blurb regarding the toys that will be associated with BATMAN BEGINS--
In summer 2005, Warner Bros. releases the live action film 'Batman Begins' and Gilmore tells PLAYTHINGS that Mattel will be the master toy partner. "Look for the complete line of 'Batman' movie products. There will be a highly posable large-figure Batman and some action-packed powered vehicles," she says. Other key partners include Thinkway Toys for role-play and Art Asylum for construction toys.
Check out the following links from Warner Consumer Products UK. I think you'll dig 'em: 1, 2, 3, 4, 5, 6, and 7....
THE DAILY HERALD has info on the Illinois/Chicago shoot, which confirms BOF s previous scoop (from July 14th) about filming on a stretch of highway in Waukegan....
I'm going to say ONE THING only about CATWOMAN. BOF didn't cover this film as it was made clear very early that it would have nothing to do with Batman (and it not a bad thing). But I've kept up with it to a certain extent. And now, it is a day away from wide release. I've been reading the reviews, and well, uh, I'm sure you all have read them as well. When a film is compared to a certain superhero film that hit theaters in June of '97, you know all is not well. My only hope is that people don't let this film influence them when it comes to next summer's BATMAN BEGINS. If you are a regular reader of this site, I know that it won't. If you are average Joe mover goer who has somehow stumbled upon this site, let me assure you that BEGINS will NOTHING like this CATWOMAN. Don't be misled, Warner Bros. has got it right with this new BATMAN film. Trust me.
(Thanks to "Ras2005"--for the heads up for much of this report--and "Chaz.")
Bale and Freeman making a road trip?
Tuesday, July 20, 2004, 9:19 PM CST: Now I've heard this in the past--about Christian Bale--but never could get it confirmed. Nothing but rumor. However this site (IESB.NET) is running a headline saying that Christian Bale and Morgan Freeman will be appearing at the SAN DIEGO COMIC-CON this weekend. I wouldn't in the least be surprised if it pans out....
Someone who asked to remain anonymous emailed BOF to say that there will be a screening of THE MACHINIST, starring Christian Bale, at the SAN DIEGO COMIC-CON. The viewing will take place on Friday, July 23rd at 10pm at Pacific's Gaslamp Stadium located at 5th Ave at G Street. I've heard the Bale kicks ass in this film, so if you are going, check it out....
I know you all love BOF. Hell, I love running BOF and I want it to continue. We've got at least two sequels, I figure, that we got to make sure they get right--you know what I'm saying? And BOF is more successful than ever, as we are getting tens of thousands of hits everyday. With that success, comes the cost--and it is kicking up a notch (bandwith is a sonofabitch!). So if you get a chance, please give the various ads and the BOF STORES a look. And donating a buck always helps as well. Thank you very much to all of you who shop at BOF and/or contribute. Also, if you run a website hosting company and would be interested in working with BOF, hit us with an email at BatmanMovieNews@msn.com....
You all who are heading out to San Diego, make sure you hit BOF with an email and let us know what is happening--particularly this coming Friday. Late.
The description of the BEGINS trailer?
Monday, July 19, 2004, 7:28 AM CST: AIN'T IT COOL NEWS has scored what its scooper says is a description of the BATMAN BEGINS trailer. The scooper says that it's look is "raw & bleak," much like Nolan's INSOMNIA. Anyway, sounds very good--
The silvery Warner Brothers Logo appears (like the HARRY POTTER one).
(Christian Bale's voice narrates the trailer in a raspy, low voice)
* "They told me there was nothing out there."
A low angle shot tracking in front of a bleak rainswept wayne manor. It appears to be a wake. A few people mill about with black umbrellas.
*"They told me there was nothing to fear."
Shot of Alfred (Caine) with an umbrella, standing in the rain with a young Bruce next to him.
* Low angle shot looking up from the bottom of a well. A silhouetted young boy falls through the boarded up opening, he drops down towards the camera, debris flying about him.
* Back to close up of small boy in the rain next to Alfred.
"But the night my parents were murdered I caught a glimpse of something..."
*Flash cut to a terrified young Bruce cowering in terror, he is partially splattered in blood.
*"...I've looked for it ever since" - an adult Bruce walks slowly along a rainy dock looking out over the ocean. Fades out.
*Shot of a rugged Iceland mountain range.
*Bruce's lonely figure climbs to the top of a snowy mountain range and begins to walk down the other side towards a lonely settlement.
*"I went around the world, searched in all the shadows..."
In the barren, icey tundra Bruce enters what looks like a tibetan village, it's desolate, run down, delapidated.
*"...and there is something out there in the darkness."
In a blizzard, Bruce climbs a stone stairway to a hilltop monastery.
Bruce enters the monastery in a shot similar to Aragorn entering King Theodan's keep at Helm's deep in The Two Towers - pushing two massive doors open, light shafts in etc.
*"...that will not stop until it gets revenge."
A feral looking Bruce sits in a dungeon-ike room, he's dishevelled, dirty.
A shadowy figure moves towards him - we do not see it's face - Bruce's head snaps around to see the assailant - the music climaxes - cut to black -there is a long pause...
*Shot of Christian Bale's face , he says:
"ME."
There is a flash frame of the picture we've already seen - a brooding, costumed Batman in dramatic lighting -cuts to black - out of the blackness comes the rust coloured, revamped Bat logo - no title - it says "SUMMER 2005."
Real? We'll see soon enough. Different than the earlier "description" brought to you by BOF, but with some similarities--namely the scenes that show Bruce in the snowy mountains areas. Perhaps it was a very rough cut, with this one being the (almost) finished product. Or maybe it was complete BS. Anyway, I'm pretty sure that the trailer will be shown at the SAN DIEGO COMIC CON this weekend. It should also be seen in theaters sometime before the end of summer, and of course it'll be online before you know it.
(Thanks to "George," "Colin," and "MLRJR16" for the lead.)....
The Globe and Mail have a new article on the new boxoffice fight between Marvel and DC. It includes quotes from Avi Arad and others on BATMAN BEGINS, plus the other new movies based on comic books....
Another cast update: Bev Lillywhite is playing a "Board Member," Freedom Eche is playing a "Policeman," and Derek Yardley is playing an "Opera Buff"....
More international release dates:
Australia-June 23, 2005 Czech Republic-July 28, 2005 Romania-July 8, 2005 Ukraine-August 4, 2005
The local newspaper Bedfordshire Sunday has a new report on the Cardington shoot, including a new setpic....
The Swiss movie magazine Out Now has several hi-res pics from BEGINS. Nothing new however.
(Thanks to "Ras2005" for help with some of the info in this report.)....
I heard this a few weeks ago, but BOF has now recieved further confirmation from two other unrelated sources that this may in fact be true. It seems that Christian Bale is doing voice work as Bruce Wayne/The Batman for the BATMAN BEGINS video game. No word on what other cast members may be doing the same....
IGN FILMFORCE has obtained seveal more "spy pics" of the BATMAN BEGINS Batmobile, aka "The Tumbler." Click on the previous link to view them.
(Thanks to "Nick" for the heads up on The Tumbler.)
Another BEGINS script review
Sunday, July 18, 2004, 4:51 PM CST: COMICS 2 FILM has yet another very postive BATMAN BEGINS script review for your reading pleasure. Click here to give it a look. *WARNING* While not very spoilerish at all, don't read it if you want to know absolutely nothing about BEGINS. And if that's you, more power to you.
Where's the BEGINS trailer?
Saturday, July 17, 2004, 4:30 PM CST: Jett here, back from Vegas. Remember, I said that there would be no updates on BOF Thursday and Friday because I would be out of town? So, what's up with the, oh I don't know, MANY emails asking me why no new BOF update? You all do read the news right? Anyway, I also got ALL the emails informing me that there was no BEGINS trailer attatched to I, ROBOT. And since it was another website that first reported the news in the first place, click on the link here and let CINESCAPE do the explaining. Seems that someone at WB pulled the plug at the last minute....
So, just when are we going to get a look at the trailer? Well, the word now is that it will not be shown with CATWOMAN. It might be shown with the upcoming ALIEN VS. PREDATOR which opens on August 13th, but I wouldn't hold my breath. If I had to guess, I would say that it will show up at the SAN DIEGO COMIC CON next weekend. Remember, there is a BEGINS panel featuring screenwriter David Goyer and actor Cillian Murphy, so there is a good oppertunity there to show it. I guess we'll see next week....
So there was some talk that ENTERTAINMENT TONIGHT was going to feature the BEGINS trailer--or parts of it at least--on Friday's show. I guess that didn't happen either....
First, Warner Brothers gets it right with BATMAN BEGINS. Could it now be happening with SUPERMAN RETURNS? That's what AICN is saying. Just one thing WB--if you are reading--this comedy thing with Jack Black and The Green Lantern--Bad move. Trust me....
BATMAN BEGINS will feature Dolby Digital Surround EX....
BEGINS screenwriter David Goyer had the following to say about the film via the BLADE TRINITY FORUMS: "'Batman Begins' will be amazing. I've seen quite a bit of footage -- beyond that, I won't be answering any questions about it!" I believe you, David....
Dwight Gooden aka Daniel Jude Gennis is playing a Gotham City Police Officer. Here is what he said about his role in BEGINS (*POSSIBLE SPOILER*)--
"'Batman: The Intimidation Game,' 'The Intimidation Game,' 'Batman Begins' - Take your pick! The working title was' The Intimidation Game' but depending on where you get your information, any of the above titles are valid right now. My part in all this? I am a police sergeant who is part of a police task force that surrounds Arkham Asylum in pursuit of the new mysterious Batman. The film involves the early days of Batman."
More release dates:
Canada--June 17, 2005
Finland--July 6, 2005
Holland--July 7, 2005
South Africa--June 24, 2005
(Thanks to "Ras2005" for contributing to part of this report.)
BEGINS production report!
Wednesday, July 14, 2004, 10:07 AM CST: This from the source known as "Crazy Guy"--
Hi I'm working on Batman in some capacity....The location "outside London" is called Middlesex! It's at Shepperton Studios [and] is quite well known in the industry and part owned by the Scott brothers. You are right that they are not finishing the movie in [the} USA, but will return to Middlesex and to a local stretch of disused roadway (the M31 to south Oxford, not actually in Oxford as was reported before on another site). They will NOT be returning to London, Essex, USA or Iceland.
They also have pickups scheduled for later this year, ala, "Star Wars." These will be at Shepperton and at the Gotham City street sets in Bedfordshire. Hopefully the movie wont need to use this time for drastic error correction but only to enhance.
The pictures attached are from trailer city at the recent Bedfordshire location. Enjoy.
Thanks "Crazy Guy" and I am sure that the BOF reader's will dig your report/pics. And btw "Crazy," "Chi-Town" is a nickname for "The Windy City," Chicago. Late.
The Batmobile cruising Chi-Town!
Wednesday, July 14, 2004, 6:44 AM CST: Got some news in overnight about the BEGINS shoot in the Windy City via a very reliable scooper--
I own a small XXXXX, right outside the City of Chicago and I deal all the time with movie productions that come throught the city. I have dealt in the past with movies such as "Backdraft," "The Fugitive," and most recently "The Weather Man." And now "Batman Begins."
I am a religious reader of your postings [and] some of what I may say you [may] already know [I didn't--Jett]. So anyway, A guy that is working on the construction of the sets is presently working on "Begins" @ the Helene Curtis Plant in Chicago [as first reported by BOF weeks ago--Jett] told me that they received large cargo shipments last week, around Thursday/Friday. Sure as s***, it was the Batmobile! Well actually three of them. One is the main one, the other is a backup in case they f*** one up, and the third, for some reason, is just a shell.
I found this interesting as well: he said that the production is done after Chicago and the last 17 days are shot here. For those days they are all done at night. Shooting is supposed to take place the last week of July, first week of August. I did get a definite that they are shooting in Waukegan on a stretch of highway that he said begins nowhere and ends nowhere and it is all going to be shut down. I am going to try to get some pics for you as Waukegan is far up the lake more by Evanston. The other place they are shooting (and I think I gave this to you before) is Lower Wacker Drive. They at night are going to be shutting it down between Michigan and Harrison the first week of August.
Keep up the good work, I hope I can speak for many others in saying that your site is awesome and I really appreciate what you are doing!
Good stuff. All of you Chicago readers out there be on the lookout for Bat-filming in your city. And if you get any pics, make sure to forward them over to BOF. Now, the only thing that may be off a bit in this report is that I do know they will be filming again in London (actually the BEGINS soundstages built near London) after the production leaves Chicago. But this is some great stuff nonetheless....
Here's some good info on how the trailer process work. Looks as if the showing of the BEGINS trailer will vary from theater to theater--
I am a former Manager at a theater and know a lot about how things work on that end of the industry. As for trailers each movie theater chain is different some let the projectionist/theater manager select what trailers will be on a movie from the available stock pile that is send to theater by studios. Other chains will give a list of trailers that they want to be played on the movie and the order in which they should be attached to the print. The studio will usually attach one or two trailers to the print that can not be changed meaning that they are a physical part of the first reel of the film. They will also include several trailers in the "can" which is the storage unit that movie reels are transported in. These trailers are usually the ones that you find on the list sent from the theater chains main offices and the ones used when projectionists or theater managers are allowed to chose.
That clears some things up about this trailer. Make sure you send in your reports and thoughts of the BEGINS trailer when you see it. I'm going to see I, ROBOT myself while in Las Vegas hoping to see that damn trailer! Late.
(Thanks to "Rob" [Chicago] and "Josh" [trailer info] for this report.)
BEGINS trailer update
Tuesday, July 13, 2004, 8:05 PM CST: Got some further BEGINS trailer news in today and it doesn't sound all that good--
Hi my name is XXX and I am a projectionist for an AMC theater out in XXXXX. I'm just writing to confirm that the 'Batman Begins' trailer is on the DTS discs (that's what sound format we use at our theater). However, we got our trailer list in today (which is called a "T2 report"), which tells us what trailers we must add to the movies as we build them up, and unfortunately 'Batman Begins' is not on the list for 'I, Robot!' The trailer listed under the Warner Bros. placement is for 'Alexander.' Although, the report was only a preliminary copy and not the final version (which usually gets sent to us by Wed. night). So things could change. We should get 'I, Robot' in by tomorrow and I'm hoping to at least see the trailer in the can, even if the trailer isn't placed on the final report. I will keep you updated about the trailer info when 'I, Robot' comes in.
OK, I don't know how the trailer thing works, but perhaps they are not showing the thing with I, ROBOT, or maybe it is up to individual theaters. Could only pre-selected theaters be showing it? Anyway, you BOF readers who DO know, or have more specific info about the trailer, fill us in.
BEGINS info for SD COMIC-CON
Monday, July 12, 2004, 2:34 PM CST: Here is the official rundown on BATMAN BEGINS at the SAN DIEGO COMIC-CON via the official schedule. It will take place on Friday, July 23 from 12:20-2:00 PM (PST)--

12:30-2:00 Warner Bros.: Batman Begins and Constantine

Warner Bros. presents looks at two of the most eagerly awaited comic adaptations of all time! First up: Christopher Nolan's "Batman Begins" explores the origins of the Batman legend and the Dark Knight's emergence as a force for good in Gotham. In the wake of his parents' murder, disillusioned industrial heir Bruce Wayne (Christian Bale) travels the world seeking the means to fight injustice and turn fear against those who prey on the fearful. He returns to Gotham and unveils his alter-ego: Batman, a masked crusader who uses his strength, intellect and an array of high-tech deceptions to fight the sinister forces that threaten the city.

Participating in the panel are actor Cillian Murphy (Dr. Jonathan Crane) and screenwriter David Goyer. They will also sign autographs in the DC Comics booth after the event.
There were some rumors regarding Christian Bale and Chris Nolan showing up, but they are not on the official schedule. But you never know. And I believe that they are filming in Chicago around that time....
Seems that news regarding Lachy Hulme which began here on BOF has picked up some steam. I've been emailed several links to different sites that picked up on the rumor....
The BEGINS trailer hits many theaters this Friday (July 16th) here in the U.S. Some of you readers may see it before then. If you do, make sure you contact BOF and gives us a description....
FYI. There will be no updates Thursday 7/15 thru Saturday 7/17 as I will be in Las Vegas. And yes, I am going to spend two hours of my vacation in a theater watching I, ROBOT--just to see the BEGINS trailer!
7/11 Misc. BEGINS updates
Sunday, July 11, 2004, 7:23 AM CST: A few days ago, BOF mentioned Australian actor Lachy Hulme in conjunction with a possible villain role in the BEGINS sequel. Well, the actor himself has now commented on it (via MOVIEHOLE), and it looks like my source's info was legit--
Batman-On-Film (one of the best sources for all things 'Caped Crusader'-drop on by some-time and tell them Clintster sent ya!) is reporting a rumour that a mate of mine, actor Lachy Hulme, is up for the role of "The Joker" in Warner's next "Batman" flick. Ok. I caught up with Lachy today and can confirm that there is some talk about the Melbourne actor playing a young Joker. The key word there being "some" talk.
Lachy ["The Matrix Revolutions"] would love to play the role, but stresses that he hasn't been made an offer yet. "I got the heads up from my LA manager that WB have been kicking my pitiful name around for the Joker role in the 'Begins' sequel. It is a role that I would desperately love, but it's way too early for internet rumours to be flying", he says.
That's about all I can say for now (darn pinky-promises!), and probably all you'll hear on the "Bat" sequel for a year or so anyway. It's great that Warners and Director Chris Nolan are chasing actors for these parts though and not necessarily 'marquee' names, isn't it?
I've got to agree, it is good that WB/Nolan may be looking for good actors first, as opposed to "big names." I think, just maybe, they are going to do this Bat-series right....
Tim Booth--who is playing a "bad guy in BEGINS--recently commented on his role in METRO CAFE'....
BEGINS is being recorded on Fostex PD6....
Additional BEGINS casting: Abduk Blackmanwest (court reporter). Keith How (tramp). Jeff Lipman and James Mawhinney (unspecified roles). Ben Cooke (Batman stunt double #2)....
Paul Bernard is director/producer of the behind-the-scenes/promo material....
The official UK BATMAN BEGINS site is now up--same stuff as the U.S. site, nothing new....
More international release dates. I feel for some of y'all--
Brazil: June 24, 2005
United Kingdom: July 8, 2005 Italy: November 18, 2005
Poland: January 1, 2006
The movie is a little less than a year away from theaters, but it seems that WB has already decided on a DVD release date: November 22, 2005 (Monday)....
Click here to read a report from the Chicago casting call for BEGINS (via BATMAN: YTB website).
(Thanks to "Ras2005," "Simon," and "Chris" for the leads.)

Production art update
Friday, July 9, 2004, 4:28 PM CST: Yesterday, I reported that the recent "production art" that appeared online over the last week was not authentic. This info came to BOF from, well, "really high up"--not a scooper, or an insider--from the bottom line. Today, BOF recieved the other side of the story from Ryan Sook, the artist of the drawings. Seems there is some gray area here, and Mr. Sook was not the seller of the art that appeared on ebay. Here his rebuttle--
What I did was pre-production sketches done through DC, NOT for WB. I was one of several artists who did sketches through DC to give the producers of the film to give them an idea of the "comic book look" of Batman. If WB used them or not, or even if DC chose not to use them is beyond me. Never the less, that was the sole reason for the drawings and that is what I was paid for by DC. They weren't labeled by me as anything else when I sold them at a recent convention. If the ebay seller of these sketches ( NOT ME ) has implied anything else, you should speak to him. Once more, sketches were done for DC and I have never been hired by Warner Bros. nor have I ever claimed anything else other than exactly what they are.
Unbeknownst to me, my well-meaning webmaster downloaded the images from ebay [that] where they were listed...as Batman movie pre production art which they are. My web master, in trying to label things properly, added the title of the film and left out one small word: "pre." They will immediately be removed. Again the false label was a simple mistake by my webmaster. Never have I misrepresented the art as anything other than what it is and the mistake on my website will been resolved ASAP.
So again, there must be some sort of gray area with this situation. However, it is BOF's duty to correct something we write about if wrong--and in this case, we were corrected by the Big Dogs themselves. But we also want to be fair and tell the whole story.
Trailer info and chain mail
Friday, July 9, 2004, 8:21 AM CST: I found this report on the BOF Message Forum--
DTS DVD disc [arrived] today (basically, the sound for all the trailers dear folks. I am a longtime fan of [BOF]--starting around the "Triumphant" days--and lifetime Bat-fan. This is my first post.
I work as a projectionist at XXXX Cinemas in XXXX. We received [the disc] and it indeed has "Batman Begins" on it. But it is marked as a trailer, and not a teaser. Though there is probably not enough footage shot to have a full trailer, it is marked nevertheless. Until I actually saw the disc, I was very skeptical of the trailer even being out on "I, Robot" (hey, you can't believe everything you read on the net). But it's out.. and it's coming. We (for an employee showing) will get to see the trailer as it comes attached to "I, Robot" (around 1 AM Friday morning). The little over a minute running time is also correct.
And now this "chain mail" [definition: "Flexible armor made of joined metal links or scales."--Jett] stuff--
This guy, from Northern England, he makes clothes, particularly chain mail , and has worked on films for years. Such as The "Star Wars Prequels," and he's involved with "King Arthur."
He's making about ten chain mail outfits (possibly dresses), hand-made, for the "Batman Begins" movie premier/s. One outfit for the premier/s is a neck-to-toe dress (possibly an evening gown) made out of stainless steel Bats (again, hand-made, and again for the premiere/s).
BOF correction
Thursday, July 8, 2004, 11:07 AM CST: BOF has learned beyond a shadow of a doubt that the recent "production art" that hit the internet and was for sale on ebay is not authentic. BOF recieved confirmation this morning. FYI.
Sequel news?
Wednesday, July 7, 2004, 6:00 PM CST: Let me say right up from that you should take this as nothing more than rumor. With that said, it comes from a couple of very good sources who have been spot-on in the past. This could be some of the scuttlebutt regarding the next BATMAN….
First of all, director Chris Nolan is not signed--yet--for a sequel to BEGINS. "I know for a FACT that Nolan has not signed for sequels," says one of our trusted industry insiders "but everyone who knows anything knows that he will be back for the sequels if BEGINS hits the jackpot." The three main Bat-actors--those expected to be the core of this BATMAN series--are signed to sequels. And of course that would be Bale, Oldman, and Caine….
So the question on everyone's mind is who the hell is going to be the villain? The Joker seems to be the obvious choice, but it could turn out to be another character. And according to our sources, the powers-that-be have already been discussing it. Here are some names that our source says may have been bandied about.
Jude Law. He was almost Superman and WB would like to have him in a "superhero film." Perhaps as a bad guy instead?
Guy Pearce--again, mentioned in conjunction to Harvey Dent/Two Face. But Pearce has in the past insisted that he's not interested in such roles. Could Nolan convince him to change his mind?
Steve Buscemi. Geez, his name has been rumored for years. He was mentioned as a "Scarecrow" possibility all the way back to the BATMAN TRIUMPHANT days, and recently rumored as a possible Joker.
Robin Williams--I suspect due to his past history with Nolan. Once up for the role of The Riddler after RETURNS and before FOREVER was cast.
| | |
| --- | --- |
| He also mentioned several British actors that frankly, I didn't recognize. He then mentioned "the guy who played 'Sparks' in THE MATRIX." And the guy who played Sparks is Australian actor Lachy Hulme, who just happens to share the same Hollywood manager as Ken Watanabe (Ra's Al Ghul in BEGINS). Now I'm only speculating, ok? Could there be a connection here? Might Hulme be in the running for a villain role in the Bat-Sequel? The Joker, perhaps? It's too early to tell, but it's a little funny that his name has come up at this early stage. | Lachy Hulme |
2008 is still the target date for the next, next Bat-film.
Now remember, this is nothing more than innuendo and industry gossip at this point. But I thought it was interesting nonetheless. And it is never too early to talk about the potential sequel to BEGINS, even though we're still a year away from the first one! Well, the first one of the new series. And keep in mind that all is contingent on BEGINS kicking some box-office ass next summer--which I don't doubt it will (*Across the globe, Bat-fans cross their fingers*)....
Gary Oldman has spoken to the Brazilian magazine SET about his role as Sgt. Jim Gordon in BATMAN BEGINS. It is translated thanks to our scooper....
SET Magazine: Speaking of "Batman Begins" [he mentioned in a previous answer flying 11 times London-to-LA-to-London in one month to just shoot "Harry Porter" and "BEGINS"], why the role of Gordon?
Gary Oldman: They have chosen me. I just accepted it. I think Christopher Nolan is an interesting director and the script is "different" [he meant... unusual????] too. It is a more realistic version of the characther. I think the world needs a new Batman, as well as it needs a new Harry Porter.
(Thanks to "Ras2005" and to "Jorge" for the interview translation.)
More extra casting news
Wednesday, July 7, 2004, 7:29 AM CST: More extra casting new from the City of Chicago Film Office--
The Intimidation Game
Warner Bros.
Feature film starring Christian Bale and Michael Caine will be filming in Chicago from July 31st through August 21st.
Extras Casting Call: Please call the Casting Hotline for complete details at 312-427-FILM. Saturday, July 10th from 11 am to 4 pm. 1401 N. Cicero. Please bring a color photo and a pen.
More details regarding casting can be found here and here.
("Ras2005" contributed to this report.)
BOF has already been hearing some Bat-sequel rumors. I'll have a short report regarding this up something today (7/7). Late.
BATMAN: TAS, Vol. 1--"A must-have!"
Tuesday, July 6, 2004, 8:37 AM CST: TOON ZONE has a review of the new BATMAN: THE ANIMATED SERIES DVD set that is availale today. A "must-have," the site calls B: TAS "the best animated superhero series ever made." Click on the previous link to read the entire review.

•&nbspBatman - The Animated Series,
Vol. 1
BEGINS trailer: July 16th!
Sunday, July 5, 2004, 7:00 PM CST: According to sources for CINESCAPE, the trailer for BATMAN BEGINS will indeed be tied to I, ROBOT which begins its run in theaters July 16th. The site also says the trailer will have a run time of 1 minute and 5 seconds.
It will be interesting to see which one of BOF's descriptions of the trailer are correct--or perhaps neither. One source described the trailer as having many short scenes--which would fit within the 65 second run time. While our other source says the trailer consists of one scene only. We shall see.
Also, it is obvious to BOF that some of y'all will see the thing before July 16th--in particular those of you BOF'ers who work in the theater business who are likely to get a "sneek peek." BOF would love to hear what you have seen--so make sure to send us the goods on the BEGINS trailer!
I'll actually be in Las Vegas on the 16th, so I guess I'll have to find a movie theater somewhere near The Strip. If one of you can let me know the location of a nice theater there, I'd be more than thankful!
FYI. Check out the BOF BAT-STORE. We have A LOT of new Bat-gear available--many things I've bought for myself! Let's start that new wave of Bat-Mania now by representing The Bat out and about! Can't wait for that BEGINS stuff to hit the market! And thanks for supporting BOF!
BEGINS: "I Love the 90s!?" Extras casting update
Sunday, July 4, 2004, 7:22 AM CST: Happy 4th of July to all of you BOF'ers here in the U.S. Some Bat-news today for you all....
Let me preface the following report. *POSSIBLE SPOILER*--
In the BATMAN BEGINS storyline, there is not one set timeframe throughout the entire film (i.e. BEGINS does not take place only in "2005"). There are flashbacks and gaps in time between one part of the movie to other parts.
--Jett
Could BATMAN BEGINS be set in a particular period of time, rather than "now?" No, Nolan isn't going with that weird 1930s era thing ala Tim Burton, but perhaps the events of BEGINS precedes the current day just a bit. Not the entire thing, mind you, just parts of it--
Friend of mine supplies cars for movies. All the vehicles he has been asked to supply for [BATMAN BEGINS] are late 80s early 90s vehicles. It would seem the film is set in that time period.
Hmmm. That's interesting. See the above preface.
(Thanks to "MC" for the info.)....
Yesterday, I told you about an alleged piece of BEGINS production art over at ebay
. The artist is said to be Ryan Sook, who has done a lot of comicbook work. Click on his name to check out his portfolio. And you can view the art by clicking on the previous ebay link and then typing the number "2253840170" in the search box....
More international release dates: Germany--July 7th. Sweden--July 6th. Denmark--June 29th. All in 2005, of course....
Be In The Movies has placed a casting call for extras in BEGINS. Click on the link if you are interested. Notice--You have to sign up and it cost about $50. FYI....
The State of Illinois has issued a press release with official information regarding the BEGINS shoot in Chicago--
"Intimidation Game," Warner Brothers, will be filming all of the exterior scenes for the new Batman film starring Christian Bale as the caped crusader and Michael Caine as his butler Alfred, in Chicago. Interiors were built on stage in England. Chicago will be standing in for Gotham in this version being directed by Chris Nolan (Memento) whose brother lives in Chicago. When the script called for an underground road he immediately thought of Lower Wacker, which brought the project to Illinois. The work has expanded to include the Amstutz Highway in Waukegan and various Chicago area locales for 15-plus days.
Here are three articles regarding Chicago casting calls: 1, 2, and 3.
(Thanks to "Ras2005" for contributing to this report.)
DiNovi talks a bit about BEGINS, BB production art?
Saturday, July 3, 2004, 7:56 AM CST: "Stax" of IGN FILMFORCE fame recently spoke to CATWOMAN executive producer Denise DiNovi. Now why, pray tell, is BATMAN ON FILM--who has refused to cover CATWOMAN--writing about it now? Because inevitiably, talk turned to BATMAN....
IGNFF: Just to go back a little bit, because I know the fans would eat me alive if I didn't ask you this, but is there any reference to Batman in the final film, and if not, why so?
DI NOVI: There's no reference to Batman in the final film. I think part of it is that Chris Nolan is shooting BATMAN BEGINS right now. He's in the market place, he's in the world actively. There were comics, there were stories about Catwoman that did not involve Batman. There were some where they intersected, there were some where they didn't. We felt that as I said earlier, she deserved a story where she just stood on her own terms.
IGNFF: Will the teaser for Batman Begins be attached to Catwoman?
DI NOVI: Gosh, I don't know.
IGNFF: There have been rumors to that extent.
DI NOVI: You know, I'm so consumed with my own movie. I know they're working on a teaser … It seems like it would great, wouldn't it?
IGNFF: It seems appropriate enough, even if it's just throwing up a Bat symbol up on the screen.
DI NOVI: I do know they're close, that they have a teaser they're happy with. So maybe it'll be out before that.
Make sure you click on the link above to read the entire interview.
BOF sources and all the online talk points to the BATMAN BEGINS trailer indeed being attatched to CATWOMAN. It has been suggested that WB is pairing the trailer to that film to boost the box-office of CATWOMAN. Perhaps that is the case, as the film has been hammered online by the fans. The BEGINS trailer is also rumored to by tied to I, ROBOT.
Click here
and go to ebay.
Once there, search for this item number: "2253840170." This is allegedly BEGINS production art that is up for bid.
(Thanks to "Stax" and "Edgar.")
Official pics of Gordon, Ducard, Fox, and Alfred are released!
Thursday, July 1, 2004, 6:18 PM CST: Check these great official pics of Jim Gordon (Gary Oldman), Lucius Fox (Morgan Freeman), Henri Ducard (Liam Neeson), and the great Alfred Pennyworth (Sir Micheal Caine) from the official site....
Gary Oldman as Sgt. Jim Gordon
Morgan Freeman as Lucius Fox
Liam Neeson as Henri Ducard
Sir Michael Caine as Alfred Pennyworth
Great pics! And is Oldman NOT "not Jim Gordon?"
Regarding Gotham, A nod to the comicbook fan, "New" pics, and the bar has been raised!
Thursday, July 1, 2004, 7:02 AM CST: So, you want to know what Gotham will look like? The atmosphere and such? I have been informed by a very reliable source that we've already had a glimpse of Batman's hometown. You know those pics of The Batman found at the official site? He's not inside a building, he's outside in Gotham. "Those pictures, they are SO Gotham," says our source who also describes the city as "...a s***hole, a hellish dump, an urban nightmare." Perhaps that might ease the concerns of those you who are worried that BEGINS won't be dark enough....Grant LeFleche of the ST. CATHERINE STANDARD has written an excellent article giving props to "comicbook fan." Particularly the voice they now have in influencing comicbook movies--such as BATMAN BEGINS. Click HERE to read it....Here are some links to some "new" BEGINS pics. Actually, they are images we have already seen, but some are larger and in high resolution. These, 1, 2, 3, and 4 are courtesy "The Scarecrow." The following, are from "Webakin," 1, 2, and 3. And click here to go to BATMANS.DE and check out a German press release and pics from BEGINS.
SPIDER-MAN 2. I saw it yesterday. Check out the OPINION section to read my short review of the flick.