BATMAN: YEAR ONE - SDCC '11 Cast & Crew Interviews
Posted by: Jett
July 23, 2011

Prior to the premiere of BATMAN: YEAR ONE at SDCC '11, I attended a presser for the film and had the chance to talk to members of the cast and crew. Present were stars Ben McKenzie (Batman/Bruce Wayne) and Katee Sackhoff (Sarah Essen), executive producer Bruce Timm, co-directors San Liu and Lauren Montgomery, and voice director Andrea Romano. Here's a few things these folks had to say about the project…
BEN MCKENZIE
* Said yes to the job "immediately" because "It was Batman."
* It was a bit intimidating because Batman is such and iconic character.
* Jett: "Was it hard not find Batman's voice? Did you have to block out all of the others out there?" BM: "You are influenced, yes, but you have to just try to understand the character."
* Jett: "Was there a line in the film that was 'cool' to recite as Batman?" BM: "(laughs) I'm Batman!"
LAUREN MONTGOMERY
* B:YO is a straight-up, literal adaptation of the book.
* Induced lots of pressure since it's such an iconic story.
* While they do try to please the fans with these films, they are also trying to expand into the mainstream.
* LM would "love" to do THE DARK KNIGHT RETURNS.
SAM LIU
* This is a film the "really wanted to do."
* It's the most "real" of these animated films to date -- almost a 70s police drama.
* In terms of adapting the book, "ALL of it is there."
* The Catwoman short is in the same "universe" as B:YO -- it just occurs after B:YO.
ANDREA ROMANO
* While she always loves to cast Kevin Conroy as Batman in these films, they needed to go "younger" this time since Batman is in his 20s. Ben McKenzie was "perfect."
* Jett: "Why not Christian Bale in BATMAN: GOTHAM KNIGHT?" AR: "He was out of our price range! (laughs)."
* She's really loved all of the performances by the "Batmans" she's cast.
* Jett: "With all the previous Batman 'voices' -- in animation and live-action -- is it hard to get an actor to not sound like the others?" AR: "It's a challenge sometimes, yes. But the actors we've chosen have all put their own stamp on Batman."
BRUCE TIMM
* BATMAN: YEAR ONE: "It's made of awesome!"
* Timm believes the comic is just as important to Batman history as THE DARK KNIGHT RETURNS.
* This is a story that he's always wanted to do because it's "…just a great Batman story."
KATEE SACKHOFF
* Wasn't familiar with the character of Sarah Essen when she got the part, but "educated" herself.
* She's now the "coolest aunt" to her nephew because she's done a Batman movie.
* Has seen the film twice and it's just "awesome!"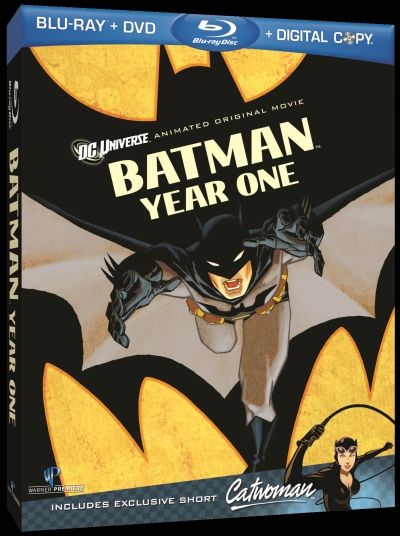 comments powered by