SYNOPSIS:
The Dark Knight and the brave, young Carrie Kelly at his side as Robin have finally reclaimed Gotham City and allowed a ray of hope to penetrate the reign of terror that The Mutants cast upon their city. With Batman back in the spotlight, the extended media coverage has awoken a far worse evil at Arkham Asylum – The Joker! Destined to be Batman's mortal enemy, The Joker has a diabolical scheme that may pull Batman down to the darkest levels of insanity. Meanwhile, on the horizon, a global catastrophe races toward Gotham, and with it comes a familiar face, The Man of Steel, though this time he has Batman in his sights.
"All the people I've murdered...by letting YOU live." - THE BATMAN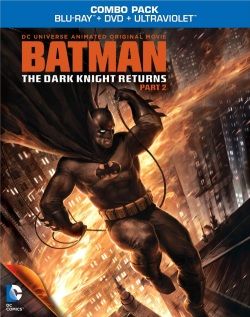 As I've said many times here on BOF, I'm not a big fan of straight-up adaptations when it comes to Batman on film, live-action or animated. I'd rather the source material to be used as inspiration, and not simply the comic book story/graphic novel brought to life. This isn't a Batman-centric preference either. I'd prefer that most of these animated films from Warner Bros./DC Comics would either be of the "inspired by" or original sort.
Why? Well, it's probably a selfish reason, truth be told. Because…
I DON'T WANT TO KNOW WHAT HAPPENS!
When you read/watch a comic book/novel/movie/TV show, isn't it preferable NOT to know anything about it going in -- especially when it comes to how the thing ends, right? Anyway…
I'm here today to review the latest DCU animated endeavor from Warner Bros. Animation – BATMAN: THE DARK KNIGHT RETURNS, Part 2 -- and tell you whether or not you should watch it/buy it/add it to your Bat-Collection. And the answers to each are…
Yes/Yes/Yes.
So right about now, I probably need to tell you why, right?
Well, mainly because it's pretty damn good. I'm not going to go as far as to say that it's the best animated Batman film to date (Part 1 and Part 2 are, to me, one movie), but it's awfully darn close. And don't worry Miller fans, though some of the fat had to be trimmed, none of the "good stuff" from the graphic novel was left out of the film.
Part 2 picks up where Part 1 left off with The Joker (Michael Emerson) emerging from his catatonic state and being declared "reformed" by his shrink, Dr. Bartholomew Wolper (Michael McKean). Of course, The Joker is not reformed and proceeds to show everyone just that by killing everyone in the audience while he was a guest on "The David Endocrine Show."
(As I'm sure you all know, Conan O'Brian voices "David Endocrine," a character Frank Miller actually based on David Letterman. While I like Coco, I've always been a, well, "Letterman-Man." I must ask Andrea Romano the next time I get the chance – probably at Wondercon 2013 – if they asked Dave to do it originally.)
The review continues after the video!

"Love that Joker!" Anyway...
The Joker's wish is granted as his actions sets up a confrontation – actually, a final showdown – between The Dark Knight and The Clown Prince of Crime. And I'm telling y'all, no *ahem* punches are pulled here (pun not intended). This is without a doubt the most violent and bloody scene from any Batman film – live-action or animated – ever produced. To see this classic comic book clash between Batman and The Joker brought to life (well, sort of), is must-see if you consider yourself a Batman fan.
And folks, that ain't even the finale!
"I want you to remember the one man who beat you." - THE BATMAN
If you've read Frank Miller's graphic novel, you know that the final battle of The Batman's career isn't with a member of his wonderful rogues gallery. No, it's with another superhero…
Superman.
Reduced to being nothing more than a pawn of and enforcer fo the U.S. Government, The Man of Steel is dispatched to Gotham by the President of the U.S. to take down The Batman, who is now considered an anarchist and enemy of the state.
As a Batman fan, I'm not particularly fond of Batman stories that include Superman (or any other super-powered hero or villain), but I must say that I did get a kick out of seeing the end result of the battle!
BATMAN, THE DARK KNIGHT RETURNS, Part 2 – along with Part 1 – is one heck of a Batman film and it does right by Frank Miller's graphic novel. The only negative that I have is that it is a straight-up adaptation; thus, there was no part of the story that I didn't already know by heart. Yes, it's definitely cool to see a film (albeit animated) based on one of the greatest Batman comic book stories of all time. However, I do think that folks who have never read the graphic novel on which the film is based will probably enjoy it a tad more than the average Batman fan. Of course, Batman/comic book fans are the target audience for this movie, so make sure you force your non-comic book fans, if you will, to see it!
The review continues after the video!

Bat-Fans, this is one you do want to buy and add to your collection. The production design is "Miller-esque" but fresh, the animation is excellent (in terms of what you get with these films), and the voice cast is superb. This particular "DC Universe Animated Original Movie" is going to be hard to top. - Bill "Jett" Ramey