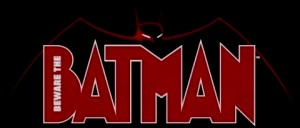 Has BEWARE THE BATMAN Been Canceled?
Author: Bill "Jett" Ramey (Follow @BATMANONFILM)
October 24, 2013

Recent internet buzz has the latest animated Batman TV endeavor - BEWARE THE BATMAN – has been canceled due to the fact that two new episodes were recently yanked from Cartoon Network's Saturday morning DC Nation schedule.
If true, all I can say is…
BOOOOOOOOO!
BOF went straight to the source – Cartoon Network – and asked if BTB had indeed been canceled, or perhaps, has been given the TV death sentence known as "on hiatus." Here's CN's response to BOF...
"Currently, 'BEWARE THE BATMAN' is no longer on our air. DC Nation will continue on Saturday mornings at 10/9c with new exclusive shorts and a full hour of encore episodes of 'Teen Titans Go!'"
Uh, OK.
For one thing, if ratings are an issue here - and I'm sure that's the case - then let's discuss it's designated time slot. Frankly, this show had NO BUSINESS being aired on Saturday mornings as it's WAY more suited to a primetime time slot. Someone explain to me why the great BATMAN: THE BRAVE AND THE BOLD was deemed a "primetime series" and BEWARE THE BATMAN was considered a Saturday morning show for "young fans?!" *shakes head* ANYWAY...
There's some scuttlebutt out there that suggests that BTB has been S-canned and all remaining new episodes will be aired sometime in early 2014. If that's the case, then Cartoon Network and Warner Bros. should LET THE FANS OF THE SHOW KNOW! There are a lot of of Batman fans - yours truly included - that not only supported BTB, but liked and got hooked on it too. So come on CN/WB, come clean on BEWARE THE BATMAN's fate!



comments powered by