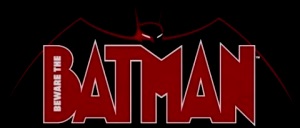 BEWARE THE BATMAN Returns to TV...at 3AM
Author: Bill "Jett" Ramey (Follow @BATMANONFILM)
April 19, 2014

Via TOONZONE.NET and a heads up from BOF's Bobby Barrett, it appears that BEWARE THE BATMAN is returning to TV.
However, it's air time slot kinda sucks.
BTB will be returning to TV and CARTOON NETWORK after an "extended hiatus" that began last year in October when the network inexplicably shut it down after airing episode 11 of 26. I recently reviewed the first half of the series -- including the unaired episodes "Attraction" and "Fall" -- here on BOF earlier in 2014. Anyway...
BEWARE THE BATMAN will now air on Cartoon Network's Adult Swim's weekly Toonami block at 3AM ET.
Yes, it's going to air in the middle of the damn night, so set your DVR's accordingly.


comments powered by