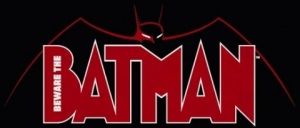 BEWARE THE BATMAN - August '13 Schedule
Posted by: Bill "Jett" Ramey (Follow @BATMANONFILM)
July 29, 2013

Saturday, August 3rd, 2013 at 9AM CT/10AM ET
"Safe" – Katana's history as a member of the League of Assassins is revealed – as well as the fact she's hiding the famed Soultaker Sword.
Saturday, August 10th, 2013 at 9AM CT/10AM ET
"Broken" – A collection of new statues pops up around Gotham and Batman and Lt. Gordon must work together to save the people trapped inside before Humphrey Dumpler – aka Humpty Dumpty – destroys them.
Saturday, August 17th, 2013 at 9AM CT/10AM ET
"Toxic"– Batman tries to save a security guard from transforming into the villain Metamorpho after he ingests toxic chemicals.



comments powered by