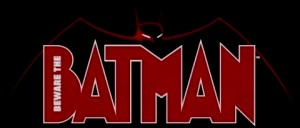 REVIEW: "Hunted"
Author: Bill Ramey (Follow @BATMANONFILM)
Retrospective Date: June 25, 2017
Original Review Date: July 13, 2013

CLICK HERE for BEWARE THE BATMAN on BOF!
INFO
Season: 1
Episode: 1
Original Airdate: July 13, 2013

CREDITS
Written by Mitch Watson
Directed by Sam Liu

CAST
Anthony Ruivivar as Bruce Wayne/The Batman
Sumalee Montano as Tatsu Yamashiro
J. B. Blanc as Alfred Pennyworth
Brian George as Professor Pyg
Udo Kier as Mister Toad
Jeff Bennett as Simon Stagg
Kurtwood Smith as Lt. James Gordon

SYNOPSIS: The Batman stops two vigilantes from taking their revenge over a shady land deal, while an aging Alfred hires his replacement: a female bodyguard named Katana.
RETROSPECTIVE: Despite my apprehension of the use of two of Grant Morrison's new Batman villains – Professor Pig and Mr. Toad – "Hunted" was a good introductory episode of BEWARE THE BATMAN. It set up this new animated Batman universe perfectly.
Even though I was bummed that BATMAN: THE BRAVE AND THE BOLD had ended too soon (there was at least another season left in it dammit!), I was excited for this a new animated Batman series. In fact, the use of computer animation for the first time was extremely appealing to me, and I'm of the opinion that it looked darn good.
Frankly, BEWARE THE BATMAN got a raw deal. One, it should've aired in primetime, not on Saturday mornings. Furthermore, they should've moved its time slot and gave it at least one more season before pulling the plug. It almost looks as if it was set up to fail. ANYWAY…
I'm looking forward to revisiting these episodes. - Bill "Jett" Ramey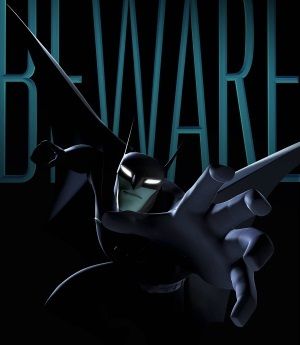 ORIGINAL REVIEW: One episode in, and I've got to say that I'm impressed with BEWARE THE BATMAN.
While this series airs on Cartoon Network Saturday mornings, make no mistake, this is a dark interpretation of Batman. "Dark Knight Trilogy" dark? No, of course not. But it's darker than another Saturday morning Batman series – THE BATMAN – and akin to what we saw tone-wise in BATMAN: THE ANIMATED SERIES.
Episode #1 – titled "Hunted" – is not a Batman origin story, but it is sorta the origin story for this new TV series. While it does feature a story (more on this in just a bit), it also introduces us to the characters that'll make up this new animated Batman TV series. It also features an opening segment that'll remind you of the "Docks Scene" from BATMAN BEGINS.
When it comes to th animation, this is an animated Batman like we've never seen before as it's not traditional animation, but computer generated. Honestly, it looks really cool and totally jibes with the dark world of this series. The characters look great and move smoothly. The backgrounds – basically Gotham and Batman's world – are nice to look at as well. I'm sold.
The review continues after the jump!

As far as this storyline, Professor Pyg and Mr. Toad are the villains featured in this episode. In short, they're kidnapping Gotham's wealthiest citizens with one goal in mind: Hunting them. It seems as they've got an issue with the folks who bought some of Gotham's land and developing it – destroying the natural wetlands and the animals that inhabited it along the way. While it was nice to see some new Bat-villains that we've never seen before in this medium, Mr. Toad literally being a, well, toad, sorta threw me off. I'm not sure how a frog that can walk and talk came to be, but this isn't my favorite sort of Batman villain, truth be told. Oh well.
As far as this particular Batman universe, it's very familiar, but very fresh as well – and that's a good thing.
Alfred (who does not tote guns), for example, isn't the prim and proper manservant we're used to. No, this Alfred is a big (and bald) dude and pretty much a badass. Think an older Jason Statham. It also appears that Mr. Pennyworth wasn't always the Wayne family's butler either. So what did he do before he entered the world of the Waynes? He was an MI6 secret agent! Certainly, this will make for a bit of a different dynamic between Bruce and Alfred – and Batman and Alfred as well. Think BATMAN: EARTH ONE, but they seem to like each other better.
The review continues after the jump!

As far as other regular characters, well, we didn't see too many in this episode. We briefly find out how and why Katana enters the life of Bruce/The Batman, and we see police Lt. Gordon for a few seconds – via a Gotham TV news report – at the end. The relationships they have – or will have in the future – with Batman remains to be seen. I'm sure we'll find out in future episodes.
All in all, BEWARE THE BATMAN is off to a good start and I'm definitely looking forward to watching this show every Saturday morning. While it's only one episode, it appears that we're getting yet another quality animated Batman TV series that's going to do right by the character.
Oh yeah, The Batmobile "talks" -- kinda like KITT from KNIGHT RIDER. I'll let y'all decide on that, but...I LIKE it! - Bill "Jett" Ramey

comments powered by