BATMAN: BAD BLOOD - Review & LA Premiere Report
Author: Mark Hughes (Follow @MARKHUGHESFILMS)
Date: February 3, 2016

SYNOPSIS: The mysterious disappearance of Batman, coupled with the emergence of powerful and malevolent new villains in Gotham City, force Nightwing (voice of Sean Maher) and Robin (Stuart Allan) to take crime-fighting into their own hands – while simultaneously searching for their missing leader. They're not alone for long. New super heroes Batwoman (Yvonne Strahovski) and Batwing (Gaius Charles) – each armed with her/his own sensibilities, physical abilities and crime-fighting tools – arrive in Gotham to assist in the cause. As this new "family" strives to find its own dynamic, chilling clues lead the group to suspect the Dark Knight may have gone over to the dark side. It's up to the entire Bat team to uncover the truth before Gotham City falls prey to its greatest threat yet.
As the voice of Batman, Jason O'Mara (Complications, Terra Nova) leads a celebrity-laden cast that includes Yvonne Strahovski (Chuck, 24, The Astronauts Wives Club) as Batwoman/Katherine Kane, Morena Baccarin (Homeland, Gotham) as Talia al Ghul, Sean Maher (Firefly, Serenity, Much Ado About Nothing) as Nightwing, Gaius Charles (Grey's Anatomy, Friday Night Lights, Aquarius) as Batwing, Ernie Hudson (Ghostbusters) as Lucius Fox, and Stuart Allan (Batman vs. Robin) as Robin/Damian Wayne. Produced by Warner Bros. Animation and DC Entertainment, BATMAN: BAD BLOOD is directed by Jay Oliva (Man of Steel, Batman vs. Robin) from a script by J.M. DeMatteis (Batman vs. Robin). James Tucker (Justice League: Throne of Atlantis, Batman vs. Robin) is Supervising Producer. Benjamin Melniker & Michael Uslan are Executive Producers. Sam Register is Executive Producer.
DC Entertainment and Warner Bros. Animation premiered their latest addition to their direct-to-video library of DC Comics animated films this week, with a Los Angeles screening of BATMAN: BAD BLOOD, followed by Q&A with the cast and filmmakers. I attended the premiere on behalf of Batman-on-Film.com, to bring you a review of the film and report about the premiere. No major spoilers ahead, but I will have to mention a few things in order to talk about the event and film — there's one particular element of the story that's probably a huge selling point for some fans, so I'll be teasing that!
Screening at the Paley Center For Media located in Beverly Hills, the premiere brought a sizable crowd to the screen room. On hand for the red carpet treatment were Gaius Charles (Batwing), Jason O'Mara (Batman), Yvonne Strahovski (Batwoman), Sean Maher (Nightwing), Stuart Allan (Robin), Travis Willingham (The Heretic), producer James Tucker, director Jay Oliva, and character designer Phil Bourassa.
After the screening, the cast and filmmakers sat for an extended conversation with DC All Access host Tiffany Smith. Everyone discussed how much they loved working together, how the returning cast has grown into their roles and their relationships with each other, and touched on some of their favorite moments from BATMAN: BAD BLOOD (but I won't get into that, as I don't want to spoil things for you, readers!).
One of the most fun exchanges of the evening came when Jay Oliva mentioned he wants to see Dick Grayson in the "disco" Nightwing costume. This led to the notion of a fully musical animated Batman film, an idea that received a surprising amount of enthusiasm from the crowd and creative team. A shiny disco ball was mentioned, as were roller skates. So perhaps "Boogie Nightwing" starring Dick "Diggler" Grayson is in our future, fans! Or maybe not… but I won't be surprised if one of the next couple of animated movies finds a way to work in at least a shot of Dick's disco-looking Nightwing costume hanging up somewhere in the background.
I asked whether Batwoman might get her own animated film, in light of the character's popularity and terrific source material from which to draw inspiration. "I know we definitely want Batwoman coming back," James Tucker said, "It's just, we haven't decided how or when, or what the story's going to be. But yeah, definitely." So we'll be seeing more of Batwoman, hopefully including center-stage in her own film.
Now, Bat-fans, let's get down to it — how good is BATMAN: BAD BLOOD? The answer, you'll be pleased to know, is very good. It is among my personal favorites of the DC animated films from the last several years, and likely to be a fan-favorite for several reasons.
The film features the return of Dick Grayson's Nightwing, Damian Wayne's Robin, and faithful butler Alfred Pennyworth, all of whom we've seen in a few previous animated films within this newly established continuity. The bat-family newcomers are Kate Kane's Batwoman and Luke Fox's Batwing. There are additional supporting cast members you'll recognize, but I don't want to spoil any fun cameos and reveals so I'll refrain from naming them all. The villains are a collection of newcomers and returning characters, but here too I don't want to spoil anything — especially for fans who haven't read a lot of the comics but watch the animated films, television shows, and films.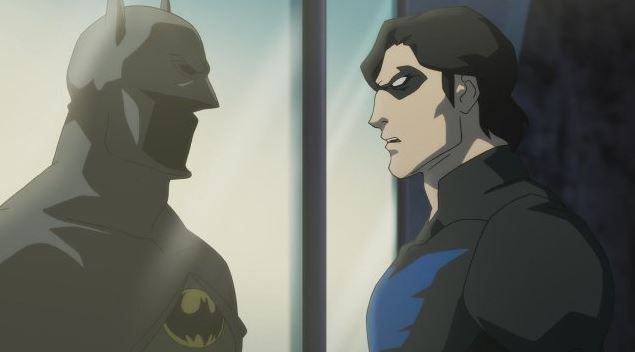 Batwing and Batwoman are welcome additions to the animated DCU, and I have high hopes we'll see them used a lot more in the future. I seriously hope we see them return not just for team-ups like this one, but for their own solo films as well. Batwoman is one of my favorites, so I'd love to see her get a couple of films adapting certain of her story arcs that were among the absolute best comics of their respective years.
What was particularly interesting about the lineup of characters in BATMAN: BAD BLOOD was the fact Nightwing and Batwoman explicitly seek to avoid alignment with Batman. Both tried to stay out of his actual orbit and resisted relying on him — either as Bruce Wayne or as Batman. Their decisions to take up their respective "bat-mantles" were personal choices, neither being recruited or otherwise asked to do so by Batman. Indeed, Batman is at odds with Batwoman in particular. Meanwhile, Nightwing was initiated into masked vigilantism by Batman, obviously, but his arc in this film is pointedly about his attempts to distance himself from Batman and avoid any direct ties to Batman in his life.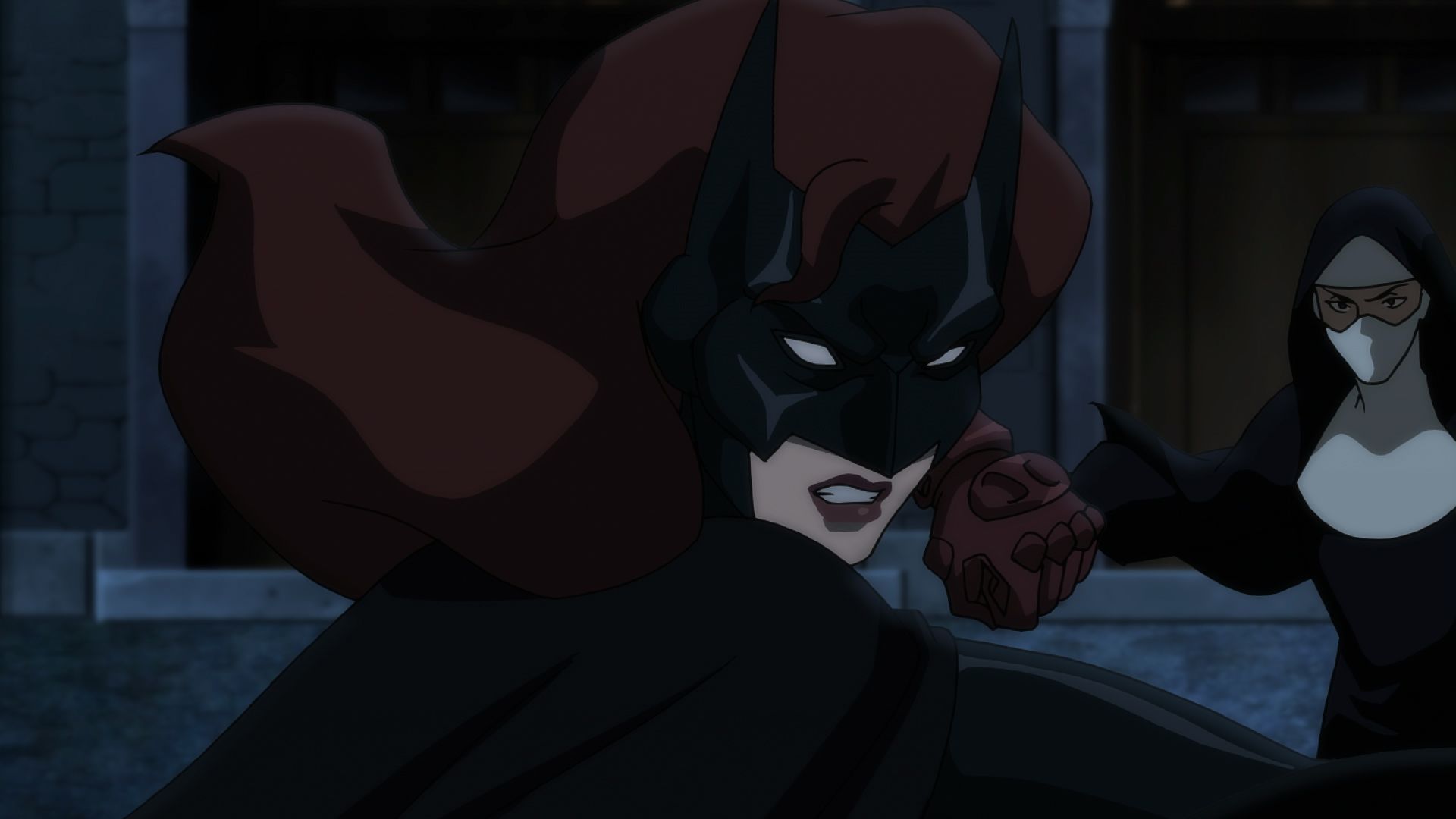 So there's this overarching narrative about people who are in various ways separate from Batman, even opposed to him in some ways, but who for their own personal reasons — and due to circumstances that compel them to take a stand — wind up coming together as the bat-family. Only Damian's Robin is fighting to position himself firmly within Batman's gravitational pull, and he resents the existence of others within that space.
That's one layer of characterization that I appreciated in this film, as it adds not just spice to each of the individuals but more importantly to their relationships and interactions together. But going another layer deeper, the film provides some additional subtext that's important to appreciate how much thought went into the threads tying these personalities together. Notice the crucial factor that distinguishes Nightwing, Batwoman, and Batwing from Damian's Robin — they each suffered from the murder or (for Batwing) near-murder of a parent, which set them on the path to eventually assuming their masked identities. They each share a motivation similar to Batman's own personal origin, in other words.
The development of each character's reasons for taking up a bat-mantle, and their very distinct personality traits, was the key to making this film work as more than just a collection of big, thrilling action set-pieces (which it certainly has, but I'll get to that in a moment). The result is an animated comic book film where it's as fun watching the characters interact and talk to each other, as it is watching their many moments of superhero adventurism.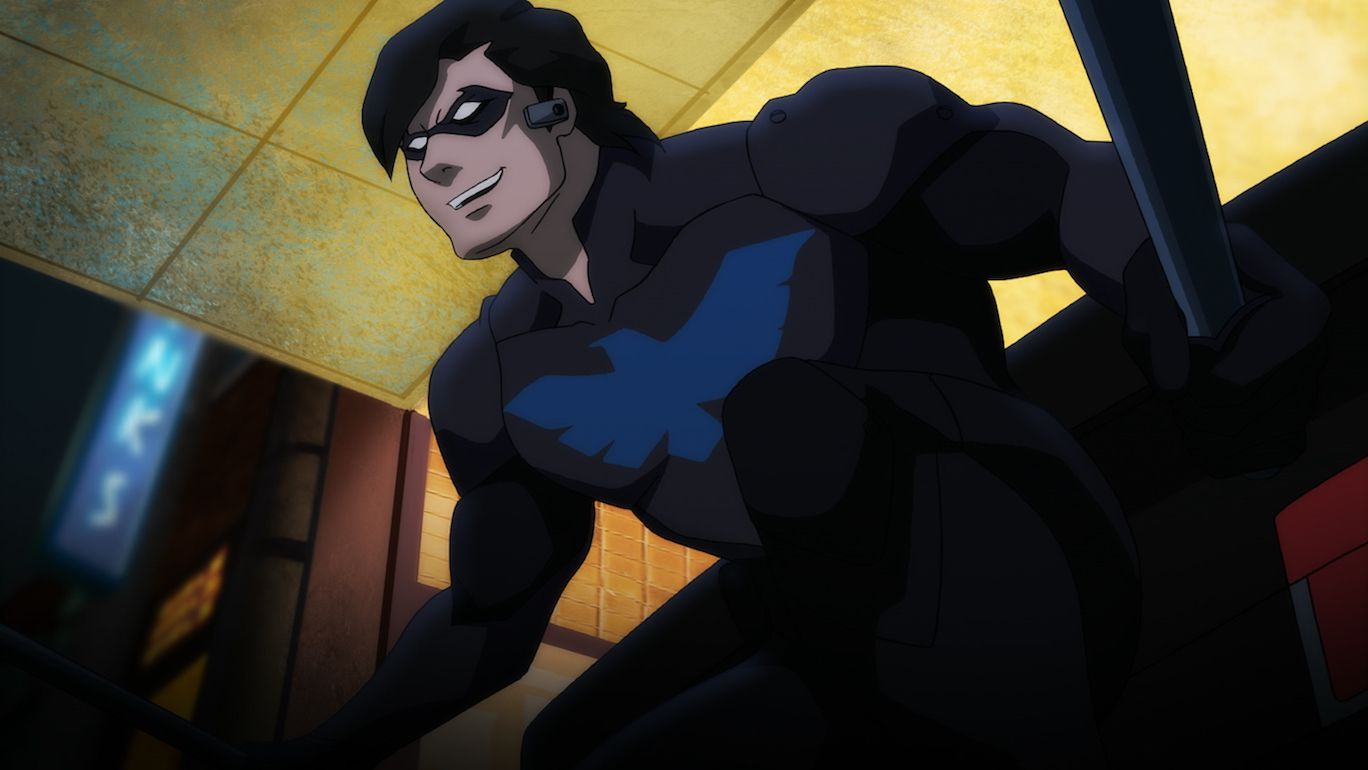 Sometimes the attempts at one-liners and humor in animated superhero shows and movies can be less than successful, but here the sense of humor is much more natural and easy-going. That's partly because a lot of the performers and filmmakers have worked together several times already, and have developed a smooth working relationship at this point. None of it feels strained, and much of it — especially the humor — comes across as almost improvised during recording.
But of course, it wouldn't be a Batman movie if all they did was stand around talking and making jokes. This film delivers fast-paced action spectacle where each sequence seems determined to top the previous one, and direct Jay Oliva's desire to approach it as if he were making a live-action movie pays off with terrific cinematic moments and spectacle that can make you forget your watching animated action.
Indeed, one of the things that is most impressive about this film — as well as the films SON OF BATMAN and BATMAN vs. ROBIN — is the authenticity of the fight scenes. The choreography, the framing of shots, the move from close-ups to wide angles, and the animation itself all convey the feel of a live-action sequence whenever we see these characters do battle. It's fluid, fast, and exciting as hell to watch.
In the past, it often seemed that animated action scenes were rarely attempting a detailed, sustained portrayal of fighting in all of its brutal combinations of movement, but the recent DC animated films have set a high standard for providing one-on-one fights or big group battles in far more realistic detail. Each character has a unique fighting style, something you'd pick up on, even if director Oliva didn't explain how much trouble he went to in establishing these different techniques visually for the film.
I love the colors and animation in this film, which has its own distinctive style and tone yet enough similarities to the previous films to maintain overall visual continuity. A lot of attention is paid to lighting, to framing devices, and creating scene edits that alternate between fast cuts and longer shots tracking the action.
Some big selling points for fans will be the arrival of Batwing and Batwoman into the DCU's animated outings, the reveal of certain other characters who elicited cheers from the crowd at the screening, the return of the ol' blue-and-gray Batsuit featuring the yellow oval and trunks (which looks awesome as rendered in the film), and a brutal, brawling showdown between Nightwing and Batman.
The result is a film that combines terrific characterization with awesome action set-pieces and cinematic animation, for a story that highlights the supporting cast of bat-family characters instead of featuring Batman himself as the lead character. It's another high-quality entry in the DC animated library, and a sign that these new Batman films are on firm footing with this creative team.
I wish you could all see it in a theater — which raises the point that Warner should perhaps consider playing some of the best animated films in double-features with BATMAN v SUPERMAN and the other upcoming DCU live-action movies, at least in some cities. I'd definitely pay extra for that experience, personally. - Mark Hughes
Mark Hughes is a longtime BOF reader and contributor.
Mark writes about films, especially superhero movie, for FORBES.COM.
Follow Mark on Twitter @MARKHUGHESFILMS, and
and read his Q&A's about film, comics, and more on QUORA.COM.

comments powered by