BTAS RETROSPECTIVE: "Nothing to Fear"
Author: Bill Ramey (Follow @BATMANONFILM)
Date: June 17, 2017

CLICK HERE for BATMAN: THE ANIMATED SERIES on BOF!
INFO
Season 1
Production Order: 03
Airdate Order: 10
Original Airdates: September 15, 1992

CREDITS
Written by Henry Gilroy & Sean Catherine Derek
Directed by Boyd Kirkland

CAST
Kevin Conroy as Batman/Bruce Wayne
Bob Hastings as Commissioner Gordon
John Costanzo as Det. Bullock
Clive Revill as Alfred
Mari Devon as Summer Gleeson
Henry Polic II as The Scarecrow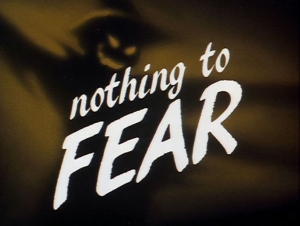 "Nothing to Fear" is the first episode of BATMAN: THE ANIMATED SERIES to feature Batman's nemesis Dr. Jonathan Crane, AKA "The Scarecrow" (voiced by Henry Polic II). While the character design was a tad on the "not so scary" (i.e. goofy) side, the combination of the writing and voice performance made The Scarecrow's Ray Bolger-ish aesthetic a non-issue.
In short, the plot revolves around Dr. Jonathan Crane – head of the psychology department at Gotham University – who is fired for his, um, "questionable" methods of instruction. Crane then becomes "The Scarecrow" and uses the fear gas he developed to bring revenge upon those he believes did him wrong.

Of course, Batman (Kevin Conroy) will ultimate save the day, but how he does it is very Batman-ish in having to fight the hallucinations brought on by a dose of fear gas. It shows the mental toughness that Batman possesses – which may be a more important asset than his raw physical strength. It is literally shown in the scene where Batman is barely hanging on to a blimp, while still fighting the effects of Crane's gas. Instead of succumbing to the fear gas' crippling influence, Batman snaps out of it as he proclaims, "I am vengeance. I am the night. I am…BATMAN!"
In truth, the main part of the story isn't about The Scarecrow, his fear gas, and his vendetta against Gotham University. It's actually a story about Bruce Wayne and why he is Batman. In fact, "Nothing to Fear" shows us that "Bruce Wayne" is a façade. The real Bruce Wayne only exists while wearing the cape and cowl – and he's OK with that. - Bill "Jett" Ramey

comments powered by