BTAS RETROSPECTIVE: "Feat of Clay"
Author: Justin Kowalski (Follow @J_ROCKA)
Date: May 27, 2017

CLICK HERE for BTAS on BOF!
INFO
Season 1
Production Order: 20 (part 1) & 21 (part 2)
Airdate Order: 4 (part 1) & 5 (part 2)
Original Airdates: September 7 & 9, 1992

CREDITS
Written by Marv Wolfman & Michael Reaves
Directed by Dick Sebast (part 1) & Kevin Altieri (part 2)

CAST
Kevin Conroy as Batman/Bruce Wayne
Efrem Zimbalist, Jr. as Alfred
Bob Hastings as Commissioner Gordon
Edward Asner as Roland Daggett
Ron Perlman as Clayface/Matt Hagen
Brock Peters as Lucius Fox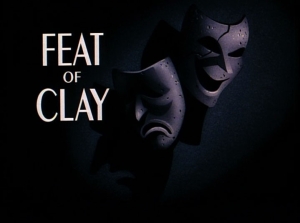 I remember these episodes more fondly than I feel for them now, although they still remain as some of my all-time favorites of the BTAS episodes. I would say they are both top 20 for the series. The tragic and heart wrenching story of Matt Hagan. Marv Wolfman really crafted a story that stands up there with Heart of Ice, which is hands down the crown jewel of this series. But this two-parter is sitting right around the base.
Matt Hagen is an actor known for disappearing in his roles, but after a tragic car accident, he is left to seeking out a special cosmetic to regain his ability to transform and stay working. While in the hospital Roland Daggett (yes, John Daggett from the THE DARK KNIGHT RISES is derivative) visits him in the hospital with a deal to provide him with the solution, as long as he works for him.
To start, Hagen impersonates Bruce Wayne, which brings in the attention of Batman! I had a hard time with the beginning battle in Part One between Batman and some of Daggett's men. He should not have struggled so much against them, they were not imposing by any stretch and they made Batman seem like a novice. My son even mentioned, "Dad, Batman is not really a good fighter right now." Very true son – but that is a minor quibble, but it just stuck out to me as odd. As the rest of these two episodes are really strong. Anyway, the plan goes awry and Daggett's information is not recovered leaving Hagen in a bad spot.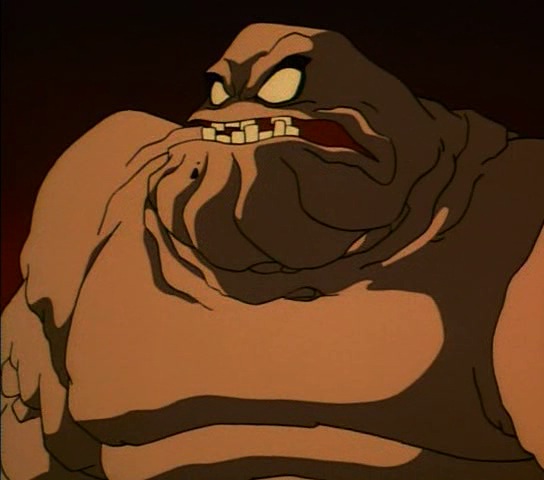 Clayface in BATMAN: THE ANIMATED SERIES
As Hagen runs low on the supply his addiction begins to overpower him and he plans to get ahold to the cosmetic himself. The deal goes bad and Daggett's men decide to "overdose" Hagen, but the results are monstrous. As a kid that scene was pretty frightening, to be honest not sure how that made it past the censors at FOX. Even though it was done in silhouette, it informed way more than I wanted know. As a result he becomes Clayface and he is now able to transform himself into anything and any shape. He is even able to mimic fabric. "It's like tensing a muscle" – though it proves difficult to maintain a transformation for too long.
They did a great job of creating a tragic story for Clayface. You really do have heartbreak and sympathize with his situation. There are real pathos to his character and it elevates Clayface to one of the better villains of the series. Again, right below Mr. Freeze in the "feel sorry for the bad guy" category. He does not commit crime out of evil desires, more out of circumstance. As much as Batman can punch a guy in the face, he proves he is empathetic to his adversaries'plight at the end – always extending his gloved hand if it is a possibility.
The end of part 2 is quite poignant, and having Clayface cycle through all his past roles was one of the best scenes in the series. They did a great job animating that sequence. It is akin to the end of TERMINATOR 2 where the T-1000 processes through its adaptations. While doing so, his Bruce Wayne emerges, clearing his name and allowing Daggett to remain in custody, where he belongs.
The ending is also a great tease to Clayface's return – such a classic cliffhanger to his next appearance!
There is a Saturday morning terror that is exists here. As I re-watched these with my sons, they cringed and gasped at all the right spots. When Clayface emerges at the talkshow and transforms from the angry woman, it was great to see my youngest proclaim, "SHE IS REALLY CLAYFACE!"
The voice cast is again superb on this episode; that always goes without saying when talking about BTAS. Ed Asner is perfect as an evil, crooked and slimy Gotham City business man, Roland Daggett. I do want to bring attention to how great Ron Perlman is as Matt Hagan/Clayface. He tends to play big guys or the brute in his roles, which makes sense as he does a great job playing the tortured big guy. However, there is real pain in the performance. Most of these villains get overshadowed by Mark Hamill's Joker and rightfully so –but I just want to acknowledge that just like Hamill, it is Perlman's voice I hear when reading a Clayface story.
"Feat of Clay," parts 1 and 2 are must see episodes in the 4 seasons of BATMAN: THE ANIMATED SERIES. I would say the finale is the stronger part of the story, but together they tell one of the best stories of the series. A great reminder that animated shows can have depth and fun at the same time. - Justin Kowalski
Longtime and loyal BOF'er Justin Kowalski is a
life long fan of everything awesome, and Batman has been
his favorite character since before birth (allegedly).
He is the co-host of the Let's Go! Podcast
with his best friend, Kelly Cairns!
They talk about random pop culture, live music,
television, film and most importantly tasty beers.
During the day, he is a creative director
and minister for an amazing organization, and at night
he spends his time trying to
crack the code of passage to Earth 2.
Justin lives in Southern California with his wife and 2 sons.
Follow Justin Twitter, Instagram, and Facebook at J_ROCKA, JROCKA, and JUSTINKOWALSKI, respectively.

comments powered by