UPDATE 2:
COLLIDER.COM
has updated their report from yesterday (see below) to say that they have "... independently confirmed that Talia al Ghul is in the movie."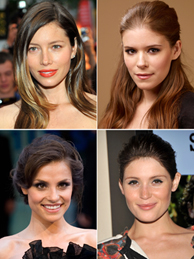 UPDATE 1: Now, THE HOLLYWOOD REPORTER is saying that the parts have NOT been cast and neither actress are particularly up for a role in THE DARK KNIGHT RISES. Here's an excerpt...
"Sources tell Heat Vision that Keira Knightley, Anne Hathaway and Jessica Biel are due to test for roles in the Warner Bros. superhero tentpole in the next two weeks. Also testing are relative newcomers Kate Mara and Charlotte Riley. Hot British actress Gemma Arterton has also scheduled to test but...Arterton just landed the female lead in Paramount's Hansel and Gretel: Witch Hunters and might now have scheduling issues.
THE DARK KNIGHT RISES needs to fill two big female roles, a villain and a love interest. Sources say one character is Talia, the daughter of villain Ra's Al Ghul, who was portrayed by Liam Neeson in Nolan's first Gotham-set crime pic BATMAN BEGINS. In the comic books, Talia is both Batman's lover and antagonist, ultimately siring his alter ego Bruce Wayne's son."
Things are getting rather interesting folks...stay tuned!
ORIGINAL REPORT: COLLIDER.COM is reporting that Eva Green and Naomi Watts have been cast in THE DARK KNIGHT RISES. The site says that their source doesn't know whom they are playing, but speculates that it's Talia Al Ghul and Vicki Vale. This jibes with previous reports that TDKR will have two female leads.
They also have some other info on the new Batmobile and Batcave from a separate source for your reading pleasure.
Now for my take…
I buy it. This is a site that I like -- and more importantly -- trust. I'm still not sure that Green's playing Talia, as I've long heard that Selina Kyle/Catwoman would be in BATMAN 3 (We've got a whole podcast on it -- LISTEN HERE). Hell, she'd be great in either role and welcomed by yours truly.

Eva Green and Naomi Watts
As far as whom Naomi Watts (who was previously rumored up for a role) will play, she could definitely be Vicki Vale, Silver St. Cloud, or Julie Madison. So…
I'd venture to guess that, if true, Green is either Talia or Selina ("The Villain") and Watts is one of the above ("Bruce Wayne's Girl").
Check out my op-ed, "WHO WILL BE BATMAN'S GIRL?," where I speculated who could possibly be the main female character in TDKR and how they might be portrayed. Anyway...
As far as a new Batmobile and Batcave, well, that's a given. Right? Not much "Wow!" here.
THE DARK KNIGHT RISES hits theaters on JULY 20, 2012.