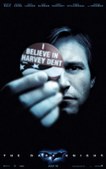 Despite the fact that Harvey Dent -- AND Two Face -- died at the end of
THE DARK KNIGHT
, many folks continued thinking and hoping that the character would return in
BATMAN 3
.
It ain't.
Per the man himself -- actor Aaron Eckhart -- neither he or Dent will be in THE DARK KNIGHT RISES. Here's what he told MTV...
"Chris and I had a meeting, on the beach, just the two of us. I said, 'Chris, a lot of people are asking me if I'm in the next BATMAN. And Chris said, 'Yes?' I said, 'Am I?' He looked at me and he said, 'No.' We found ourselves alone on the beach together on a stormy day and he delivered the news to me and I was heartbroken. I was heartbroken. But Chris has his reasons and my life must go on."
I knew that Chris Nolan would not alter the ending of TDK and bring Two Face back -- no way, no how. However, I did hold out a bit of hope that Two Face would return via flashbacks -- which doesn't look like to be happening either.
So that finally is THAT! I think. Here's the video via MTV...