No one asked me to remove any part of the story, so there's no shenanigans going here, OK? It's my policy not to reveal information that the filmmakers do not want public and I certainly hope that such a thing didn't briefly, but inadvertently, take place. - Jett
THE ORIGINAL STORY:
Via
VARIETY.COM
, Joseph Gordon-Levitt's role in
THE DARK KNIGHT RISES
has been revealed: Alberto Falcone.

JGL/Alberto Falcone
In the comics, Alberto Falcone is of course the son of mobster Carmine Falcone. He is also the serial killer know as "The Holiday Killer" and is featured prominently in THE LONG HALLOWEEN
and its sequel, DARK VICTORY
.
Great casting! With the return of the Falcone family, I wonder if Selina Kyle (to be played by Anne Hathaway) will have any ties to them?
If you want to to do some "research" on Alberto Falcone and the entire Falcone family in the comics, may I suggest...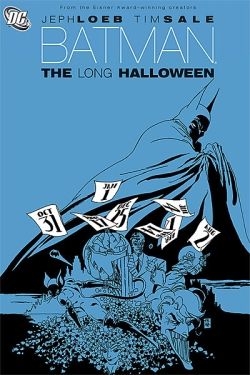 Though I can't imagine anyone reading this right now that hasn't read those two classics! Regardless...
THE DARK KNIGHT RISES hits theaters on JULY 20, 2012!