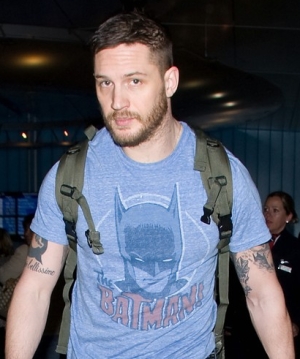 So, who is Tom Hardy? Here's a look at the actorís previous work and why we can expect something very special in
THE DARK KNIGHT RISES
from the
INCEPTION
starÖ
Most of you probably saw Tom Hardy as the charismatic forger Eames in Christopher Nolanís INCEPTION, and perhaps remembered him as Shinzon from the otherwise rather forgettable STAR TREK: NEMISIS. We know the guy can act, but what was it exactly that convinced Nolan he was a good fit for the role of Bane Ė one of Batmanís most formidable foes?
The answer can be found not so much in a singular performance, but rather in both the diversity of the characters he has played and what has brought to each of them. Hardy famously gained three stone of muscle to play Britainís most notorious prisoner in Bronson and then subsequently lost it all to play a homeless heroin addict in the TV drama STUART: A LIFE BACKWARDS, which won him a BAFTA nomination.
More importantly, both these parts prove that not only can Hardy be fiercely commanding on screen (BRONSON) but also that he can move the audience emotionally, have them sympathise and root for a tragic character (STUART: A LIFE BACKWARDS). This is an important skill to have in relation to the role of Bane as he is not, strictly speaking, evil in the same sense as villains like the Joker. He does not do what he does out of pure malice. He is the product of a childhood filled with unimaginable horror and the audience should empathize with him in spite of his terrible actions.
BRONSON proved Hardy could play unhinged characters, while the character of gangster Freddie in Sky Oneís THE TAKE showed that he can also be truly frightening. Bane may not be hardcore evil, but he should still be scary as hell: he broke Batmanís back, after all!! There is no doubting that Hardy can pull off both the physical side of Bane and the more tragic facets of his character as well. I imagine Nolan took this into consideration when making the decision to cast Hardy in the role.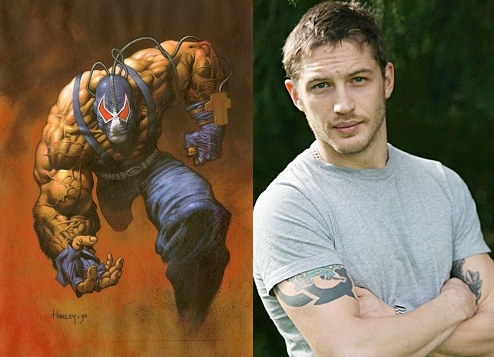 Tom Hardy will play "Bane" in THE DARK KNIGHT RISES

Heath Ledgerís Joker is, of course, a tough act for anyone to follow. However, Tom Hardy has, I think, the same quality that made Ledger such a brilliant choice for the Clown Prince of Crime: he is a fearless actor, able to completely disappear into a character -- inhabit it, even.

There is no way of knowing at this early stage what we can expect in terms Baneís characterization, but I believe we can expect something very special from Tom Hardy Ė something as unexpected and amazing as Heath Ledgerís performance was.