"Crisis 22,300 Miles Above Earth"
(Season 3/Episode 11)
Posted by: Bill "Jett" Ramey


SYNOPSIS: After being the victim of a celebrity roast, Batman battles Ra's al Ghul. Meanwhile, Justice League International and Justice Society meet for the first time, but their generational differences threaten to destroy the gathering.


INFO
"Crisis 22,300 Miles Above Earth!" was written by Steven Melching and it was directed by Ben Jones. It originally aired on October 28th, 2011.November 4, 2011.

THE BRAVE AND THE BOLD ON DVD



Batman: Brave & Bold
The Complete Third Season
REVIEW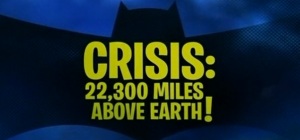 If you ever wanted to see a "Batman Roast," you get to see it – literally – during the intro to "Crisis 22,300 Miles Above Earth!" (CLICK HERE to watch this episode's intro.)
For me, it's one of the best "Batman Family Moments" (villains included) of BATMAN: THE BRAVE AND THE BOLD's run.
If you're a DCU fan, you'll definitely love the main story – especially if you grew up on DC comics in the 70s.
Per Batman's instructions, the Justice League International invites the Justice Society for a "meet and greet" on the JLI's space headquarters. Unfortunately, the two super-groups don't, ahem, jibe, which leads to a "Three Stooges Style" battle between the two squads.
As far as the party's host, The Batman is a tad tardy to his soirée due to the fact he's battling Ra's Al Ghul and the League of Assassins down on Earth. (There's a little nod to BATMAN BEGINS in this episode – see if you notice it!)
Overall, "Crisis 22,300 Miles Above Earth" is a wonderful episode that totally captures what this series was all about. And if you've longed for the day when you'd be able to see Batman eating cake in space, your wait has come to an end! - Bill "Jett" Ramey
Buy and watch ""Crisis: 22,300 Miles Above the Earth!" via AMAZON.COM!
comments powered by