OK, I'll come clean…
I once cheated on The Batman.
Back in the early to mid 1970s, I was a huge fan of the Saturday morning TV show SHAZAM!.
How many of y'all reading this review remember that it?
Man, did I love that show! I even had my grandmother make me a Captain Marvel costume which I wore… (*hangs head and mumbles*) …instead of the Batman one she had previously made me.
Eventually, I came to my senses and returned my fanboy focus to The Dark Knight. And of course, Batman is the only comic book character from my youth that I kept with me into my adulthood. Yet, I've always had a soft spot in my heart for Captain Marvel. I'm pretty sure that I was drawn to the fact that his "secret identity" was that of a kid -- one that was about my age back then. And doesn't every kid at some point want to be a superhero?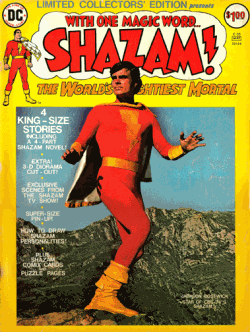 This is one of the many "big ass comics" I had as a kid back in the 70s!
Anyone else have this one and watch this show?
I've also been a big proponent of the long planned -- but caught in development hell -- live-action Captain Marvel film. It's being produced by BOF's good friend Michael Uslan, so here's hoping that we see it on the silver screen soon. Anyway…
The abovementioned Captain Marvel shows up on this week's episode of BATMAN: THE BRAVE AND THE BOLD, "The Power of Shazam!" Now that I've bared my fanboy soul, I don't feel guilty in admitting that I've been quite looking forward to this episode…
And MAN, what a good one!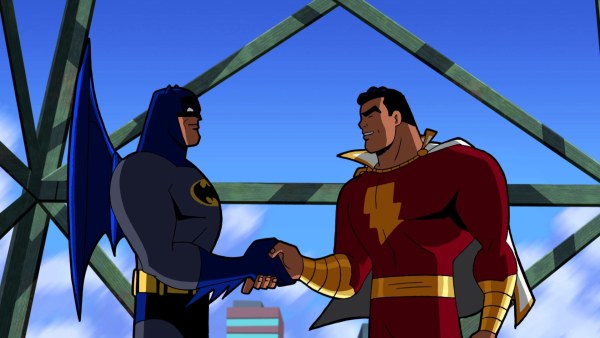 Batman and Captain Marvel
Batman travels to Fawcett City -- the home of Billy Batson and his alter ego -- to help The Big Red Cheese take down the evil and mad scientist, Dr. Sivana. Should be a piece of cake, right? The only problem is that Sivana has harnessed the power of Shazam and summoned the exiled Black Adam back to Earth.
Why would the mortal Sivana bring the super-powered Black Adam home? Well, to assist him in his nefarious plan to rule the world!
Make that the rule the universe in this case.
The theme of "family" plays a pretty big part in this episode. Billy Batson's an orphan, so when Captain Marvel meets Black Adam, he hopes that he's found himself some kin. Despite how wicked this Black Adam appears to be, the virtuous Captain Marvel insists there's got to be some good in him.
And remember, Batman himself is an orphan, so Billy's plight certainly strikes a chord with The Caped Crusader.
Truth be told, this is Captain Marvel's show and Batman's the guest-star. Some Batman fans might get miffed about it (which I do understand), but they'll get over it. Even so, Batman plays a very important role -- twice actually -- as "The Power of Shazam!" plays out.
For many reasons -- those already mentioned and because this was such a well-written and fun -- episode -- I'm giving "The Power of Shazam!" an A.
(And don't blink, or you'll miss the the rather cool nod to Captain Marvel creator C.C. Beck.)