I usually love the opening segments of of
BATMAN: THE BRAVE AND THE BOLD
," but the one preceding "Plague of the Prototypes!" had me scratching my head with a "WTF?!"
I have nothing against Sgt. Rock -- who is featured in this week's cameo -- but why in the hell is Batman at D-Day?!
Yes, this episode opens with time-traveling (How else would Batman be in WWII?) "G.I. Bruce!" I wonder if an Omega Sanction had anything to do with this? Oh well, on with the review...
Despite the fact we get a bit of "Batman…IN SPACE!" in the beginning "Plague of the Prototypes!" is pretty much a Batman/Gotham City-centric episode. Black Mask is the main villain and The Caped Crusader's allies are part of The Batman Family.
Ace, The Bat-Hound and Proto, The Bat-Robot assist The Dark Knight this time around. While Ace is a very competent and helpful partner, Proto's more of a crime-fighting liability -- or maybe he only needs the chance to prove himself.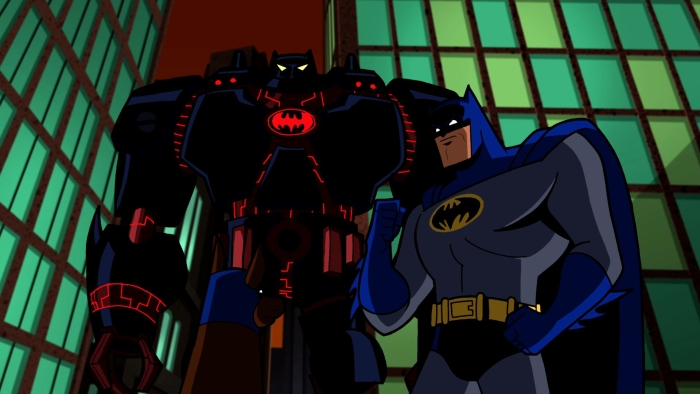 Proto, The Batbot (voiced by Adam West) and Batman in "Plague of the Prototypes!"
In short, while Batman's out in space saving the universe (Ugh!), he still protects Gotham via a squadron of six "Batbots" (I'm not sure it was a direct nod to the 90s miniseries, but the Batbots are very "KINGDOM COME Batman" in my opinion). With the aid of one his henchmen (who is apparently a technology nerd/genius), Black Mask is able to reprogram the Batbots and turn them against Batman.
Will Batman figure a way to defeat Black Mask and the compromised Batbots? Will Proto show Batman that he's not a liability, but an asset?
What do you think (*wink*)?
Despite the Normandy-invading, alien-battling Bat-moments, I did enjoy "Plague of the Prototypes!" Now, it's not one of the show's best, but I'm always partial to episodes that more "Batman-ish" than "DCU-ish," if you will.
Plus, how can you not dig the great Adam West guest-starring as the voice of Proto?!