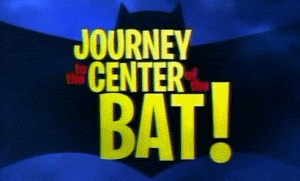 What do you get when you cross
OSMOSIS JONES
with
BATMAN: THE BRAVE AND THE BOLD
? The episode titled "Journey to the Center of the Bat!"
In short, this episode's main story consists of Aquaman and The Atom (the Ryan Choi version) teaming up to save the life of a toxin-infected Batman. How do they go about doing this? The pair of heroes shrink down to microscopic size and actually enter The Dark Knight's body to literally fight the infection!
The main story then splits in two separate, but related, subplots. One, you have the aforementioned storyline involving Aquaman and The Atom inside the body of Batman. And secondly, we have a tremendously weakened Caped Crusader fighting the villainous green blob known as Chemo -- the SOB who infected Batman in the first place.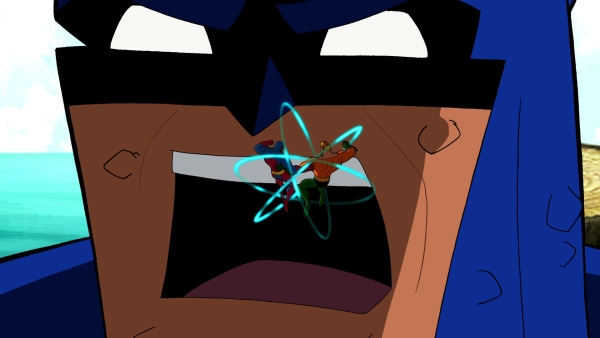 So you've got Aquaman being "Aquaman" (If you're a fan of this show, you know what I mean!), a somewhat annoying and condescending Atom, and of course, Batman Batmanning as usual. Good stuff!
The opening sequence of this episode was tremendously cool as well. If you've ever longed to see an Elongated Man and Plastic Man team-up, well, your wish has come true! The two "stretchy" DCU superheroes take down a group of 1930s-style gangsters led by the goofy villain "Baby Face." While fighting crime, the pliable pair are constantly arguing over who's a better partner for Batman. The answer of course is obvious and is provided by The Batman himself: Batman works best ALONE.
I consider "Journey to the Center of the Bat!" one of the series' best and a prime example of why this series is a Batman classic.