"Crime doesn't take a holiday. And neither do I."
-
Batman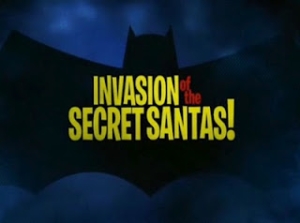 A Christmas-themed episode comes just in time for the Holiday (it originally aired in December of 2008) in the aptly-titled "Invasion of the Secret Santas!"
In the fourth episode of Season 1, Red Tornado (voiced by Corey Burton) makes his first appearance on the show as he teams-up with The Batman to take down a particularly goofy villain called Fun Haus. The rogue's plan? He's out to ruin Christmas for the fine citizens of Gotham!
This episode is filled with action as Batman and Red Tornado fight UFO's, evil robot Santas, and weaponized toys. While all of that is great fun, it's also used to set up some tremendously funny bits involving Batman. For example, Batman tells two young and obviously horror-struck Gothamites to "Pretend you didn't see that" after he punches the head off one of those robot Santas! Ha!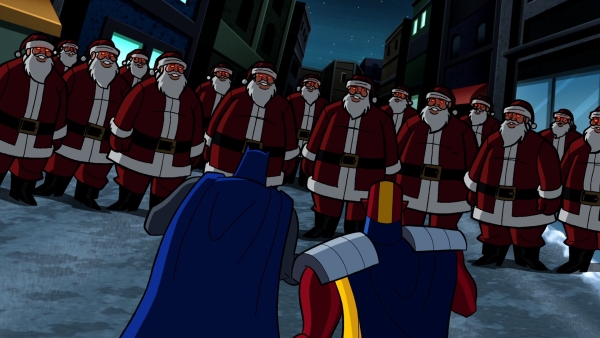 Red Tornado also is used for some humor in the story by taking advantage of the fact that he's an emotionless android. Although he doesn't "get" Christmas, he does his best to get into the holiday spirit, if you will. Seeing him decorate his abode with Christmas stuff and -- with straight-up pokerfaced delivery -- sing Christmas carols to his neighbors is hilarious!
Of course, The Dark Knight isn't Mr. Emotional either, so all of this eventually leads to both Batman and Red Tornado both having an "Aha! Moment" and realizing the true meaning of Christmas.
One misstep with this episode. Even though I totally prefer a "dark and serious" Batman, referencing the murder of his parents via flashbacks seemed a bit out of place. I get why it was included, but I'm of the mind that it shouldn't have been when compared to the overall tone of this installment. Frankly, it just didn't fit.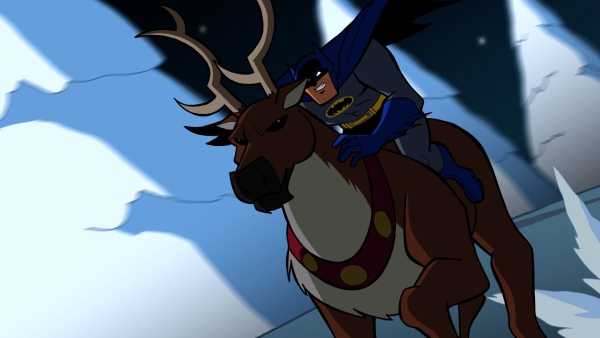 As far as the pre-opening credits segment, this had Blue Beetle -- a show regular -- pairing up with Batman to thwart The Sportsmaster from reeking havoc on a bowling tournament. I found this one to be in the middle of the road when it comes to these things. It's amusing, but certainly not a "You've gotta watch this one!"
Despite that minor quibble I had with "Invasion of the Secret Santas!," I liked this episode a lot. Bat-Fans, make sure to make it part of your own Christmas every year 'cause nothing says Christmas like Batman riding a reindeer. - Jett