Every once and a while, there's an episode of
BATMAN: THE BRAVE AND THE BOLD
that I simply can not get into.
"Gorillas in our Midst!" is one of those.
Look, I'm not saying it was a bad episode, at all. It's just so far off of my personal Batman sensibilities, that it wasn't very appealing to me personally.
In this installment, Batman teams up with Detective Chimp and travels to a tropical island to take down Gorilla Grodd. Grodd has formed G.A.S.P. -- "Gorillas and Apes Seizing Power" -- with new allies Monsieur Mallah and Gorilla Boss and plans to take over Gotham City.
Speaking of Gotham, Batman has entrusted the protection of his city in his absence to B'wana Beast and Vixen. Their exploits in Gotham account for the subplot of this episode and the duo eventually teams up with Batman and Detective Chimp for the story's conclusion.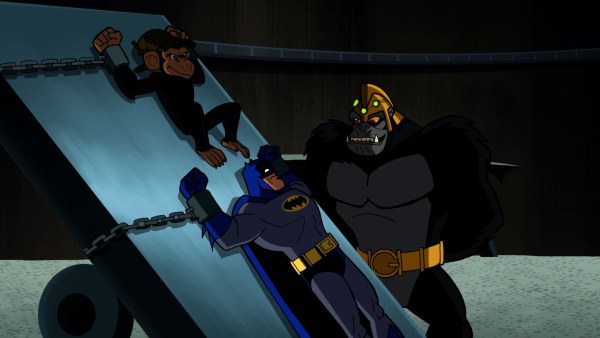 Batman and Detective Chimp find themselves
in Gorillas Grodd's deathtrap in "Gorillas in our Midst!"
I don't know, a Batman-themed version of PLANET OF THE APES simply didn't do it for me. Also, Batman partnering-up with a talking chimpanzee is a bit hard to take as well -- though Detective Chimp is rather funny and entertaining.
I thought the best part of this episode was the opening segment featuring Batman and The Spectre. It was pretty dark -- relative to B:TB&TB's overall tone. It certainly had a "Chill of the Night!" vibe to it -- which isn't surprising since that episode also featured The Spectre. The way The Spectre applied his own brand of "justice" to Dr. Milo was rather, well, amusing to say the least!
Overall, "Gorillas in our Midst!" was simply "OK." I give it that grade not because of the plot and the choice of DCU heroes and villains, but because it's simply one of the show's average episodes. That's not a knock on BATMAN: THE BRAVE AND THE BOLD at all. This series has put out some outstanding episodes previously -- some of which will go down as animated Batman classics. Consequently, the bar for each episode has been set pretty high.