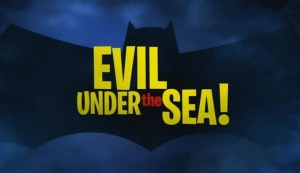 "Outrageous!"
That's Aquaman's hilarious catchphrase and the character makes his first of many appearances on the series in an episode titled "Evil Under the Sea!"
I never was a big Aquaman fan. Heck, I don't think I would have even considered myself a "fan" of the character at all…until BATMAN: THE BRAVE AND THE BOLD came along. Truth be told, I'm actually of fan of THIS particular version of Aquaman, and not the character in particular.
This Aquaman is, well, outrageous! He's overly upbeat, jolly in a Santa Clause sort of way, and unintentionally funny. I don't know if this Aquaman would work in the comic books or as a live-action film, but I don't care -- I like him! And as I said in the beginning, this was Aquaman's first of many appearances on the series and they only got better -- and more "Outrageous!" Anyway, on with the episode review…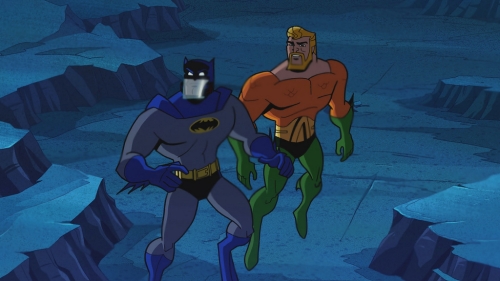 In short, the plot of "Evil Under the Sea!" has Batman going, uh, under the sea to help out his good friend and his Justice League colleague, Aquaman. It seems that someone is out to kill The King of the Sea, and the World's Greatest Detective hopes to get to the bottom of the mystery.
The would-be assassins turn out to be non other than Aquman's evil half brother Orm (AKA "Ocean Master") and Black Manta, Aquaman's arch enemy. The motive? Orm wants to knock off his sibling in order to take his place as King of Atlantis.
While "Evil Under the Sea!" is far from the best episodes that guest-star Aquaman, it successfully sets up the future appearances by the character as well as give viewers a taste of what to expect. I must also give props to John DiMaggio -- the voice of Aquaman -- and the folks who cast him. What a great choice as DiMaggio's work is simply awesome and a HUGE part of what makes this Aquaman so cool.
My only issue with this installment was that Batman was essentially the guest-star in his own show. This was a "problem" from time to time throughout the run of the series -- though it might simply be a petty complaint coming from a Batman fan.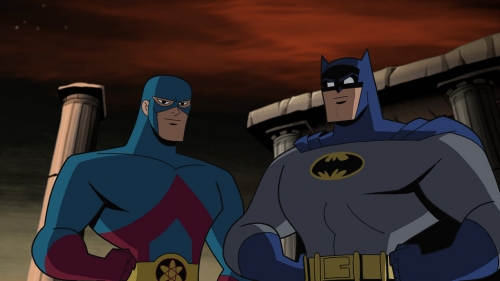 The pre-opening credits sequence for "Evil Under the Sea!" featured Batman teaming up with The Atom to take down the 1960s-created DCU villain Felix Faust. It was OK, but far from one of the best of the lot.