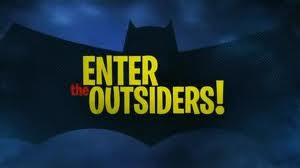 The Outsiders -- a group that's always been associated with The Batman in the comic books -- make their first appearance on
THE BRAVE IN THE BOLD
in the aptly titled episode, "Enter the Outsiders!"
I wouldn't say this episode is "dark," but the tone definitely isn't as light as they usually are. Then again, it is as light as it usually is. And there in lies the problem with this episode: The tone is all over the place.
The main feature of "Enter the Ousiders!" pairs Batman with his old mentor Wildcat (awesomely voiced by R. Lee Ermey) to take down a group of super-powered, anti-establishment teenagers known as "The Outsiders."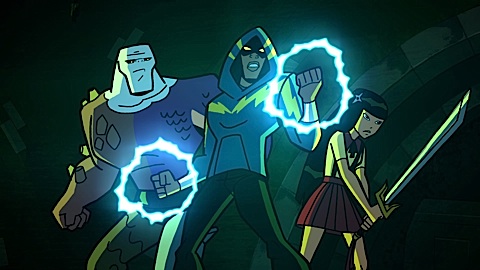 OK, there's another major problem with this episode. When were The Outsiders ever portrayed as I just described? Um, as far as I know, never. The Outsiders were always the "anti-Justice League" if you will. A group of rogue and rough DC superheroes The Batman would use to do the sort of "dirty work" the JL wouldn't. Why in the hell would this rather cool group be remained as some sort of young misfits is beyond me. I've always liked these characters -- Black Lightning and Metamorpho in particular -- but I certainly didn't dig this take on them.
Look, I don't mind it when THE BRAVE AND THE BOLD gets "serious" ("Chill of the Night!" for example -- my favorite episode of the series), but "Enter the Outsiders!" comes off WAY too preachy for my taste. Honestly, The Outsiders here seem like they've been "Marvelized" and transported to the late 1960s. Sheesh!
Of course, The Outsiders end up "learning a lesson" (as does Batman and Wildcat *rolls eyes*) and becoming heroes in the end. By the time that happens, I'm like "So what!" You know what I mean? Anyway…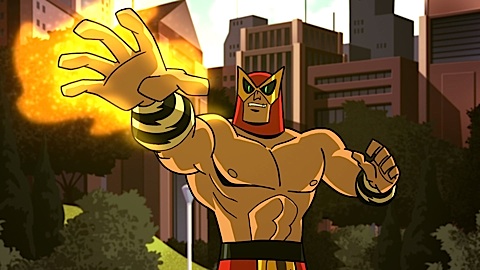 The best part of "Enter the Oustiders!" is the pre-credits opening and it has nothing to do with them. In this episode, Batman teams up with the totally goofy character known as B'wanna Beast as they take down the mainly-Aquaman villan Black Manta. Even though I've been a lifelong "DC Guy," I was clueless when it came to this B'wanna Best. However, through this show, I actually came to like him and enjoyed it when he was featured on B:TBATB.
Oh yeah, Wildcat is a positive here. Wildcat is cool and I enjoyed seeing both him and his dynamic with Batman in this episode.