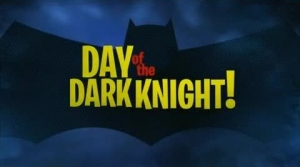 If you dig a Batman who visits alien planets and time travels, then "Day of the Dark Knight!" going to be your kind of episode. If not, well, you might want to skip this one.
With that said, if anyone can make time-travel and Batman in space work, it's the folks behind BATMAN: THE BRAVE AND THE BOLD.
"Day of the Dark Knight!" begins with a Batman/Guy Gardner team up on the planet Oa -- the home and headquarters of the Green Lantern Corps. Basically, Batman saves the day following a Guy Gardner screw-up. An average pre-segment at best, unless you're a big GL fan as several alien members of the Corps has a cameo.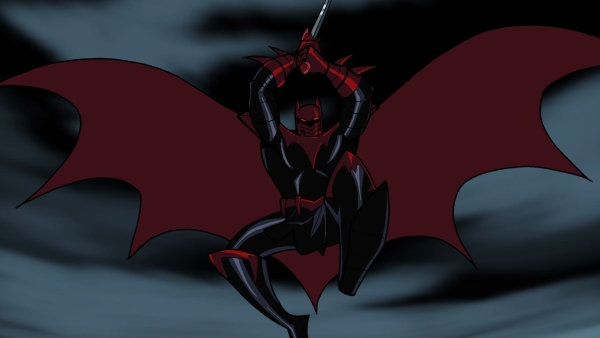 Batman turns into a real knight in "Day of the dark Knight!"
The main episode has Batman teaming-up with series regular Green Arrow (who was actually making his first appearance in the main storyline). After putting down a jail breakout, the two are transported by Merlin the Magician back to the age of Camelot where Morgaine Le Fay has taken over the kingdom of King Arthur. To take back the kingdom from Le Fay, either Batman or Green Arrow must pull Excalibur from its stone.
While not a horrible episode, I personally didn't care for it all that much. Perhaps it was due to the time-travel and magic storyline as that sort of stuff and Batman doesn't mix well for me. However, what saves "Day of the Dark Knight!' for me is the dynamic between Batman and Green Arrow. This ongoing "competition" between the two is both funny and cleaver, but never gets campy or silly. While Batman's team-ups with Aquaman are the series' best, The Dark Knight partnering with Green Arrow are a close second. - Jett