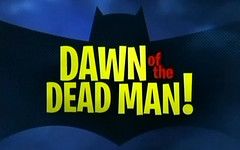 I've always been a fan of Deadman. My first exposure to the character was in the 1970s via Batman comics. In fact, I've long been a supporter of a live-action Deadman film. There's one in the works, though it's wallowing in development hell as we speak. Anyway…
The BATMAN: THE BRAVE AND THE BOLD version of Deadman teams up with Batman in the Season 1 episode titled "Dawn of the Dead Man!"
In short, the main story involves The Gentleman Ghost burying Batman alive. To save himself, Batman separates his body from his spirit (via meditation) ad the latter form of The Dark Knight meets up with the ghost of Boston Brand, The Deadman. Deadman proceeds to show Batman the ways of being a ghost -- including the power to possess people. The ghostly duo then seek the aid of B:TBATB regular Green Arrow -- as well as his sidekick, Speedy -- to free Batman's body from the deathtrap.
One the best aspects of this series -- the Batman/Green Arrow dynamic -- is again showcased in this episode. In a hilarious scene, Green Arrow gets annoyed with Speedy for doing a "bad Batman impression." Little does he know that Speedy has actually been possessed by The Batman himself! Besides the comedy, there's some good action at hand here as well with Batman and Deadman fighting The Gentleman Ghost's zombie army.
As far as the show's pre-opening credits sequence, Batman has somehow been transported to the future and teams up with Kamandi, The Last Boy on Earth. Yes, Batman partnering-up with a Tarzan-like superhero in the post-apocalyptic future sounds ridiculous, but somehow -- thanks to the brilliant folks behind this series -- it works.
Though "Dawn of the Dead Man!" was a very early episode in the series, chronologically speaking, it goes down as one of my personal favorites.