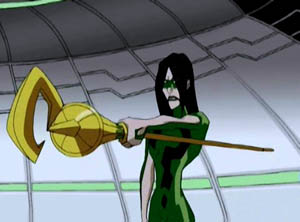 Truth be told, I was never a big fan of The Riddler.
I know he's considered to be one of the "Big Five" -- The Joker, Two Face, Catwoman, The Penguin, and The Ridder -- when it comes to Batman's rogues gallery, but quite frankly, I consider the character to be a B-lister.
However, I must admit that I did dig the way he was interpreted in THE BATMAN animated TV series. While The Riddler wasn't drastically different in terms of "what The Riddler does," if you will, from other incarnations of the character, he wasn't depicted as silly and manic as he often is -- like in BATMAN FOREVER or the 60s TV show for instance. No, this version was darker than usual and his look -- which was sort of "Goth" -- was rather cool in my opinion. I wasn't always keen on the re-imaginations of all of the Bat-villains on THE BATMAN -- like Mr. Freeze and The Joker for instance -- but they did a good job with The Riddler. Anyway…
The Riddler made his debut in the episode titled "Riddled." This here is a review of said installment.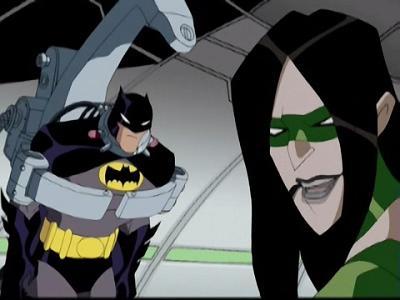 The Batman vs. The Riddler in "Riddled"
In a nutshell, the story features Edward "The Riddler" Nigma (voiced by Robert Englund) making Detective Yin, and The Batman, race around Gotham solving riddles to thwart dangerous and deadly consequences if they are not cracked. Eventually, the two are captured by The Riddler where he subjects the pair to a game of "20 Questions" in hopes of discovering who The Batman really is. Batman, hooked to a lie detector, is asked revealing questions by The Riddler. Anytime he lies, Yin is severely shocked.
Though The Riddler's real motive -- luring Batman away from Nigma's actual target as well as discovering Batman's true identity -- wasn't anything new or clever, the riddles themselves were great and the best part of episode. Due to the show's time restraints, you really didn't have enough time to try to answer it yourself before they were solved by either The Batman or Yin. However, The Dark Knight's smarts are the focus here and it was pretty cool seeing Batman turn the tables on Nigma and use his own weapon against him.
"Riddled" goes down as one of my favorite episodes of the entire series.